A thing you usually hear about the lash industry is a potential field, but how much do lash techs make? In this post, we will discover the salary of a lash artist together.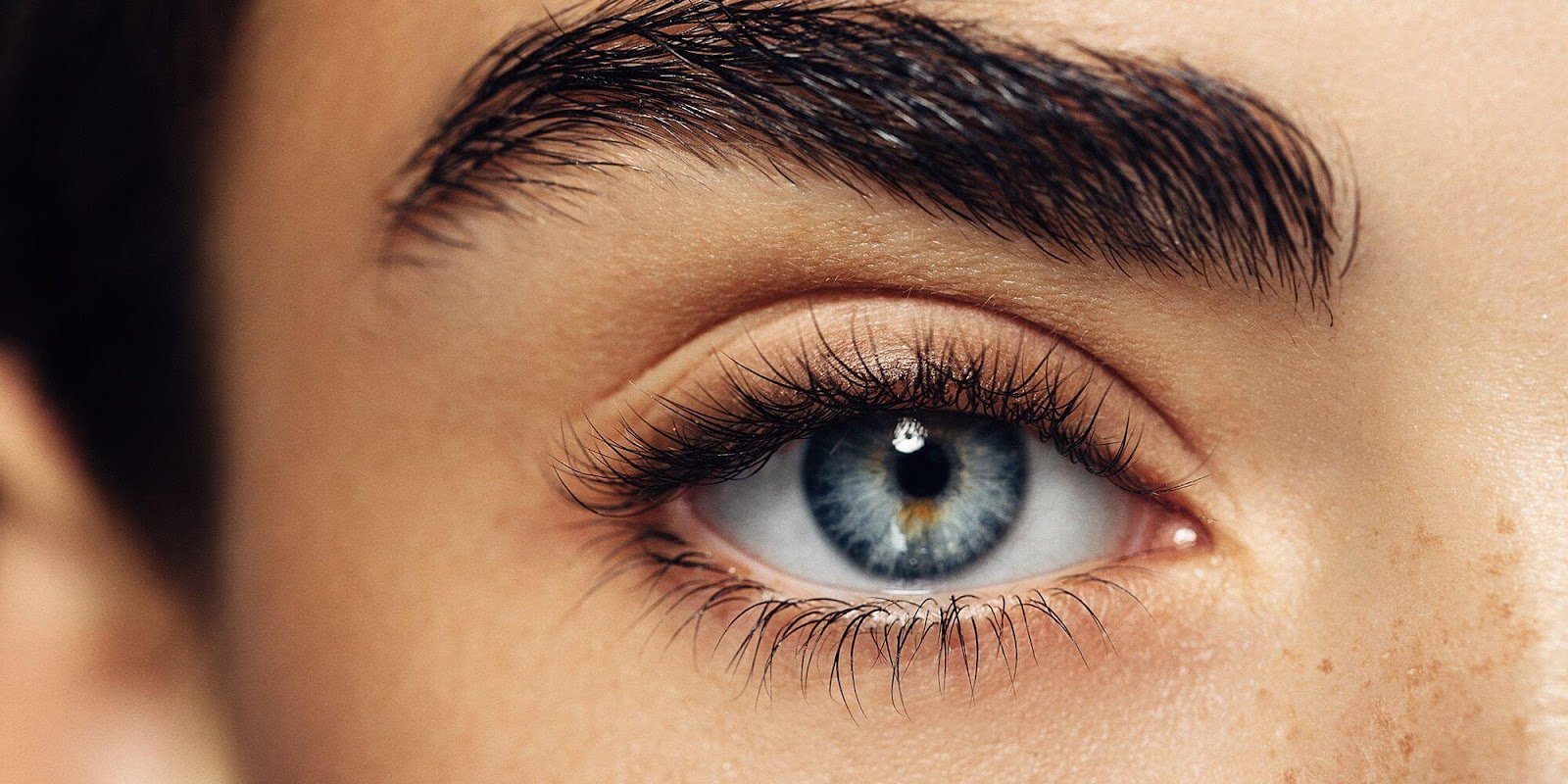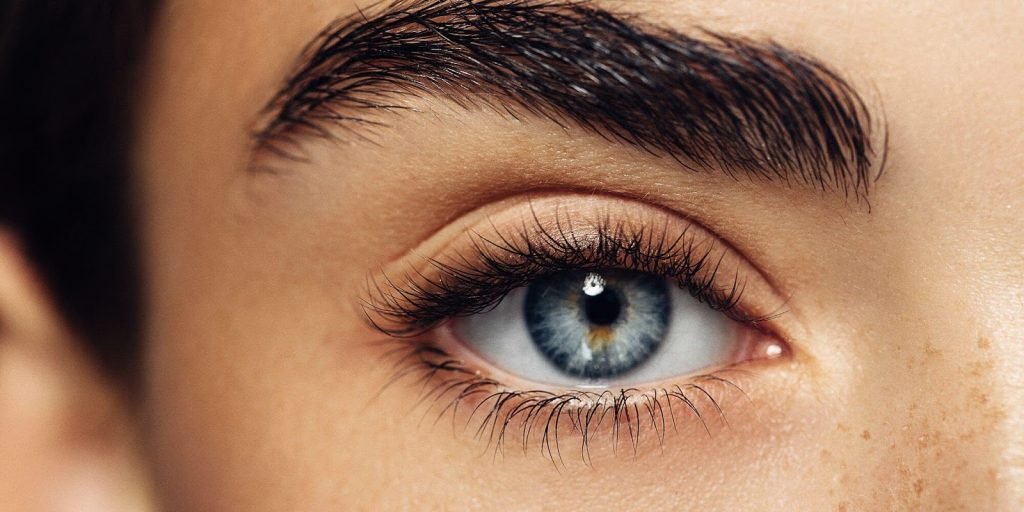 Nowadays, more and more women love wearing eyelash extensions, that's why the lash extension industry has attracted numerous workers. If you plan to join the lash extension community, you should think about whether becoming a lash artist is a good choice and whether its salary can meet your demand or not. 
In this article, we will help to explore and dive into the revenue of a lash artist, which factors impact their salary and calculate their average salary per week, month, and year. So what are you waiting for? Let's get started. 
Factors To Calculate Lash Tech Potential Earnings
The eyelash extension market has expanded significantly. Wearing lash extensions is a perfect way to enhance people's looks without paying too much. According to some research, the general revenue of the lash extension field might reach more than 1.75 billion USD by 2023. 
That means you have a lot of opportunities to kick off your lash career and multiply your revenue. There is no exact approach to determining how much each lash tech can earn. Instead, it depends on a few factors, such as experience, location, and more. Keep scrolling down to understand more.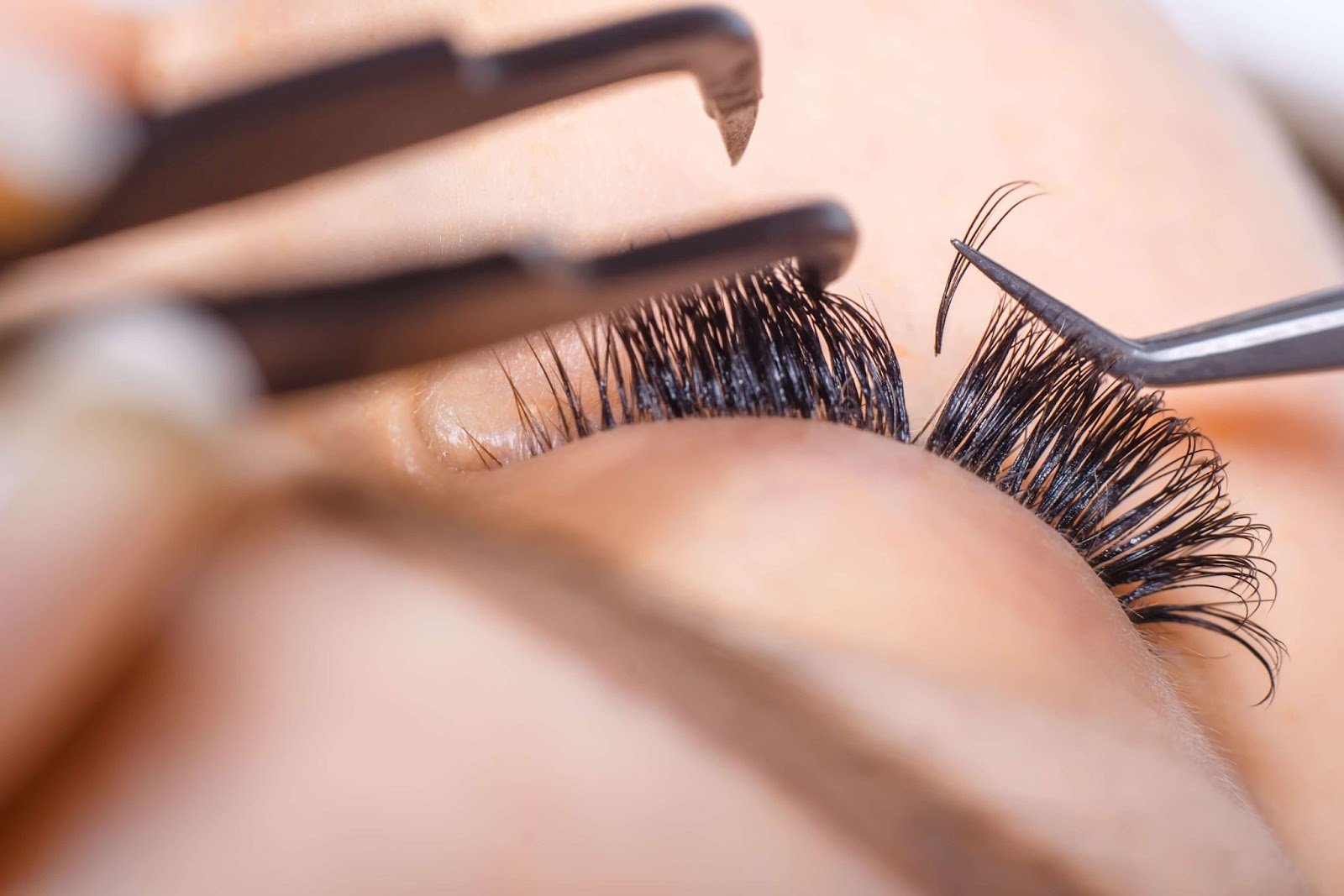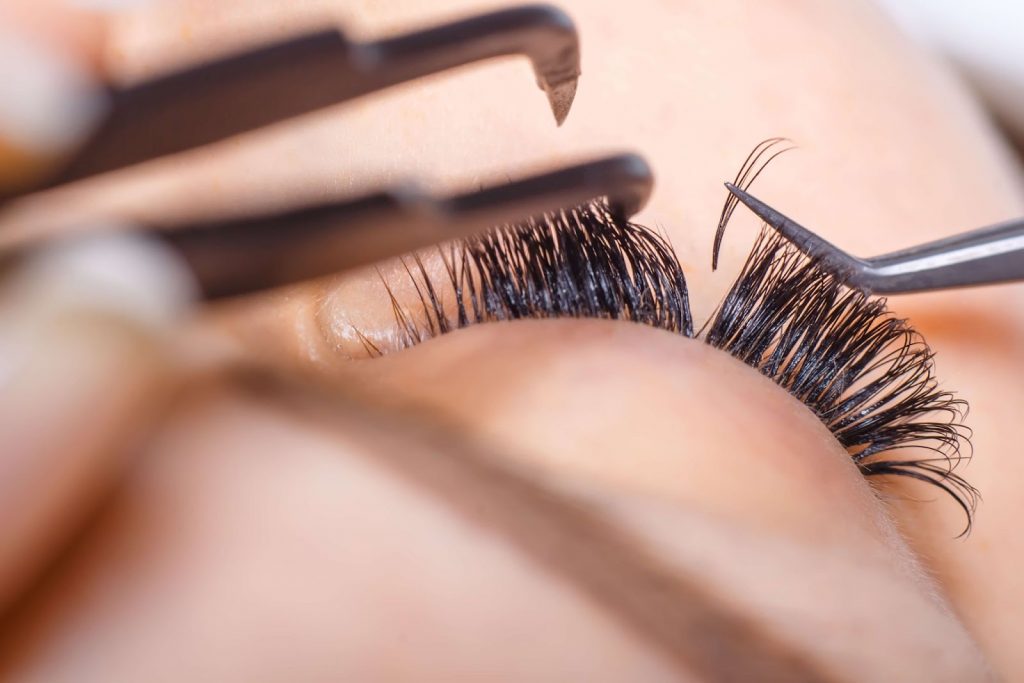 Experience
It is not an exaggeration to say that knowing where you are standing in the lash path can help to determine your salary more correctly. The more experience you have, the more you should charge and the more salary you earn. The average lash extensions range from $40 to $200 per full set. Hence, many lash artists invest in many training courses to improve their skills. 
If you are a newcomer, you should practice your skills with family and friends. They will give you honest feedback to improve your levels. Of course, you should not expect to earn a lot of money in this beginning stage. However, keeping practicing makes everything perfect. Offering lower prices for the first time will expand your reputation and attract people to your salon. 
Time For Applying Lash Extensions
Your experience also decides how much time you spend completing a full set or refill per customer. For example, if you are still learning and practicing, it will take you more time to finish a set of lash extensions than established ones.
One of the advantages of becoming a lash artist is flexible working hours. The more working hours you work, the more clients you have, which leads to more money you can receive. 
Customer Target
Determining customer targets can help to propose different prices for them. Not everybody is looking for lash extensions with the highest price and vice versa. Putting yourself into clients' shoes will help you understand them. 
Your customer targets you should be the ones who appreciate your experience, skills, and efforts. They are also willing to pay extra for you to enjoy the most premium services. 
Location
Location is a big expense you need to calculate hand in hand with what you are charging. Where you choose to locate your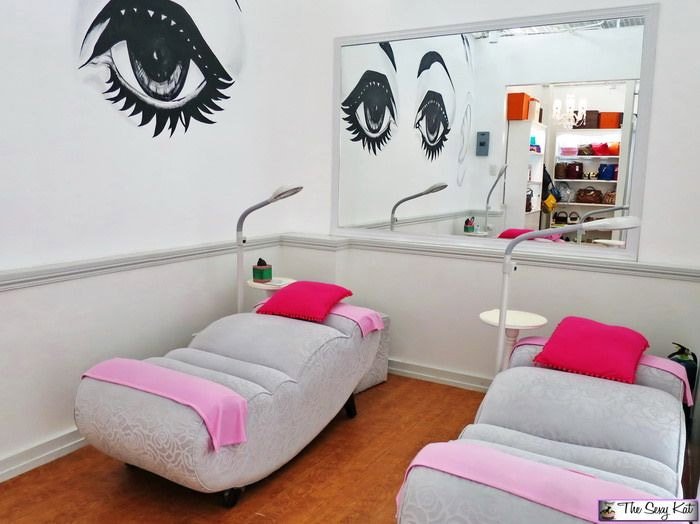 salon has a lot of influence on the charges customers have to pay and your total revenue. Moreover, you should consider your region's density of lash extension salons.
In case there are just a few salons that offer eyelash extension service, you can propose a higher price for your service or vice versa. You can research how much other lash techs are charging to find an acceptable price for your services. If you see how your competitors run their lash business, you can learn from their weaknesses and strengths. 
You can also create an online survey to discover what your customers expect about a lash extension salon. Then, you can tailor their wishes and apply them to your salons so that you can deal with customers' pain points excellently. Remember to choose a perfect location to help your salon stand out.
What Services You Offer
A lash salon can offer different services to your customers. For applying for lash extensions, there are 2 common services: full sets and fill sets; their prices are also varied. Infill sets are changed less than full set treatment but the lifespan of fill-in treatment is not as long as the other. 
Furthermore, the technique lash artists do will affect their overall income. Nowadays, there are few salons that offer 100% of a single technique only. Instead, almost all lash techs offer their customers a combination of classic, hybrid, and volume lashes at varied costs. 
For your information, volume and mega volume cost more than classic or hybrid, so you can base on it and consult your clients. However, classic sets require infills more regularly than volume sets. That also affects the price and clients' experience. 
Remember that the more luxurious the studio, the more you can charge your customers. Besides bringing the various services, you can create the most comfortable environment for them to enjoy. 
Marketing/Advertising
How do people come to your salon when they have no idea about it? Hence, investing in marketing and advertising is a need. Although it can take a lot of money, more and more customers will know you and find you to apply eyelash extensions for them. Such a worthwhile investment!
There are a lot of ways to promote your salons: digital marketing, word of mouth, and more. Choosing strategic marketing can decide if you have 50% of success or not. Eyelash extensions enhance clients' looks so you or customers can take some photos and post them on social platforms with several hashtags. This way costs you 0 USD. 
To be more effective, you can create a website to open the door for tons of potential customers to come across your salon by SEO. The most effective way is word of mouth; you can encourage your clients by offering a referral discount to them when inviting new people to your salon. Regardless of your chosen methods, keep in mind that they will impact your revenue. 
Read more: How To Grow Your Lash Business With Instagram – 13 Tips To Promote Your Brand
Product Retail
Your salon will not only apply eyelash extensions to customers but also sell eyelash extension products to them. These retail product sales will bring you a huge potential income source. In addition, you can sell aftercare items as long as you follow strictly aftercare guides.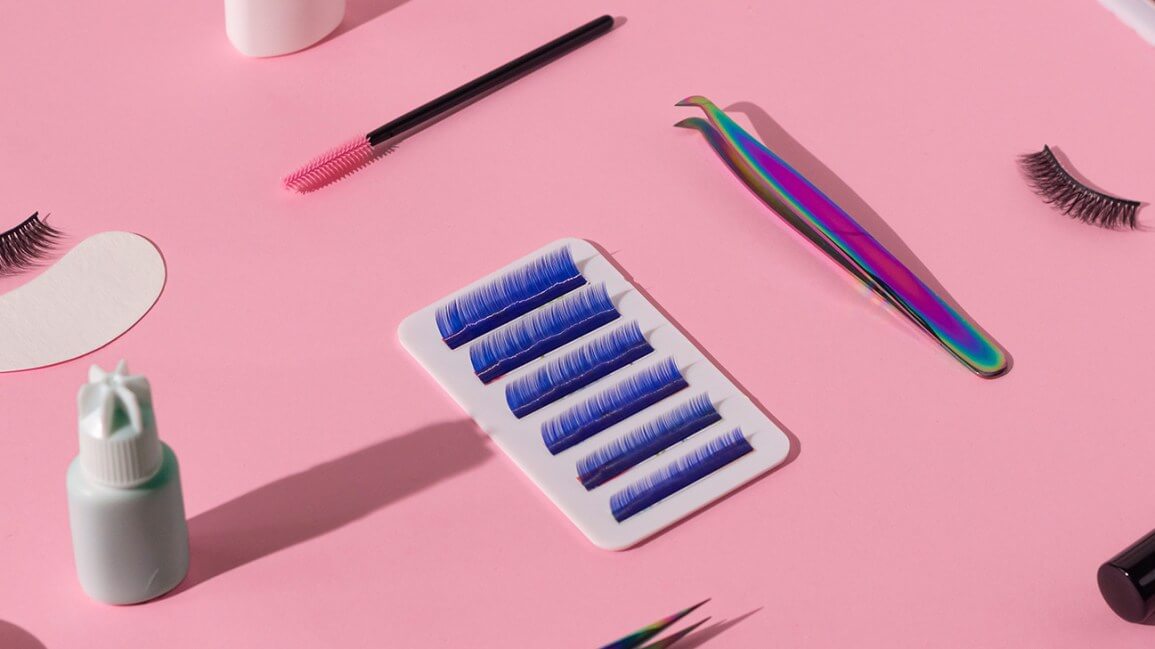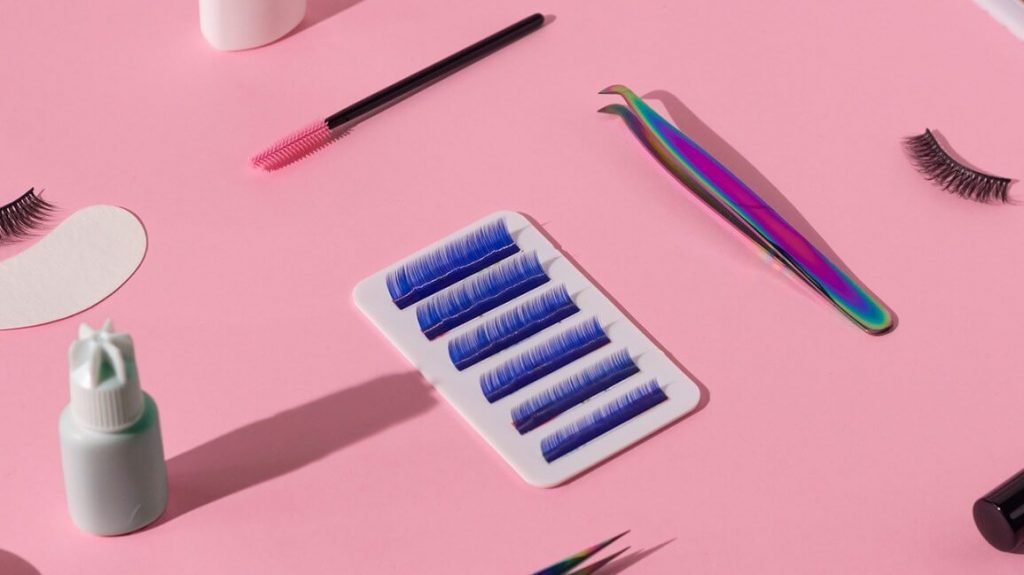 Eyelash extensions are not low-maintenance beauty; clients are aware of that, so they will not regret spending the bulk of the money to keep extensions clean, fluffy, and long-lasting. Lash care serum is also a good product since all women love healthy natural lashes. In case you purchase lash products at wholesale price, you can sell to your customer at a small profit. 
Moreover, when they apply for lash extensions at your salon, they prefer to buy products directly instead of online so that they will not cost any shipping fee. 
Training
In case you are an established lash artist, you can teach lash courses for newbies. It is also an approach to increase your income and inspire knowledge in others. The lash industry has expanded dramatically, so many people are willing to pay the bulk of the money to learn training as long as they learn valuable skills and information.  
You will earn a bigger profit by providing training courses for learners than you apply for extensions for your clients. Of course, it will take more time, but the result is beyond your imagination. 
How Much Does An Eyelash Tech Make?
This is the topic you are curious about most: how much does an eyelash tech make? We have conducted much research before providing a general view of lash artists' income. Please help us to note that these figures are relativity. For instance, it takes 2 hours to complete a full set and 1 hour to complete a refill set. 
You will work 8 hours a day, which means 4 full sets or 8 refill sets a day or sometimes a mixture of full and refill sets. You just work 5 days per week, and the average price of eyelash extensions is as below: 
For full sets: $164 for classic, $227 for volume, and $192 for hybrid
For refill: $71 for classic, $95 for volume, and $84 for hybrid
After calculating, we have created comparison tables and charts according to week, month, and year to help you have a visual view of the artist's revenue. 
| | | | | | | |
| --- | --- | --- | --- | --- | --- | --- |
| Technique  | Classic full set | Classic refill | Volume full set | Volume refill  | Hybrid full set | Hybrid refill |
| Week  | $3280 | $2849 | $4540 | $3800 | $3840 | $3360 |
| Month | $13120 | $11396 | $18160 | $15200 | $15360 | $13440 |
| Year | $157440 | $136752 | $217920 | $182400 | $184320 | $161280 |
Eyelash Extension Income Chart
The eyelash extension income chart below will give you a clear view of the revenue of each technique. As you see, the highest revenues are full volume sets and volume refills. Therefore, depending on clients' lash status, you can consult them to apply volume eyelash extensions.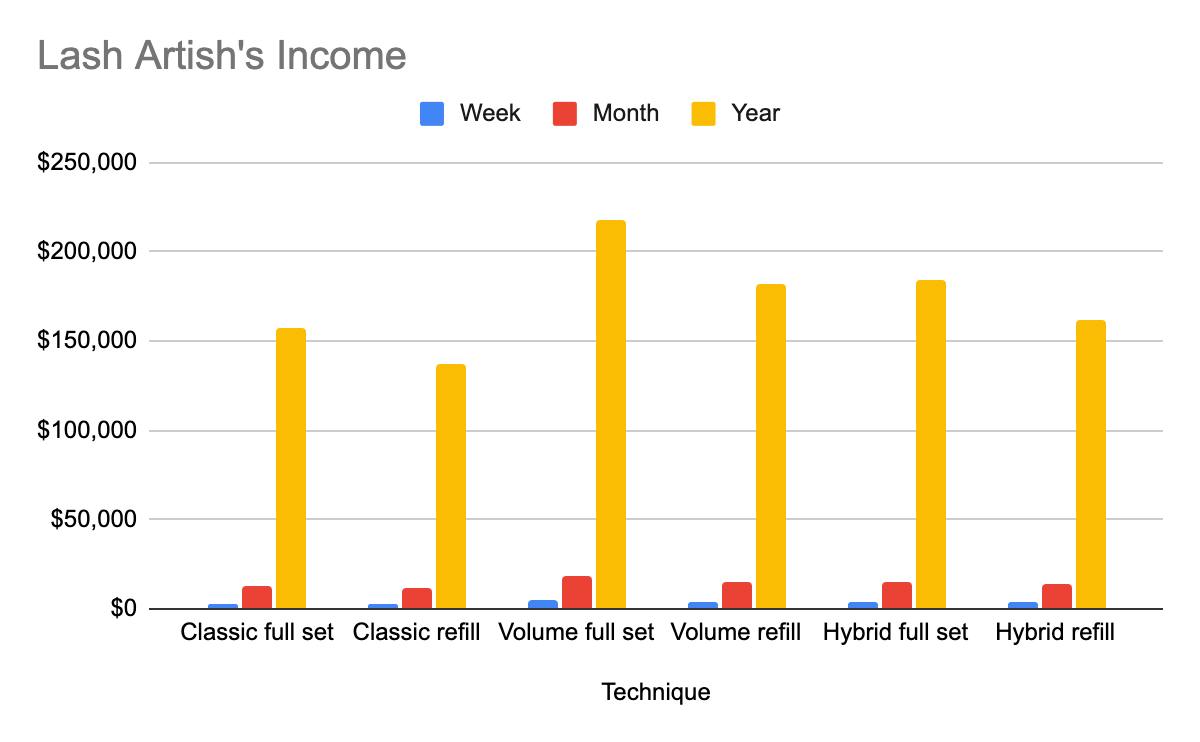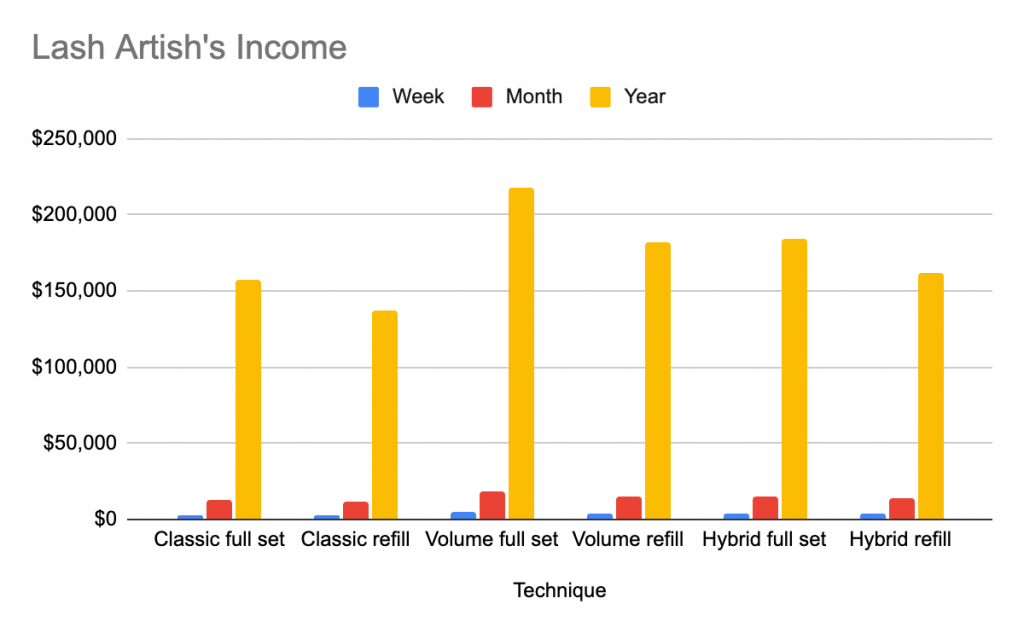 The Average Salary Of Lash Tech In the USA
For your information, we also show you the average lash tech's salary in the USA in case they are self-employed artists. In general, the income in the lash industry is quite higher than in some fields, and you can expect a higher-level living standard thanks to the lash salary.
| | | | |
| --- | --- | --- | --- |
|   | Classic Lashes | Volume Lashes | Hybrid Lashes |
| Week | $1885 | $2560 | $2080 |
| Month | $7540 | $10240 | $8320 |
| Year | $90480 | $122880 | $99840 |
Other Elements You Affect To Your Possible Salary
The figures above are not 100% exact; they are relative numbers we calculate in perfect condition. In reality, many elements affect and make your salary increase or decrease. Let's see what they are.
Self-Employed Vs. Employed
Self-employed lash techs earn more money than those employed by a salon. Because the former will keep 100% of their service fees while the latter can just keep a portion of their service, usually 50%.
The salaries shown in the tables and charts are for full-time lash artists. You can halve them to have relative figures if you are a part-time lash tech.
All numbers you see in the tables and charts are gross salaries which are not excluded from tax or expense. You must pay your taxes and other fees such as marketing, supplies, rent, and more if you are self-employed. In case you are an employer, you don't need to exclude these fees as the salon will cover them
The salaries above are counted if a lash tech works a full year. However, most people take 2-3 weeks off annually for holidays, so their income will decrease significantly. 
How To Become A Lash Artist
After reading our article, do you agree that the lash industry is a potential field? In our opinion, becoming a lash artist is one of the best ways to increase your income since the average salary is huge. However, you have to invest money and efforts to succeed, and we will reveal how you can do that. 
Read more: How To Start A Lash Business – Become A "Warren Buffett" Of The Lash Industry
Firstly, you should join training courses at trusted lash academies. We recommend you attend online lash extension courses to save your budget and access unlimited learning materials. Don't forget to practice your skills with your friends and family to receive honest feedback. 
Moreover, finding good eyelash extension supplies is a good start for your lash career. Vietnamlash.com is the best company that provides high-quality lash products at reasonable prices. In addition, they offer you numerous lash extensions, and you can always look for anything you need here. 
Vietnamlash.com is also an excellent source to learn more about lash extensions. They have many blogs about this topic to help you reinforce your knowledge and improve your skills. Becoming a member on Vietnamlash.com is to kill 2 birds with one stone without any fee. Don't hesitate to begin your lash career with Vietnamlash now. 
Visit our webpage for more updated information: https://vietnamlash.com/