The special designed of promade XL tray for the application and storage of promade eyelashes extensions. These lashes are a type of fibers that are handmade into fans according to clients' demand. The fans then are ordered into lines making the lash application process faster and more efficient. Here's some information about the promade XL tray from Vietnam Lash. Let's see!
General introduction of promade XL tray lashes 
Let's start by exploring the impressive features of Vietnam Lash's promade XL tray, the benefits they provide, and the concerns they solve for users. Keep reading to acquire further information!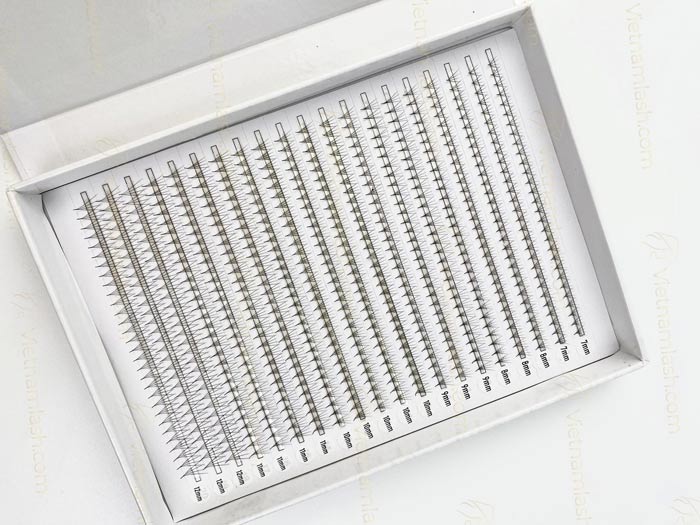 Definition of promade XL tray
The promade XL lash tray, also known as the Extra Large lash tray, is a specialized product used in the application of eyelash extensions. The tray is designed with specific lines that ensuring the lashes are ramain separated and intact. 
Major characteristic of promade XL tray
The most special thing about the XL trays is the line inside the tray ensures that the pre-made lash fans remain in place and are easily accessible during the application process. This feature promotes efficiency and convenience, enabling lash technicians to work seamlessly and effectively.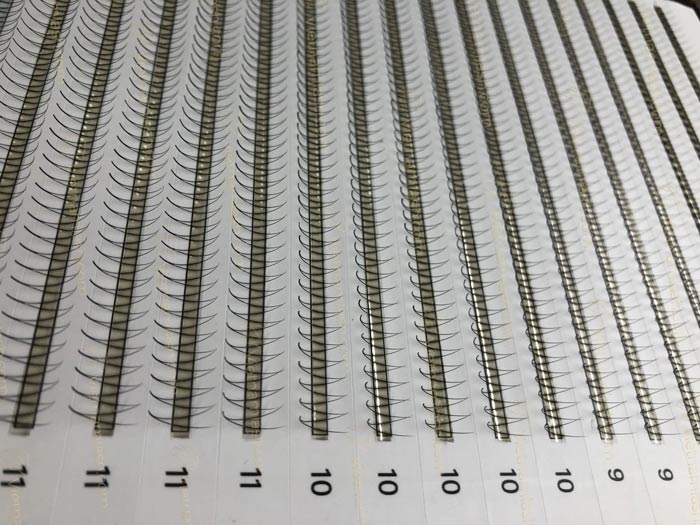 Benefit of promade XL tray
The promade XL lash tray is designed especially for serving the storage demand of lash artists. Firstly, its larger size allows for the storage and organization of a greater number of pre-made lash fans. This can be particularly advantageous for professionals who work in high-demand settings or require a wide variety of lash options readily available.
In addition, by securely holding the lash fans, the XL tray helps prevent them from becoming disarranged or damaged, ensuring the longevity and integrity of the lashes. This characteristic is especially valuable in maintaining the overall quality of the lash extensions and enhancing the final results.
What problems does promade XL tray solve for customers?
The Promade XL tray offers several solutions and benefits to customers in the context of eyelash extensions. 
It allows lash technicians easier to find the desired style and length during the application process. This convenience saves time and ensures a smoother experience for both the technician and the customer.
The XL tray's larger size allows for a greater variety of lash styles and lengths to be stored and organized. This expands the range of options available to customers, enabling them to achieve the desired look and customization. Whether they prefer a natural or dramatic lash appearance, the XL tray provides more flexibility and choice.
Promade XL tray are produced in Vietnam Lash 
Vietnam Lash proudly presents its extraordinary product, the promade XL tray. Our wide range of different fan lashes showcases our commitment to providing customers with a varied and superior collection, encompassing various sizes and packaging methods.
Types of promade XL tray we have  
The promade XL tray are divided into several categories based on the number of lashes contained in each box or the characteristics of the lashes in each line. 
We have fans from 2D to 16D, which means each fan will have 2 or 16 eyelash threads. Our two popular XL lash trays are 20 lines XL promade tray and 40 lines XXL promade tray. As the name suggests, they indicate the number of rows containing lash fans in a tray.
In addition to dividing the promade XL trays by quantity, customers can also choose between a variety of curvatures, thicknesses or lengths of lash fans.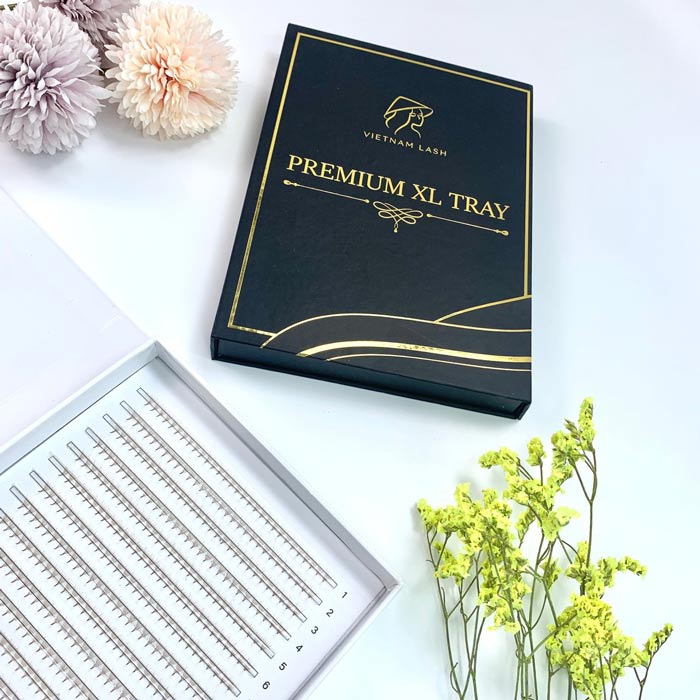 Quality of Vietnam Lash's promade XL tray
The promade XL tray stands out for its exceptional quality, as it incorporates several notable features and attributes.
Firstly, it is crafted using Korean PBT Material, known for its high-quality and durability. This ensures the durable curl , integrity and longevity, providing customers with lashes that last.
Additionally, the promade XL tray has a super pointed base or flat base, allowing the precise and customized lash application. The lashes are super soft, providing a comfortable and lightweight feel when worn.
Moreover, the promade XL tray comes in eco-friendly packaging. This demonstrates a commitment to sustainability and minimizes the environmental impact in the eyelash inductry.
Customer experience when using promade XL tray
There have been many satisfied customers and acknowledged the convenience of the promade XL tray. A customer from Canada bought and bought 40 lines XL promade tray from Vietnam Lash many times. 
"It makes the process of applying eyelashes go smoother and faster, our technicians have saved more time thanks to the promade XL tray"- the Canadian guest shared while chatting with Vietnam Lash.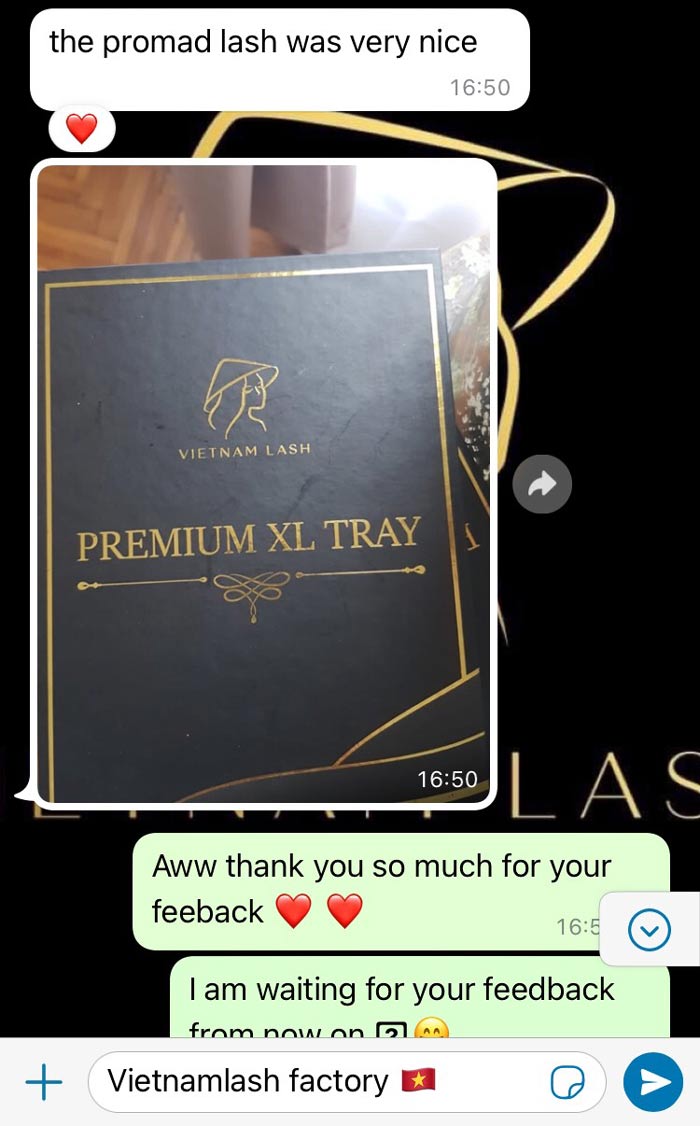 Purchase promade XL tray information 
Our goal in this comprehensive guide is to equip you with the necessary information to make an informed buying decision. This manual covers a wide selection of other than promade XL tray offered by Vietnam Lash and also includes convenient contact details for easy communication with our team.
Products list of Vietnam Lash
Vietnam Lash offers a wide range of eyelash styles that extend beyond promade XL tray, encompassing a diverse selection of distinctive and trendy choices. Our highly coveted lash offerings include volume lash trays, classic lash trays, and wispy promade fans. Furthermore, we take pride in providing a variety of colored eyelashes, ranging from vibrant shades like neon yellow, red, pink, and green, to more understated tones such as dark chocolate and brown. All these exquisite lash options can be conveniently found on our website.
Visit our webpage for more updated information: https://vietnamlash.com/
The born of promade XL tray offers a plethora of styles and effects to elevate one's beauty. Our lashes undergo meticulous scrutiny and rigorous quality control procedures, ensuring that only the highest quality and excellence are delivered to our customers. 
Promade XL tray not only enhances the beauty of users but also increases revenue for beauty salons because it saves time for technicians. 
Experience the enchantment of promade XL tray and unlock a realm of captivating beauty possibilities with Vietnam Lash right now!