Premade spike lashes are a bold and unique style of eyelash extensions that create a dramatic and edgy look. In this article, we will explore what eyelash extensions are, their features highlights, and the ways they make users more impressive.
General introduction of premade spike lashes 
Let's begin by examining the remarkable characteristics of Vietnam Lash's premade spike lashes, the advantages they offer, and the issues they address for users. Continue reading to learn more!
Definition of premade spike lashes
Promade spike lashes, also referred to as closed lash fans, have become increasingly popular in the realm of eyelash extensions. They are used to create Kim K styles, serving as a popular choice for those seeking an edgier, high-impact look. Essentially, premade spike lashes that are not fanned, they are spikes, they have longer lengths, pointed ends, and a bold appearance.
Major characteristic of promade spike lashes
The main characteristic of promade spike lashes is their unique design, which features multiple ultra-fine lashes grouped together at the base, resembling the shape of a spike. Unlike classic individual lash extensions, where a single lash extension is applied to each natural lash, spike lashes are pre-made fans that consist of several lashes adhered together at the base. The multiple promade spike lashes are meticulously arranged to mimic the growth pattern of natural lashes. 
Main characteristic of promade spike lashes:  spike lashes are pre-made fans that consist of several lashes adhered together at the base
Benefit of promade spike lashes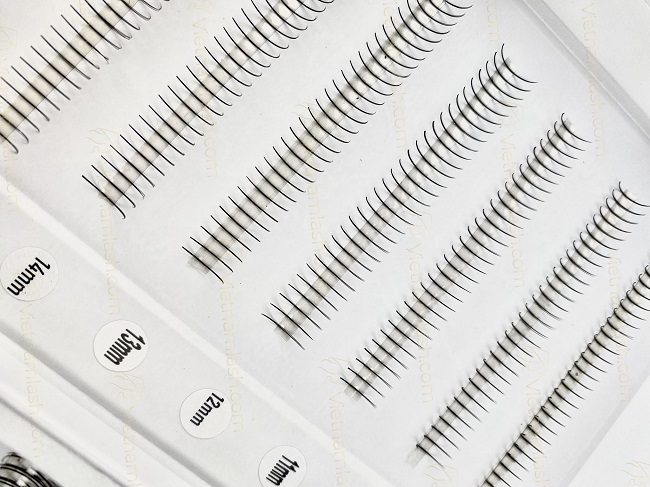 One of the key advantages of promade spike lashes is bringing an eye-catching and fresh effect to the eyes. The closed lash fan design of spike lashes contributes to a more seamless and natural-looking result, they make eyes larger, more charming and energetic. Another notable characteristic of promade spike lashes is their versatility. They make lash set more textured, spiky and wispy.
What problems do promade spike lashes solve for customers?
Since these closed lash fans are premade, the promade spike lashes support the volume fans during the lash extension application process to build wispy eyelashes. Lash artists can simply pick up a pre-made fan and attach it to a natural lash, significantly reducing the application time, leading to increase lash artists income. This is especially beneficial for clients seeking a dense lash appearance or for lash artists working with limited time constraints.
Furthermore, the promade spike lashes also diversify lash artists' lash menus and satisfy lash artists' thirsty in creation. Whether clients desire a subtle enhancement or a bold, dramatic effect, spike lashes can be tailored to meet their specific needs.
Promade spike lashes are produced in Vietnam Lash 
At Vietnam Lash, we are extremely proud to introduce our remarkable offering: the slender promade spike lashes. Our assortment of slim fan lashes exemplifies our dedication to offering customers a diverse selection of premium choices, encompassing different sizes, and even packaging techniques.
Types of promade spike lashes we have  
Boxes of promade spike lashes are divided into several categories based on the number of lashes contained in each box or the characteristics of the lashes in each line. 
Based on the number of lashes, Vietnam Lash has varieties like 12/16/20/40 lines in a box. Each of these types is further divided into smaller lines, each of which is a type of promade spike lashes with a different number of strands per lash.
Vietnam Lash has 3/5/7 lash fibers placed together. Furthermore, these lashes come in various lengths, thicknesses, and curls, allowing lash artists to customize the look according to their clients' preferences. 
Mix size tray of promade spike lashes: The lashes are lined up in a straight line, with mixing from 10mm to 15mm.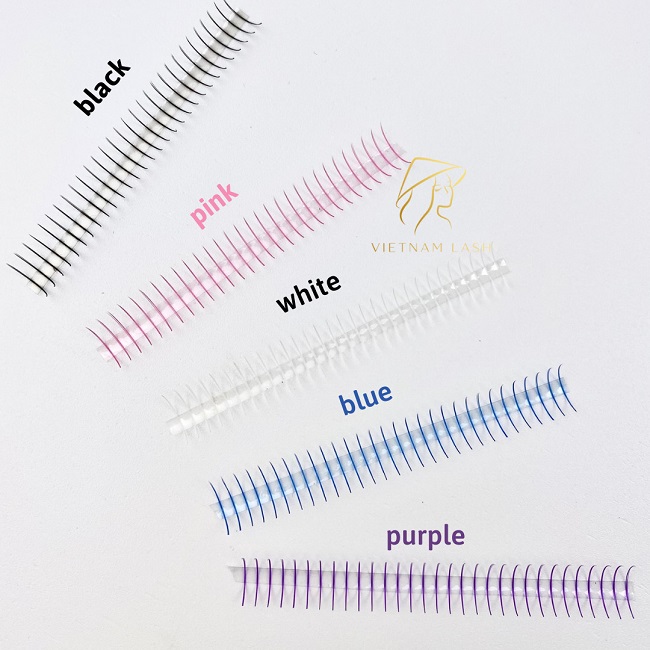 Quality of Vietnam Lash's promade spike lashes
Our slender promade spike lashes are meticulously and attentively crafted with utmost precision. Each lash is expertly handmade using top-notch Korean PBT faux mink fibers, ensuring sturdy and durable curl structure but still super soft and perfect match with any lash styles across the entire collection.
To achieve dense, matte black, we utilize advanced adhesive technology that forms a reliable bond between the fibers' base. To the lash artists, it is still easy to pick up and at an affordable  price. 
Customer experience when using promade spike lashes
A customer from beautiful Russia contacted Vietnam Lash to ask to see our promade spike lash product. She shared that she had tried Chinese and Japanese products as well as a few other suppliers from Vietnam but were not satisfied. Until she read the impressive comments on the website of Vietnam Lash.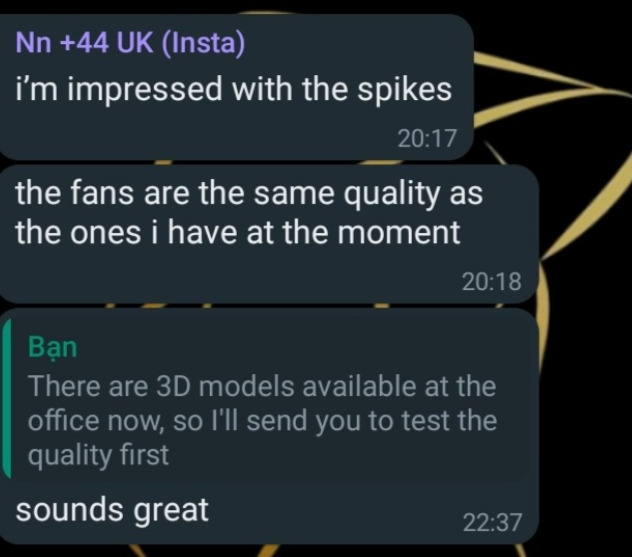 And we sent her promade spike lashes after a full, careful consultation. She was extremely satisfied. Her clients have grown after adding promade spike lashes to the menu. They all felt the super soft of the spike lashes and all said it was more durable than any other spike lash brands they tried before. How wonderful!
A feedback about spike promade fans from England VietnamLash's customer
Purchase promade spike lashes information 
In this extensive manual, our objective is to provide you with the essential knowledge required to make a well-informed purchasing decision. This guide encompasses an extensive array of promade lashes available from Vietnam Lash and includes convenient contact information for seamless communication with our team.
Products list of Vietnam Lash
Vietnam Lash provides an extensive selection of eyelash styles that go beyond promade spike lashes, encompassing a variety of unique and fashionable options. Among our highly sought-after lash offerings are volume lash trays, classic lash trays, and wispy promade fans. Additionally, we proudly offer a range of color eyelashes, including vibrant shades like neon yellow, red, pink, and green, as well as more subtle hues like dark chocolate and brown. All these exquisite lash choices can be easily found on our website.
Visit our webpage for more updated information: https://vietnamlash.com/
Contact us
Vietnam Lash's staff and consultants are always ready to serve you. So don't hesitate to contact us for purchasing the best volume lash trays. 
Vietnam Lash Factory
Address: No. 30, lane 80, Chua Lang, Lang Thuong ward, Dong Da district, Hanoi, 100000
Phone/Whatsapp: +84 924 851 724
Email: vietnamlash@gmail.com
Russia Representative Office:  
No 4-3, Obrucheva Street, Moscow City, Russia
Phone: +7 999 798 40 35
Japan Representative Office:
Okayama Ken, Okayama Shi, Kitaku, Japan
Phone: +81 70-3841-8494
Conclusion
The appearance of promade spike lashes has revolutionized the world of eyelash enhancements, offering a plethora of styles and effects to elevate one's beauty. These lashes, with their amplified volume, length, and customizable options, create an enchanting flutter that radiates glamor.
Vietnam Lash is committed to delivering a premium assortment of narrow promade fans that not only offer a diverse range of choices but also prioritize user safety. Our lashes undergo meticulous scrutiny and rigorous quality control procedures, ensuring that only the highest quality and excellence are delivered to our customers.
Experience the enchantment of promade spike lashes and unlock a realm of captivating beauty possibilities with Vietnam Lash today!