Get ready to upgrade your eyelash extension sets with our latest addition – Flat Lash Promade Fans. These lashes are designed to make your lashes look fuller and more beautiful than ever before!
General Introduction of Flat Lash Promade Fans
Definition of Flat Promade Fans 
Flat Lash Promade Fans are a cutting-edge innovation in the realm of lash extensions. These lashes are crafted with a unique design that sets them apart from traditional lash options. The defining characteristic of these fans is their flattened base, which departs from the rounded base commonly found in regular promade fan lashes. The flat base of these fan lashes results in a sense of drama and volume to the eyes. Unlike the conventional rounded base, the flat base offers a different aesthetic and application experience. Furthermore, the lash tips of flat pre-made fans are split, providing a dense, bold, and irresistibly captivating for the eyelashes extension set.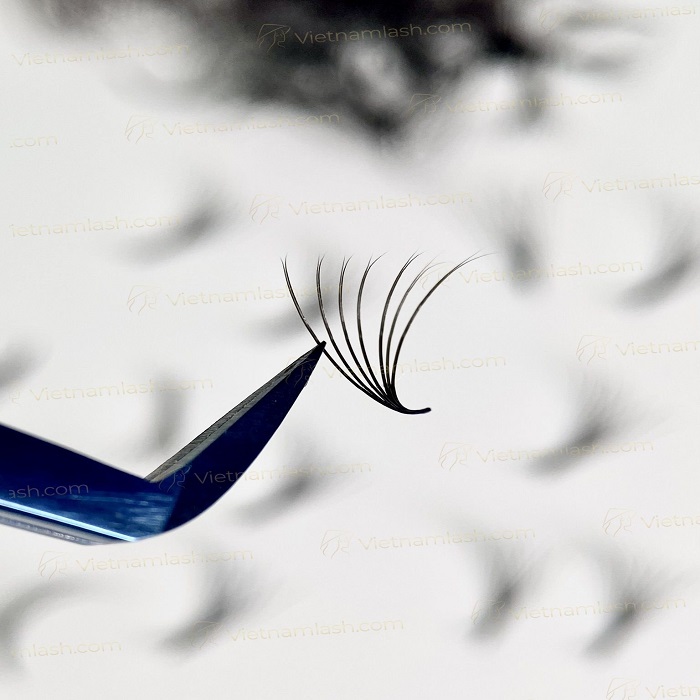 Key Differentiators:
With the Flat Fans, we've revolutionized lash extensions. Here's what sets them apart:
Dramatic Look:

The flat lashes flaunt a darker hue and double split tips, creating a captivating and densely voluminous appearance that's sure to turn heads.

Ellipse-shaped Base:

Featuring an ellipse-shaped base, these lashes offer a broader and thicker look that enhances your eyes with a touch of allure.

Comfort and Longevity

: Lighter in weight, the flat design provides exceptional comfort even during extended wear. Additionally, the unique shape helps maintain the curl and form of the lashes over time, ensuring they look fresh and fabulous for longer.

Adhesive Expertise

: The flat base may require a slightly increased amount of adhesive for secure attachment. This is expertly applied across the entire base for a strong bond, guaranteeing lashes that stay in place.
What problems do flat promade fans solve for customers?
One of the most significant benefits of Flat Promade Fans is their enhanced retention. The flattened base provides a larger surface area for the adhesive to bond with the natural lashes, resulting in a more secure and long-lasting hold. This solves the problem of lashes prematurely falling out, providing clients with lashes that stay put for an extended period.
The flattened base also distributes the weight of the lashes more evenly across the natural lashes. This reduces strain and discomfort on the lash follicles, addressing the problem of heavy or uncomfortable lashes that some clients might experience with traditional extensions.
Flat Lash Promade Fans are Produced at Vietnam Lash 
We're proud to offer a diverse selection of Flat Promade Fans, each designed to suit individual preferences and styles. 
Variety in Thickness: Our Flat Promade Fans are available in two popular thickness options: 0.06 and 0.07. Whether you prefer a delicate or slightly bolder look, we have the perfect fit for you.
Dimensional Delight: Elevate your lash game with our selection of 3D, 4D, 5D, 6D, and 7D options. These refer to the number of lashes grouped together in each fan, allowing you to customize the volume and intensity according to your mood and occasion.
Lengths That Impress: Embrace the beauty of diversity with lash lengths ranging from 8mm to 19mm. Whether you're going for a subtle enhancement or a dramatic flutter, you'll find your ideal length within our collection.
Curl Options: Your desired curl is just a blink away. Choose from a spectrum of curl types including J, B, C, CC, D, and U, each designed to frame your eyes in a unique and enchanting way.
Quality of our Flat Promade Fans 
Our Flat Promade Fans are made using high-quality PBT fiber imported from Korea that are safe and comfortable for clients. Each pair of them is a masterpiece of precision and care. Crafted to perfection, our commitment to quality guarantees that you'll receive lashes that are consistently flawless, reflecting the pinnacle of lash artistry.
Our Flat Promade Fans aren't just lashes; they're a statement. With their innovative flat base, they redefine lash aesthetics, offering a distinctive appeal that distinguishes them from other lash products in the market.
Hence, we're not just offering lashes; we're offering a journey of self-expression and beauty. 
Customer's Experience
We proudly recount the story of one of our most valued partners, a distinguished lash entrepreneur hailing from the United States. Through a journey of shared ventures and countless orders, she has become an integral part of our collaborative tapestry.

When we came up with our new product, the Flat Promade Fans, we knew we had something exciting. We reached out to her to try them out, and the results were fantastic! She loved the product and found that it helps lashes stay in place better. Even her clients were really happy with the results.
Because of this success, we're taking our partnership to the next level. We're making a lot more of these Flat Promade Fans for her to use in her lash business. It's all about working together and making sure their clients get the best lashes possible.
This story isn't just about products; it's about people coming together to make something great. It shows that trying new things and working as a close partner can lead to awesome results. We're excited to keep working with our loyal customers and making even more amazing products for them.
Purchase Flat Promade Fans Information
Through this comprehensive guide, our ultimate goal is to empower you with the essential insights necessary to make a well-informed choice. Within these pages, we will delve into the exquisite array of Flat Promade Fans trays proudly offered by Vietnam Lash. Moreover, we will provide you with direct avenues of contact, thereby extending a warm invitation for you to engage with us for any additional queries or support you might seek.
Conclusion
In conclusion, Flat Promade Fan lashes epitomize a remarkable leap forward in the world of lash extensions. Their flattened base, and unique benefits offer a solution to multiple challenges faced by both lash artists and clients. 
Don't miss out on this opportunity to redefine your lash experience. Get in touch with us today to explore the world of Flat Promade Fans via: www.vietnamlash.com and take your lashes to new heights. Whether you're a lash artist seeking efficiency or a client pursuing flawless allure, these lashes are your key to unlocking a world of captivating beauty.