When it comes to achieving the perfect set of voluminous and luscious lashes through eyelash extensions, the right tools can make all the difference. Volume tweezers are a key instrument in the arsenal of lash artists who aim to create intricate and dramatic lash designs. In this article, we will delve into the world of volume tweezers and explore Vietnam Lash's exceptional range of tweezers designed for volume extensions.
What Are Volume Tweezers?
There are different types of tweezers used for eyelash extensions, and volume tweezers are one of them. Volume tweezers are characterized by their fine, pointed tips that allow technicians to pick up multiple ultra-fine lash extensions at once and create "fans" or "bouquets" of lashes. These fans are then applied to a single natural lash, which can result in a fuller and more voluminous lash look.
Volume tweezers are commonly used in advanced eyelash extension techniques, such as Russian volume or 2D-6D lash extensions. These techniques involve attaching multiple extensions to a single natural lash to create a customized, dense lash appearance. The precision and control offered by volume tweezers make them essential tools for lash artists who want to achieve these intricate and voluminous eyelash extension designs.
What Do Volume Tweezers Do?
Volume tweezers play a pivotal role in the art of volume lash extensions, offering lash technicians a range of options to cater to various techniques.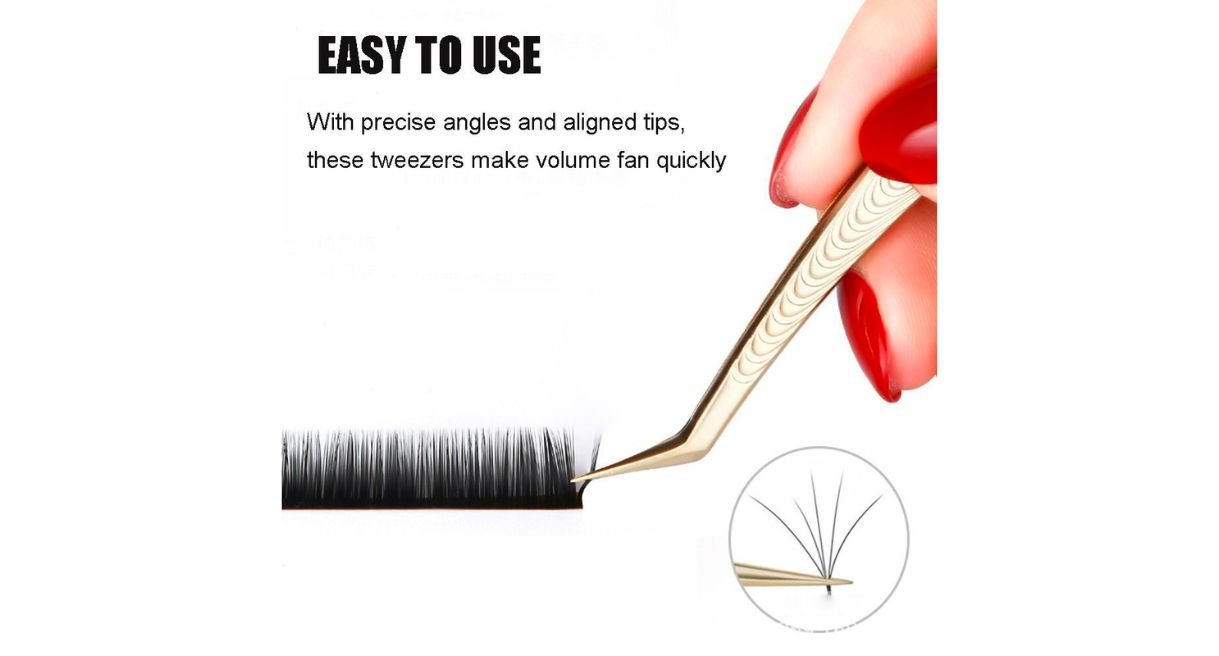 When it comes to creating those eye-catching lash fans, a popular technique in the world of volume lash extensions, the L tweezer and its counterpart, the L90, emerge as the go-to tools. These tweezers feature an ergonomic design that caters to the technician's comfort and precision. Their boot-shaped tips, in particular, are the secret to crafting perfect fans, whether it's directly on a strip of tape or a similar surface. This innovative design allows lash artists to assemble fans effortlessly, bringing uniformity and artistry to each lash set. The L and L90 tweezers make fan squeezing a breeze, ensuring that every client leaves with stunning, voluminous lashes.
Vietnam Lash's L Curve Tweezers
Introducing Vietnam Lash's L Curve Tweezers – the ultimate tool for lash artists seeking precision and control in the world of eyelash extensions. 
The L Curve Tweezer is a type of boot tweezer designed with the expert lash technician in mind, catering to a wide range of techniques. Whether you're fanning off the strip with handmade volume fans or working with mega handmade fans, these tweezers offer unrivaled flexibility and finesse. The secret to their exceptional performance lies in the unique curved L-shape, also known as a boot, that ensures an optimal angle for creating those perfect volume fans.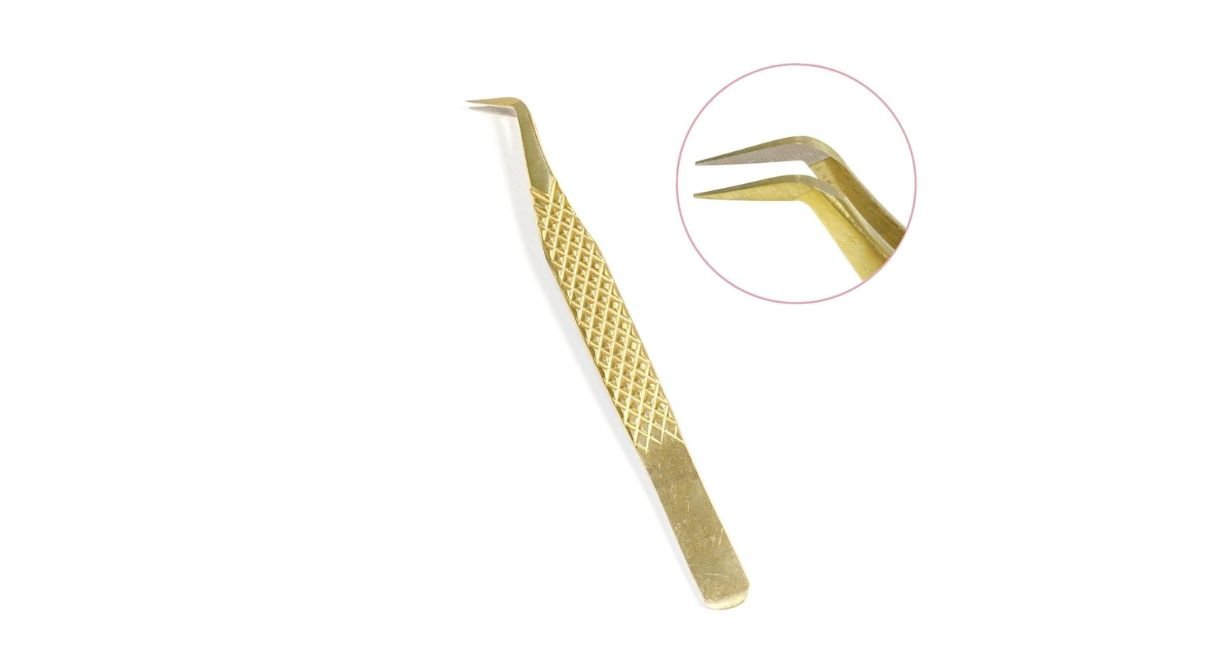 What sets Vietnam Lash's L Curve Tweezers apart is their ability to facilitate the pinching method, making them a go-to choice for crafting volume fans that are simply unmatched in precision. The L-tip design provides a substantial sweet spot, making fan-making easier and more efficient. Whether you're a seasoned pro or just starting out, the lightweight and comfortable grip of these tweezers will keep your hand steady, ensuring that every lash is placed with absolute precision.
One of the standout features of these volume eyelash tweezers is their ability to keep your handmade fans securely in your grasp. You won't have to worry about fanning slipping away; these tweezers firmly and expertly hold your lashes, ensuring that your work remains under your complete control. For lash artists looking to elevate their artistry and create flawless volume fans, Vietnam Lash's L Curve Tweezers are a trusted companion that won't disappoint. Whether you're using the pinching method or fanning off the strip, these tweezers are the key to achieving the lash extensions your clients dream of.
Vietnam Lash's L-90 Mega Volume Tweezers
These tweezers, also known as L-90 tweezers, are precision-engineered to cater to the demands of working with mega volume lash sets ranging from 10D up to an astonishing 20D. Unlike conventional volume tweezers with their thick and bulky blades, the L-90 tweezers feature slender and petite blades set at a 90-degree angle to the handle. This unique design allows for an unparalleled view of the lashes, especially when working with shorter lashes in the 6mm, 7mm, and 8mm range.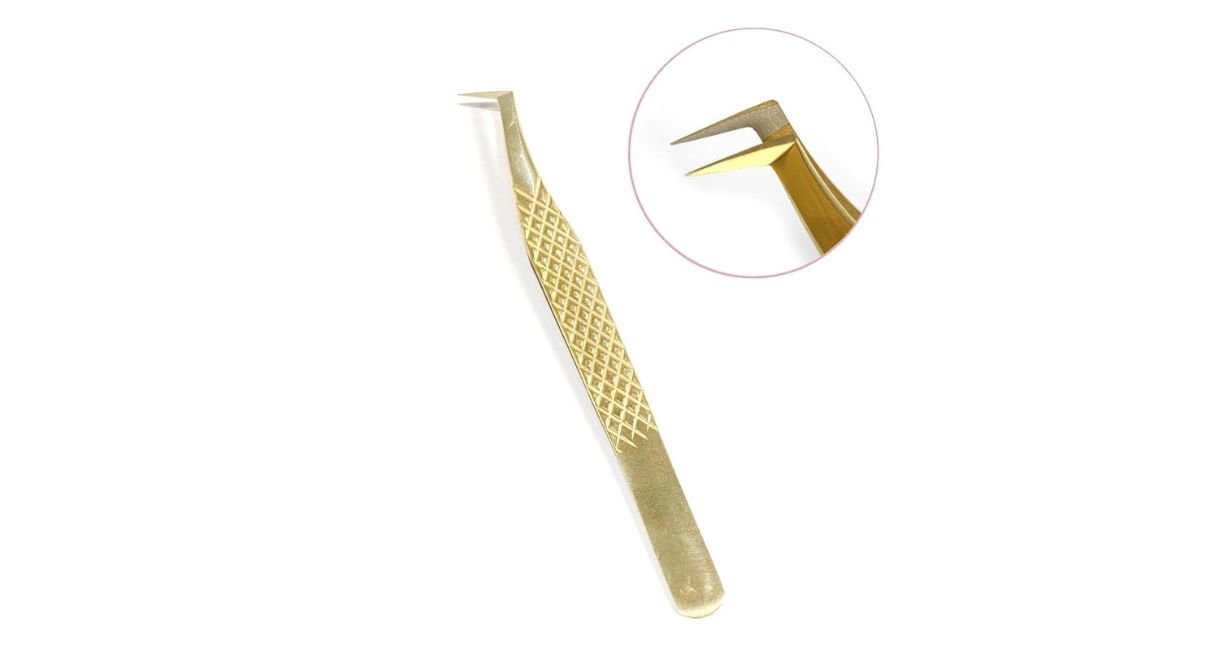 The blades of the L-90 Mega Volume Tweezers have undergone special refinement to enhance their performance. They possess the remarkable capability to securely grip and manipulate anywhere from 10 to an impressive 20 lashes (10-20D) simultaneously. However, it's important to note that due to the 90-degree configuration of the blades, these tweezers are not suitable for lash isolating tasks, for which the L-45 tweezers are better suited. Instead, the L-90 Artist Tweezers excel in the art of creating fans using the fan squeezing technique, making them an invaluable tool in the arsenal of lash professionals aiming to craft spectacular mega volume lash extensions.
With Vietnam Lash's L-90 Mega Volume Tweezers, you can elevate your lash extension game to new heights, achieving stunning mega volume lash sets that are sure to leave a lasting impression on your clients. These tweezers embody the perfect blend of form and function, allowing lash artists to work with utmost ease and precision, resulting in lash extensions that stand out in both beauty and craftsmanship.
Quality of Vietnam Lash's Tweezers
Vietnam Lash takes immense pride in the superior quality of our eyelash tweezers, meticulously designed to meet the exacting standards of professional lash artists and beauty enthusiasts alike. Crafted with precision and care, our tweezers offer a host of features that set them apart from the rest.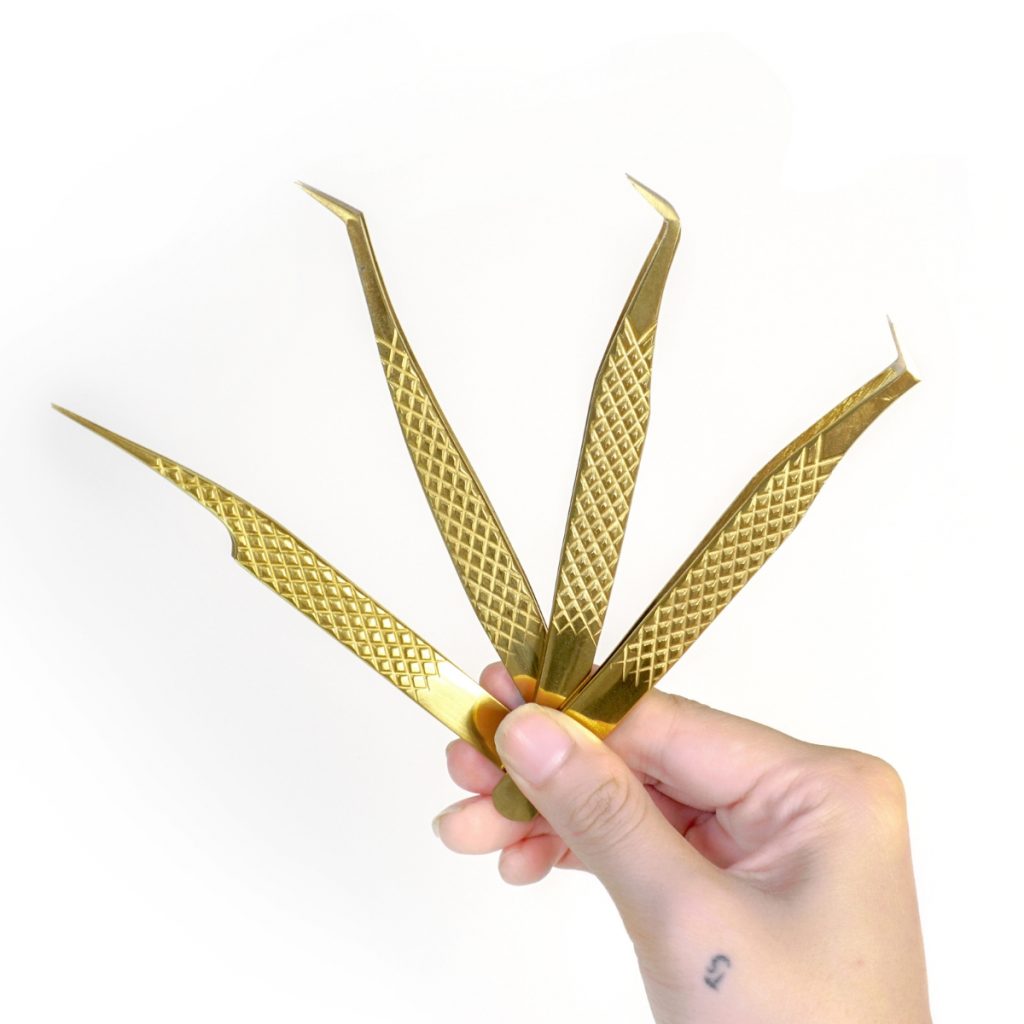 At the heart of our tweezers is their tight and non-leaky tip, designed to be rough enough to effortlessly grip and shape eyelashes. The tip of the tweezers lies flush, ensuring a close and secure grip, making it a breeze to pick up even the tiniest lash with precision. This level of detail and quality is ideal for those seeking a seamless eyelash extension application process. The ergonomic design of our tweezers strikes a perfect balance between firmness and lightweight construction, ensuring suitability for individuals with varying hand strengths. 
One of the most impressive aspects of Vietnam Lash's tweezers is their durability. Constructed from high-quality stainless steel sourced from Japan, they are built to withstand exposure to chemicals commonly used in the eyelash industry, such as lash extension glue and cleaning solutions. Moreover, these tweezers are rust-resistant and non-static, safeguarding against any potential disruption to eyelash extensions and the desired lash shape.
Vietnam Lash's tweezers are a testament to quality, precision, and durability. 
How To Purchase
After reviewing the product information, select the quantity of tweezers you'd like to purchase. You may be able to choose the number of tweezers you want to order in a single purchase.
If you have any question, don't hesitate to call our hotline at: +84924851724 
Final Thoughts
These tweezers are not just tools; they are the brushstrokes of lash artists, allowing them to create masterpieces with each extension. The fine craftsmanship and design of Vietnam Lash's volume tweezers offer lash artists the control and finesse required to bring creative visions to life. Whether it's crafting a natural, fluttery look or a bold and dramatic one, the right volume tweezers can make all the difference!