In the world of beauty and lash artistry, time is money, and the last thing you want is to waste it searching for the right lash extension. That's where our Promade XXL Trays come to the rescue. We've taken the hassle out of lash preparation, making your appointments smoother and more efficient than ever!
Say goodbye to the chaos of disorganized lash extensions and hello to the ease and efficiency of Promade XXL Trays. Let's dive deeper into how these trays can transform your lash game and elevate your artistry to new heights.
What Is a Promade XXL Tray?
A promade XXL tray is a jumbo sized, pre-assembled assortment of eyelash extension fans. These trays are designed to provide convenience and efficiency, often packing a whopping 1000 or more lash extension fans within them. What sets these trays apart is their variety; they contain a diverse mix of different lengths and curls, allowing makeup artists and lash technicians to craft truly customized lash looks for their clients. These individual lashes can be crafted from synthetic materials or natural hair, and they're neatly organized within a tray or container, ensuring that every lash is easily accessible.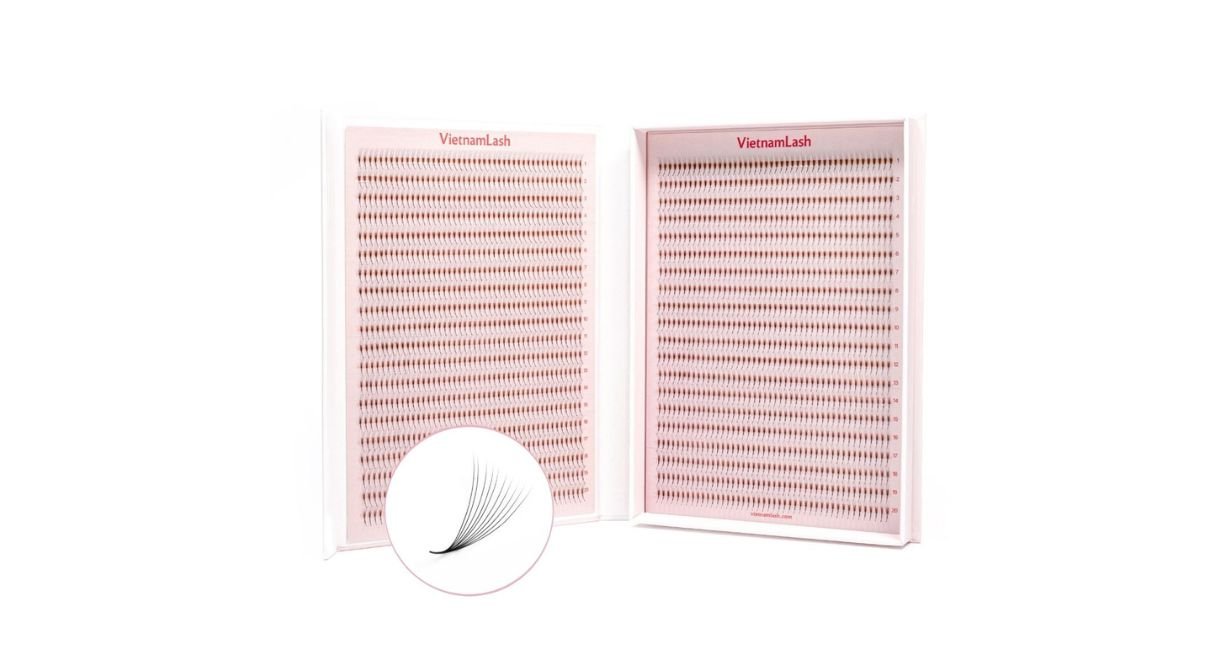 Benefits of Using Promade XXL Trays
Promade Lashes XXL Trays have quickly become the go-to choice for lash artists and beauty enthusiasts, and it's no wonder why. These trays pack a multitude of benefits that cater to everyone, from beginners to seasoned professionals.
One of the most significant advantages of using promade fans XXL trays is the sheer variety they offer. These trays come loaded with pre-made lash extensions in a spectrum of lengths, thicknesses, and styles. This diversity simplifies the entire lash application process, making it a breeze for those just starting their lash journey and saving precious time for seasoned pros. You no longer have to meticulously handpick individual lashes; instead, you can effortlessly grab the right ones from the tray.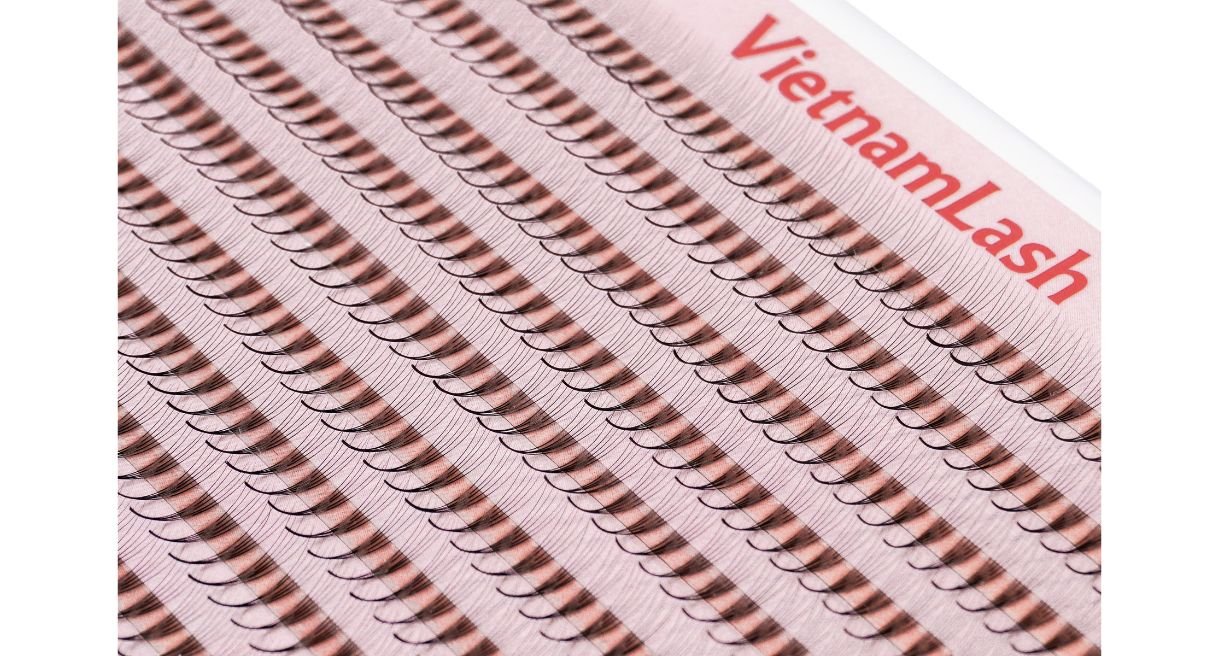 Another incredible feature of Promade XXL Trays is their versatility. Whether your clients are after a subtle, everyday look or crave the drama of voluminous lashes, these trays have you covered. Their extensive range means you can cater to a diverse clientele without a hitch.
What Problems do Promade XXL Trays Solve for Lash Artists?
What sets these XL lash trays apart is their ingenious interior line that tackles the issue of pre-made lash fans shifting or becoming disorganized while working. This innovative design ensures that lash technicians can now work with unparalleled ease and precision. No more fumbling around or wasting precious time searching for the right lash fan. With the Promade XXL Trays, everything is neatly organized and readily available, making the entire lash application process smoother and more efficient. The result? A more polished and flawless end result that will leave clients in awe of their stunning lashes.
Introducing Vietnam Lash's Promade XXL Trays 
Vietnam Lash is thrilled to introduce our latest and most outstanding product, the Promade XXL Tray, to our beloved customers. At the heart of our mission is a commitment to providing you with a diverse and premium lash collection. Our extensive range of fan lashes comes in a variety of sizes and packaging options, reflecting our unwavering dedication to delivering excellence.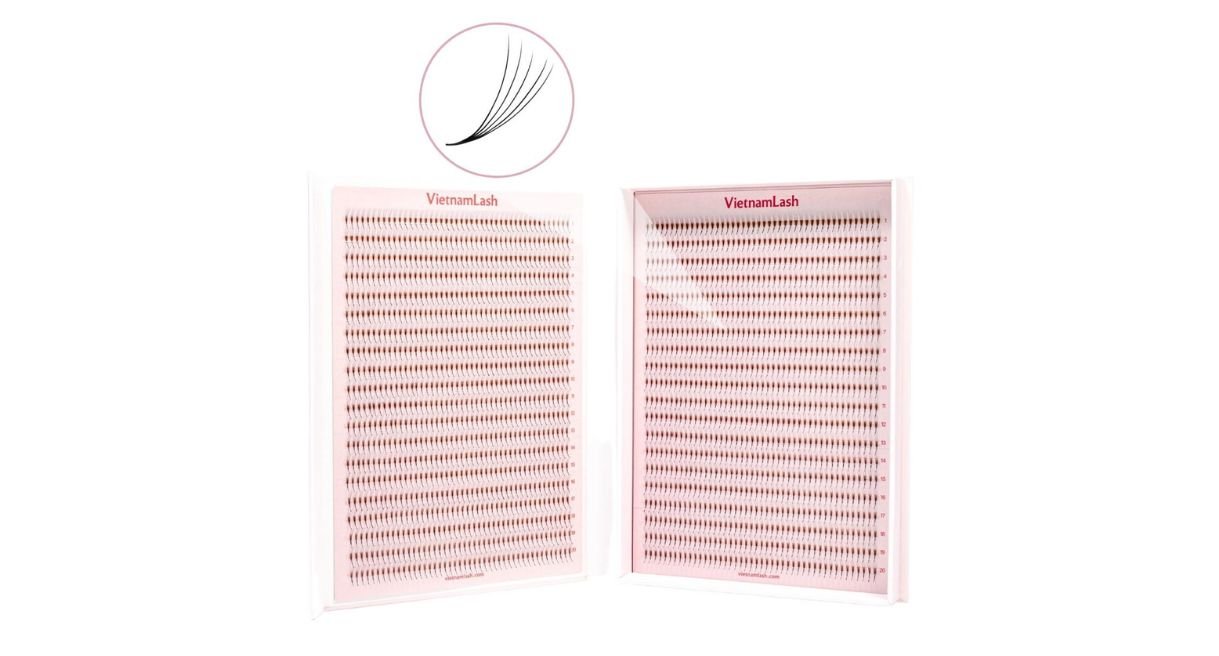 The Promade XXL Lash Trays have been thoughtfully designed to cater to a wide range of customer preferences and needs. These trays are meticulously organized, and they are categorized based on the number of lashes in each box as well as the unique characteristics of the lashes within each line. Whether you prefer 2D or 16D fans, our range of fan lashes offers a broad spectrum of choices. What sets our XXL Promade Tray apart is the sheer abundance it offers. With a grand total of 40 lines of fans, all meticulously arranged in an elegant and neat fashion, our XXL Trays have twice the number of fans compared to our XL Tray packaged neatly in the same sized packaging, saving you on shipping fees! Gone are the days of painstakingly laying out fans one by one; we've done the hard work for you.
But the choices don't stop at quantity. In addition to the number of fans, our customers have the freedom to choose from a variety of curvatures, thicknesses, and lengths for their lash fans. With this range of options, we ensure that you can customize your look precisely to your liking, making your lash experience as unique and beautiful as you are. At Vietnam Lash, we believe that every set of eyes deserves to shine, and our double XL promade tray is here to make that a reality.
Quality of Vietnam Lash's Promade XXL Trays 
Vietnam Lash takes immense pride in our promade fans XXL trays, and it's not without good reason. These trays boast an unparalleled level of quality, thanks to a remarkable array of features and characteristics that set them apart from the rest.
To start, we've spared no effort in creating these trays. Each one is meticulously crafted using high-quality Korean PBT material, renowned for its outstanding durability and long-lasting properties. This choice of material ensures that the curls of the lashes remain perfectly intact, and the lashes themselves stay in exceptional condition. This, in turn, offers our customers lashes that not only look great but also endure the test of time. 
What's more, our promade fans XXL tray doesn't just stop at quality lashes; it's designed for precision and customization. You can choose between a super pointed or flat base, allowing for a level of control and adaptability that's second to none. The lashes themselves are remarkably soft, ensuring that anyone wearing them experiences the utmost comfort and lightness.
Last but certainly not least, we've paid special attention to the eco-conscious consumer in our midst. Our Promade XXL tray is packaged in an environmentally-friendly manner, demonstrating our commitment to sustainability and a desire to reduce the ecological footprint within the eyelash industry. We believe in beauty without compromise, and our Promade XXL Trays embody that philosophy, combining quality, comfort, and a sustainable approach that leaves everyone satisfied.
Customer Experience with Vietnam Lash's Promade XXL Trays
The feedback from users around the globe has been nothing short of extraordinary, with countless customers expressing their deep satisfaction and appreciation for the unparalleled convenience this innovative product offers. Allow us to share a remarkable story that showcases just how remarkable the Promade XXL Tray truly is.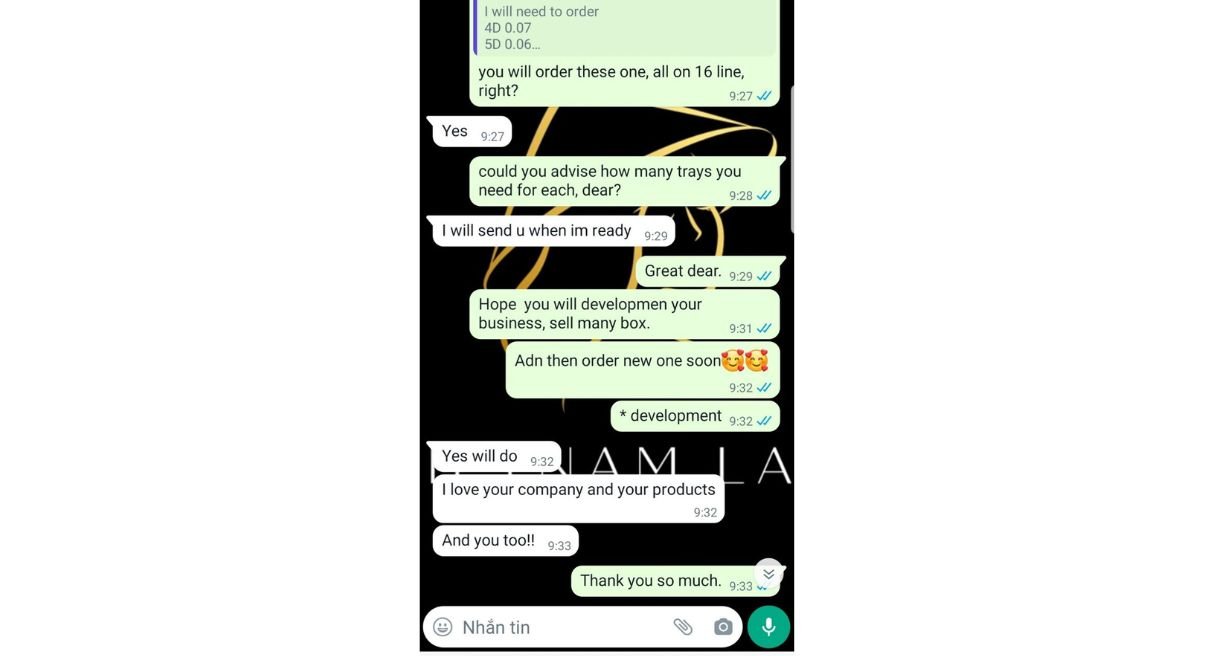 One of our dedicated customers, based in Canada, has become a devoted advocate of the Promade XL Tray from Vietnam Lash. This loyal patron has consistently chosen our XXL trays, reinforcing the fact that this product is not just good, but exceptional. Such unwavering support reflects the remarkable effectiveness and reliability of the Promade XXL Tray.
What makes the Promade XXL Tray stand out is the transformative effect it has on the eyelash application process. According to this devoted customer, the XXL tray has ushered in a new era of efficiency and ease, making the entire procedure smoother and quicker. The impact on the productivity of their eyelash technicians has been nothing short of incredible. Thanks to the XXL tray, these skilled professionals have been able to save precious time during each application session. This newfound efficiency not only elevates their overall work standards but also empowers them to cater to more clients in a single day.
Clients can now anticipate quicker, more efficient eyelash applications, resulting in stunning, long-lasting results. The Promade XXL Tray from Vietnam Lash has unequivocally positioned itself as an invaluable asset for eyelash technicians, fostering greater efficiency and ultimately elevating customer satisfaction to new heights. With this remarkable product at your disposal, achieving the luscious lashes you've always dreamed of has never been easier!
How To Purchase
Congratulations! You've just taken the first step toward transforming your lash artistry with Vietnam Lash's Promade XXL Trays. Browse through the diverse options available and select the promade volume fans XXL tray that suits your needs and preferences. You can filter by the number of fans, lash characteristics, and other features to find the perfect fit! 
If you have any question, don't hesitate to call our hotline at: +84924851724 
Conclusion
In the world of beauty and lash artistry, time-saving solutions are like hidden gems that make your life as a lash technician or makeup artist easier. With Vietnam Lash's Promade XXL Trays, we've introduced a game-changing product that takes the hassle out of lash preparation, making your appointments smoother and more efficient than ever.