Welcome to our comprehensive blog all about colored lash trays! If you're a lash enthusiast or a beauty professional looking to stay up-to-date with the latest trends, techniques, and products, you've come to the right place. In this blog, we'll delve into the world of colored lash trays, unleash your inner artist and discover how colored lash trays can take your lash game to the next level. Let's dive in!
General introduction of colored lash trays 
Colored lash trays are one of the most vibrant and eye-catching product lines in the world of eyelash extensions. In the past, it was thought to be picky, but now colored lash trays are increasingly popular. Let's find out their features and benefits!
Definition of colored lash trays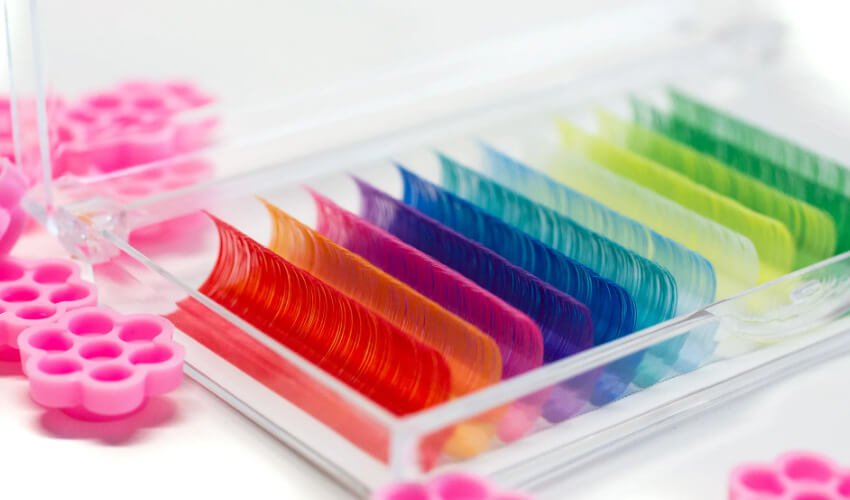 Colored lash trays refer to specially designed trays or containers that hold individual eyelash extensions in a variety of vibrant, non-traditional colors. These trays typically contain synthetic or natural hair lashes in hues such as blue, purple, green, or even multi-colored options. Colored lash trays offer a creative alternative to traditional black or brown lashes, allowing for unique and eye-catching lash looks.
Major characteristic of colored lash trays
Colored lash trays offer a wide range of vibrant hues that go beyond traditional black or brown. Colored lash trays are typically made from high-quality synthetic lashes which are lightweight, comfortable to wear, and blend seamlessly with natural lashes.
Colored lash trays provide lashes with consistent curl and length, ensuring uniformity and symmetry in lash applications. Colored lash extensions can be applied temporarily, allowing individuals to experiment with different colors that can be easily removed or replaced, offering versatility and the freedom to change lash styles as desired.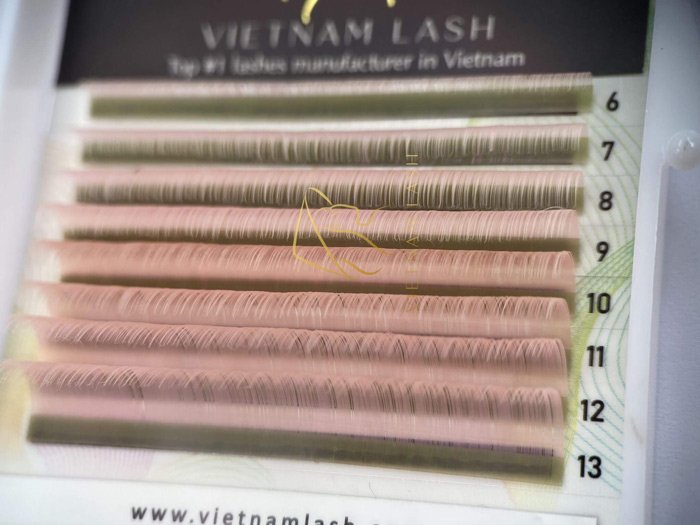 Benefit of colored lash trays
Using a colored lash trays allows lash artists to create precise and aesthetically pleasing lash designs. They can unleash their creativity and offer clients personalized lash styles because the versatility of colored lash trays allows for endless customization.
What problems do colored lash trays solve for customers?
For the customers, colored lash extensions can instantly enhance the beauty of the eyes by adding a unique and captivating element. They can make a statement, draw attention, and elevate any makeup look, making them a popular choice for those seeking a distinctive and memorable appearance.
Colored lash trays are produced in Vietnam Lash 
At Vietnam Lash, our focus is on creating lash trays in different hues, including full colored lashes and ombre colored lashes. We offer a range of options in terms of materials and styles, such as mink lashes and silk lashes. What sets Vietnam Lash apart is that we provide customers with a wide selection instead of individual colored lashed trays only.
Types of colored lash trays we have  
The most popular colored lash trays at Vietnam Lash are volume colored eyelash trays. They are popular because they are easy to join and style for customers.
In addition to volume, we also have classic colored lash extension trays. If divided in terms of ingredients, there will be false mink lashes, silk lashes and flat lash extension.
Besides individual colored lash extensions, we also offer promade fans colored lash trays. They are colored fibers attached to fans that have the same characteristics in length, curvature and thickness.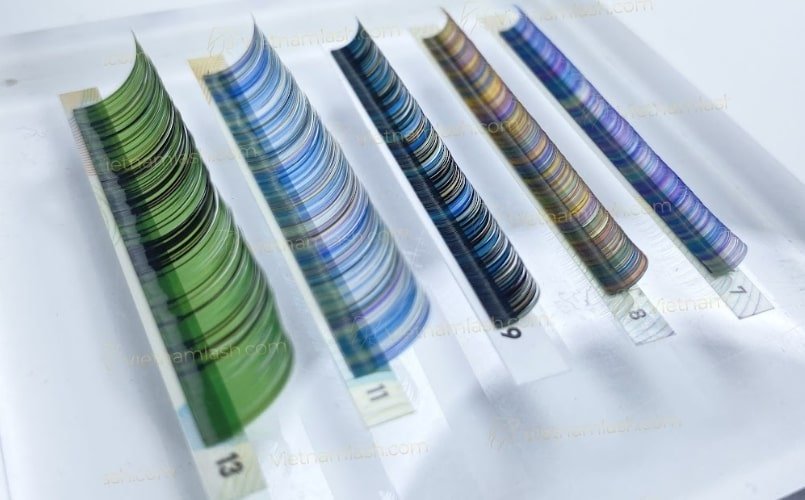 Quality of Vietnam Lash's colored lash trays
For color eyelashes, in addition to the premium quality in terms of materials and designs, customers are also interested in color fastness and the safety of the color when used on the eyes.
In terms of color fastness, even individual lashes or promade fans are made from pre-made synthetic fibers. It's not like the low quality colored lash trays, which are dyed from black yarn after being applied to the mold. As a result, the hues of our colored lash trays do not fade during use.
About the safety of colored lashes, it primarily depends on the quality of the materials used and the adherence to proper manufacturing practices. We ensure that the dyes and pigments used in colored lashes are safe for use near the eyes. It is certainly non-toxic and does not cause any harm or irritation to the eyes or the surrounding skin.
Customer experience when using colored lash trays
This feedback from our new client in London, UK highlights their overall satisfaction with the eyelashes they received from us. However, they expressed some concerns about retention, indicating that they were worried about how well the lashes would stay in place over time.
In response to their concerns, we promptly addressed the issue by providing feedback on our retention practices. We assured the client that we take great care in checking the quality and reliability of our lashes before shipping them to customers. By emphasizing our commitment to careful inspection and quality control, we aimed to alleviate any worries they had about the longevity of our lashes.
At Vietnam Lash, we treat every order, regardless of its size, with the utmost care and attention. We prioritize quality above all else, recognizing that there is always room for improvement. We value the trust and loyalty of our dear customers and express our gratitude for their ongoing support.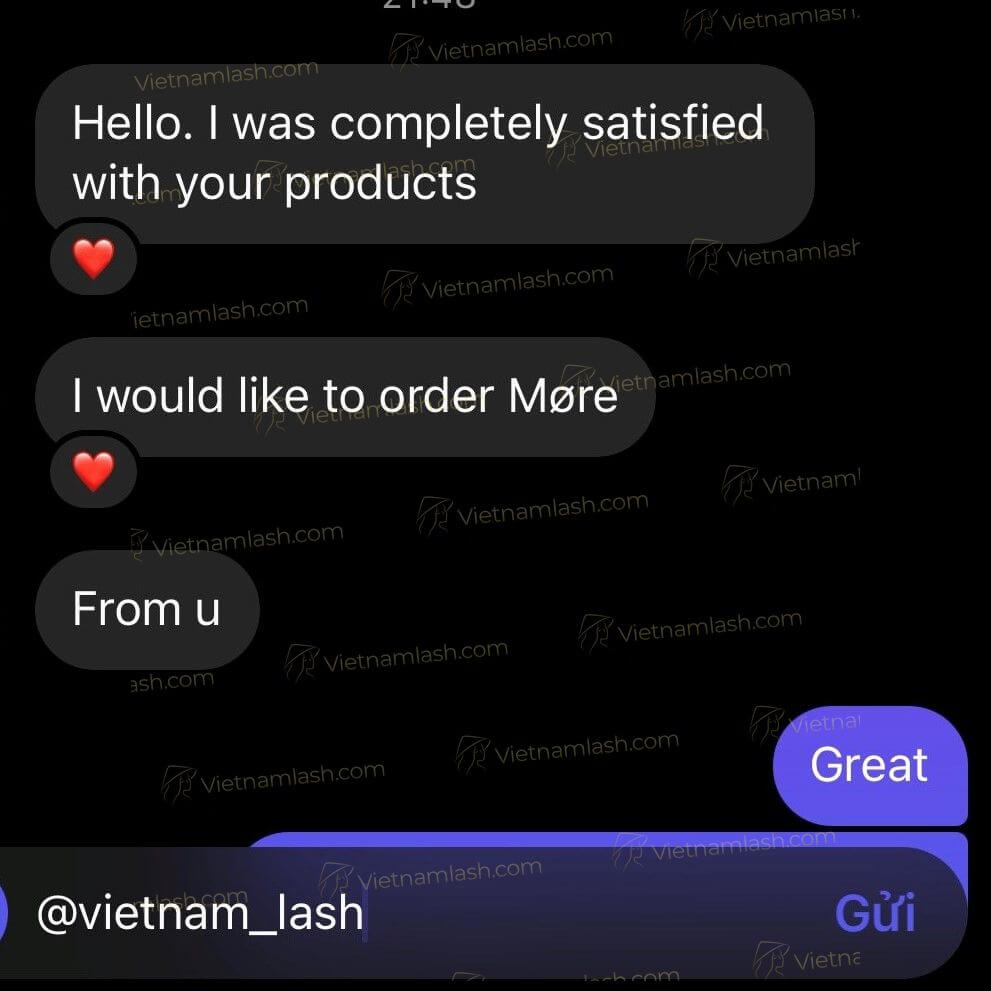 Purchase colored lash trays information 
In this guide, we will provide you with all the essential information you need to make an informed purchase decision. From understanding the different types of lash trays available in Vietnam Lash, to information to contact us directly.
Products list of Vietnam Lash
At Vietnam Lash, we understand that customers from various countries and regions have diverse preferences when it comes to eyelashes. Our colored lash trays are designed to cater to the specific needs of our customers.
In addition to offering colored eyelash trays, we also provide a wide range of other options such as flat lash, volume lash, spike lash, and wispy lash. Whether you prefer classic styles or the latest trends, you can find all these products on our online store.
When you choose Vietnam Lash, you can have complete confidence in the quality of our products. We prioritize delivering exceptional quality while ensuring that our prices remain the most affordable in the market.
If you are a professional eyelash extensionist, we are confident that our products will meet and exceed your expectations. Your customers will be satisfied with the quality and performance of the lashes we offer.Visit our webpage for more updated information: https://vietnamlash.com/
In conclusion, colored lash trays are a versatile and exciting option for enhancing your eyelashes. With the availability of different materials and styles like mink lashes and silk lashes, you can customize your look to suit your individual preferences.
At Vietnam Lash, we take pride in producing high-quality colored lash trays that not only offer a range of options, but they are also safe for users. With our commitment to careful inspection and thorough quality control, you can trust that the lashes you receive will be of the highest standard.
Explore the options available and discover the perfect colored lash trays to express your unique style and enhance your natural beauty.