We extend a warm welcome to our extensive blog dedicated to wispy promade fans! Whether you're an avid lash lover or a beauty expert seeking the latest trends, techniques, and products, you've found the perfect resource. Within this blog, we will explore the realm of wispy premade fans, unlocking your artistic potential. Let's embark on this exciting journey together!
General introduction of wispy promade fans
Wispy promade fans are a specific type of premade lash extensions that are one of the most impressive and eye-catching product lines. These fans have become increasingly popular in recent years. Let's find out their features and benefits!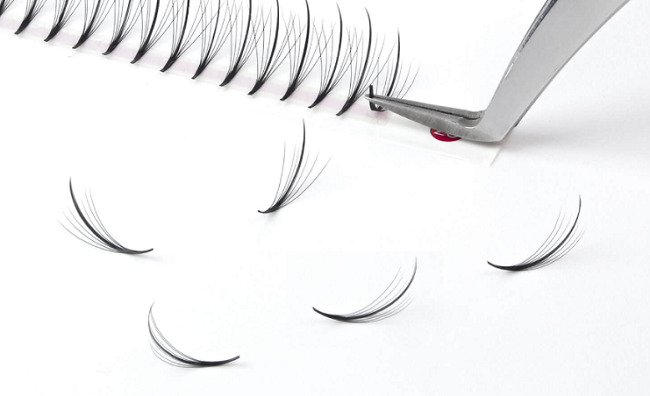 Definition of wispy promade fans
Wispy promade fans refer to premade clusters of individual lashes that are delicately fanned out and attached to a single base. In a wispy fan, the central lash serves as a prominent focal point, being the longest lash within the fan arrangement. These premade fans are designed to provide a wispy and fluttery effect when applied to the natural lashes. They are typically made from high-quality materials like silk or mink fibers, ensuring a lightweight and comfortable feel when worn.
Major characteristic of wispy promade fans
The main feature of wispy promade fans is that the number of lashes attached to a fan is always odd. Why? As mentioned in the definition, wispy premade fans are fans with the largest single lash in the middle as a pillar. Therefore, in order to have a balance for a fan, the number of lashes will be odd. The eyelashes that make the pillar will be thicker and darker than the eyelashes that spread around.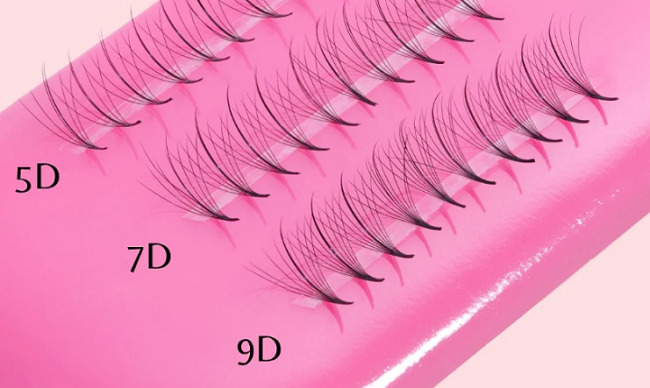 Benefit of wispy promade fans
Wispy premade fans offer several benefits that make them a popular choice among lash enthusiasts and beauty professionals.
First, wispy premade fans provide a consistent look. This ensures that each applied fan has the same volume and wispy effect, creating a cohesive and balanced lash appearance.
Then, wispy premade fans are designed to mimic the look of natural lashes. The individual lashes in each fan are typically ultra-fine and lightweight, ensuring a seamless blend with the natural lashes. This creates a more natural and realistic appearance, enhancing the beauty of the eyes without appearing overly artificial.
What problems do wispy promade fans solve for customers?
If you are the lash artist, wispy promade fans save your precious time and money. Our fans will help you to quickly create a stunning wispy lash look for your clients! Shortening the time for each client and still making them happy means increasing the number of clients for you.
For wispy promade fans users, wispy are lightweight fans that don't weigh lashes down or cause damage to their natural lashes.
Wispy promade fans are produced in Vietnam Lash
Vietnam Lash prioritizes the production of lash fans in a variety of styles. We pride ourselves on offering a diverse array of choices in terms of materials and sizes, including mink lashes and silk lashes. What sets Vietnam Lash apart is our commitment to providing customers with a broad high-quality selection.
Types of wispy promade fans we have
At Vietnam Lash, we produce wispy promade fans based on many different criteria. About the material, we have silk wispy promade fans, mink wispy fan lashes, flat wispy premade fans. Silk material is for soft and light lashes like silk, mink wispy fans are for natural thick lashes and flat fans are for delicate and seductive lashes.
Regarding style, we have 3D, 5D, 7D, 9D fans. Each type offers a different thickness, depending on the needs of the user. In addition, wispy promade fans come in many different colors, instead of the traditional black or brown. It helps the wearer to change the unique style, more personality.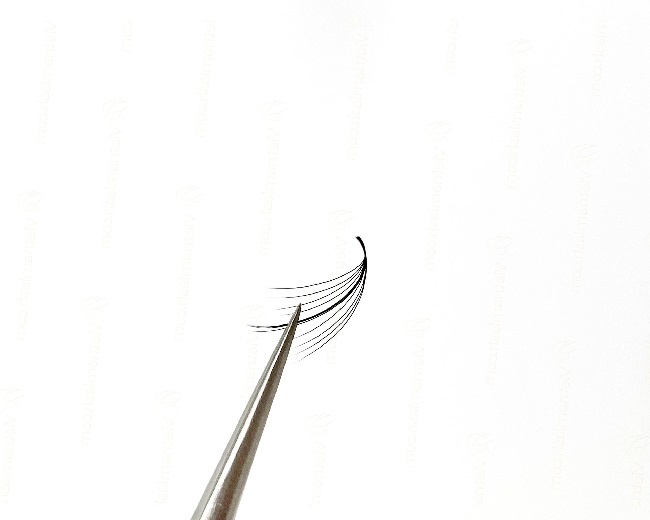 Quality of Vietnam Lash's wispy promade fans
When it comes to wispy promade fans, customers are not only interested in the premium quality of materials but also the sticker glue and safety of the glue when applied to the eyes.
In terms of glue's safety, our wispy premade fans are hand-stick from PBT synthetic fibers. Unlike low-quality wispy promade fans that are industrially manufactured, our wispy promade fans sustain during use.
Regarding the safety of wispy promade fans, it primarily relies on the quality of materials and glue. We prioritize the use of organic glue that is safe for application near the eyes. Our glue is non-toxic and does not cause any harm or irritation to the eyes or the surrounding skin.
Customer experience when using wispy promade fans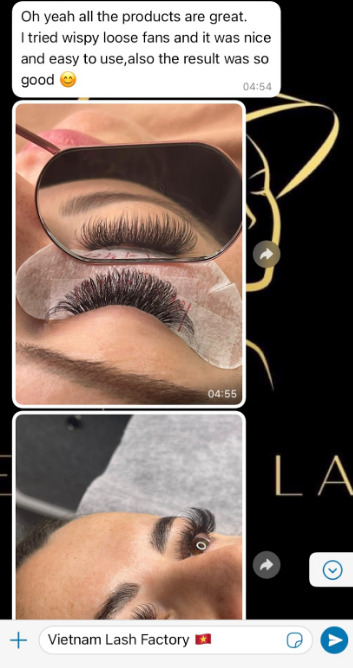 At first, as a new and inexperienced retailer, he was very careful in his wholesale search. He tried the products of many other wholesalers from Vietnam and also from Korea and China. But he is only really satisfied with Vietnam Lash, both in terms of quality of eyelashes as well as consulting, delivery and after-sales care.
"You provide the most durable eyelashes, they are not breakable and achieve uniform curl between lashes. Jenny, who advises me, is also a great staff" – He said. And from then, he is a loyal customer of Vietnam Lash.
At Vietnam Lash, we place a high value on quality and continuously strive for improvement. We deeply appreciate the trust and loyalty of our valued customers and extend our heartfelt gratitude for their ongoing support.
Purchase wispy promade fans information
In this comprehensive guide, we will equip you with all the necessary information to make a well-informed purchasing decision. It includes various types of lash trays offered by Vietnam Lash and direct contact details for reaching out to us.
Products list of Vietnam Lash
Our experiences reveal the diverse preferences of customers across different countries and regions when it comes to eyelashes. Our wispy promade fans are specifically designed to meet the unique needs of our valued customers.
In addition to offering wispy promade fans, we proudly present an extensive selection of other options, including individual lashes, promade loose fans with various styles, colors, materials. Whether you lean towards timeless styles or embrace the latest trends, our online store offers all these products to cater to your preferences.
At Vietnam Lash, we are committed to delivering products of exceptional quality. If you are a professional eyelash extensionist, we are confident that our products will not only meet but surpass you and your customers' expectations. Visit our webpage for more updated information: https://vietnamlash.com/
Contact us
Vietnam Lash's staff and consultants are always ready to serve you. So don't hesitate to contact us for purchasing the best volume lash trays. 
Vietnam Lash Factory
Address: No. 30, lane 80, Chua Lang, Lang Thuong ward, Dong Da district, Hanoi, 100000
Phone/Whatsapp: +84 924 851 724
Email: vietnamlash@gmail.com
Russia Representative Office:  
No 4-3, Obrucheva Street, Moscow City, Russia
Phone: +7 999 798 40 35
Japan Representative Office:
Okayama Ken, Okayama Shi, Kitaku, Japan
Phone: +81 70-3841-8494
Conclusion
In today's world, where personal comfort and style go hand in hand, wispy promade fans have emerged as a popular choice for individuals seeking a refreshing breeze and an elegant touch. With a variety of materials and styles, you have the freedom to personalize your appearance according to your specific preferences.
At Vietnam Lash, we take great pride in crafting top-notch wispy premade fans that not only offer a wide range of options but also prioritize user safety. Our lashes undergo meticulous inspection and rigorous quality control, ensuring that you receive products of the utmost excellence.
So, whether you are seeking a refreshing breeze on a warm day or a stunning décor piece, wispy promade fans are sure to leave you breathless with their beauty and charm.