Mink lash is the King among kinds of eyelash extensions that all salons use. Are you curious about the reasons? This article will reveal all contents about mink lash.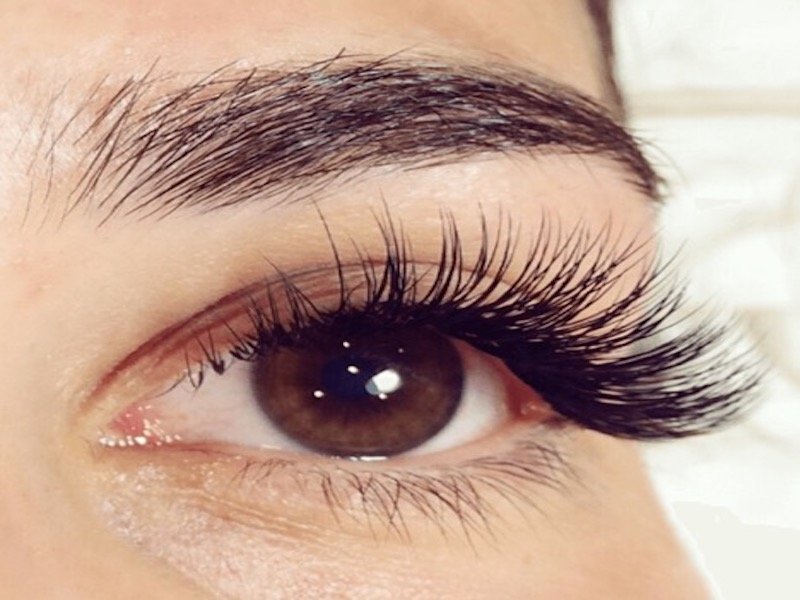 Mink lash extensions are the most popular lashes in the lash industry. People are usually confused between real mink lashes and faux mink lashes. In this post, we will explore these secrets and provide answers to the differences between mink, silk, and synthetic eyelash extensions.
Mink eyelashes will offer you a fabulous and charming look. Now, we will not waste your valuable time anymore, let's jump to the sections right now. 
What Are Mink Lashes Made Of?
You can find it quite complicated when mentioning mink lashes. Some people consider mink eyelashes made from Siberian mink or Chinese mink while others think mink lashes are made from PBT which is a synthetic substance. Both definitions are correct. However, due to moral and economic reasons, lash artists prefer using faux mink lashes constructed from PBT to using real mink lashes. 
In the comparison section, we will show you more clearly the 2 kinds of mink eyelash extensions. PBT is a plastic substance; hence, it can keep its shape well for a long time, it is also hard to deform after processing. 
Moreover, you can apply this material comfortably without worrying about its heat and chemical resistance. An interesting fact about PBT is that it is the material used to produce toothbrushes. 
Are Mink Lashes Cruelty-Free?
Mink lashes are completely cruelty-free and vegan. People call them mink lashes since their soft texture is the same as animal mink hair. Manufacturers don't take any mink fur to produce them. Some brands even call them faux mink lashes to differentiate them from the real ones. 
On the contrary, if you use real mink eyelashes, the answer is yes. The fur of real mink lashes is collected from the tails of minks. The most common minks are Chinese mink and Siberian mink. Although producers vow that they will take the tail fur without harming or hurting minks, this action is still considered immoral, according to humanitarian workers. 
The Difference Between Mink, Silk, Synthetic, And Real Mink Eyelash Extensions
There is a wide range of eyelash extensions on the market that give you a headache to realize mink lashes, sink lashes, synthetic lashes, and real mink lashes. Don't worry, we will help you figure them out in a couple of minutes. 
Material 
Let's explore the materials used to make these lashes, as it is a highly important aspect:
Mink: They are constructed from a plastic material called PBT, which stands for Polybutylene terephthalate. 

Silk: Don't be fooled by producers' promises. Silk lashes are manufactured from PBT-based silk fiber instead of 100% silk lashes. Real silk is quite soft so it cannot keep its shape and curl well. 

Synthetic: These lashes are made from a polished acrylic material which is a man-made synthetic. 

Real Mink: These lashes come from Siberian mink or Chinese mink's tail fur. This is the only kind of lashes made from natural materials. 
Features
Each material will have its features. These features will decide the eyelash extensions, how long they can last on the natural lashes and their price. Hence, please pay extra attention to them.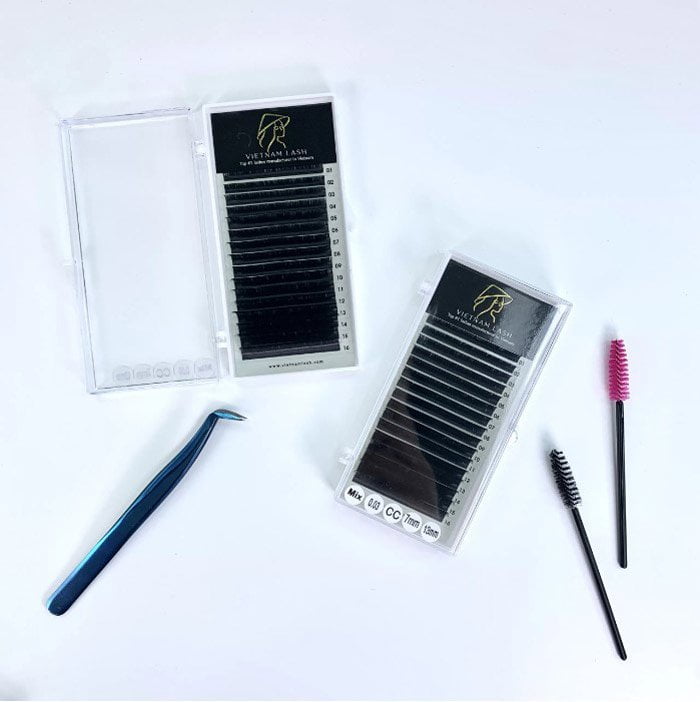 Mink: Our favorite features of mink lashes are lightweight and comfortable. They have a semi-matte and natural finish that is similar to natural lashes' appearance. Mink eyelashes are thinner than other kinds of eyelashes, therefore, they are an ideal choice for volume eyelash extensions. Their tapered body makes them 30 percent lighter when compared to synthetic lashes.
Mink lashes can keep their shape for a long time and not warp after processing. If you are looking for eyelash extensions that are perfect for a natural look, don't skip mink lashes. They pair well with clients who have very fine original lashes but desire to wear mega-volume or volume eyelash extension sets. 
Silk: The material of silk and mink lashes are basically similar. The core differences between them are weight, shape, and finishes. They are heavier than mink lashes and have a shorter taper, resulting in a thicker appearance. Instead of a matte or semi-matte finish, they have a shiny finish coating. Thanks to advanced technology, silk eyelashes can be natural or dramatic depending on the thickness you select for your clients. 
For a dramatic look, they are usually combined with classic lashing which means you attach 1 sink lash per natural lash. 
For a natural look, you can choose silk eyelash extensions with a finer and more natural appearance. Generally, the silk lashes are quite soft but sturdy enough to hold the curl well and long-lasting if applied properly. 
Synthetic: People commonly assume synthetic eyelashes have low quality but are they correct? Let's find the answer. Synthetic lashes, made from polished acrylic material, possess a thinner profile compared to mink and silk eyelashes, making them the shiniest option to consider.
They are firmer and sturdier than the 2 previous ones. However, their lack of appropriate tapering results in a darker and thicker appearance, making them more challenging to apply and offering minimal comfort to clients.
If you look at them carefully, you can see the distinction between synthetic and natural lashes. This distinction arises from their machine-molded construction and the stubbier ends they possess. They will give the clients a more dramatic appearance. 
They are just suitable for one casual night out since using them for a long time can cause damage to your original lashes. Although synthetic lashes hold their curl best, you should use them as disposable or single-use lashes. 
Real Mink: While others come from PBT material, real mink lashes come from real tail fur of Siberian or Chinese mink. You can expect the texture of real mink eyelashes to be soft, light, fluffy, and natural-looking. 
They are so featherweight and delicate taper that you can attach several real mink lashes per natural lash without adding weight to them. They are also long-lasting on natural lashes and the clients will find them comfortable when wearing them. 
Real mink lashes match the original lashes most. You can use them to create natural or dramatic eyelash extension sets. However, not all lash artists offer them to clients since they are more prone to bring allergic reactions. 
How Long Can They Last?
Besides exploring their features, don't forget to check the shelf life, this knowledge will help you save a bulk of money instead of throwing eyelash extensions away after a single use. 
Mink: For your information, mink eyelashes are reusable thanks to their plastic band. With proper care, customers can reuse them for more than 30 times or until they no longer adhere effectively. Their wearability is up to a month if the clients wear them daily. 

Silk: Silk lashes are also reusable lashes numerous times as long as you take care of them correctly. For daily use, they can stay up to 4 weeks on the original lashes. To keep the silk lashes for multiple uses, the clients need to use makeup remover to eliminate all glue residue.

Synthetic: For synthetic lashes, we recommend you use them as one casual night out. After checking their features, it is evident that they can feel heavy and thick for daily wear, and prolonged use can cause damage to natural lashes.

Real Mink: Real mink lashes can last longer on the original lashes thanks to their lightness and comfort. However, once the lashes become wet, they lose their curls. You have to perm or curl them with heat if you want to maintain their excellent look all the time. 
Mink Lashes Vs. Flat Lashes
Mink lashes and flat lashes share the same material – PBT. However, their differences lie in their shape and weight. Flat eyelashes, being the newest addition to the market, are not typically included in the real vs. synthetic lashes conversation.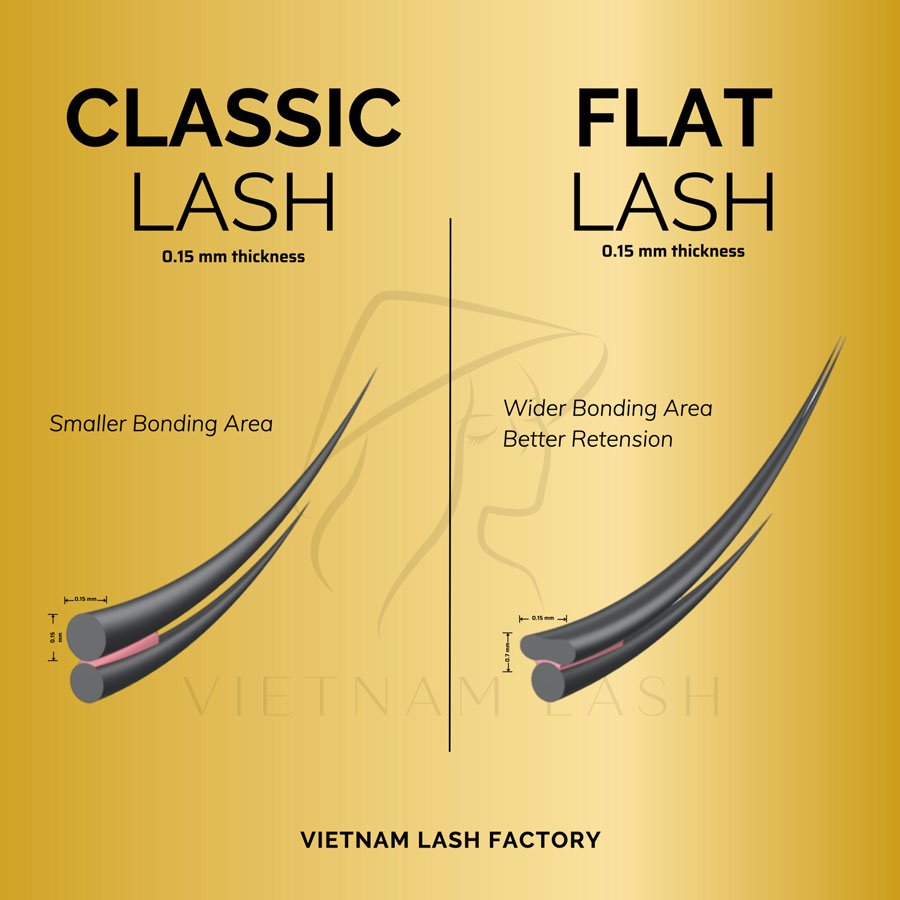 The unique flat base design of flat eyelashes classifies them as a distinct lash type. While mink lashes have a cylindrical base. The flat ones look thicker than mink or silk lashes so they are more perfect for a dramatic look than others. The flat base also makes them better bond with the original lashes and holds retention for longer.
You can use flat lashes for classic lashing or add them to hybrid sets. They can combine with volume fans and individual eyelash extensions to offer the clients both a natural and full appearance. They are not ideal for volume lash extensions, so please note this when attaching them. 
A note for you is that flat lashes can come in various names such as ellipse lashes or cashmere lashes so read their descriptions carefully. 
Are Mink Eyelashes Versatile?
The answer is yes. Mink eyelashes are incredibly versatile to use. We will introduce you to the most common kinds of mink lash extensions. 
Volume Mink Lashes
You can create volume lash extensions using mink lashes. The round base makes it easy to wiggle and roll out lash fans. For handmade volume lashes, we recommend you use 0.03, 0.05, 0.06, and 0.07 thick lashes. To have a fluffier and more glamorous look, you can create fans with 3-5 lash extensions and attach them to one natural lash. 
If your clients have missing or sparse lashes, volume mink lashes are the perfect option to offer them a fuller and more attractive look. 
Classic Mink Eyelashes
In case clients desire flexible looks, mink lashes are an old but gold choice. Mink lashes come in different curls, lengths, and thicknesses, you can freely create a wide range of appearances from clean and elegant to stunning. 
The appropriate thickness is from 0.1mm to 0.25mm depending on the original lash health. Then you will attach 1 eyelash extension to each natural lash. 
Bottom Mink Eyelashes Extensions
It is dispensable if you just apply mink lashes for the upper lashes without attaching them to the bottom lashes. Wearing bottom eyelashes will make your clients look more cohesive and their eyes look winder. The lower lashes add length and definition so your eyelash extensions will stand out and be more charming. 
Colored Mink Eyelashes
If basic black eyelash extensions bore your clients, why don't you consult the colored ones for them? These subtle-toned lashes will bring them a captivating look. 
What Is The Best Brand Of Mink Lash Extensions
When we think about the best lashes to customize the clients' look, mink lashes appear as the first option. They have all features for an excellent: budget-friendly, multiple uses, hold shape well, and more. However, not all brands provide you with the best products. That's why we introduce Vietnamlash.com to you as the top-notch company in the lash field. 
Thanks to advanced technology and constant innovation, Vietnamlash.com is confident to bring you top-grade mink lashes. Each lash comes to us having to experience a strict examination process, hence, Vietnamlash.com has become the main supplier for over 1500 salons worldwide. 
Let's try out the best-quality mink lashes and thank us later. Happy lashing with mink eyelash extensions!
Read more: 3D mink lashes vendors world's top wholesale
Visit our webpage for more updated information: https://vietnamlash.com/