Russian volume lashes have appeared since 2010, but now, they are still the trend that many people choose to enhance their eye looks. Let's see why it is so hot via this article.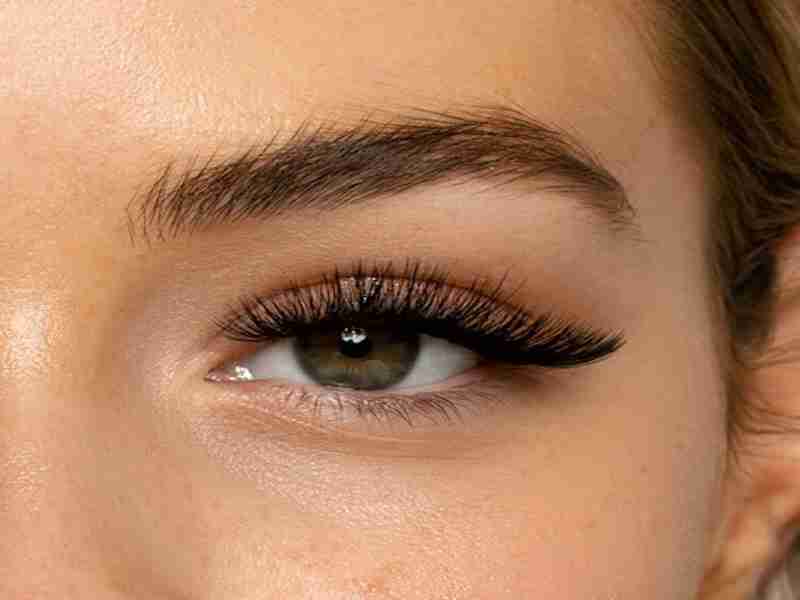 Are you curious about their name – Russian volume lashes? This name is originally from Russia where these lashes became popular. Russian women love the thick and voluminous lashes to make their eyes bigger, then these lashes are introduced to others. 
Russian volume lashes seem to be an iconic picture in the lash industry. As a lash artist, you should know all information about them. Don't worry since we will equip you with comprehensive content in this post. 
What Is Russian Volume Lashes? 
Russian volume lashes are ultra-fine lashes that are made from the same fibers as classic lashes. However, Russian volume lashes beat classic ones in thickness since they are thinner. Hence, you can apply multiple lashes per original lash. Lash techs usually create Russian lash fans manually by combining 2,3,4 or 5 thin mink lashes. 
Thanks to the fan-like shape, they will offer your clients thicker and dense volume lashes with a more dramatic look. The lashes are featherweight so you can expect them to last up to twice as long as classic eyelash extensions. 
Material
To create thicker and fluffier Russian lash extensions, you need to use ultra-fine synthetic fibers instead of natural and synthetic materials. We highly recommend you use faux mink lashes. Russian lashes should be thin and light since you will attach several lashes to one natural lash. Besides, faux mink lashes will assist you in creating a very thin base for the fan so that you just need to use minimal adhesive. 
The Number Of Lash Extensions In A Fan
As we mentioned, Russian volume lashes are a revolutionary lashing technique that combines 2-6 super-fine faux mink to create fans. These mink lashes commonly come in thicknesses from 0.03mm to 0.10 mm.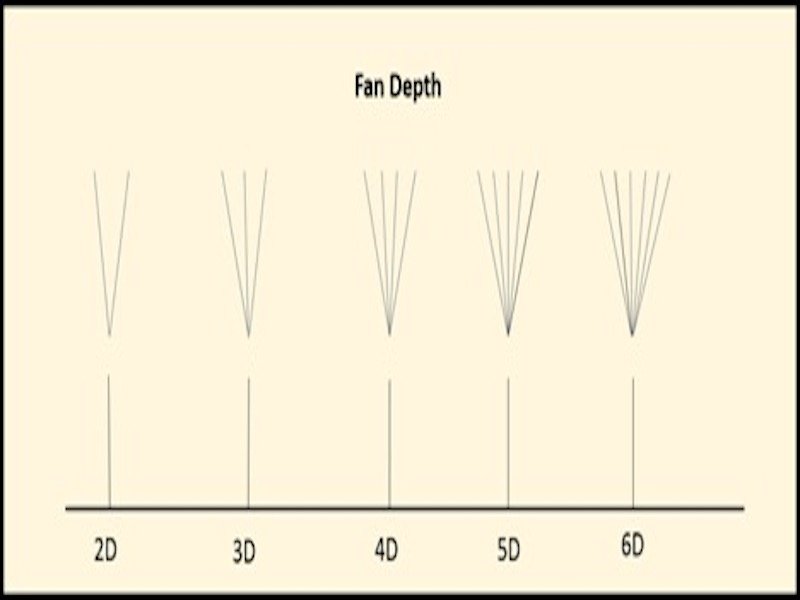 You should not use classic lashes that range from 0.15mm to 0.20mm in diameter since the lash fans will be large. We call them 2D, 3D, 4D, 5D, and 6D where 2 eyelash extensions are attached to each original lash called 2D, and so on up to 6D. You can offer your clients 8D lashes or even more for Mega Russian lash extensions. 
Featherweight Russian eyelashes: 2D and 3D
Medium-weight Russian lashes: 4D and 5D
Heavey-weight Russian eyelashes: 6D and above.  
Shelflife
If you look after your Russian lash extension carefully, they can last for 4-6 weeks. But as you know, your natural lashes still grow, so to prevent your look from being patchy and untidy, you should get an infill treatment every 2-3 weeks. This way will help you maintain your abundant and lush appearance. 
Cost
Russian volume lashes application should be preceded by professionals. Normally, this treatment lasts 1.5 to 2 hours. However, depending on the client's natural lashes, you need to spend time and apply skills differently. 
The prices also base on if your clients want a natural look or a glamorous look, you can calculate varied costs. This price should be higher than classic lash extensions. The average price for Russian volume lashes is around $150 to $300. 
Read more: Eyelash Extensions Price – What Is A Good Charge For Extensions?
Are You Suitable To Wear Russian Volume Lashes? 
The interesting feature of Russian volume lashes is that the line appears more uniform than classic lashes. They are also famous for their symmetry and balance. If your clients are looking for a polished and professional look, Russian volume eyelashes are an ideal choice. They can assist you in transforming from a daytime appearance to a nighttime one in a wink. 
Russian volume lashes are perfect for all kinds of original lashes. In case your clients have gaps in their natural lashes, Russian lashes will help you to hide them by using wider fans for the lashes next to the gaps. 
If they have sparse and thin lashes, you can notice changes clearly after the clients wear Russian volume lashes since their looks will be lush and full. You can attach bigger fans which means more eyelash extensions in one fan to offer your customers the most dramatic, full, and dark lash line. 
Russian volume technique can create fluffy, softer eyelashes so even if the clients don't wear makeup, their faces will still be fabulous.  
Classic Russian Lashes Vs. Russian Volume Lashes Vs. Russian Mega Volume Lashes
Can you differentiate classic Russian lashes from Russian volume lashes and Russian Mega volume lashes? Their distinctions are not only their name but also other factors. Check now!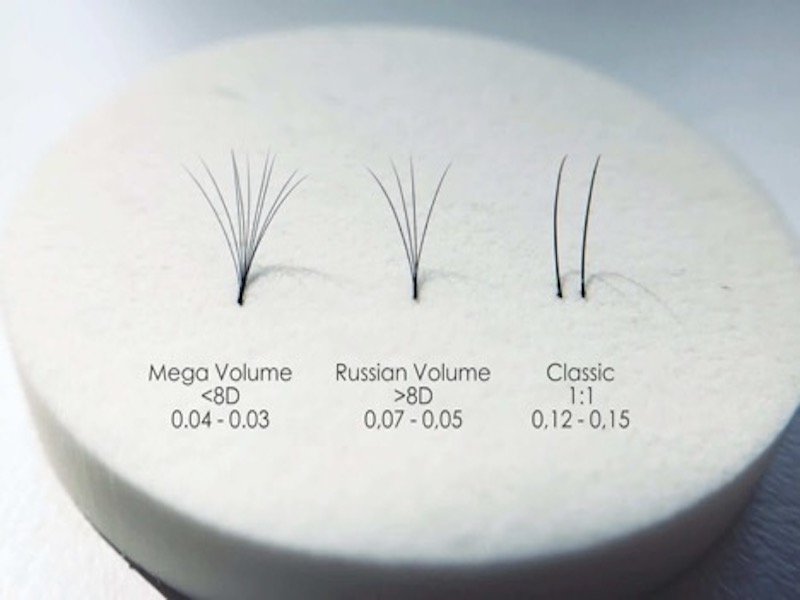 Classic Russian Lashes
The clearest difference between the 3 types of Russian lashes is the number of eyelash extensions you apply to one natural lash. The thickness of eyelash extensions doesn't lay down how thick they look, it is decided by how many eyelash extensions you use in a fan. This also determines the fullness and density of the appearance. 
For classic Russian lashes, you just attach 1 to 3 lash extensions to a single natural lash. The most common option is 1 eyelash extension per original lash. Each extension is 0.07 to 0.09mm in diameter. This is excellent for people who want to have a natural look with a little bit darker lashes and elongated eyes. 
The clients can choose the lengths and curliness depending on their preference. The popular curl options are from I curl to L curl. Classic lashes also enhance a wide range of eye shapes and help to hide small imperfections on the eyelid as they make the clients' eyes wispier. Wearing classic Russian lashes will not change your appearance dramatically.
Russian Volume Lashes
Russian volume lashes include more eyelash extensions than classic ones. They usually have 2-6 extensions per fan and even 8 lashes in a fan. They are marked 2D to 8D to help you remember them easily. 
You can use the extensions with 0.03mm – 0.10mm in diameter to create Russian volume lashes but the thicknesses lash artists use most are 0.05mm to 0.07mm. Recently, these lashes have become the lash trend in Americans, exclusively when more and more people wear masks to protect their health but their eyes still stand out. 
Mega Russian Volume Lashes
As its name implies, these lashes use more eyelash extensions per fan than Russian ones. Lash artists can apply more than 10 eyelash extensions (10D) to a single natural lash. For some rare cases, you can even attach 20 lash extensions (20D) per original lash. Therefore, you have to use very thin extensions which are 0.03mm. 
The lighter or thinner eyelash extensions are, the more lashes you can combine in a single fan. The technique you use to create a fan is enveloping or wrapping. The hand-crafted lashes process is to fan a group of lash extensions, envelope it like foil then build a secure bond on the original lashes. 
The more higher-volume fans you apply, the fuller the mega look you get. These lashes are cool for special occasions or for someone who wants to draw attention to their eyes. We don't recommend you use pre-made fans since they are not flexible for customizing length and shape. Their base has glue already so they will add more weight when you dip them into adhesive to attach to natural lashes. 
How To Apply Russian Volume Lashes
If you apply Russian volume lashes correctly, they will not damage the natural lashes. You need to equip yourself with good knowledge about various lengths and thicknesses to ensure the best result for your customers.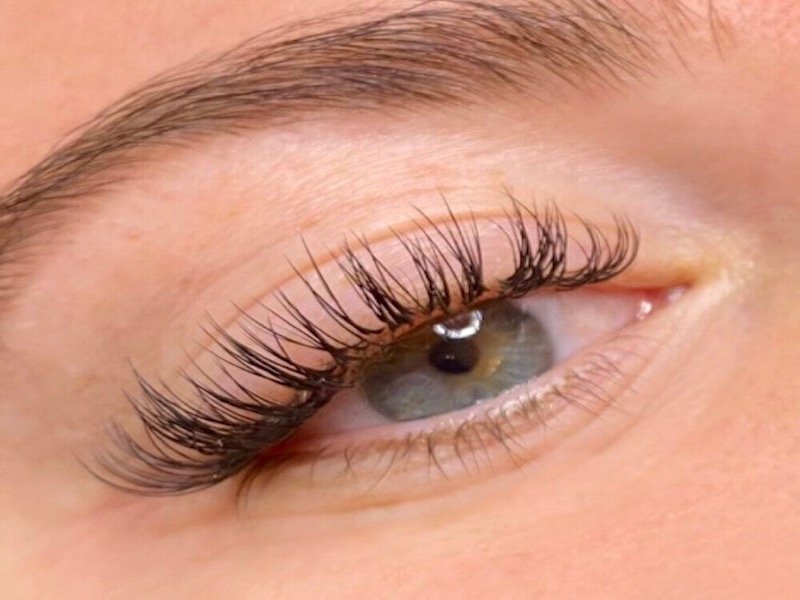 The most crucial step is to observe carefully the strength of natural lashes. If you see bent or snapped lashes in refills, the eyelash extensions seem to be too heavy for the original lashes. You have to take action right now. 
There are some first steps you need to take before jumping into the next section. Don't forget to clean the lashes carefully to have better retention. Apply a prime after the lashes dry and are disinfected. Then you can brush the lashes with a lash wand and prepare an adhesive tray in advance. 
Choose Correct Thickness
The lash extensions to create Russian volume lashes should be featherweight and fine, the best option is to pick thinner and lighter lashes than natural lashes since you need to attach several lash extensions to a single original lash.  
Lash techs frequently group 2D-6D lash extensions for a fan so the ideal thicknesses are from 0.03 – 0.10mm. 
Use Silicone Work Pad
You should place your handmade fans on your silicon work pad before using them to keep your workstation organized. Ensure the pad is clean and sanitized already. The pad will support you in picking up and attaching the lash strips simply without leaving sticky paper residue on them. Moreover, the soft surface of the pad also protects your tweezer tips from being damaged. 
Pick Right Tweezers
For Russian volume lashes, you should use volume lash extension tweezers with a long and curved tip that tapers to a point that will help you open up a fan, and pick up and grab several eyelash extensions at the same time with ease. We suggest you use L tweezers that taper into a 120-90 degree angle at the point.
Apply Russian Volume Eyelashes
Now let's move to the application process. You should place under-eye pads in advance to protect lower lashes and keep baby lashes in place while proceeding. You can also use a small piece of tape to elevate the eyelid for a simpler process. Please ask your clients to close their eyes during the treatment. 
Now, lash isolation is a must-do step. Then dip an eyelash fan into the glue and apply a single natural lash. Remember to change the glue every 10 minutes to prevent it from drying too fast and offer you good retention. You should use a fast-drying adhesive or a product with pretty high viscosity. 
There are a few ways to create perfect fans that are pinching, glue dot, and on the strip. You need to produce symmetrical fans with a thin base. Every lash tech has her favorite methods. Some want to pick multiple lashes and reapply them to the strip and wiggle a bit with tweezers. The pinching method is to pick up the desired amount of eyelashes and create them by pinching the base together with your fingers. 
You just need to repeat this instruction until the original lashes are filled completely. You should wait a few minutes until the glue dries thoroughly. Then, brush the lashes, remove the gel pads, and achieve a masterpiece.
Russian Volume Lashes – Aftercare Tips
The Russian volume lashes can last longer if you advise your clients below after tips. 
You need to prevent water from contacting your lashes for the first 2 days, hence, you should not use saunas, swim, steam, or wash your face with hot water. 
Never apply waterproof mascaras on the lashes. Using oil-based mascara is also a big no. The oil can break down the substance in the glue which leads to shedding eyelashes. If you have to wear mascara, you can use an oil-free one. 
Oil-based makeup removers are also an enemy of eyelash extensions. 
Never rub your eyes harshly. After washing your face, you need to pat your eyelashes until they dry completely. 
After 3-4 weeks of Russian volume lashes, you should book an infill appointment. 
Brush lashes with a clean spoolie every day
Clean your faces with mind soap or micellar water and rinse with water
Do Russian Volume Lashes Damage Natural Lashes? 
Normally, Russian volume lashes will not damage the original lashes in case they are applied correctly and your clients take care of them well. However, in some cases, if you choose the wrong eyelash extensions for natural lashes' strength, the result will be different. 
If you are wondering where to purchase high-quality Russian volume lashes, we have an excellent suggestion for you – Vietnamlash.com extensions. With over 10 years of experience and continuous efforts to innovate products, Vietnamlash.com has become one of the leaders in this field. 
For your information, Vietnamlash eyelash extensions have appeared in more than 1500 salons worldwide, especially in the USA. Selecting the correct Russian volume lashes is one of the significant elements deciding your success.
Visit our webpage for more updated information: https://vietnamlash.com/