Nowadays, many women around the world trusted in the quality of Korean eyelashes. With a long history in the eyelash industry, Korea brings aesthetic, diverse and safe eyelash products to global clients.
1. Korean eyelashes are an indispensable item for women
Eyelashes are one of the most important makeup accessories today. Up to now, thanks to more and more modern improvement, sophisticated design, Korean eyelashes have become flexible, luxurious and widely used all over the world.
1.1 What material are Korean eyelashes made of?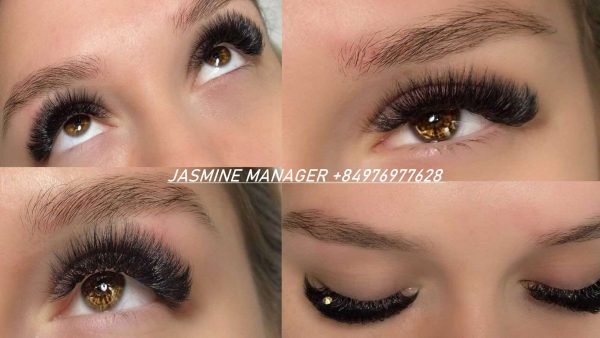 Over hundreds of years of development, experts in Korea experienced and tested on many types of materials such as real hair, synthetic fibers, silk, mink,… to make better eyelashes. Along with modern production and techniques with sophisticated design, Korean have made great strides and increase the using of eyelases. 
Today, eyelash manufacturers in Korea use a wide variety of materials to create different products. Hair is one of the most largely used materials thanks to its popularity. However, there is a big disadvantage of using hair that the natural straightness of the hair make the eyelashes are difficult to keep their curve. 
Later, when plastic was invented and used more widely, Korean eyelashes manufacturers created new products from plastic. After that, people used synthetic fibers to produce eyelashes that are safer for the eyes and skin. This type of material is also lighter and more comfortable for the user.
There is another popular matreial Korean use to make eyelashes is silk. Silk eyelashes are quite light and durable. The advantage of silk is making eyelashes long, thick, soft, durable, flexible and extremely natural. However, eyelashes made of silk are not as bright and shiny as other types of eyelashes, the curvature of silk eyelashes is also worse.
1.2 Highlights of Korean eyelashes
Korean eyelashes factories combine many advanced technologies to create a beautiful set of false eyelashes. The manufacture select the raw materials for eyelashes are extremely careful, responded for the most demanding needs of customers. They use advanced production technology, ensure no damage to the top, extremely absorb glue. The eyelashes are loose, easy to create, ensure curvature, thickness and  length with international standards.
Korean eyelashes use special glue which is safe and durable. This glue is a thermal glue, the glue has a thin size, strong adhesion and can withstand heat in a high temperature environment (when drying hair according to the curvature).
Read more: 
2. The most popular types of Korean eyelashes
As one of the oldest countries in the field of false eyelash production, many Korean products are loved by women all over the world.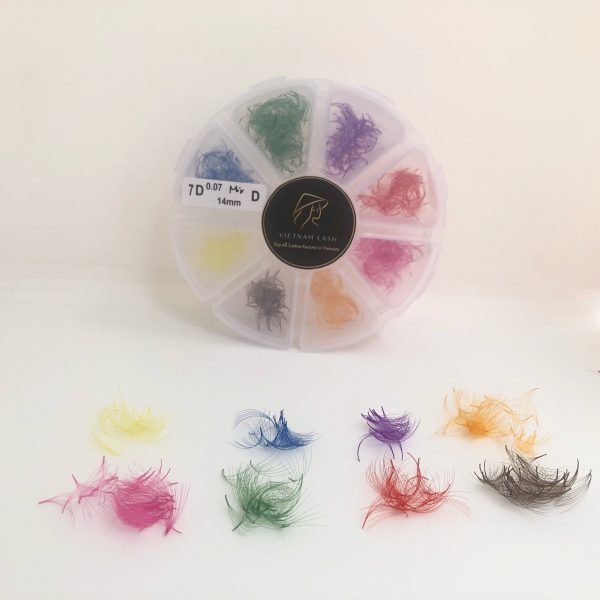 2.1 Korean eyelashes MAC #36 Lash
MAC #36 Lash are handmade Korean eyelashes which length and thickness changes based on your eyelid shape. This type of eyelashes helps to create a natural feeling for your eyes and make your eyes more attractive. Clients can attach this eyelashes every day when going out, going to school, or going to work without any worry about too thick and curved.
2.2 Korean magnetic eyelashes
This type of eyelash is quite special, without using glue, it can still be attached to the eyes. This eyelash is extremely convenient and saves time for users. Also, not because of this, it is less quality than other types of eyelash. Korean magnetic eyelashes are still diverse in sizes, shapes and colours. They are promising to provide you more attracted eyes.
2.3 Korean eyelashes with silk tray ACB Curvature D
They are 100% handcraft Korean Eyelashes. They are made from silk. The lashes are extremely soft, the tip of the lashes have a moderate sharpness like the natural eyelids. This type of eyelash is packaged in a convenient compact tray, suitable with beauty salons and retail customers with daily use demands.
3. How to use Korean eyelashes?
If there's one thing that can transform your outlook from pretty to mysteriously seductive, it's Korean eyelashes. Even if you don't plan on wearing heavy makeup, eyelashes can bring glamor to you.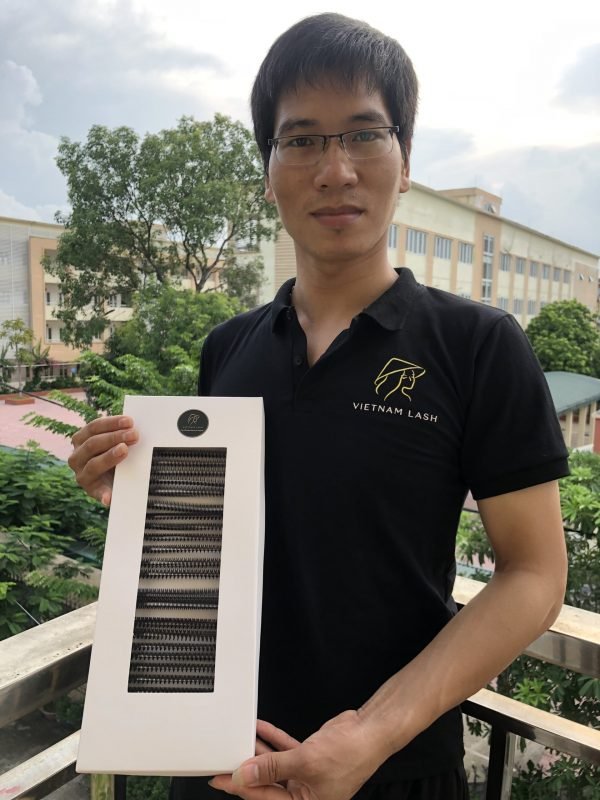 3.1 Chosing a suitable eyelash with your eyes
A set of eyelash can help you look more beautiful or not is still depends on what type of eyelashes you choose. The eyelashes must be suitable with your eye shape and your using purpose. There are many different eye shapes suitable for each type of eyelashes. For example, if you have small eyes, you should avoid too thick eyelashes because it will obscure your eyes. Instead, choosing short and moderately thick eyelashes to make eyes look bigger and more delicate. In addition, round eyes are suitable with long, thin, and very curved eyelashes. You should avoid too thick eyelashes that make your eyes look smaller. Choosing the eyelashes with the tail longer and thicker than the head also create a seductive look.
3.2 Steps to self-apply Korean eyelashes
First, you must use a tweezer to carefully and slowly remove the eyelashes out of the box, from the tail to the tip, then adjust the size of the false eyelashes to fit your eyes. If the eyelashes are too long for your eyes, let trim them shorter. 
Next, appling eyelash glue. This is the most important part of applying eyelashes process. You should apply an enough amount of the glue to cover the entire lash strip. Let the glue dry for 45 seconds to 1 minute. 
After waiting for the glue on your Korean eyelashes dry, you should put the mirror on the table and look down, try and apply the eyelashes on your eyelid line. Make sure that you let your eyelashes wait a few seconds to setlled. Then, gently and carefully, pressing the tip and tail of the lashes onto the lash line.
So you already own a glittery eyes with natural and charming long eyelashes!
See more: The best eyelash manufacturer and supplier.
4. Famous Korean eyelashes brands
Vietnam Lash is a premium supplier for many vendors in the eyelashes industry, including Korea. Here are the three biggest brands in Korea that import materials from Vietnam Lash.

CONTACT VIETNAM LASH MANAGERS FOR THE BEST DEALS, PROMOTION AND FREE BUSINESS ADVICE NOW!!!

The best Vietnam Eyelash Factory

WhatsApp: +84924851724

Instagram: @vietnam_lash_official

Facebook: Vietnam Lash Factory

4.1 Icona lashes.
Icona Lashes False Eyelashes is famous with several professional makeup artists. This Korean eyelashes brand are durable, comprising a criss-cross layout and tapered natural ends. You can easily apply this type of lashes in a short time, with simple actions, save time and save costs. They're made of 100 percent cruelty-free synthetic fibers. Furthermore, they are lightweight and comfortable, helping to elevate your appearance to another level. 
4.2 KISS Product 
Kiss Products bring you verdant and gorgeous lashes. As its name, these Korean eyelashes make your eyes seem more naturally, fuller and longer. Made with innovative Tapered End Technology, these lashes are incredibly light and slim giving you a subtle appearance.
4.3 Doe lashes
These eyelashes are handmade and people created them from sustainably-sourced, Korean silk. This makes sure that the lashes closely fit along your lash line, bring you the gentle and flexibility.These lashes are suitable for daily use in many situations. It is also suitble for the tightly budget because you can reuse many times.
Visit our webpage for more updated information: https://vietnamlash.com/