China Lash and Korea Lash are not only big wholesale in Asia eyelash industry but also the wholesale vendor for many retailers over the world. If you are a new business in eyelash area, you are wondering which wholesale is better for you. Look at the following article.
Evaluation about China Lash and Korea Lash
Both China Lash and Korea Lash are highly-evaluated about the coverage and pervasion. Their eyelash productions are variety at many segments. You can easily find eyelashes related products from China or Korea in any eyelash forums. 
Eyelashes quality
To talk about quality, looking at popular products, Korean false eyelashes have better and more stable quality. False eyelashes from China at affordable prices are usually of poor quality. If you want to have beautiful and reliable products from China, the price is very expensive. Many old factories in China and Korea are industrial factories, so the quality of eyelashes is uneven, thick and unnatural looking.
However, recently, a few large wholesalers in these two countries have begun to import handmade products from Vietnam Lash to attach their own labels and sell them as private label products. These items are of higher quality and more beautiful.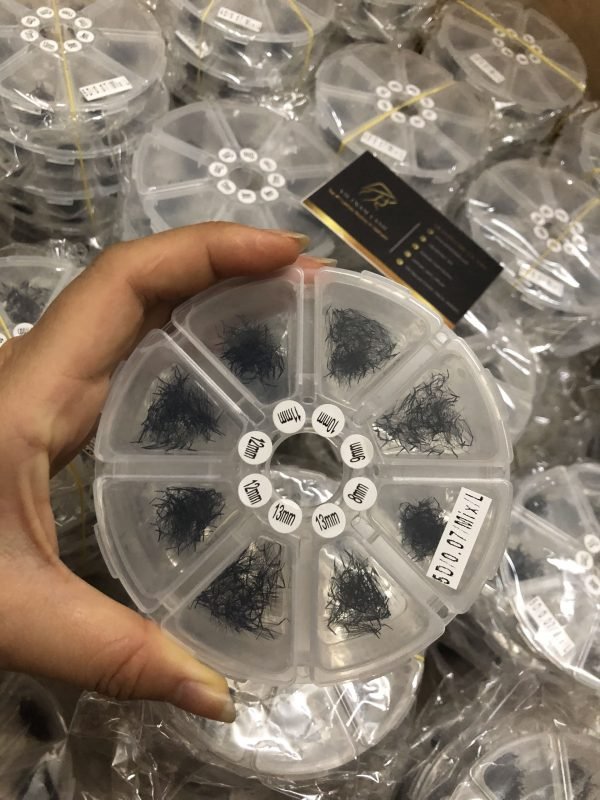 Original of materials
Initially, because China had a large market and a large population, the raw materials for making false eyelashes were self-supplied by wholesalers. Korea imports raw materials from foreign countries such as Vietnam for processing. Natural materials such as real hair are very popular to make false eyelashes at this time. In addition, China often uses real mink fur to create famous mink eyelashes.
Since the artificial PBT fiber has been researched, produced and applied in creating false eyelashes, it has gradually replaced other materials. China also no longer uses real mink fur to make eyelashes due to violation of animal rights. However, Chinese and Korean eyelash production materials have not yet reached the level of sophistication like PBT fibers. That is why many wholesalers have wisely chosen raw materials from Vietnam Lash.
Variety type of eyelashes from China Lash and Korea Lash
Comparing China Lash and Korea Lash, Korea is the pioneer in eyelash industry, So, they are more trendy and own more many luxury style of eyelashes. In 2021, the most famous eyelashes from China and Korea is mink lashes, magnetic lashes,…
Physical parameter of eyelashes from China Lash and Korea Lash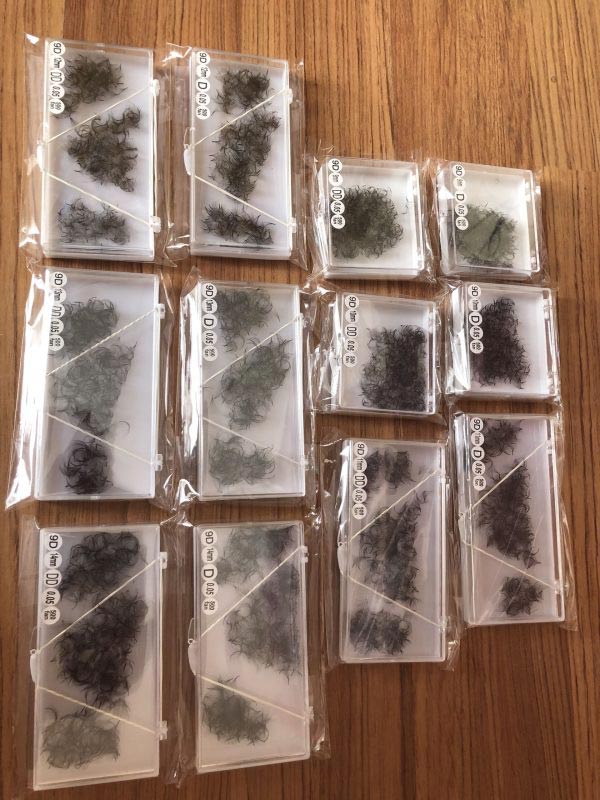 Korean false eyelashes have various lengths. Premade fan lash usually has 3-12 strands per fan, comfortable for customers to choose according to the purpose of using eyelashes. The curvature of false eyelashes also has many types, ranging from C to JJ. Meanwhile, Chinese fake eyelashes are poorly crafted, so the difference between the parameters of the eyelashes is not clear. 
Style of eyelashes
The style of false eyelashes from Chinese wholesalers often does not follow the trend. They often produce common and popular false eyelashes without focusing on new trends. Some of the popular types of Korean fake eyelashes today are magnetic false eyelashes, hybrid eyelashes, and wet eyelashes.
China Lash and Korea Lash: Highlights of Korea Lash 
In eyelashes industry, there are always differents between the Korea premium lash and China normal eyelash, they are similar to the attribution between Vietnam Lash and China Lash. In general, most of eyelash from Korea show better quality than which is from China at the same prices.
Premium eyelash quality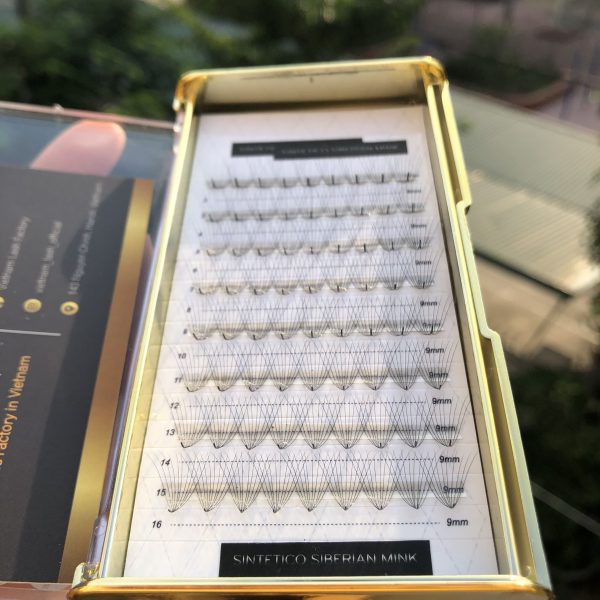 Talking about quality, not only Vietnam Lash's eyelashes are much better than those from many wholesalers in China, but even Korean wholesalers are far ahead of the quality of this country's eyelashes. Not only because it comes from Korea – the land of beauty that many women love. To conquer the girls, Korean eyelashes also have highlights compared to other types of false eyelashes. Material of Korea eyelashes is safe, soft, guaranteed not to cause eyestrain, no harm to eyes. In contrast, Chinese false eyelashes often look less natural. Eyes become less flexible due to thick and heavy false eyelashes.
Spectaculer premade-fans lashes
Premade fans eyelash extensions are fans that are ready for you to use. The manufacturer placed them on a lash tray and ready for you to pick up and attach  to the natural lashes of your clients. These fans are from 2 to 10 lashes glued or head bonded. 
Premade fans lash is an outstanding product line of Korean fake eyelashes. They are highly durable and versatile in styling. A fan usually has 3-12 lashes, suitable for many types of volume eyelashes for daily use. The curvature of the premade fans can be pre-made or let the artisan bend when attached to the customer's eye. Because of the high-quality materials, the lashes retain their curl well even after subsequent uses.
In contrast, Chinese false eyelashes are often difficult to keep the curvature after the first use. This brings a lot of inconvenience to customers.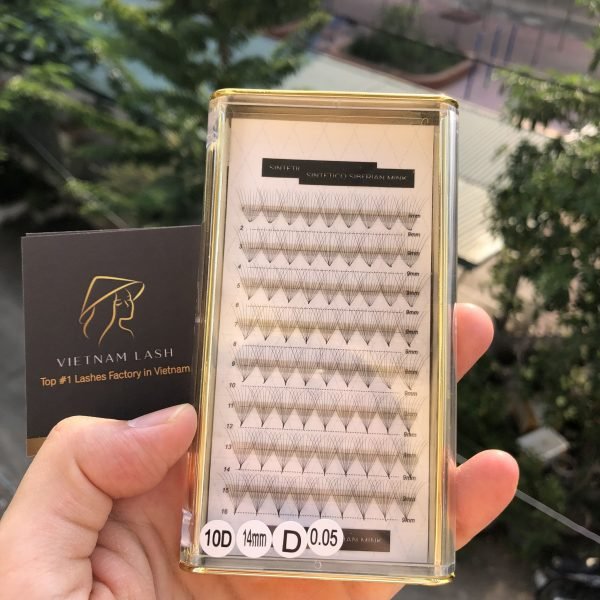 Directly imported
False eyelashes of many big wholesalers in Korea are imported genuine at Vietnam Lash. Therefore, the quality meets the standards and the safety is high. The durability of these false eyelashes imported from Vietnam Lash is also much higher than those of ordinary false eyelashes.
Thanks to the direct import, the price of Korean false eyelashes is more consistent with the quality, cheaper than other eyelashes of the same line from other countries due to the reduction of intermediary fees.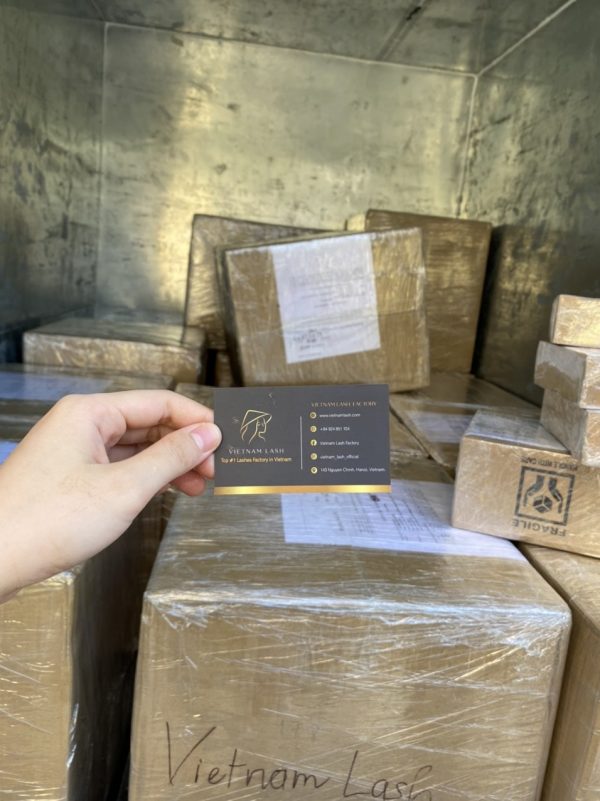 Which is better: China Lash or Korea Lash
To get the most economical purchase price for businesses, the best managers should buy eyelashes directly from large wholesalers, or wholesale imports directly without intermediaries. This is not only reduce your fee but also save the time you waiting for the goods. In addition, you also can get pristine production which is produce just according to your order if you buy diẻctly from the wholesale.
The best choice for new retailers
The best Vietnam Eyelash brand
Large wholesalers are the best choice for new eyelash businesses. The reason is that you will have more options and more affordable prices. Vietnam Lash is a wholesaler trusted by many smaller vendors in China and Korea. Vietnam Lash products are diverse in design and high-quality materials, bringing soft natural beauty to customers' eyes.
If you are a new business in the eyelash industry, importing directly from Vietnam Lash also helps you limit the risk of long-term inventory because we produce new products based on your needs. What's more, your business will buy it at a cheaper price because it doesn't go through many intermediaries.
Which is better between China Lash and Korea Lash?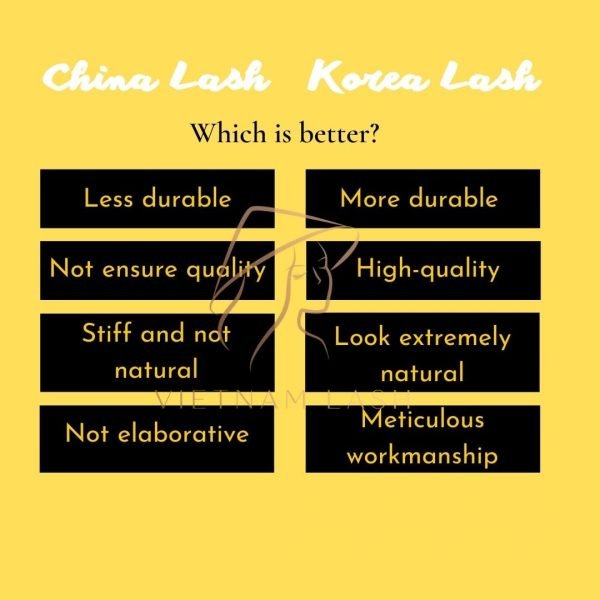 Honestly, buying false eyelashes from Korea or China has its limitations. Typically if you buy from a local business, quality may not be guaranteed. Although there will be high-end wholesalers, providing you with premium products, they are expensive and not suitable for everyday use. On the contrary, if you buy genuine imported goods, the waiting time will be very long and the cost is also higher. But anyway, Korean eyelashes are famous all over the world and are more trustworthy than Chinese eyelashes.
Top 3 wholesale where you can buy eyelash Korea's quality with more affordable price.
You really want to own your own lash line with Korean standard quality lashes. Here are reputable wholesalers for you.
Vietnam Lash
As mentioned, Vietnam Lash is a wholesaler of many large vendors in Korea for decades. Therefore, the most prestigious wholesale for small businesses is Vietnam Lash. Ordering at Vietnam Lash, retailers not only receive new and durable goods, but also have faster delivery times than other wholesalers. Vietnam Lash's customer care team will do their best to advise retailers and ship directly to you without any additional intermediary fees.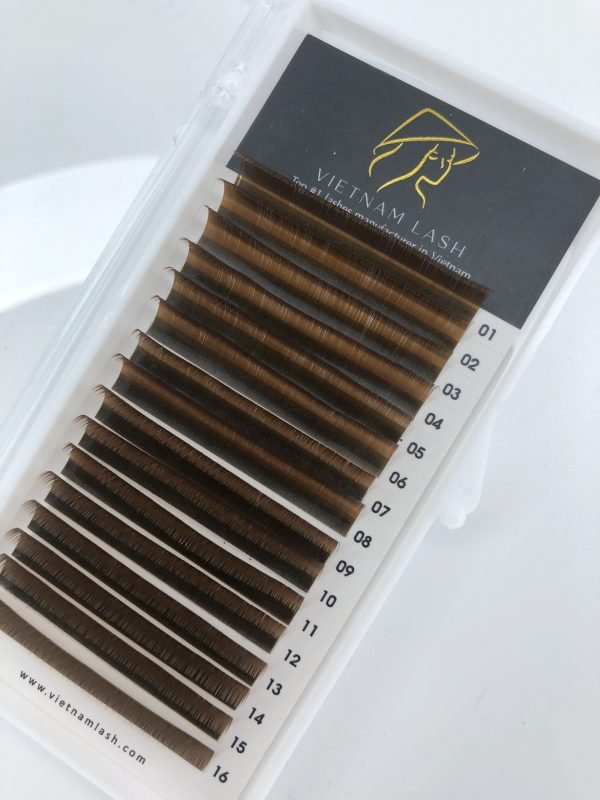 Blink eyelashes
This is a counterpart of Vietnam Lash in Korea for 5 years. Their productions focus on hign-end eyelashes. Most of the famous style of eyelashes from Blink eyelashes is colour lash and wet eyelashes- a trend in 2020.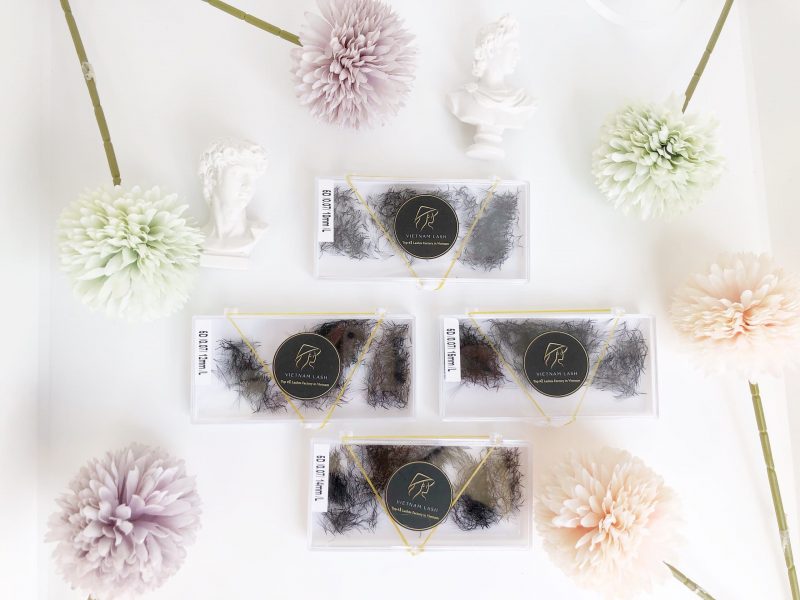 Korean lash
Korean lash is a leading eyelash manufacturer with global clients. Their products are famous as cruelty-free. Although materials create the eyelashes are synthetic fibers, their range of lashes has a natural look. They are extremely lightweight, voluminous, and fluffy in appearance.
You may want to see:

Vietnam Lash review: Top 5 best premade lashes wholesale vendors 2021

Top 5 best mink lashes vendors in Asia in 2020
Visit our webpage for more updated information: https://vietnamlash.com/