Vietnam Lash and Korea Lash are considered as the oldest wholesalers lashes in Asia. Production from Vietnam Lash and Korea Lash are all impressive by their natural, elegant and delicated. However, there are some differences between these two wholesale. You are looking for an optimism wholesale for your own business? You must know what are the different between these two big vendors via this article.
The basic of Vietnam Lash and Korea Lash
Vietnam Lash and Korea Lash are two giants in the eyelash industry in Asia. With a rich source of raw materials and professional production lines, both have built up prestigious markets for themselves. Thousand of parcels are exported to American and Europe each month frequently.
International market
In comparison between Vietnam Lash and Korea Lash, the eyelashes industry in Vietnam developed a period later than Korea. Over the past few decades, Korea has been pioneering of the eyelash industry in Asia. In the past ten years, this industry has been developed in Vietnam. 
As a pioneer, Korea soon built a reputable and reliable wholesale network around the world. A few large wholesalers or salons in the US, Canada, China, and Japan are long-standing partners of Korea Lash. However, despite being a latecomer, Vietnam lash has also worked hard to bring its position closer to Korea for a long time. And Vietnam Lash has done it. Vietnam Lash's partner network gradually expands from Asia to Europe, America and Australia. The countries that import eyelashes from Vietnam Lash are now large and famous wholesalers in their countries.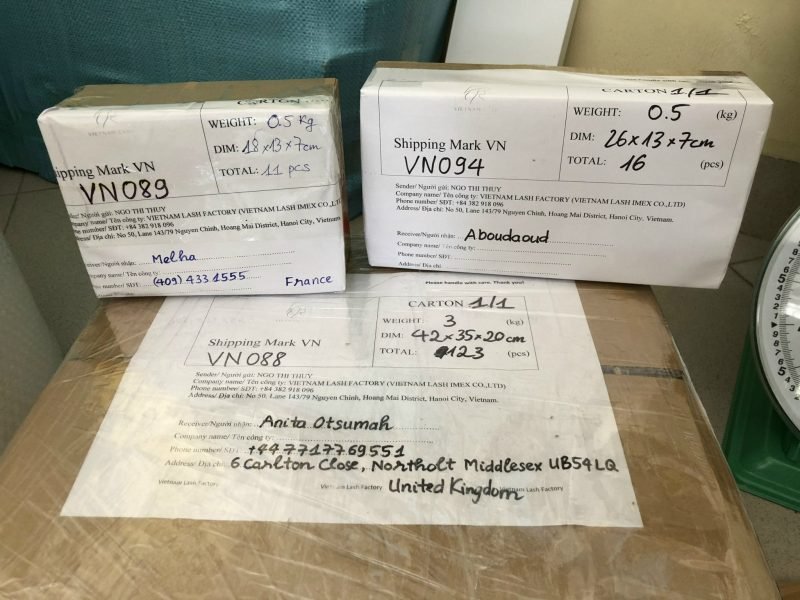 Material and production range
Most of the materials of both Vietnam and Korea wholesalers are diverse: synthetic fibers, silk or real hair. They manufacture synthetic fibers on technologically advanced lines. Factory uses premium PBT to create soft, thin and elegant false eyelashes. The fake eyelashes of Vietnam and Korea are also cruelt-free, so they are safe for customers, even new users.
However, there is a minus point for Korean fake eyelash factories. It's that their product is not diverse. This means that they are just an eyelash factory, the accompanying products such as glue, glue remover are all manufactured somewhere else. In contrast, some factories in Vietnam such as Vietnam Lash produce all their own productions. Vietnam Lash not only has eyelash glue but also tools for an eyelash extension salon. In addition, Vietnam Lash also produces private packaging at the request of retail businesses.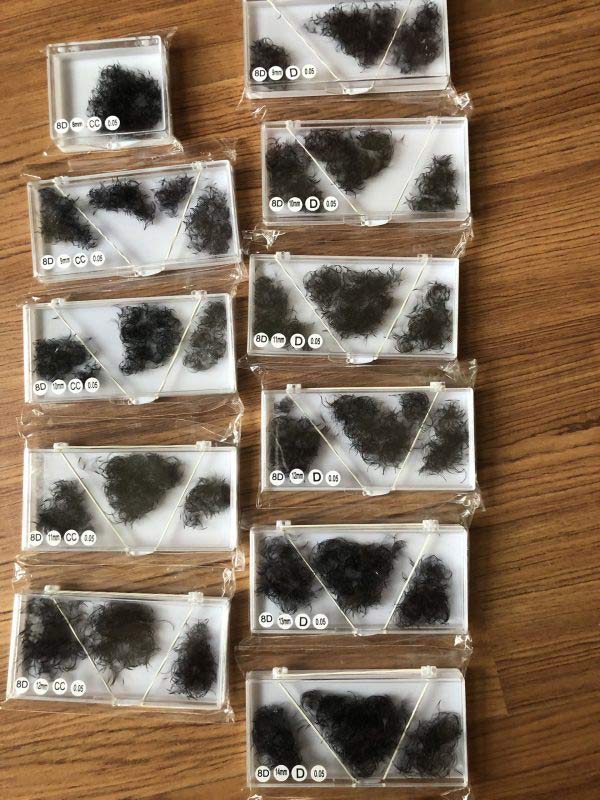 The similar between Vietnam Lash and Korean Lash eyelashes
Because they are both large and trusted wholesalers, Vietnam and Korea have many similar attributes in eyelashes they produce. One of the most striking is the range of eyelash productions and their high-end quality. Thanks to the large range of productions from materials to style, retailers have a wide choice for their own lash line.
Premium quality
Korean beauty makeup products have been known for a long time as their quality. Korean fake eyelashes give the user a soft, gentle feeling and not causing eyestrain. Not only that, the Korean-made eyelash products also look extremely luxurious. This helps the user leave a deep impression on the opposite people. 
As a follower, Vietnam Lash learns from the strengths of Korea. Since then, they combined with many in-depth studies to make false eyelashes more beautiful and perfect. Vietnam Lash false eyelashes are the perfect combination between the gentle beauty of Asian women and the sharpness of Western women. Users will experience the feeling of luxury, charm and gentleness of the eyes.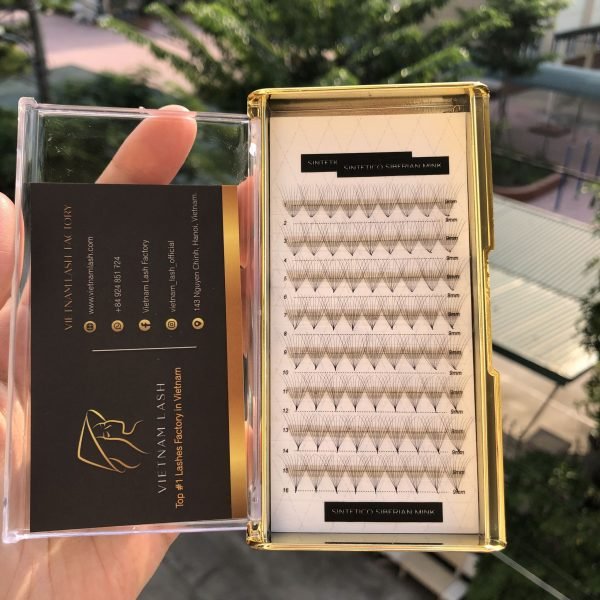 Diverse style and trendy
Because they are the largest suppliers in the world, Vietnam Lash and Korea Lash wholesalers always update and research the latest trends of the market. They evaluate based on the colors, styles that are rising in fashion or the actual demand for false eyelashes in the countries. They are also the ones who come up with many new trends in beauty with false eyelashes.
Many choices for customers
Customers in each country and region are suitable for a particular type of eyelid. The thickness and curvature depends on the user's face shape and skin color. Therefore, the designers of Vietnam and Korea always offer different models in terms of length and thickness of false eyelashes. The curvature of the eyelashes is also a point that they pay great attention to. Each type of false eyelashes they put on the market has different curvatures, giving customers as much choice as possible.
The most striking different between Vietnam Lash and Korea Lash
Although they are similar, Vietnamese eyelash factories still have outstanding features that Korean eyelashes do not have. These pertain to the consistantly researches of the eyelash experts of Vietnam Lash aiming to bring the best quality production to customers.
Colour eyelashes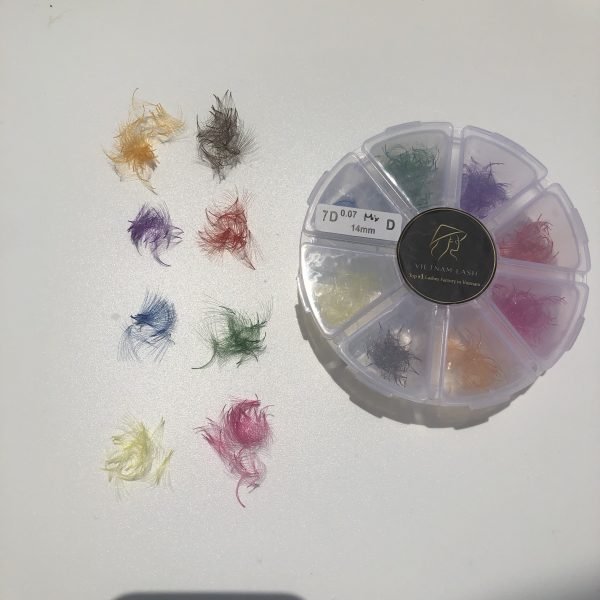 Colored eyelashes is trending in 2020 and 2021. Wholesale Vietnam Lash and Korea Lash also cannot ignore this special products. Being the same as top wholesale, however, Korean false eyelashes look less natural. The color of Vietnamese false eyelashes is vivid and looks much more real. When worn on the eyes, it brings a sense of harmony to the face without glare. Besides, thanks to the research on safe dyeing, Vietnamese colored false eyelashes keep their color better and have a longer lifespan than Korea's.
Eyeylash extension glue
For salons, it is indispensable for eyelash glue. Choosing a good eyelash glue is very difficult and requires trying many types. Because if you choose poor quality glue, you can lose your reputation and trust in your clients. Eyelash factories in Korea often do not produce eyelash extensions glue themselves, but receive orders from another factory specializing in manufacturing glue. Therefore, the quality is not strictly controlled.
In contrast, Vietnam Lash wholesale produces its own eyelash extension glue and eyelash extension remover. Therefore, the quality of the glue is well controlled and more suitable for users.
Eyelash packaging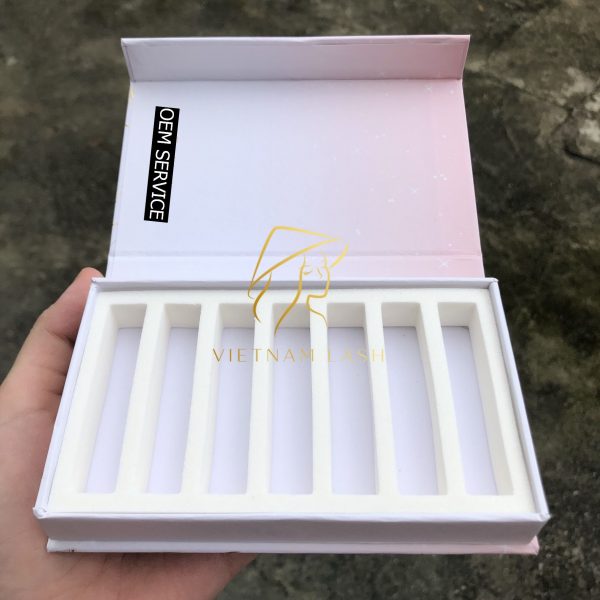 Usually, partners if they are small businesses, they will want to make their own private label. The demand for the production of packaging with private label is very high. It will be better for partners if wholesale can provide packaging design and production services. Thus, their customers will be more loyal and want long-term cooperation. A lot of factories in Vietnam do that. Vietnam Lash not only provides packaging but also provides private label design services if partners need. However, wholesalers in Korea rarely offer this service. This makes some new customers unsatisfied.
You are a new business in eyelash industry: should you buy from wholesale Vietnam Lash or Korea Lash?
You realize that the false eyelash industry is an industry worth investing in and developing. But you don't know where to start. Vietnam Lash ready to guide you from your first steps. There is no doubt that we are totally suitable for newbies.
Pros of buy from Vietnam Lash wholesale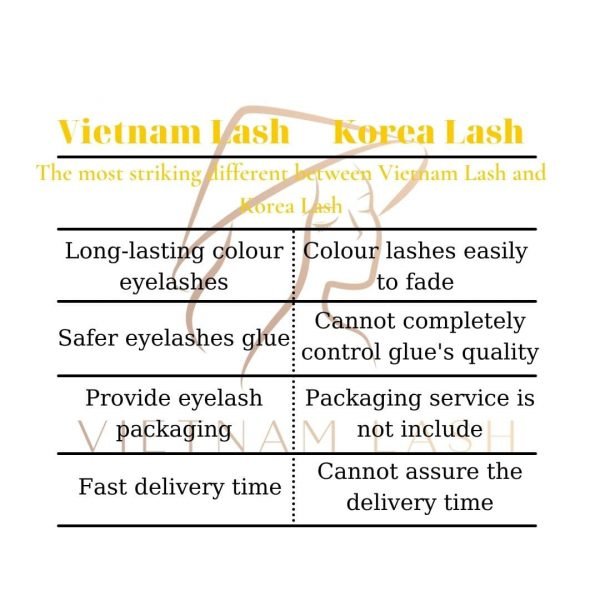 With the principle of bringing beauty to consumers, enhancing the beauty of women all over the world, Vietnam Lash is ready to cooperate with new business and provide them with sufficient knowledge to start their own lash line.
At Vietnam Lash, we not only provide newbies with the best quality products to satisfy their customers, but also have great deals for you. Vietnam Lash's sales team is ready to support customers 24/7. As a large wholesaler, Vietnam Lash's factory produces continuously, so the products sold are guaranteed to be fresh and durable. We have a team of workers to directly process products by hand. Workers rotate around the clock, so our time to complete an order is within 1-2 weeks, faster than half the time that other wholesalers provide.
How to buy from Vietnam Lash?
The best Vietnam Eyelash brand

WhatsApp: +84924851724

Instagram: @vietnam_lash_official

Facebook: Vietnam Lash Factory
If you're a new business, you still haven't figured out what product you want to focus on. Don't be afraid to let us know. Vietnam Lash will provide you with specific guidance on product lines of premade eyelash that are suitable for your size and needs. Once you place your order, you just have to wait for it to be shipped.
Vietnam Lash's freight service is very fast and professional. So you don't have to worry about the quality of the product that arrives. When you receive the goods, don't forget to check and give feedback. Leaving us reviews and comments is an important step to strengthen the cooperation relationship between the two sides. Thanks to that, you will receive more incentives for your business on your next purchase.
Top 3 best wholesale in Vietnam and Korea
Vietnam Lash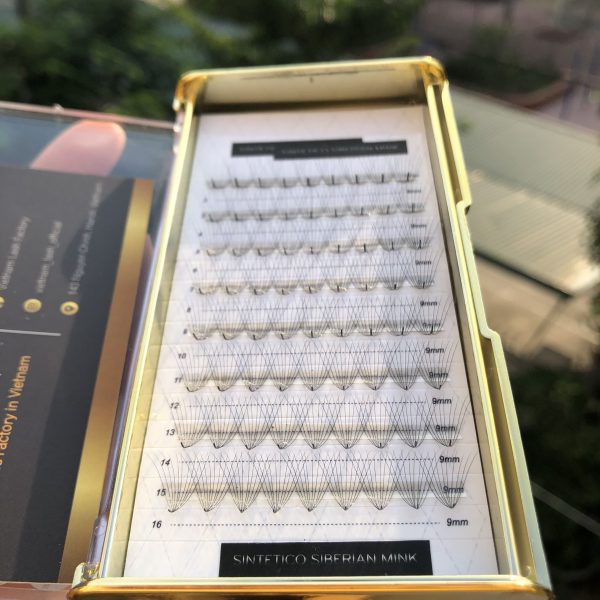 Vietnam Lash  is a pioneer of producing high-quality eyelashes, at a reasonable price and bringing you the best Vietnam eyelashes. We have more than 10 years working with abroad clients with various collections of 100% handmade eyelashes. Vietnam Lash's aim is help improve the elegant of the women through their eyes. Over the last 10 years, Vietnam Lash has a broaden net of incorporation over the world. Our eyelashes are indispensable itmes in modern women. We are confident that bring you the highest satisfaction with our products and services. 
The K-Lashes
This is a wholesaler with the largest volume of premade fans orders from Vietnam Lash in 2020 in the Korea. The products of this wholesale are diverse. Different from many other Korean Lashes wholesale, they not only focus on false eyelashes but also provide a full range of related tools such as eyelash glue, packaging, …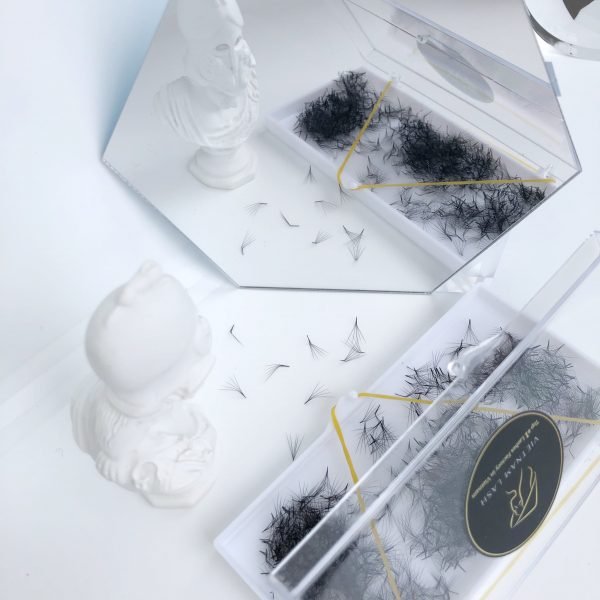 Mimi eyelash
Mimi Eyelash is an eyelash extension manufacturer from Vietnam, a specialist in machining and distributing eyelash extension products at wholesale prices. Their customers are mainly from the US – UK region, with the most stringent standards. Mimi Eyelash specializes in providing raw materials for customers to process with their own brand name.
You may want to see: Which one in China Lash and Korea Lash is better for your business?
                                   What should you choose between Vietnam Lash and China Lash?
Visit our webpage for more updated information: https://vietnamlash.com/