There are many people enthusiastic to start a business in eyelash industry but you are ignorant about how to start your own lash line. You do not know where to begin and cannot aware of the risks can happen in this scope. This article will answer your questions. Let's go!
1. Three experiences how to start your own lash line
As an experienced wholesale in the false eyelash business, here are the 3 most important experiences about how to start your own lash line that we have learned.
1.1 Choose a sales method 
This sounds easy. In fact, to choose the right sales method, you need to do a lot of research about the markets and the customer segments you are targeting. The selection of sales methods is very important, it has a significant influence on the existence and development of the business. For the field of false eyelashes, there are two most popular forms of sale: online and offline. Store managers can simultaneously apply one or a combination of these two sales methods to create the highest efficiency. 
1.1.1 Sale online
Normally, because of the burst of social media, businesses are pullzing about "how to start your own lash line" often combine both business forms and focus on online marketing to increase awareness for their store. For offline sales, having a fixed location helps to attract a large number of customers. Because the psychology of customers in the false eyelash industry is to want to see and touch the product directly, selling at the store helps increase the likelihood of customers buying.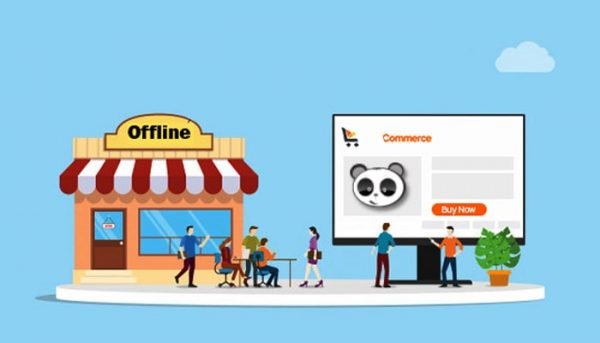 1.1.2 Sale offline
However, managers will have a hard time in the beginning when it is still not making profits. The reason is because they will have to spend more on cash, staff salaries and other costs incurred in the store. These things can be easy to deal when running an online business. Selling online will bring more benefits such as saving labor or saving warehouse space. The only barrier with this business form is that your business will be quite passive in terms of quantity. Customers who need to buy urgently will not be able to guarantee whether there is stock or not. It is also time consuming transactions, difficult to create attractiveness because the customer has not yet touched the actual product.
1.2 Catch the trend
The false eyelash industry is one with great potential for development. So the number of businesses in this industry is increasing day by day. In order to be an outstanding business in the customers's eyes, you needs to keep up with the top trends of the markets, or event create a trend for people to follow.
In 2020, the epidemic has caused a significant increase in the demand for false eyelashes. Besides the increase in quantity, the designs and styles of false eyelashes have also become more diverse. According to Vietnam Lash's records, in the first half of 2021, the trend of using false eyelashes is somewhat more unique than before. Colored false eyelashes, diamond-encrusted eyelashes and wet eyelashes are the three types of eyelashes with the largest export volume of Vietnam Lash's factory.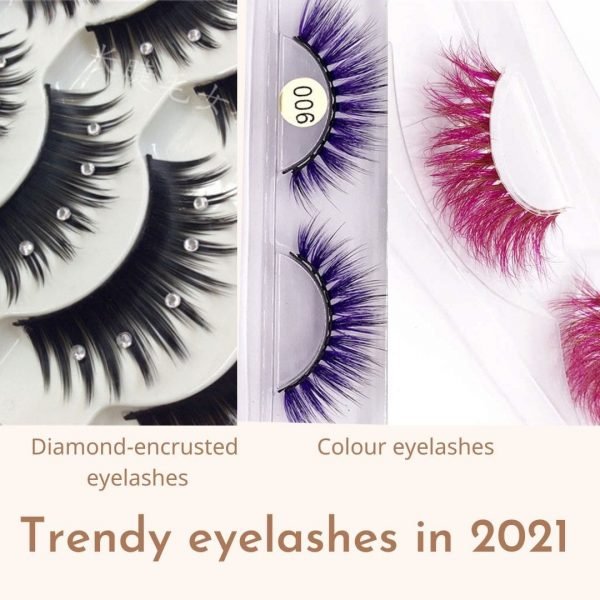 1.3 Looking for a suitable sales management software
Sales management software is now no stranger to anyone doing business. With technological improvements, sales management software will help business owners easily handle sales transactions, revenue management, cash flow, inventory management without having to spend hours and hours with a lot of cumbersome books. Besides, the application of sales management software today brings managers a tool to manage all daily business activities even though when they are not present at the store.
There are two main types of point of sale software. One for retail businesses, another for food and beverage businesses, etc. For the false eyelash industry, managers should use software for retailers in general. The advantage of these software is that it is simple to install, easy to use, meets basic features such as order management, sales and payment, goods and inventory management, …
2. How to start your own lash line?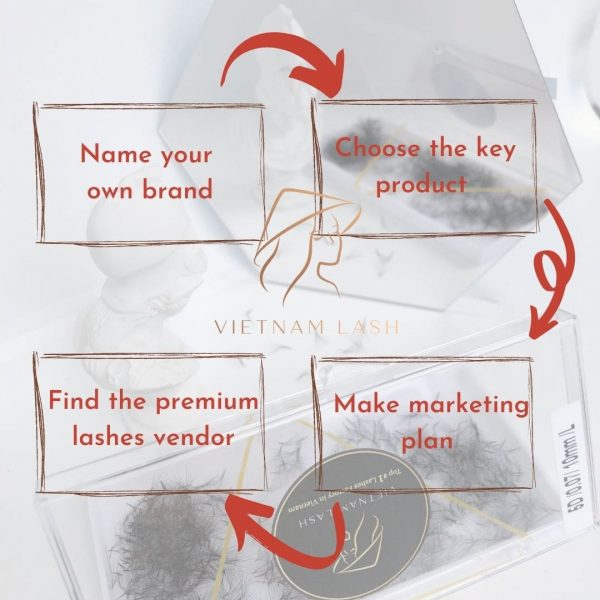 To begin your own eyelash line business, the following four steps are neccessary for you. Make sure you already have a business idea and let's start with the most basic steps. 
2.1 Name your own brand
The first thing you need to do when you think about how to start your own lash line is give it a name. Without a doubt, a name is the way to distinguish you from hundreds of other false eyelash businesses. A name that is easy to remember and with an impressive logo will be the first step to score your products in the eyes of customers. You should consider carefully when naming your business. One tip is to make a short list of the names you want and look online to see if there are any eyelash businesses using your name. If yes, remove immediately from the list.
Besides a name, you can also make customers remember you with an impressive sales website. Customers will be easier to find and satisfied with a website with a clear layout. This will increase the potential purchase for your business. After you have the basics, you should also learn to implement an online marketing campaign to increase your reach with customers.
2.2 Choose the key product of eyelashes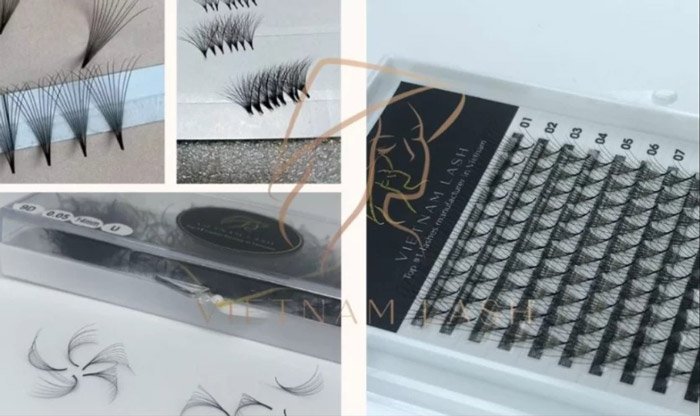 The industry of false eyelashes is a very large field and has a long history of development. If you want to differentiate yourself and get ahead of established retailers, you should focus on a certain lash line. This does not mean that your business should only sell one type of false eyelashes. A wide range of different choices is also a customer attraction. However, it is better when a customer wants to buy mink lashes, for example, they will think about you first.
2.3 Important about how to start your own lash line: find the premium lashes vendor 
Of course, when you want to be a retailer, you have to find a good wholesale. A good wholesaler determines 40% of the success of your business, especially in the false eyelash industry where the demand is increasing everyday. To identify a good wholesale, you need to know how good their products are, how good their services are, and what their partner policies stand out from other wholesales.
Here, Vienam Lash as one of the biggest wholesale in Asia, will be your best choice. We have decades of experience in operation. We always have the hottest items available in the world of false eyelashes. And as a self-sufficient wholesaler and producer of raw materials, the price of Vietnam Lash products is always cheaper than those that have to import raw materials outside. We are trusted and selected by a series of reputable vendors in the US, Canada, China, Russia, Japan, Australia,…
The best Vietnam Eyelash brand
2.4 Make marketing plan to build the reputation
After your business has chosen a suitable key product and wholesale, carefully build a marketing strategy. Reputation strategies need to be "sustainable". The first and most basic thing that every business needs to pay attention to in building a reputation strategy is to answer the question "What is the purpose of building a reputation for your business?", " Who are your customers? What do they want?".
Next, businesses need to develop a strategy to affect each target group they target. Building an execution strategy and build media assets are both necessary. For small and medium enterprises such as in eyelash industry with limited financial conditions, they should build a reputation for business owners instead of running trillion-dollar communication strategies. They also need to be interested in participating, building a community related to them to easily connect with the target customer group.
3. Two common mistakes when you do not know how to start your own lash line
Many retailers that cooperate with Vietnam Lash make these mistakes in the beginning of their start-up. These are basic mistakes that you've probably heard over and over again. Make sure you know them well so that you don't make regrets.
3.1 Guarantee the quality of the lashes source
Normally, small and medium-sized false eyelash businesses do not have the conditions and ability to self-manufacture products to meet the needs of customers according to the business's plan. Therefore, it is certain that you must find a business source. However, when starting a business, you do not completely trust a wholesale and want to try to see the quality and price of many wholesale by importing many sources of goods at the same time. This not only causes the products in your lash line to have problems with heterogeneity, but also loses the opportunity to be a loyal partner of quality wholesalers.
One tip to avoid this situation is to make sure you are satisfied with the wholesale source you choose in the search step. Take the time to choose a reputable wholesale elaborately instead of messing things up with many wholesale supplies at once.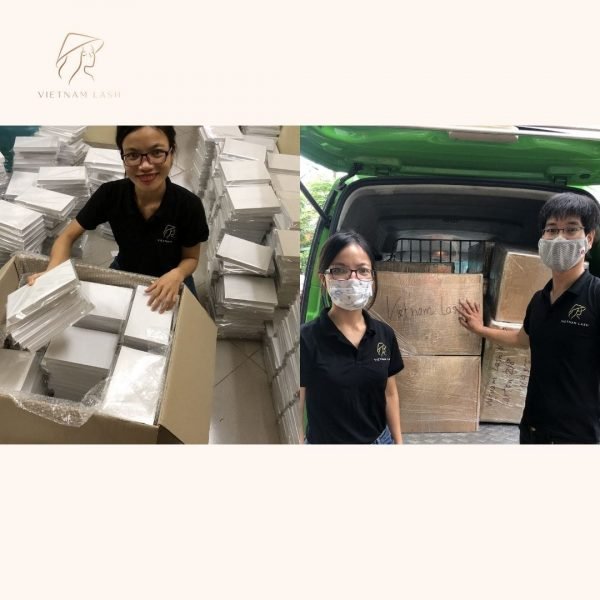 3.2 Management process is not optimized
Another mistake that retailers are easy to make is that the management process is not optimized. Even if you have used sales management software, if you don't really have a perfect organization, you can still get into trouble. Optimize the management of your business by breaking down the positions each employee has to take to make it easier to keep track of everything. Almost every startup meets this mistake and it's not a big one. So take it easy and prepare the wrong mentality then correct to continue with your own lash line.
4. How to start your own lash line is too too difficult, let Vietnam Lash accompany you!!
Vietnam Lash works with the motivation to enhance the beauty of Vietnamese women and strengthen their confidence. Also, Vietnam Lash is the dream land for any members who want to improve themself and pursue their dreams.
4.1 About Vietnam Lash
Vietnam Lash is ready to be the comprehensive strategic partnership with vendors and celebrated lash artists all over the world. With the important stance of the trailblazer, Vietnam Lash has already had 3 branches in Vietnam, Japan and Russia, which provide the best service and support to our beloved clients whenever they are in need. Under such inspiration, Vietnam Lash commits to work and provides the top-of-the-line products to clients globally. Vietnam Lash has been successful thanks to a system of departments that collaborate and work smoothly from stem to stern. So Vietnam Lash guarantees to bring the best products of Vietnam to the world.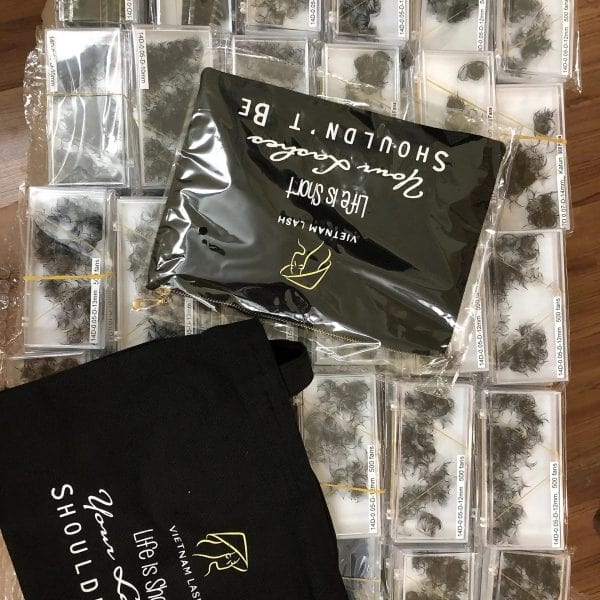 4.1 About our counterpart
Partners of Vietnam Lash are from every corners of the world. Except from official representor office in Viet Nam, we have two other branches in Japan and Russia to support clients anytime you need. Our partners are major suppliers in many US states, famous brands in China and Korea, world-class salon chains in Australia, Russia… To bring best experience for customers, we always cooperate with friendly attitude and have many attractive incentives for new partners.
5. Top best eyelash vendors to start
This is a short list with the best vendor in each contenent approprate for you to be a partner if you are still stuck in how to star your own lash line.
5.1 Vietnam Lash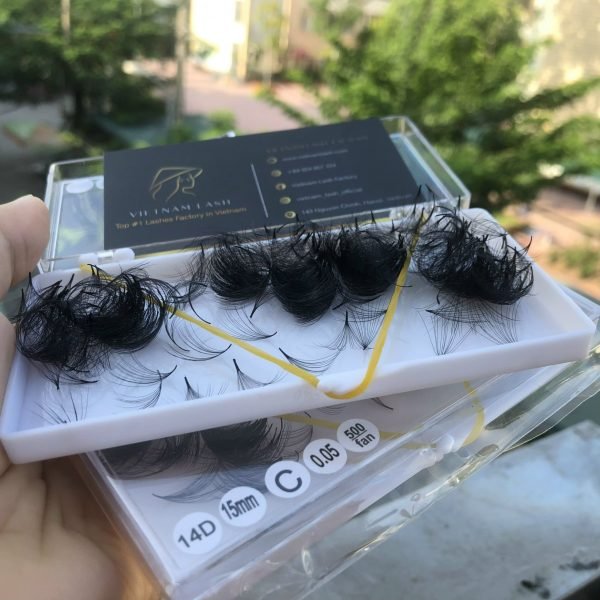 Vietnam Lash is the best vendor wholesale in the Asia. Most of our clients are from Philipines, Indonesia,… Beside, Vietnam Lash is also provide the eyelashes for others vendors in the world. We not only sell eyelashes but also the lash related products such as: glues, packaging, eyelash extension tools,… So, we are the best option if you are in Asian and you are preparing for your own lash line because of the diverse types of goods with affordable price.
5.2 LA Eyelashes
This is the biggest counterpart of Vietnam Lash in Los Angeles, America. This vendor is alway trendy and understanding their customers. Buying goods from LA Eyelashes, you will not be paid exorbitant price because this is a big vendors, you do not waste any others fee for the intermediate.
5.3 The beauty lash
The beauty lash is a vendor form Australia. This is the main consumption of Vietnam Lash in this continent. We export a huge number of eyelashes, packages and other eyelash tools here everyday to provide for their beauty demands. If you are in somewhere near Australia, the beauty lash is the best choice for a trustworthy vendor.
5.4 Russia Nice Lash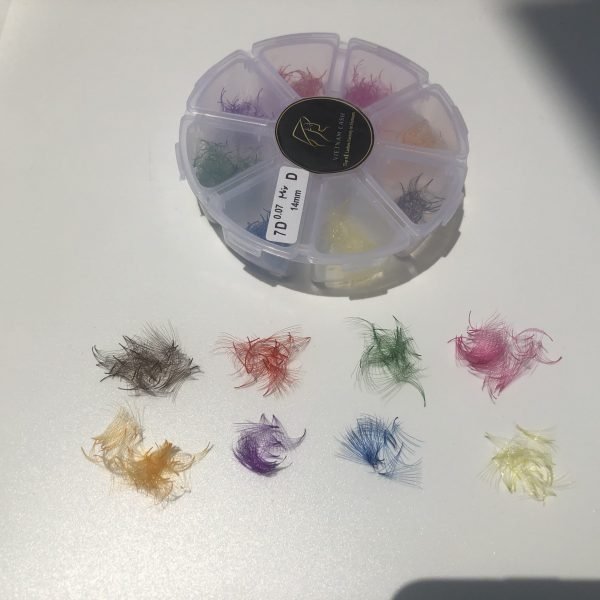 Russua Nice Lash is the longest counterpart of Vietnam Lash. In addition to the official representor office of Vietnam Lash in this country, Russican Nice Lash is the one who provide authentic eyelashes of Vietnam Lash. Beside, if you want to build a new lash line Russian Nice Lash is also provide you some idea about logo, slogan of your brand as well as give you some newly packaging ideas at the first coorporate.
READ MORE: BEST MINK EYELASHES VENDOR WHOLESALE FACTORY 2021
Visit our webpage for more updated information: https://vietnamlash.com/