Hello, my friend! Thank you for trusting us and being here to learn about How to become a certified lash tech? You know, the eyelash extension industry is becoming increasingly popular in the beauty world. As it gains popularity, the competition in this profession is also rising. Therefore, obtaining a certification will help you stand out and secure better career opportunities. Let's explore how an eyelash technician certification can benefit you and how you can obtain it!
What do you know about lash certification?
Firstly, before delving into How to become a certified lash tech, let's review your basic knowledge of lash certification and the benefits you will gain when equipping yourself with a lash tech certification. Mastering these fundamental knowledge areas will help you understand why certification is necessary. This will serve as a strong motivation for you to pursue and obtain your own certification.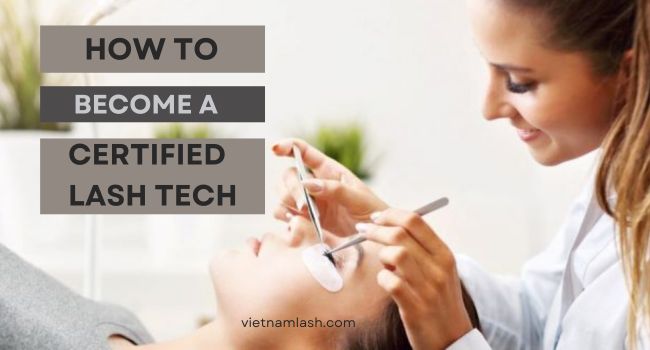 The discrimination between a certification and a license
Certification and license are two different types of credentials that are often used to demonstrate a person's qualifications or legal authorization to perform certain activities. 
In many cases, certification is typically a voluntary credential issued by private organizations to demonstrate competency, while a license is a mandatory legal authorization granted by the government to engage in specific activities or professions. 
In the eyelash extensions area, the requirement for a license to become a lash tech varies depending on the country, state, or region where you plan to work. In some places, obtaining a license may be mandatory, while in others, it may not be required.
In general, it is essential to research the specific regulations and requirements in your local area or the area where you plan to work. Check with the local government or licensing board, beauty industry associations, or professional organizations to understand whether a license is necessary to become a lash tech in that area.
However, even in places where a license may not be mandated, obtaining a certification or attending professional training is highly recommended.
Why do you need to have a certification in the eyelash extensions field?
Speaking about the benefits of being certified, first and foremost is the boost in your self-confidence. How to become a certified lash tech is a long process but, you will feel more confident in your skills. You know that the lash extension industry is hot right now. Whether you own a salon or work as an employee in the field, having a certification will give you a competitive edge over new lash technicians. 
With a certification, clients will also trust you more. That's only natural, right? As a customer, you would also prefer lash techs who are certified in eyelash extensions.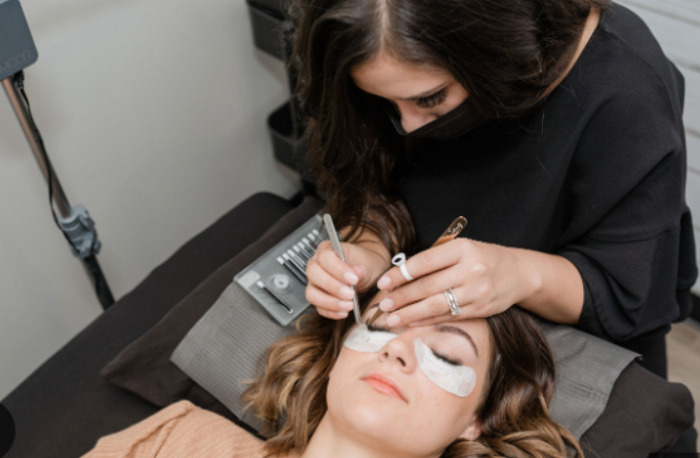 Apart from increased confidence and gaining customer trust, certification allows you to expand your network and connect with experienced professionals in the industry. This enables you to learn and accumulate more knowledge. Furthermore, having a certification empowers you to charge higher prices for your services, aligning them with the value you provide to your clients. Your service fees can be higher than your non-certified competitors, who lack the expertise and recognition.
How to become a certified lash tech in the eyelash industry?
To obtain certification or become an expert in any field, the answer is education. Self-learning, attending classes, or learning from more experienced individuals are all valid paths. However, to achieve certification, you must undoubtedly participate in a suitable course and undergo a few examinations. Let's take a look at the learning process to obtain certification!
4 steps to purchase a lash tech certification
The first and most crucial step is to find a high-quality training center or school. If you are determined to become a lash technician in prominent salon chains, the reputation of the training center is essential. Employers will look at your certification, and they will be more impressed if it comes from a reputable institution. This becomes even more critical if you plan to open your own salon and be the owner. Customers not only care about the quality of service but also value the reputation of the establishment!
There will be many lash tech courses for a future professor to choose from. If you already have experience, opt for advanced courses. This will help you enhance your skills and knowledge. However, if you are a beginner, start with the most basic courses. A fundamental lash course will provide knowledge about eye anatomy, natural lash growth cycle, various types of eyelash extensions, adhesive, tweezers, and basic tools.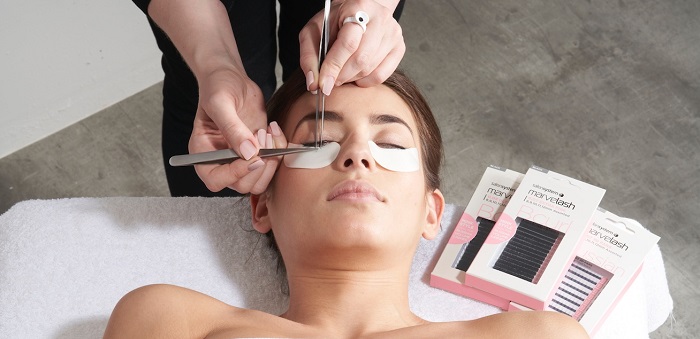 The second step is investing in quality learning tools and equipment. As we mentioned before, a lash tech certification course always requires hands-on practice, so you will need to have all the necessary learning tools for yourself. These tools include lash extensions, adhesive, tweezers, scissors, eye pads, brushes, and more. They are not only aids in your learning but also serve as motivation and companions throughout your journey to become a professional lash tech in the future. So, don't hesitate to invest in high-quality products!
The third step is also the most challenging yet exciting one. Now you have found the desired training center, and you have equipped yourself with professional tools, right? It's time to start the course. If it's a basic course, after learning the theory from the books, you will engage in practical sessions. You will be taught how to recommend suitable lash styles for clients' eye shapes, learn the correct tweezers handling, practice gentle lash application techniques, and more.
If you choose to take more advanced courses, you might even be taught how to manage a small salon or run a larger one. The learning and practical process is the most enjoyable phase throughout the journey of How to become a certified lash tech.
Third step is make theory into practising. The important step in how to get lash extension certified process is you have to practice more and more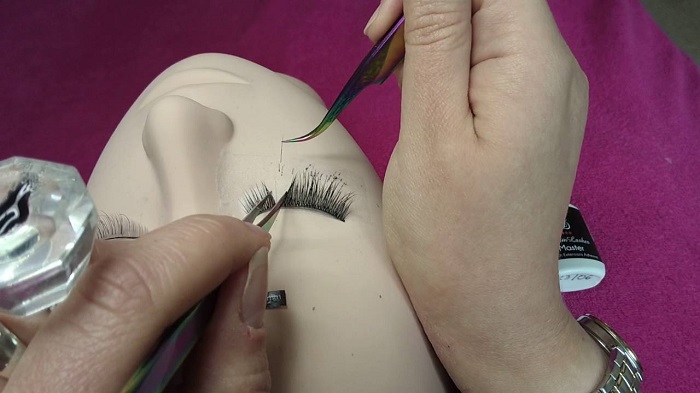 The final step to conclude the course, receive the certification, and begin your career advancement, you need to take the final exam. For some training centers, you may need to fulfill the required number of practice hours before being eligible to take the exam. Typically, the exam consists of two parts: a written test on theoretical knowledge and a practical assessment on a live model. If you have been diligent throughout the course, this part of the exam should not be difficult for you. Don't worry! 
Read more: What Do You Need To Be An Eyelash Technician – A Specific Guide
Some common myths about being a lash tech 
Do you find the four steps to become a lash tech straightforward? You can definitely do it! Even if you don't have perfect eyesight, becoming a lash tech is still a suitable profession for you. The requirement of having perfect vision is one of the biggest misconceptions people often have about lash techs. You can wear glasses or even use a magnifying glass while working. As long as you have learned the lash extension techniques and practiced enough to be confident in your skills, you can become a successful lash tech.
Another common misconception about the process how to become a certified lash tech is specialization. People often think that a lash tech can only learn and work with one specific type of lash extension. For example, they might assume that you can only do classical eyelash extensions, or you can only do mega volume extensions because that's what you were trained in. Not true! The training courses provide you with skills to work with all types of lash extensions, from the basics. Therefore, there is no specific certification for a particular type of lash. It's just that you might have practiced more with classic lash extensions, which might make you feel less confident when doing mega volume or vice versa.
How much does it take you to become a lash technician?
So now you have acquired the basic understanding of the benefits of becoming a certified lash technician and the four steps to complete the "How to become a lash artist" course. You might be wondering how much time and effort it takes to obtain a lash tech certification, right? We understand your concerns, and we will provide you with the information right away!
Typically, a basic lash technician course can cost anywhere from $700 to $1500. This price includes registration fees, tuition for theoretical and practical classes, examination fees, and certification printing costs at the end of the course. However, it does not cover the cost of purchasing tools and equipment, so you will need to buy those separately. The exact price may vary slightly depending on the reputation and length of the course offered by the training center. This is the tuition fee for the basic package. If you want to take more specialized courses or management courses, the fees may be higher.
To find out the exact tuition fee of the training center you are interested in, you can contact them in various ways. You can visit them in person and meet with their admissions office to inquire. You can also call them or send them an email. Don't hesitate to ask and clarify your doubts about what is included in the tuition fee!
Read more: How Much Do Lash Techs Make – Are Lashes The Potential Field?
Conclusion
Regarding "How to become a certified lash tech," we have so much more to share with you. A single blog post cannot cover all the interesting aspects of this topic. Therefore, we invite you to spend more time visiting our blog to learn more about how to get certified in lash extensions! We hope that the four simple steps we suggested will help you understand the process of obtaining lash tech certification. Additionally, the benefits we mentioned could serve as motivation for you to pursue the desired certification. We wish you become an experienced and skilled lash technician soon.
More updated information: https://vietnamlash.com/