The lash industry has developed dramatically recently so becoming a lash technician is a demand of many people. Let's explore the requirements to become a lash artist.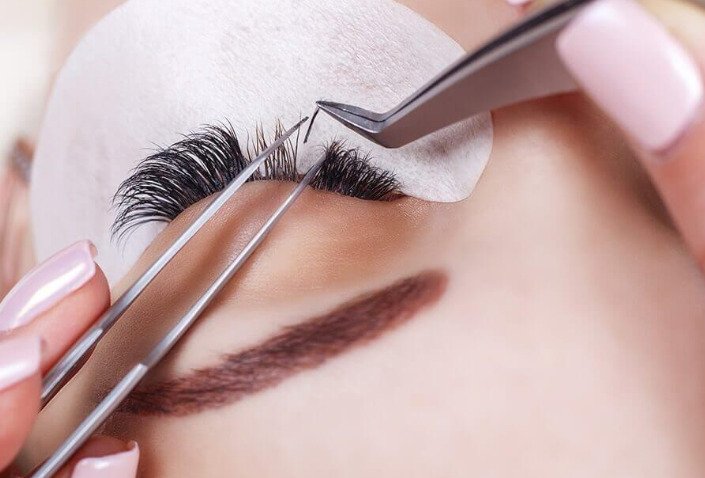 If you are finding a detailed guide to becoming a certified lash technician, then look no further, we will provide you with specific steps you need to take to get there. Becoming a lash tech can be an excellent career move if you are passionate about eyelash extensions. 
We will equip you with all information including the job description, the pathway to be a lash artist, and more to ensure that your journey will be as smooth as possible. What are you waiting for? Let's jump into the first section!
Lash Technician Job Description – What Do Eyelash Technicians Do?
The lash technician career is not always pink as you think, you need to know the job duties before making a decision. There are a ton of tasks when you become a lash artist, the below information is some basic duties that almost all lash techs do.
Instruct customers about post-treatment care to ensure their lashes are in good condition to proceed further steps: avoid rubbing and touch to the eyes after lash application for a specified time.
Consult with your clients to determine the lash styles that perfect their facial shapes, eye shapes, eye angles, eye spacing, and preferences.
Guide customers about aftercare products and how to use them properly
Comply with state regulations relating to disinfection and sterilization procedures for supplies and equipment
Provide clients with all information about post-treatment care: if an infection occurs, what should we do, or how long eyelash extensions can last
Ensure cleanliness at all times to protect people from exposure to infections or other harmful factors
Remember to clean clients' eyelashes to prevent bacteria 
Apply eyelash extensions with various methods and follow the application process strictly
The Differences Between Certification Vs License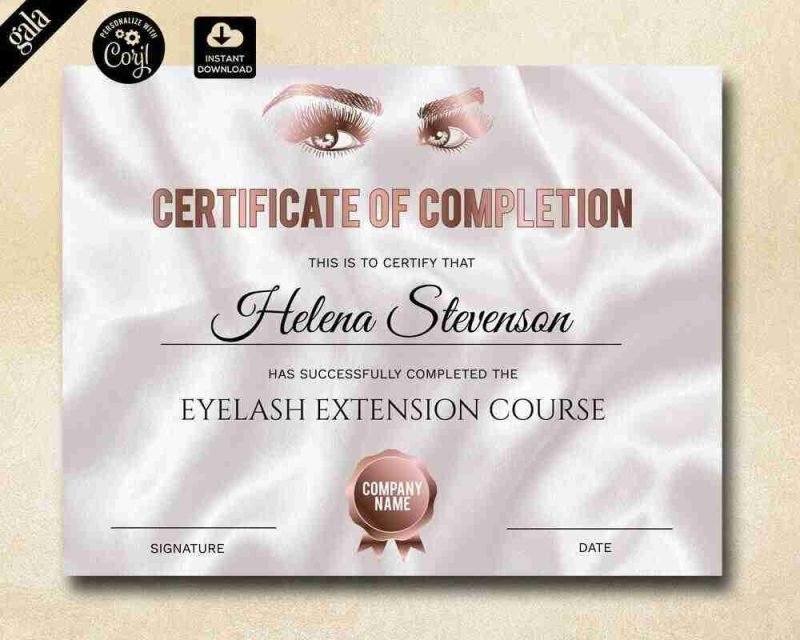 There are different names used to call "lash technician". They are lash artists, lash techs, eyelash extension specialists, eyelash professionals, and more, you can call any name you remember. 
They are trained carefully to apply semi-permanent eyelash extensions to clients' natural lashes. You need to have keen vision, patience, and steady hands in addition to comprehensive training to complete the duties. 
Before we jump into how to become an eyelash technician, let's start with definitions of eyelash certification and license and the difference between them. In many states in the USA, lash artists must complete lash extension courses and get a license or certification to work legally no matter if they work for themselves or under a lash business: a spa, salon, or boutique. 
A lash extension certification is a qualification achieved by a private or individual company. These accredited certifications help you have a solid place in the competition and show your commitment to your work. Certification will assist you to uplift your lash skills and specialize in this industry. 
A license is given by government departments such as the State Board of Cosmetology, Esthetics, Cosmetology, Massage Therapy, Barbering, and Nail Technician. Keep in mind that the lash qualifications don't stop with lash certification. Many states in the USA require you to have both certification and license as an aesthetician or cosmetologist. 
You are working on sensitive areas of the human body, so you need to know more than the average level. During your work, you will be exposed to various chemical products and you also must understand how to use them properly without affecting others.
The Pathway To Become A Lash Technician 
Each state in the US has its own requirements for lash technicians, you can access the government website where you live to know up-to-date information. A few states just require cosmetology licenses while others require esthetician licenses, so you should check carefully to save time.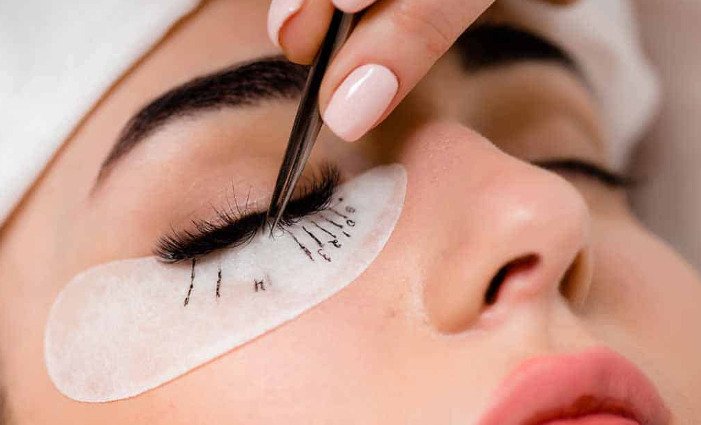 The Salary Of Eyelash Extension Techs
To encourage you to register for lash extension courses, we will reveal the salary of a certified lash technician. You can earn from $14 to $25 per hour and this is just an average salary. You can always make more money in case your skills are excellent and clients tip for you. 
In case you work for a lash salon or studio, the average salary ranges from $14 to $19. If you run your own lash business, you can make $20-$25 per hour but you will pay a lot for the business's rent, inventory, and taxes. Now, let's move on to your choices: a cosmetologist or esthetician.
Read more: How Much Do Lash Techs Make – Are Lashes The Potential Field?
Cosmetologist 
Becoming a cosmetologist is a common path since this position will give you many opportunities to take your career to the next level. To get a cosmetologist position, you have to join training programs including time in classes and hands-on experience. You need to spend around 1400 and 1600 hours to complete the training but it also depends on the state you live in. The compulsory factor is you have to pass a licensing exam before practicing your craft. 
The cosmetology program does not only contain eyelash extension courses but also courses for nails, makeup, hair, and skin. You can decide to focus on lash extension only or more areas and choose the school which is specialized in your preferred option. 
Esthetician 
While cosmetology consists of various branches: makeup, hair,.. Estheticians are more specialized in skincare. Nowadays, more and more estheticians are also involved in the eyelash field; therefore, the knowledge you gained from esthetician courses is precious for those who want to pursue an eyelash extension career. 
The training hours for estheticians are shorter which ranges from 500-600 hours and time to take a licensing test. Most stages don't require many training hours but many esthetician programs still require more hours than the minimum. 
No matter which programs you choose, the clients want to see your license so that they can be comfortable when booking appointments. Having an accredited license will boost your lash career. Remember that many cosmetology and esthetician programs don't cover lash extensions courses and you might join the extra training to gain more knowledge. 
How To Become An Eyelash Tech – 7 Steps To Reach Out To Your Dream 
There is more than 1 way to reach your dream which is to become a well-trained lash technician. However, if you want to find the easiest and smoothest way, the comprehensive guide below is a gift for you.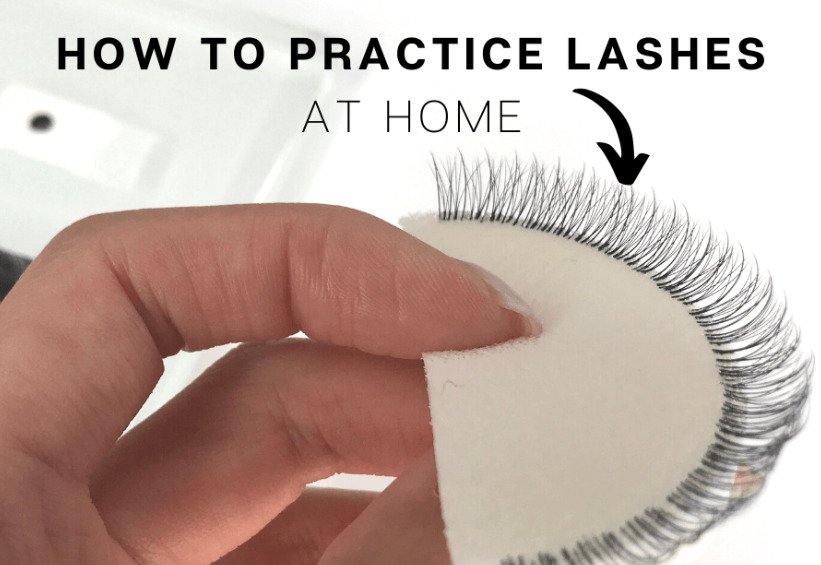 Step 1: Check The Lists Of Licensing Requirements In Your State
You need to research the laws of your specific state. Each state requires a particular license such as esthetician or cosmetologist and some states don't require a fixed license. Therefore, understanding your state's regulations will help you save money and time. 
For example, you need to be a cosmetologist and aesthetician to work on eyelash extensions in Arizona while the government in Delaware allows you to be free in choosing which license or certification to join the lash industry. You can explore more on the government's websites. 
Step 2: Find An Accredited School
After you determine which position you want to get, you will find an accredited school to join the eyelash extension programs. There are a lot of schools and academies that offer you various types of lash extension courses, you should pick the one with a good reputation and curriculum. 
Besides, you need to consider more factors: the trainers have to be certified and experienced, the school offers hands-on training, and the curriculum should consist of comprehensive topics and all aspects of eyelash extensions.
Certification will enhance your skills and help you master different techniques for lash extension applications such as hybrid, volume, and classic. In case you are overwhelmed and don't know where to start, we recommend you begin with classic eyelash extensions and continue enrolling in more advanced classes to improve your skills. 
Step 3: Attend In Eyelash Extension Courses
It's time to join the chosen courses. The length of the courses varies on the certification or license and the school you select. You can also get trained in client care, styling theory, sanitization, and more. Some programs even offer you business topics such as pricing theory, a company, and marketing yourself.
You can learn as many topics as you can but here are some topics that a good lash extension course should include: 
Application of lash extensions
Health and safety practices
Eyelash adhesive and bonding
How to isolate and separate lashes
Deal with allergic reactions
Infection eye diseases
Marketing yourself and your business
Supplies and equipment
After finishing the course, you will feel confident to place your foot on the lash career and offer your customers excellent experiences. 
Read more: Best Online Lash Extension Courses Are Worth Your Money
Step 4: Practice Makes Perfect
You have had solid knowledge about lash extensions, now you can purchase a starter kit and practice with your friends or your family members. Some courses include this kit while others require you to pay add-on money to own it. A typical kit contains:
Lash primer
Tweezers
Eyelash extensions
Adhesive
Mascara wands
Scissors
Eye patches
Glue holder
Lash remover
Other tools
Practice makes perfect so you need to keep practicing to hone your skills especially when you are in the early stage of a lash career. You can ask your friends or your family if you can do their lashes and they will give you honest feedback. 
Step 5: Complete The Courses And Pass The Exams
If you are confident with your knowledge and practice skills, you can take an exam. The certification exams usually require a written test and a hands-on test. Several certifications and licenses require you to complete minimum training hours before taking the test. 
You need to ensure you have a firm foundation about lash extension theory, safety, application techniques, and sanitation before registering for the test since the written component might cover these topics. Almost all training courses will provide you with a manual that covers all information you need, you just make sure to read through it and take notes carefully. 
In this test, you will work on a given model and the question is how to apply eyelash extensions to them. You might be evaluated on the below agenda:
Consult the client 
Clean and sanitize their eyes
Pick the lash type 
Choose lash style fit to them
Application techniques
Check overall lash health and more.
Completed Minimum Hours
You should record your training hours in a log to make sure you completed the minimum hours as the exam requested.
Step 6: Get Insurance 
When you pass the above exams, you are a certified lash technician. Therefore, one of the first things you have to do is to get insurance. There are a few different types of the necessary insurance to cover your demands. 
Public Liability Insurance
This is the most insurance you have to get. It will protect you from the cost of claims caused by other people in case there is any incident that happened during the lash extension application process. The insurance will save both you and your customers from unwanted accidents. 
Products Liability Insurance
The insurance is usually bought along with public liability insurance. It covers all the claims relating to the defects of products you have used, sold, or supplied. 
Employers Liability Insurance & Property Insurance
No matter if you are an employer or employee, this insurance is a requirement if you hire someone to work for you despite being part-time or full-time. 
In case you are self-employed, you should get Personal Accident And Sickness Insurance. It allows you to achieve an amount of money in case you are sick or injured. 
Step 7: Attract Clients 
Now, it's high time to attract more clients to your lash salon. There are several ways to support you. Let's see!
Word Of Mouth: You can tell your friends, colleagues, and family that you get the lash certification or license, then offer them a discount to encourage them to come to your lash salon. 
Social Media: This is a smart way to reach out to more potential customers in your area. You will create an Instagram account, and make it stunning by posting your work. Make sure your profile is always up-to-date. You can even run ads to draw people's attention
Online Directories: You can use some online directories to list your business and the services you offer the clients. They can find you easily when they are looking for a lash salon in their zone. We suggest Yelp and Google for this task. 
Join The Lash Community: You can attend the lash community or a professional association to open up your relationship. 
Get A Job In A Famous Salon: Instead of running your own business, you can apply for famous salons after getting lash certification. It is an excellent way to build your clientele. 
Read more: How To Grow Your Lash Business With Instagram – 13 Tips To Promote Your Brand
How Much And How Time Do You Need To Invest In Courses?
The length you need to spend on a lash program depends on whether you want to get a certification or license. Several certifications require 48 hours to complete the courses while others need 2 weeks to complete. 
For cosmetology and esthetician programs, the minimum training hours can be 500-600 hours and the maximum hours are 1500-1600 hours. You can also choose online courses to fit your schedule. When you complete the program, don't forget to take and pass the exam to work in this field legally. 
How much do you need to pay for lash extension courses? Our answer is to depend on the level of the program. If you join an entry-level course, you need to pay $700 to $1500 since this course covers fundamental knowledge. 
What you learn from the course, where you attend the course – whether it is famous or not, the trainers are good and the beginner kit included will influence the cost. To take it to the next level, you have to improve your skills and join advanced classes which concentrate on special techniques: volume lashes or mega volume lashes. Therefore, the cost of the courses will increase accordingly, you can expect to pay $1000 to $3000 for them.
The Advantages Of Becoming An Certified Eyelash Extension Specialist
Although the price for the lash program is quite high, we think it is a worthwhile investment. You will get a lot of advantages when becoming a certified lash technician.
Encourage you since you have gained knowledge and skills to offer your clients a perfect experience
Help you stand out from non-certified lash artists
You can access advanced courses which amateur lash artists cannot
Can connect with other certified lash artists and learn from them
Set higher prices for your service
Always update lash extension trends and techniques on time
Conclusion
We believe you have solid information about how to become a lash technician. To help you memorize them longer, let us summarize the requirements: 
Check The Lists Of Licensing Requirements In Your State
Find An Accredited School
Attend In Eyelash Extension Courses
Practice Makes Perfect
Complete The Courses And Pass The Exams
Get Insurance 
Attract Clients 
Now, don't hesitate to start your lash career. We are always here to cheer you on.
Visit our webpage for more updated information: https://vietnamlash.com/