How to ask for a review? To ensure a successful review campaign, it is essential to establish a systematic approach. By incorporating those reviews as a fundamental component of your broader marketing strategy, you may discover that a client's feedback swiftly evolves into the most compelling sales pitch of your lash business.
In this article, we will mention the most effective methods on how to ask for a review. We will explore the optimal timing for soliciting reviews, and provide strategies for asking for reviews on popular platforms, such as Google, Yelp, and Facebook. Follow our lead to enhance your review generation efforts starting today!
Why Learning How To Ask For A Review From Customers?
Achieving proficiency in permanent makeup techniques or eyelash extensions and delivering exceptional results forms the foundation of a successful career in PMU. However, to expand your business, there are numerous skills that you have to acquire, in which there's the ability to generate reviews for your eyelash business.
Thriving entrepreneurs must possess a diverse skill set, and effective client interaction is one of them. Learning how to ask for a review, effectively communicating with your clients as well as understanding the importance of soliciting reviews should never be underestimated. It is a crucial task that should be prioritized in order to grow your business.
The feedback provided by your lash clients in reviews holds a significant impact on how such potential clients perceive a brand or product as the testimonials are often considered reliable recommendations. Asking for reviews offers valuable insight from previous customers, which enables the others to form opinions about your products.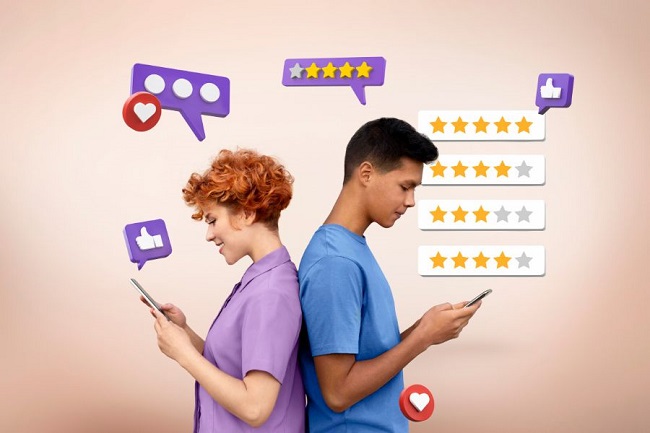 Positive reviews enhance a business's reputation, while the negative ones have constructive feedback on areas that need improvements. Working on how to ask for reviews always plays a vital role in building trust, as potential customers often rely on them when deciding whether to engage a service or make a purchase.
The opinions of others regarding your businesses hold more significance than self-promotion even if they are unfamiliar individuals. Still skeptical? A study by BrightLocal revealed 76% of individuals who are requested to leave reviews actually follow through and do so.
Another study by Podium found that 93% of consumers consider online reviews for local lash businesses to be just as valuable as product reviews on well-known platforms like Amazon. Also, BrightLocal reported that a staggering 98% of clients often read online reviews for local businesses. These figures emphasize the substantial impact behind the question that's "How to ask customers for reviews?" is always on consumer decision-making.
For any businesses, the key to obtaining positive reviews often lies in strategically timing the request, particularly when clients are satisfied with the services. Promptly asking for a review after completing a transaction or conversation ensures that your lash business remains fresh and deep in their minds for an extensive period of time.
When To Ask For Reviews From Your Clients?
To effectively encourage your customers to provide positive reviews, it is needed to ask them at the appropriate moments, when you have demonstrated your value to them in some ways. Here are some opportune times on how to ask customers for reviews: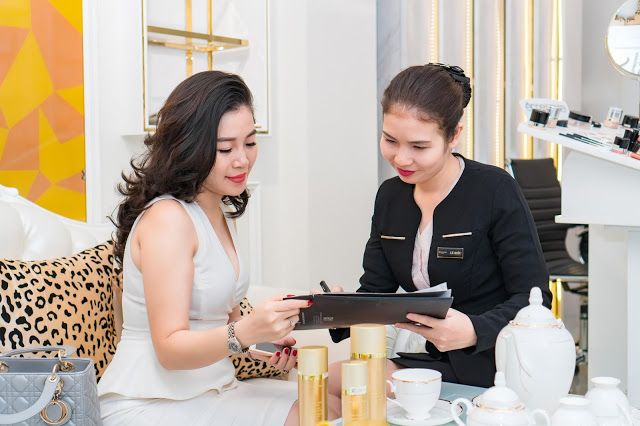 1. After Reaching A Specific Milestone
Customer milestones, no matter how small or present an ideal chance to ask for a review. All these milestones can include situations such as when a customer makes a repeat purchase, after they have used your service for a specific duration or when they have a loyalty program discount for multiple purchases. This means that your clients are satisfied with your products and services, making it an ideal time to ask for reviews even more.
2. After Introducing New Features
If your products or services introduce new features that enhance your client' experience, it is advisable to ask for reviews a few weeks or months after the features are launched. Existing clients who have benefited from these updates are more likely to offer positive reviews, while the new features are still fresh in their memories.
3. During Customer Check-Ins
Regularly checking in with customers through the client support representatives provides the opportunity for verbal feedback. If customers have no issues or if any problems are resolved, it is an excellent time to ask for a review that allows them to share their positive experiences.
4. After Product Delivery
Opening a package often generates excitement, making it an ideal time to ask for a review. If you ship packages to your customers, consider including a personalized note or aesthetically appealing card that catches their attention, increasing the likelihood of asking for a review.
5. After Providing A Service Or A Sale
When assisting the clients over the phone or in person, it is good practice to ask for a review once the interaction or transaction is complete. If you meet their needs and offer exceptional service, they'll be more inclined to submit a review, especially when it is still "hot".
How To Ask Customers For Reviews
One approach that isn't recommended is offering incentives (gifts or discounts), in exchange for reviews. Not only is this against the policies of many review platforms, but it also tends to result in low-quality reviews.
When clients leave reviews solely to receive something in return, their effort and authenticity may be compromised.  An honest and genuinely satisfied client, voluntarily giving a heartfelt review, will have a stronger impact on potential clients. It is impossible to force a high-quality review, as the genuine tone of satisfaction cannot be fabricated.
If you aim at how to ask a customer for a review, enhance your Yelp ratings, receive five-star ratings on Facebook, or boost your Amazon reviews, there are a lot of approaches to solicit them, such as face-to-face interactions, phone calls or text messages, websites (a dedicated reviews page) and social media, and many more.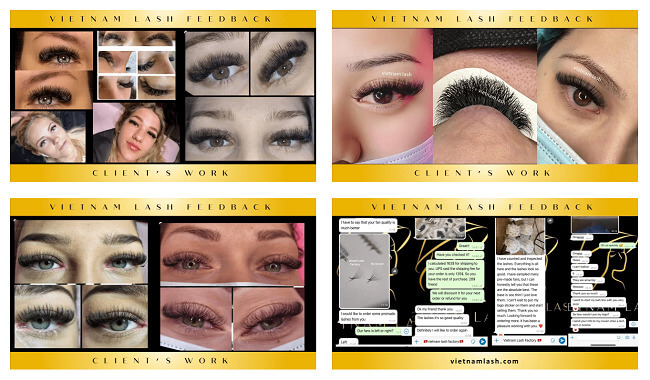 How To Ask For A Review 'In Person'
The simplest scenario happens when a customer spontaneously offers positive feedback. In such cases, it is vital to express gratitude for their valuable input before coming to any of the suggestions. Here is an example:
Happy customer: [expressing satisfaction]
You: That is truly wonderful to hear. We always strive to [mention the aspect being praised]. We undoubtedly appreciate you taking the time to leave us a review.
Customer: Absolutely, thank you for delivering exceptional service!
You: You know, it would be awesome if you could share what you just mentioned in a review on [Platform]. Such comments greatly assist potential clients in feeling more confident when choosing our lash services.
Customer: Sure!
You: Thank you! We're honored to offer you the instruction on how to do so!
How To Ask For Reviews On The Phone
When meeting a self-proclaimed satisfied customer, particularly when they express gratitude for your assistance, it presents an opportune moment to ask for reviews. It can be like this:
"We are delighted that we were able to assist you today, and we all sincerely appreciate your patronage. If you have a moment to spare we would be thrilled if you shared your experience on [preferred review platform]. It greatly reassures others that they will receive the necessary support in case any issues arise with our services. Customer testimonials are undeniably the most effective way to demonstrate this."
By conveying appreciation and demonstrating the value placed on those customers, not only does it foster loyalty, but it also enhances the likelihood of them providing a review.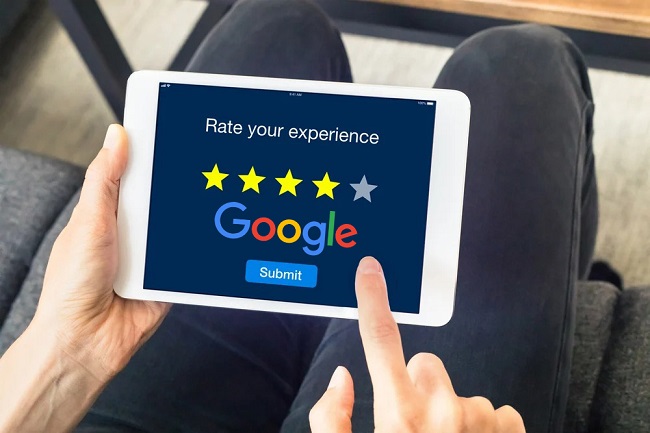 How To Ask For A Google Review
Having a presence on Google is crucial for any business, as it enhances visibility. Creating a Google Business page should be one of the initial steps when establishing your salon. Since most clients tend to look for reviews on Google, having them shown on Google Maps is ideal even if they are not actively searching for other information.
When it comes to asking for a review, one of the most effective approaches is through email communication. Keep it approachable by introducing yourself and provide customers with an opportunity to become more familiar with your lash brand.
Don't be too complex! Lengthy and intricate messages can be disregarded by customers. It's vital to maintain simplicity in your email, ensuring that it is read and easily comprehended by recipients. Clearly communicate your request without overwhelming or confusing customers.
Keep in mind that customers don't rely on you or your products or services; it is the opposite. When soliciting reviews, it is important to avoid appearing arrogant, or detached. If you come across as cold or conceited, your clients may not only ignore your email, but potentially even distance themselves from your businesses. Below, we give you a guideline on how to ask for Google reviews so look down:
Step 1: Click in your "Business Profile"
Step 2: Navigate to the "Customers" section, then select "Reviews", and choose the option to acquire more reviews
Step 3: Go to "Share review form"
Step 4: Directly share the generated link with your customers
Dear [FIRST NAME],
We sincerely appreciate your recent purchases of [PRODUCT NAME], and we hope that you are satisfied with your choices.
Choosing our business means a lot to us, as we greatly value each and every customer. Our constant endeavor is to enhance our services and provide the best possible experience.
We kindly request you to consider leaving a Google review for us. Your words will immensely help us and it only takes you a few minutes. Simply click the button below to visit our Google Business page and share your thoughts.
[INSERT BUTTON WITH LINK TO YOUR REVIEWS.io PROFILE]
If you have any inquiries, or require assistance, please feel free to reach out to our customer helpline at [INSERT NUMBER].
Warm regards,
The [BUSINESS NAME] Team.

FAQs
Q1: What Are Other Approaches To Ask For Reviews?
Besides those shown above about how to ask for a Google review, as well as direct/ indirect ways on how to ask for reviews from clients, there are many other choices for you to go with, such as asking for reviews via the text (personal/ business/ SMS texts), Thank-you cards, all on social media, vendors, purchase confirmation emails, or on your own lash websites.
Q2: What Can Be The Platform For Asking For Reviews?
Reviews on your Facebook business page are truly convenient as many of your clients likely already have a profile, and don't have to go through a registration process. Another platform worth considering is Yelp. It is a user-friendly platform that people use for reviews of various businesses. However,Yelp is not industry-specific, which means that exposure to your target audience may be limited.
Q3: How To Deal With Negative Reviews From Clients?
If you receive a review that is less than positive it's important not to respond with aggression. Instead, reach out to the client privately to understand the underlying issue. In the event that you receive a negative review that is clearly unjustified, fraudulent, or from an individual who was never your client, you have the right to report it and request its removal.
>> How good eyelash extension consultation can impress your clients
Conclusion
After you ask for reviews, display them on your social website by turning them into appealing designs and create posts featuring them. This helps avoid overwhelming your pages with an excessive number of reviews while all your followers still easily view them. Also any potential clients browsing through your feed will have immediate access to these reviews.
Do not hesitate to ask for reviews from your customers. However, it's vital to choose the right moment and ask when they are most satisfied with your product or service. Also, request the right type of reviews that can have the best impact on your clients. Different formats, such as text or video, come with distinct advantages.
Are you ready for a 'hunt' of reviews? Before actions, try leaving us a review on this post and feel free to visit our website for more updated information: https://vietnamlash.com/