If you are reading this article, we are sure that you are wondering which country to choose to cooperate with to optimize your business finances. Let's analyze the Vietnam Lash vs China Lash market to see which one is suitable with you
Overview Of Vietnam Lash and China Lash market
Although the Chinese is one of the largest market in the world, the biggest false eyelash wholesaler is from Vietnam. Both of the countries have a large net of customer from America to Russia, from Europe to Artartica. But in general, eyelashes quality of the production from Vietnam are appreciated at a higher pitch.
Customers
Everyone knows that Chinese fake eyelashes are exported a lot to the US and European countries. However, there is one thing that few people recognise. There are many large wholesalers in China that import raw materials from Vietnam.
Vietnam Lash is Asia's largest wholesale vendor. Thanks to our factory and hard worker team, we are the contact point for many agents in China.
Quality of eyelashes
Of course in Vietnam there are many different wholesale fake eyelash factories and Chinese agents do not only import materials from Vietnam Lash. It is worth mentioning that other factories in Vietnam are not necessarily of such great quality. Therefore, many vendors in China sell messy products, uneven quality and high prices.
At Vietnam Lash, the process of attaching false eyelashes is done by hand. False eyelashes are made from materials produced on advanced technological lines. Therefore the excellent quality is indisputable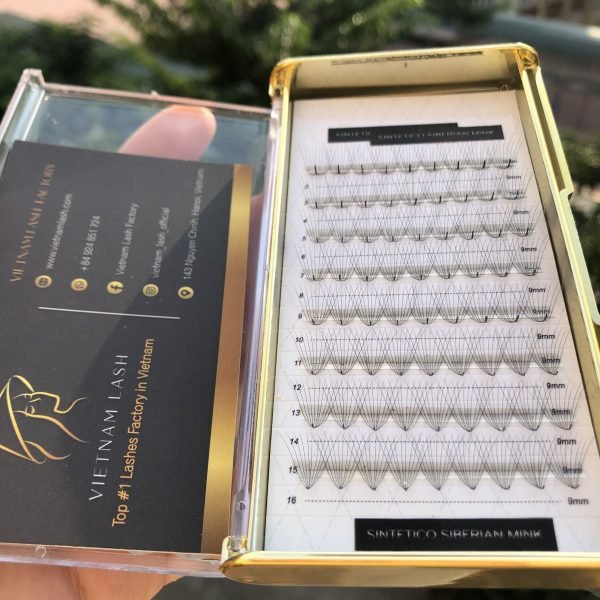 Difference between Vietnam Lash and China Lash
Easily, products from Vietnam Lash and China Lash can be distinguish with a glance. There are a big different between the natural of the two eyelash lines. In addition, not only the quality of eyelash from Vietnam is higher but also the prices is more affordable.
Distinguish Vietnam Lash and China Lash at the first sight 
With the naked eye, eyelashes from Vietnam Lash look more natural. Meanwhile, China Lash eyelashes look stiff and lifeless. The truth proves, when touching Vietnam eyelashes, customers can feel the softness like silk. This is something that no other country in the world can imitate. Comparing Vietnam Lash vs China Lash, when worn on the eyes, the eyelashes from Vietnam give a feeling of lightness like nothing. Vietnam Lash false eyelashes do not cause eye fatigue, heavy eyes like customers who have experienced China Lash eyelashes
Factory Scale Production
The cause of the difference in quality is not only the false eyelash material. Almost most of the factories that China imports from China are manufactured and processed by artificial machines. In contrast, Vietnam Lash processes products entirely by hand. The artisans of Vietnam Lash are really skillful. They sit for hours attaching each eyelash fiber to the extension cord. Then the eyelashes are curled with heat bars to keep the best curl.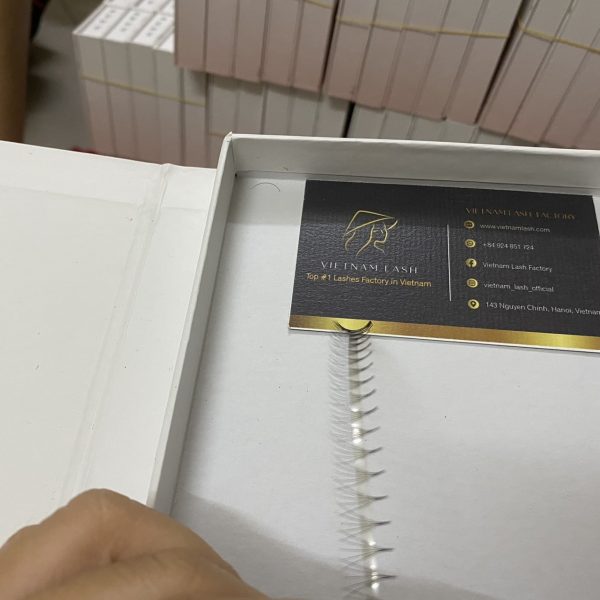 Type of lash Premade and Promade of Vietnam Lash and China Lash
Premade and promade lashes are becoming more and more common in eyelashes extension community. In comparison, both premade and promade eyelash from Vietnam Lash is more durable, bring a elegant look and make clients' eyes fuller.
Premate lashes of Vietnam Lash and China Lash
Premade fans eyelash extensions are fans that are ready for you to use. The manufacturer placed them on a lash tray and ready for you to pick up and attach  to the natural lashes of your clients. These fans are from 2 to 10 lashes glued or head bonded. The purpose of pre-made fans is for the lash artist to decrease lashing time and cater to more clients, by decreasing application time.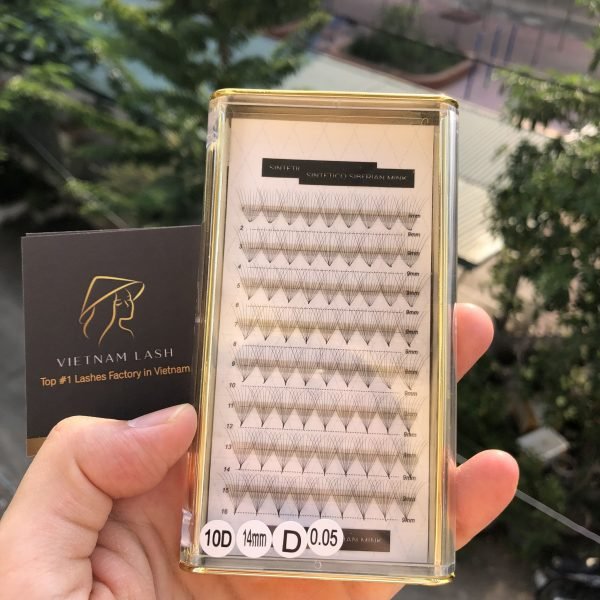 Vietnam Lash premade fans eyelash extensions are high-quality synthetic fibers. They are so light and comfortable. The pre-made fans don't easy to fall apart or separate when picked up by the lash artist. People added the baking technology to make the curvature more durable and softer. They are perfect for making clients' eyelashes look fuller.
Meanwhile, comparing Vietnam Lash vs China Lash, China eyelashes imported from inferior quality materials are not as soft as Vietnam and look less full than Vietnam Lash. The long-lasting of premade eyelashes are also shorter. Beside, because China is the intermediates, the price of premade lashes they sell allway more expensive.
Promade lashes of Vietnam Lash and China Lash
Promade fan is a type of long false eyelashes that have not been attached to each other. When using, the artisans will take each strand and attach it to the customer's eyelid. Because they are loose, this can take a little more time, since it's important to remove them from the box and place them on a gel pad in order to start using them. All our products are vegan and cruelty-free. These expertly crafted lashes are from sustainably sourced materials, we care about the environment of our planet. We use a unique double heat-bonded method to ensure an ultra light-weight lash without compromising strength and ultra-thin base. Lashes undergo a special process in order to ensure the lashes do not lose their curl after application.
By contrast, we recorded many complaints from customers who had experienced China Lash. They said that they are allergic to the materials made up of the lashes. This is truly due to the safety of material.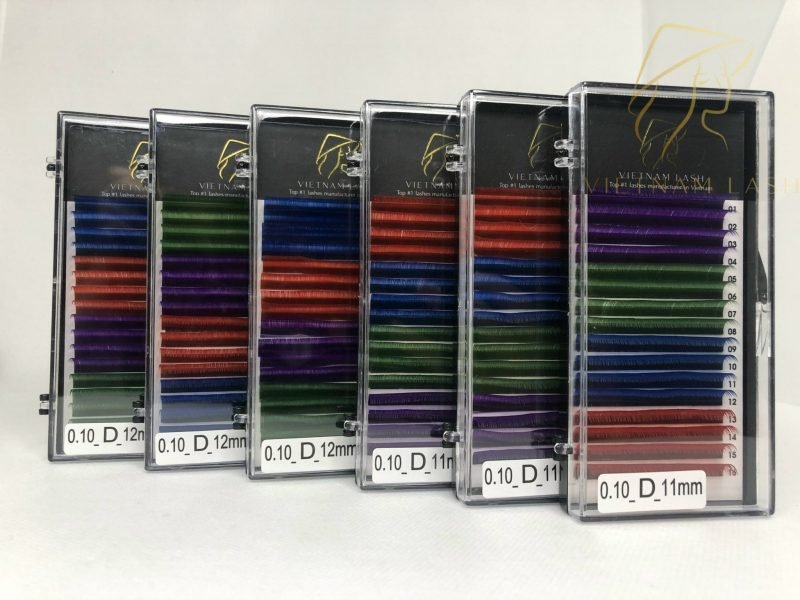 Availability of lash in stock
One of the reasons why customers are often allergic to China Lash products cannot fail to mention that the product storage time is too long. It is simplt because the eyelash is import from other places. By contrast, Vietnam Lash eyelashes are produced according to the retailers' orders. So, it is always pristine.
China Lash Factory is always available in stock
As an intermediary, China Lash alway needs to fulfill their storage. The process of receiving goods to the warehouse in China until delivery to customers is extremely long. People emerge the false eyelashes in chemical compounds in order for them to retain their curl. At the same time, long-term physical conditions can also make the material toxic. 
Vietnam Eyelash Factory – Fresh Lashes (100% New Material)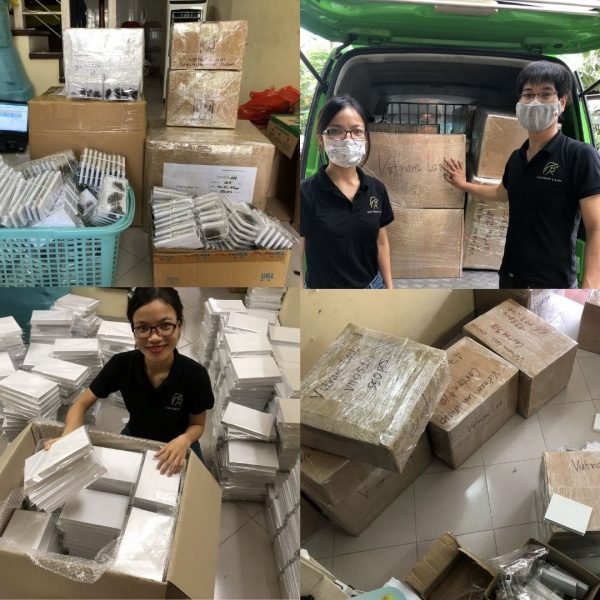 Vietnam Lash has our own factory. For wholesalers in China, an order for 1000 trays can take up to two months to prepare. The reason is because they still have to wait for factories in other countries to produce enough, then deliver to China. China wholesale has to check the goods before delivering them to other customers. 
Comparing Vietnam Lash vs China Lash, in Vietnam Lash, with the same order quantity, our customers only have to wait for 13-15 days. Moreover, our eyelash products are very new. Simply because we produce continuously and produce according to the order quantity. That is an operational criterion of Vietnam Lash. We always want to bring customers the most pristine products.
Ranges Of Durability
Continuous production and products delivered to customers are always new, so the durability of Vietnam Lash is much higher. In addition, the durability if come from the matrial of eyelashes. The high quality fiber which is produced in modern technique and then fuse together 100% by hand is always more sustainable.
Vietnam Lash
In addition to using high-quality ingredients, without using preservatives, Vietnam Lash also makes customers satisfied because the expiry date of the products is relatively long compared to the average. The reason is because Vietnam Lash is a large wholesaler, the products are made to order without inventory. Our customers always receive newly produced products.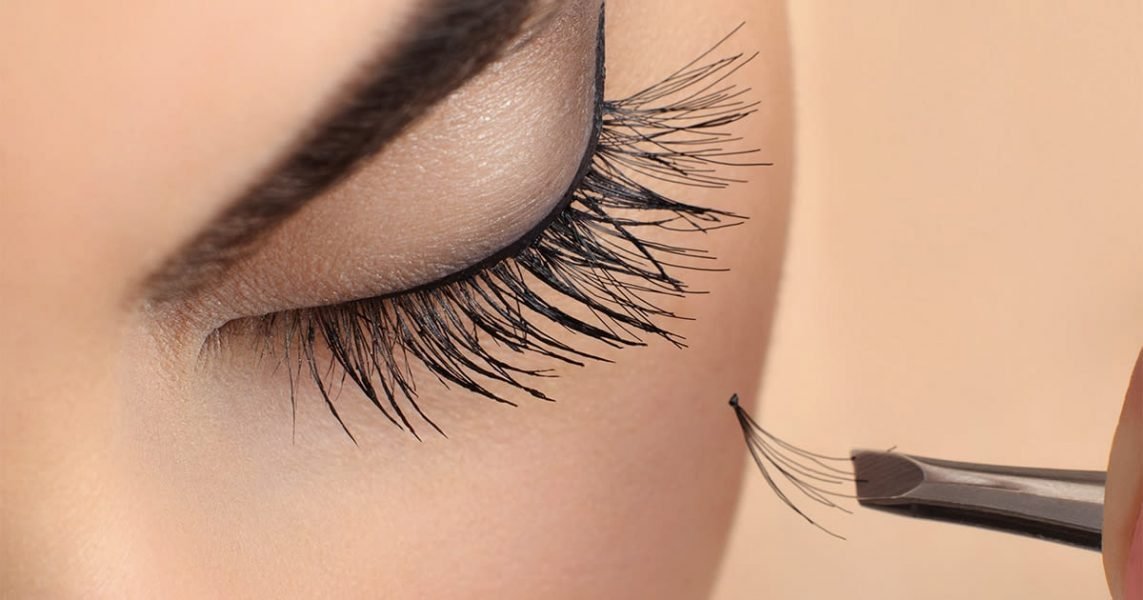 China Lash
In comparison between Vietnam Lash and China Lash, some eyelashes of China Lash after a while fade and lose their curvature. This causes the brand of the salon to be significantly reduced in the eyes of their customers.
Should I Buy: Vietnam Lash or China Lash?
In conclusion, generally Vietnam Lash's products are overwhelming the quality of China Lash. Hence, purchase Vietnam Lash productions will reduce your risk in business. In tandem, import eyelash directly from the big wholesale as Vietnam Lash can minimize your fee.
Where can I buy premium Vietnam Lash with wholesale factory price?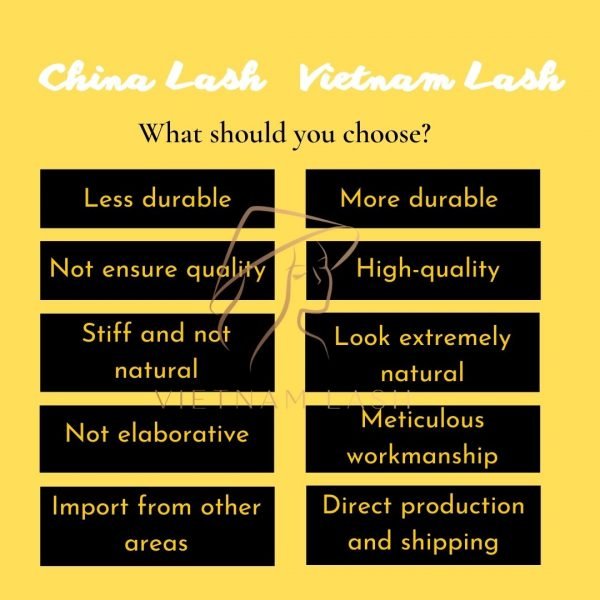 Vietnam Lash is an reputable wholesale where the retailers can put their belief. We are promising to bring the best service, products and policy to our beloved retailers.
Top 3 best Vietnam eyelash factory
Vietnam Lash is one of the most trustworthy factory that is recommended by hundered retailers and clients around the world. We have the official office in Hanoi, Vietnam and ready to provide retailers information about out products anytime you need.
Vietnam Lash
The best Vietnam Eyelash brand
Vietnam Lash  is a pioneer of producing high-quality eyelashes, at a reasonable price and bringing you the best Vietnam eyelashes. We have more than 10 years working with abroad clients with various collections of 100% handmade eyelashes. We are confident that bring you the highest satisfaction with our products and services. 
Mimi Eyelash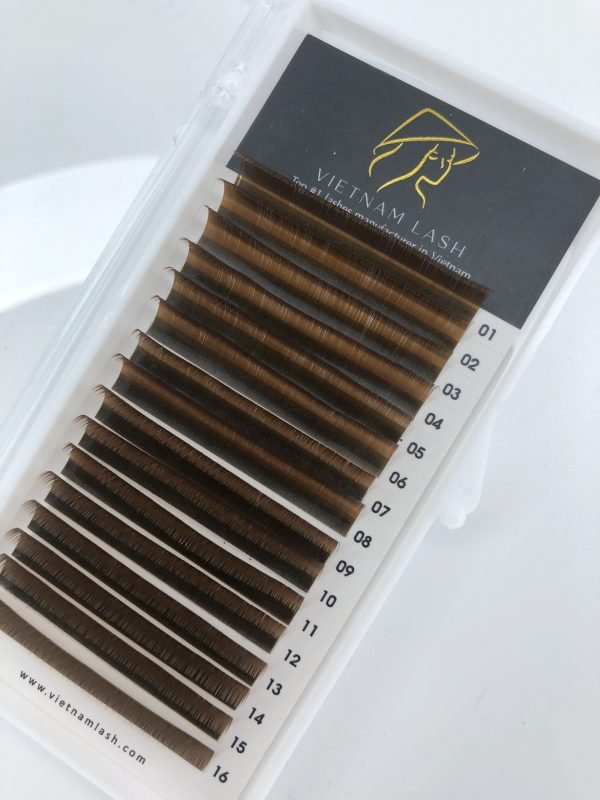 Mimi Eyelash is an eyelash extension manufacturer from Vietnam, a specialist in machining and distributing eyelash extension products at wholesale prices. Their customers are mainly from the US – UK region, with the most stringent standards. Mimi Eyelash specializes in providing raw materials for customers to process with their own brand name. 
Vina Eyelashes
The factory is invested with the most modern production line with a total investment of up to 10 billion VND with innovative technology. With a production capacity of up to 70,000 trays/month and a team of more than 100 employees, Vina Eyelahes is a modern and large-scale eyelash factory in Binh Duong province, Vietnam.
READ MORE: 
Which one in China Lash and Korea Lash is better for your business?
Vietnam Lash review: Top 5 best premade lashes wholesale vendors 2021
5 amazing eyelash wholesale distributor in the USA
Visit our webpage for more updated information: https://vietnamlash.com/