China is one of the countries with a long history in the eyelash industry as well as aesthetic. Nowadays, Chinese eyelashes with diverse designs, materials and affordable prices have become the selection of many women around the world.
1. Assess the quality of Chinese eyelashes
Chinese eyelashes have a long origin, made from many different materials bringing many choices for women. Besides, competitive price is also a factor that makes lashes from China have a settled position in the international market.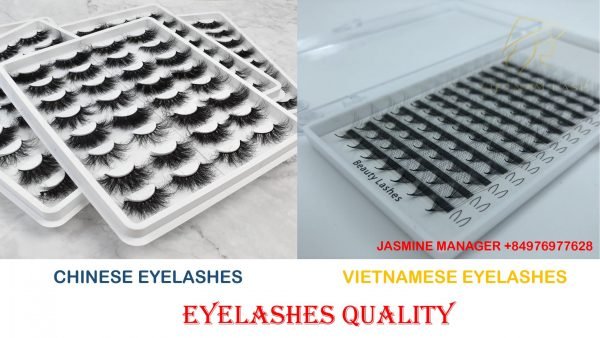 1.1 Materials used to make eyelashes in China
Chinese eyelashes are made from diverse raw materials, some most popular are real hair, synthetic fibers, silk, mink,… Over many years development, Chinese's technique are complete day by day, their eyelashes are also better. 
One of the most common materials is real hair. Real hear can make the lashes look more natural, however, a biggest disadvantage is the straightness of the hair make the eyelashes are difficult to keep their curve.
When it come to the era of plastic, many manufacturers created the lashes from plastic. Not far after this, people invented synthetic fibers and the Chinese used it to make eyelashes. 
The most luxurious material to make Chinese eyelashes is silk. Silk eyelashes are quite light and durable. It can make clients' eyelashes longer, thicker, softer, more durable and flexible and extremely natural. However, eyelashes made of silk are not as bright and shiny as other types of eyelashes, the curvature of silk eyelashes is also worse.
1.2 The original of Chinese eyelashes 
As the country with the longest history in Asia, demands of the aesthetic by Chinese people formed very early. As a result, China is also considered a pioneer in the eyelashes industry. Chinese eyelashes are not only circulated in the country but also widely trusted abroad. 
Originally, the lashes were all made from hair or even animal hair. In the first eyelashes factories in China, the lashes are 100% handmade. The worker are not very skillful so the initial products are still rude. However, as the highest population country in the world, Chinese people were researched and developed the process to make Chinese eyelashes become more attractive.
2. Advantages and disadvantages of Chinese eyelashes
What are the pros and cons of China eyelashes? Let's find out!
2.1 The prominents of Chinese eyelashes
The highlight of Chinese eyelashes is that there are diverse types with different lengths, thicknesses and shapes. Customers have up to hundreds of choices with many designs and colors suitable for their purpose. Besides, in general, the price of eyelashes from China is quite cheap, appropriate with the most affordable pocket. 
Nowadays, synthetic fiber lashes are the most popular type of eyelashes in China. This type is made of synthetic fibers and is sold in many places with affordable price. With the development of current technology, synthetic fiber eyelashes have become softer and thinner to respond to the requirements of customers. Moreover, these eyelashes are quite easy to use.
2.2 Some drawback you should know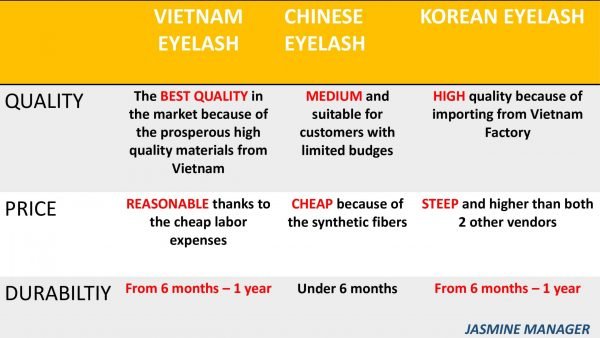 Besides the advantages, Chinese eyelashes still have many weaknesses. An example is the durability of the product. Most eyelashes from China only guarantee its quality and beauty in the first two to three times of use. After that, the eyelashes will be stiff and difficult to apply to the eyes. 
Another minus point of Chinese eyelashes is the quality of glue. A few customers' feedback have said that they are allergic to those glues. However, that only happens with unsecured products on the market with extremely cheap prices. High-end eyelash lines with expensive prices never have this situation.
3. The most reliable Chinese eyelashes brands 
Famous Chinese eyelashes brands often have different product segments, targeting a variety of customers. Therefore, each product line will have a different price.
3.1 The most popular Chinese eyelashes nowadays
-Synthetic eyelashes: One of the most valuable of this type of eyelashes is not tested on animals. This is a popular line of eyelashes with a cheap price, suitable for many different ages and can be adjusted according to the purpose of users. Because of being the most popular type, it can be easily find and buy in the international market. However, as a cheap product, synthetic eyelashes can only be used 1 to 2 times. Besides, when applying on the eyes, customers may feel heavier and thicker.
-Magnetic eyelashes: Magnetic false eyelashes are easy to use even for beginners. This type of false eyelashes is quite special, without using glue, it can still be attached to the eyes. These Chinese eyelashes are extremely convenient and save time for users. Also, it is not less quality than other types of eyelashes.
-Silk eyelashes: this type of eyelashes belongs to the higher segment, giving customers a real and natural feeling with thin and soft lashes. Silk eyelashes can be used many times and have the ability to stay on real eyelashes for a long time. However, it will be a bit difficult for those who are new to using eyelashes and the price of this type of eyelashes is not cheap.
3.2 Top 3 Chinese eyelashes brands in the international market

Vietnam Lash is a premium supplier for many vendors in the eyelashes industry, including China. Here are the three biggest brands in China that import materials from Vietnam Lash.
The best Vietnam Eyelash Factory
Natural Sparse Cross Eye: This is one of the oldest brands in the field of Chinese eyelashes. The products from this brand are durable, comprising a criss-cross layout and tapered natural ends. You can easily apply this type of lashes in a short time, with simple actions, save time and save costs. It is also famous with several professional makeup artists in China.
The Lash by J'aime: Instead of looking for cheap fake eyelashes with less natural synthetic fibers or expensive mink eyelashes, you can completely choose the eyelases provided by J'aime. The most famous product of this brand is eyelashes made from silk. This is a great suggestion to help you have natural-looking eyelashes without spending too much money. 
Makeup Tools for girls who own slanted or big eyes, or girls who love natural makeup. This is the right choice for those who want to buy Chinese eyelashes with a price commensurate with quality. The advantage of the eyelashes from this product is the moderate length of only 1.6 to 1.8cm, the ability to stick is relatively good and moreover, the price is cheap.
See more: How to import eyelashes from Vietnam?
4. Must know when using Chinese eyelashes
To have beautiful eyes with artificial eyelashes, it is not only necessary to pay attention to the material of eyelashes. Chinese eyelashes have multitute styles for customers to choose, so choosing the appropriate form of eyelashes with your eyes will make the aesthetic effect higher.
4.1. Tips to choose the suitable eyelashes shape
-For typically Asian girls with small eyes, you should not use thick and thick eyelashes because they can obscure your small eyes. Instead, choose Chinese eyelashes with short lashes and moderate thickness to make the eyes look bigger and more delicate.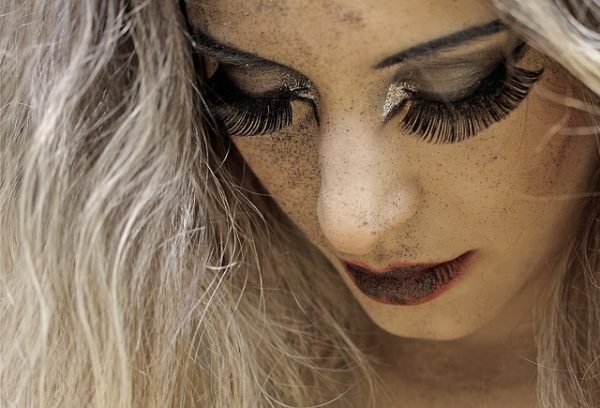 -The drooping eyes with the corner of the eyes are slightly lowered. To lift up this type of eyelid, you should choose a wide, pointed tail eyelashes. Thus, your eyes will be more prominent and impressive.
-Girls with round-eyes should choose long, thin and curved eyelashes to increase the charm of their eyes. They must avoid too thick  eyelashes to make your eyes look smaller. The shape of the eyelashes with the tail is longer and denser than the head will attract .
4.2 How to self-apply the eyelashes
The effect of using Chinese eyelashes is deeper and more attractive eyes, especially when applied properly. However, many people are still confused when applying eyelashes and sometimes deviating or causing damage to the eyes. The steps below will help you understand the process when applying eyelashes:
-Estimate the length and trim it to fit your eye shape. When cutting, you should cut short piece at the two outer edges, respectedly and continuously measure until it fit your eyes.
-Then use your hand to bend the length of the eyelashes into U shape to help the eyelashes and the eye contour match perfectly.
-Apply the glue evenly on the false eyelashes and wait for about thirty seconds, while waiting for the glue to dry, wipe your eyes with cotton pieces to remove the dirt and oil. 
-The most suitable position is looking down, helping the Chinese eyelashes to completely match your natural eyelashes and create the best cohesion. After you have attached the eyelashes, use a clip to curl again, then apply mascara to make your eye look better.
4.3 How to preserve the eyelashes after using.
For a set of cheap Chinese eyelashes you can only use 1-2 times, but more expensive high-end products can be reused. Therefore, good maintenance will help your eyelashes stay as beautiful as new ones. 
First of all, you must remove the false eyelashes properly. Then, put eyelashes in a wet towel and stroke in the direction of eyelashes from root to tip. Use specialized tweezers to remove the remaining glue at the base of the eyelashes to ensure that the eyelashes are clean and aherent the glue for the next time. After that, let the eyelashes dry and put them in a clean box for storage. If you are more careful, you can disinfect the eyelashes with alcohol for safer.
Visit our webpage for more updated information: https://vietnamlash.com/