Lash extensions have the power to enhance your appearance instantly, instilling a sense of confidence as you embrace sunny days. Don't miss out on the 05 most refreshing summer lash look for the summer of 2023.
05 most refreshing summer lash look for the summer of 2023
1. Natural Lash Look
Natural lashes are the go-to choice for a refreshing summer look. With the heavy volume lash extension trend making way for a more subtle and natural style, enhancing your features has never been easier.
Natural lashes are highly popular during the summer season as they perfectly complement a radiant, bronzed complexion and require minimal maintenance.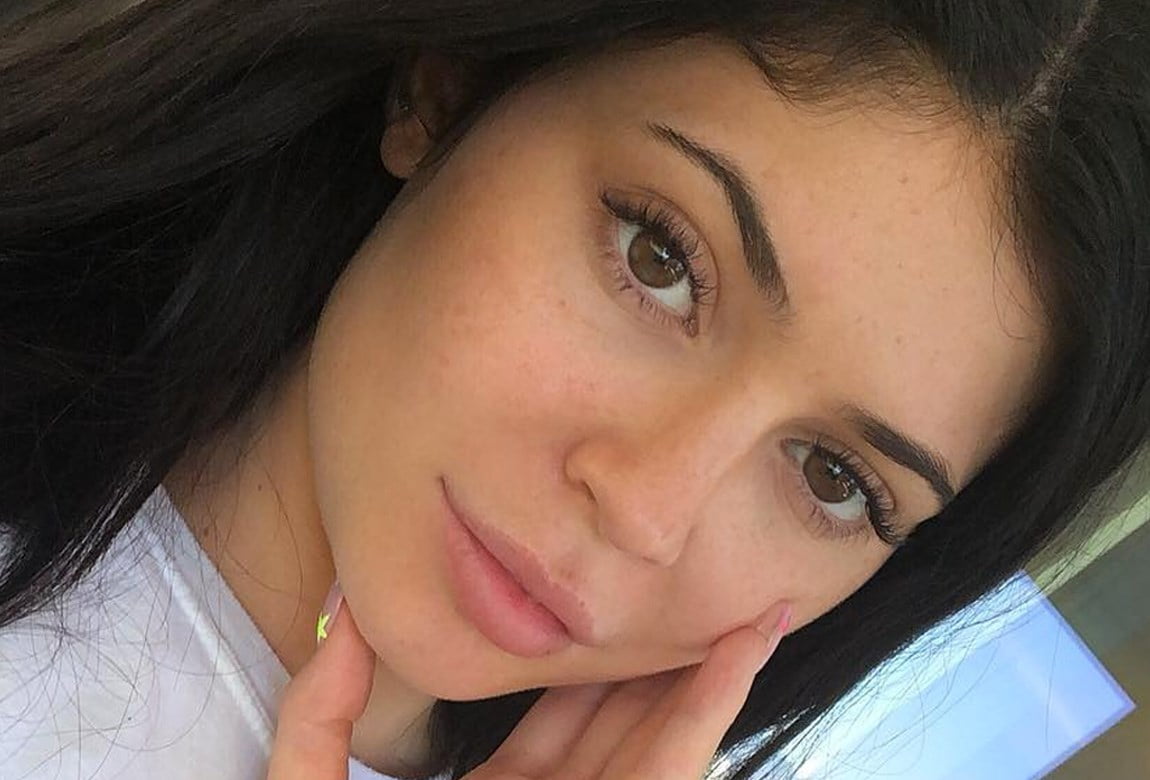 One of the great advantages of natural lashes is their versatility, suiting almost any eye shape. Even celebrities like Kylie Jenner embrace the no-makeup makeup look paired with classic or wispy lash extensions, depending on the occasion.
Creating natural-looking lash extensions requires the expertise of skilled lash artists. This lash style will make you feel confident whether you're enjoying a day by the water or engaging in a lively conversation with friends.
2. Brown Lashes
When it comes to achieving a natural lash look, many lash wearers are now choosing dark or medium brown lash extensions instead of the traditional black. This trend is particularly convenient if you're aiming for a bronzed goddess looks during the summer season.
Opting for brown lash extensions provides a softer and more subtle effect compared to black lashes. The brown color mimics the natural shade of lashes, resulting in a more natural and effortless appearance. It complements a bronzed complexion beautifully, enhancing the overall sun-kissed look.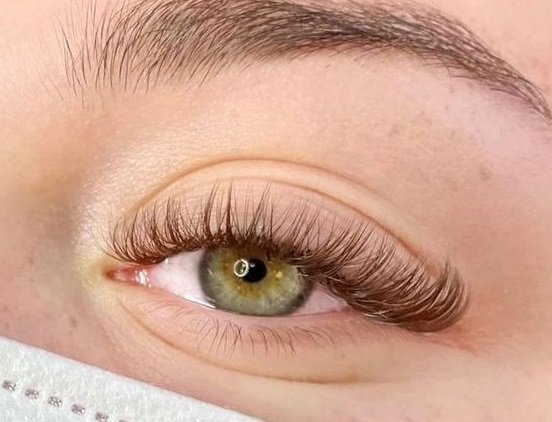 3. Wet Lash Look
When discussing summer lashes, it's impossible to ignore the trendy look that can evoke summer pool party vibes all year round – wet look lash extensions.
Wet look lash extensions are characterized by their distinctive spikey and textured appearance, reminiscent of how lashes appear after being in the water. This unique texture adds an element of distinctive and sexy to your lash look.
Due to their dense application on the natural lashes, wet look lash extensions can create the illusion of wearing eyeliner, making them a great option for those who prefer to skip eye makeup during the summer months.
4. Colored Lashes
If you're seeking a more daring lash look, we suggest incorporating vibrant colors into your regular lash extensions or even trying out full-color lashes.
Summer provides an excellent opportunity to embrace vibrant hues like blue or pink and showcase your unique personality. Adding a pop of color to your lashes allows you to experiment and make a statement. It's a fantastic choice for summer festival-goers who want to complement their party outfits and not worry about their eye makeup wearing off.
Read more: Colored Lash Extensions: More Colors More Impressive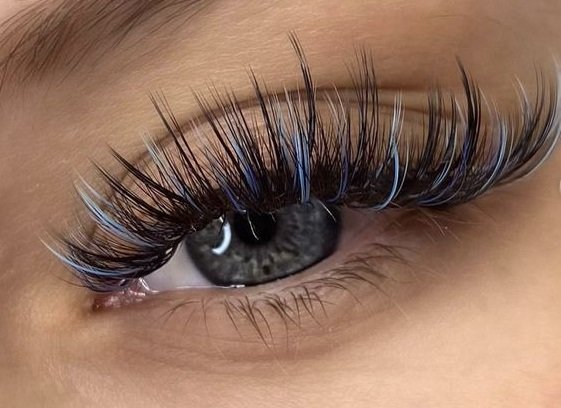 Colored lashes offer a fun and playful twist to your overall look, allowing you to express your individuality and embrace the vibrant spirit of summer. Whether you opt for subtle accents of color or go all out with full-color lashes, it's a fantastic way to enhance your appearance and make a bold fashion statement.
5. Mermaid Lashes
Mermaid lashes are undeniably one of the most sought-after colorful lash styles, perfectly aligning with the theme of summer lash looks.
These lashes are customized to suit your specific eye shape, ensuring a flawless and tailored appearance. Whether you prefer classic lash extensions or desire a more voluminous look, mermaid lashes can be applied in various styles to achieve your desired effect.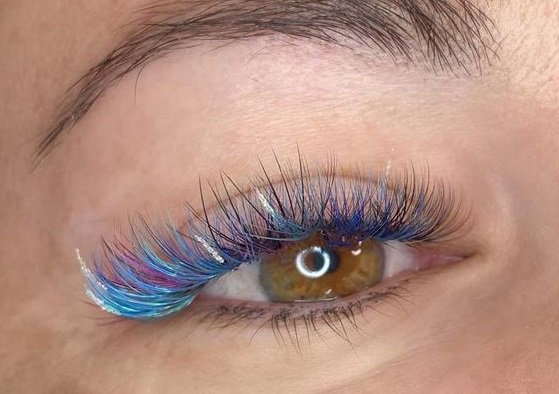 What makes mermaid lashes truly captivating is the combination of colors that evoke a sense of the enchanting underwater world. Shades like royal purple, kelly green, and sea blue are commonly used to create the mermaid aesthetic. To add an extra touch of glamour, you can incorporate glitter extensions or various decals for a sparkling effect.
Read more: Eyelash trends 2023 help you have a better taste
03 Things May Affect Summer Lash Retention
There are several factors that can affect lash retention during the summer season. It's important for both lash technicians and clients to be aware of these factors and take necessary precautions. Here are some key points to consider:
High temperatures and humidity in the summer can impact the performance of lash adhesives. The drying time of the glue can be affected, as high humidity can cause the adhesive to cure faster. It's crucial to use a lash adhesive with a slower drying speed in high humidity conditions to ensure proper application.
​​Humidity levels play a significant role in the drying time of lash adhesives. In environments with high humidity, lash glue may dry 1-2 times faster than its original drying speed. Lash technicians should be mindful of this and adjust their techniques accordingly to achieve precise placement of lash extensions before the adhesive sets.
Some low-quality adhesives can compromise the quality of your lash extensions, causing them to have poor adhesion and even potentially affecting your natural lashes. Due to faster drying times in summer weather, it can be challenging to achieve optimal attachment of lash extensions to the natural lashes. Vietnam Lash recommends using high-quality and reputable adhesive brands available in the market to ensure the quality of your lash extensions.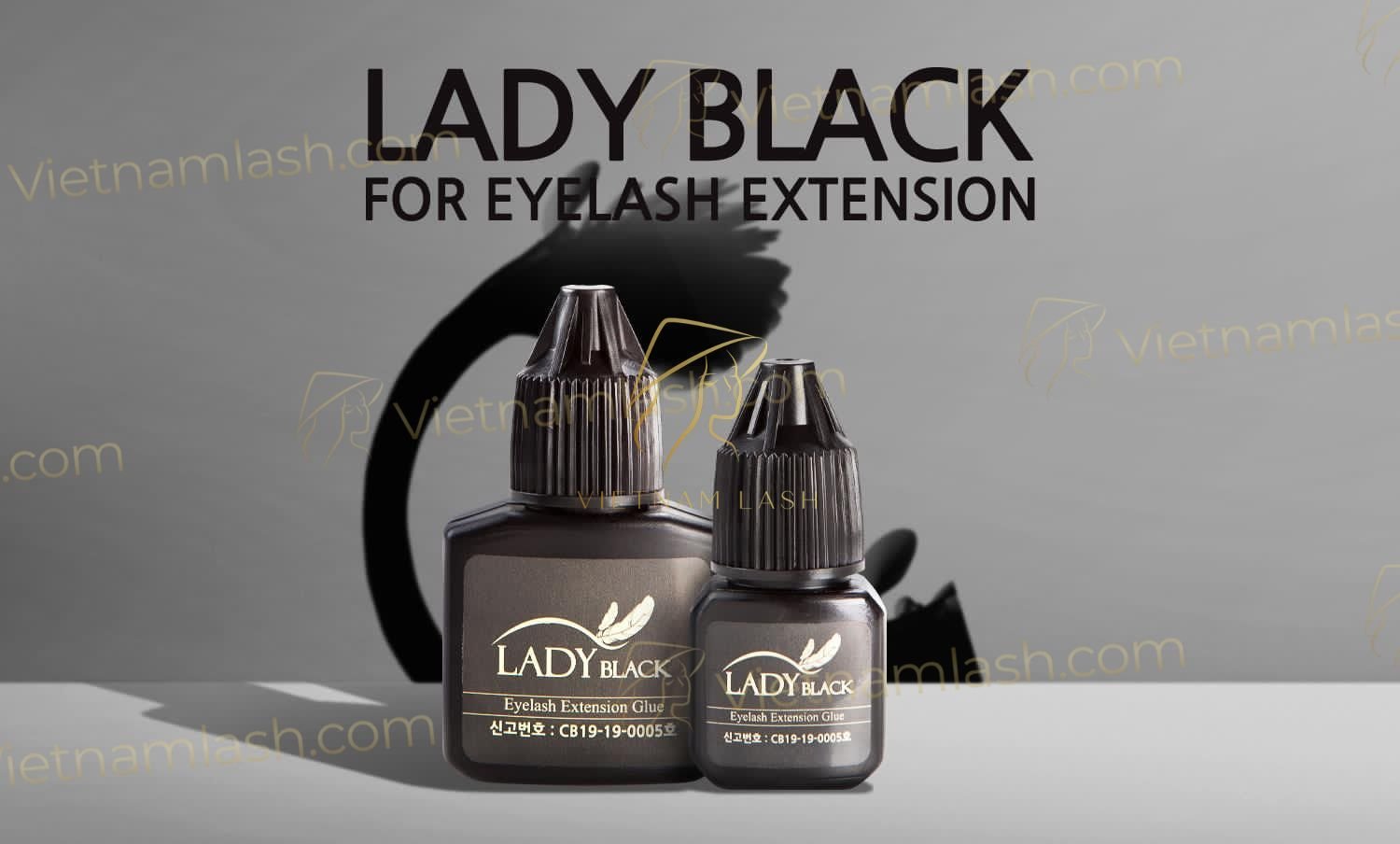 Additionally, to create a suitable environment for lash application, it's recommended to maintain an ideal room humidity of 45-60%. Lash salons should consider proper air conditioning or invest in a dehumidifier to control humidity levels and provide an optimal working environment.
Read more: 07 Summer Lash Tips To Make Your Lashes Last Longer
05 Useful Tips For Summer Lash Look
To ensure that your lash extensions stay beautiful throughout the summer season, here are some essential tips for retention:
Avoid High Heat And Humidity
During the summer, it's important to minimize exposure to high levels of heat and humidity, as these factors can impact the longevity of your lash extensions. It is also advisable to avoid activities such as spending extended periods in steam rooms or taking very hot showers.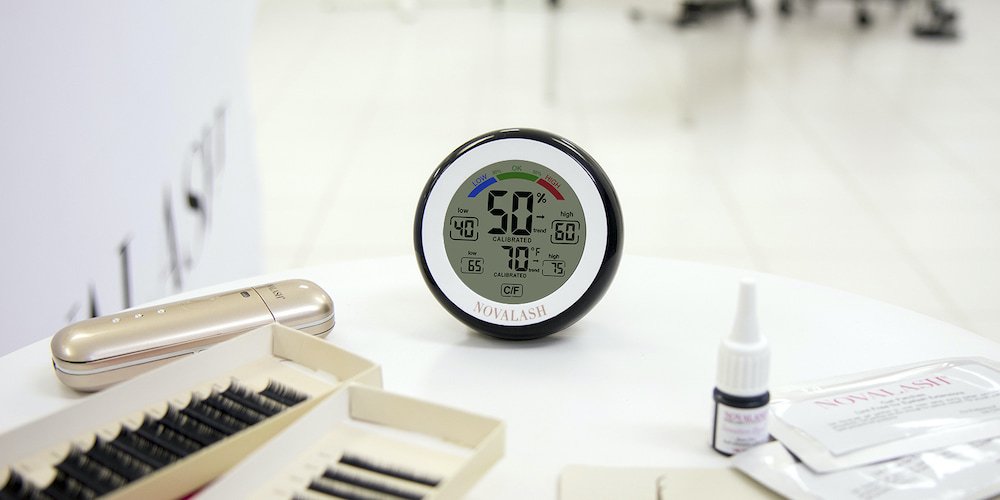 Incorporate a daily cleansing routine for your lashes using an oil-free cleanser. Use a gentle brush or a lint-free applicator to softly glide along the lash line, eliminating any debris or makeup residue. Choose oil-free makeup and skincare products to preserve the integrity of the lash adhesive and maintain a strong bond.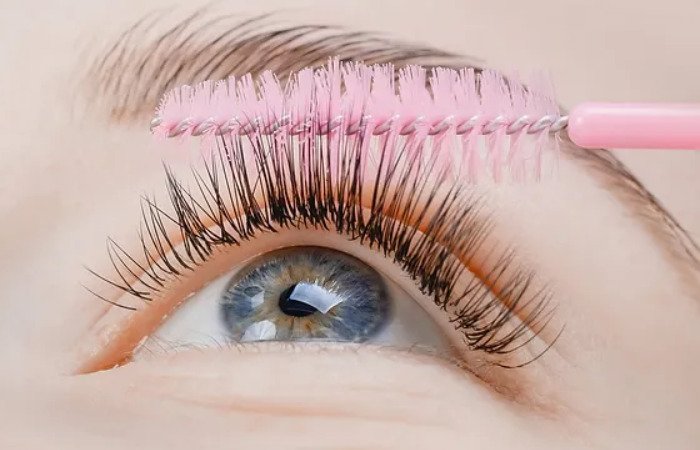 Carefully dry the eyelashes
After cleansing your face or engaging in activities such as swimming, it is crucial to refrain from rubbing your face and lashing vigorously with a towel. This rubbing motion can generate friction and potentially lead to the premature shedding of your lash extensions.
Instead, adopt a gentle approach by patting your face and lashes dry using a soft towel. Alternatively, you can allow them to air dry naturally. If desired, you can also use a blow dryer on a cool setting to delicately dry your lashes.
It is recommended to refrain from using waterproof mascara on your lash extensions. Waterproof formulas can be challenging to remove and have the potential to cause damage to both the lashes and the adhesive bond.
Looking to uncover additional helpful tips for your lash extensions? Make sure not to miss out on the valuable insights available at https://vietnamlash.com/.