In the false eyelash business, a beautiful case is the key to attracting customers. If the quality of the product determines whether the customer will remember you in the next purchase or not, the case is what makes the customer buy from you the first time. Therefore, you need to invest time and effort to find quality and satisfactory eyelash case wholesale.
Who needs to find an eyelash case wholesale?
You are a new business start-up. You do not have a stable customer base and have not created a reputation for your business. More simply, you are just people who have just rekindled the idea of ​​starting a business in the eyelash industry. Then you need to find a good enough eyelash case wholesale to make your business stand out.
You are wondering how to start your own lash line?
For someone who has just had an idea in the false eyelash business, you should first learn about the terminology in the eyelash industry. Next, choose the types of false eyelashes that match the business model you aim for. Finally, build your brand. In order for your brand to become famous, it is important that you have a beautiful case. Your case must stand out from the competition and if it wins the favor of customers at first sight, you win.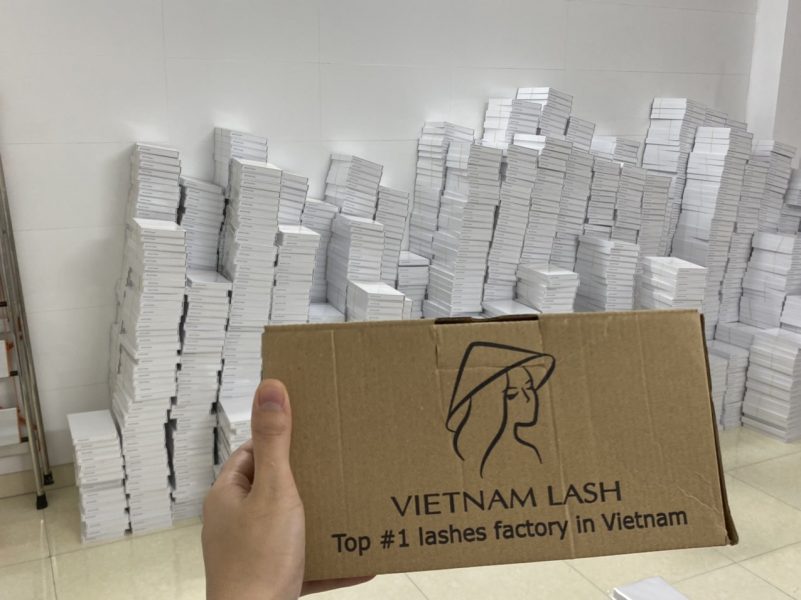 Why should you find an eyelash case wholesale?
Case is one side of the product. Quality false lashes help to build customer trust in your eyelash retailer. Cases are like pioneer soldiers, helping you attract customers. That is why the case design for false eyelashes is extremely essential. That means you need to find a reputable eyelash case wholesale  to send the full trust of your business. A reputable wholesale case must not only ensure the quality of the case, but also ensure the form, delivery time and accompanying preferential policies. Better yet, retailers should choose wholesalers that provide both false eyelashes and cases, such as Vietnam Lash. Thus, retailers will save a lot of money and time searching. At the same time, the quality and fixation between eyelashes and cases is high, making your products more harmonious.
Most trendy eyelash cases
Case models on the market today are very diverse. In recent years, there are more prominent models and received the love of many customers. Among them, notably: mirror eyelash box, diamond eyelash box, candy-shaped packaging, drawer eyelash box, … Those are the most popular case lines. Besides, if you find eyelash case wholesale that can make custom cases like Vietnam Lash, you can design your own unique cases, or use premium models exclusively designed by Vietnam Lash to make an impression on your customers.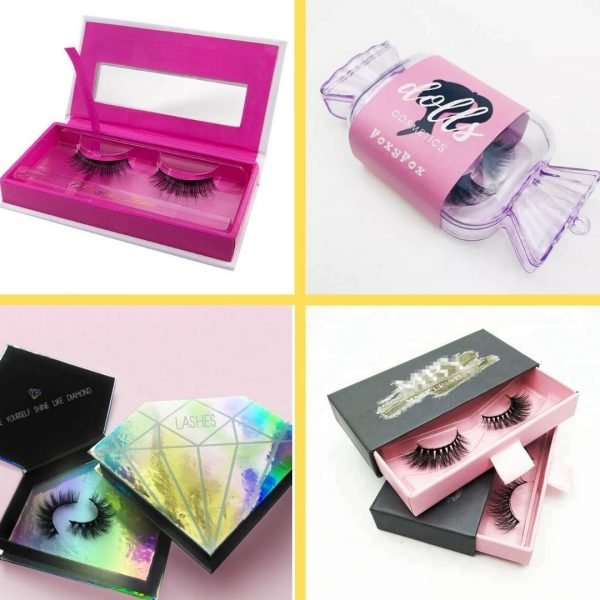 What can an eyelash case wholesale provide?
As a large and experienced wholesale in the false eyelash industry, we believe that a wholesaler greatly influences the retail business process. While the false eyelash market is as strong as it is today, finding a reputable wholesale for retailers is a great thing.
An impress eyelash case can appeal more customers
80% of new customers are virtually not looking at the brand, but the design of the product's case at the first sight. Therefore, eye-catching packaging designs always attract the attention and interest of clients. To have a beautiful case sample is a long process. The designer not only has experience, but also needs to have a creative mind to bring a beautiful case model, enough to convince buyers.
In the eyelash industry, more than 50% of new lashes customers intend to buy a product just because of the beautiful case. They may be ready to buy a product with an impressive eyelash case wholesale without having to think twice about it. So, why not invest value in the case initially.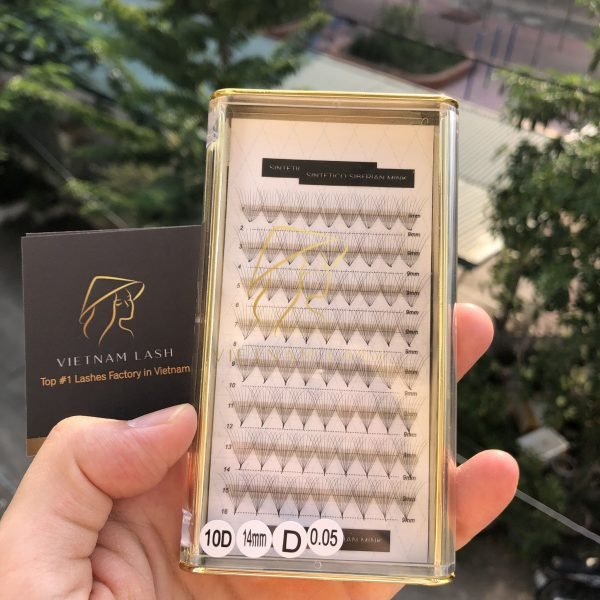 Importance of owning a private eyelash case label
Most of the eyelash cases are made from PE plastic with the characteristics of being durable and environmentally friendly. It helps to preserve our eyelashes more durable, avoids physical agents from the environment that are harmful to eyelash quality. In addition, the case also helps to separate the lashes from water and dirt to ensure that the eyelashes are in the best state when they reach the user despite the complicated stages of transportation. Besides, another extremely useful function of eyelash cases is to make the transportation process easier. Eyelash packaging ideas with design from plastic boxes with boxes that can be easily stacked, reducing space, saving space in transportation.
A trustworthy eyelash case wholesale can settle your business
When you find a wholesale that guarantees you both false eyelashes and cases, you will save a lot of unnecessary costs. Imagine if you were to work with your own eyelash wholesale and then have to work with an eyelash case wholesale again how much time it would take. Not to mention their quality may not satisfy you.
How to create your own case with Vietnam Lash eyelash case wholesale?
You may see that there is so much difficulty in business with a private eyelash line. But Vietnam Lash is here to help you with our wholehearted motivation. If you don't try, how can you know how successful you will achieve!
Vietnam Lash-  Who are we?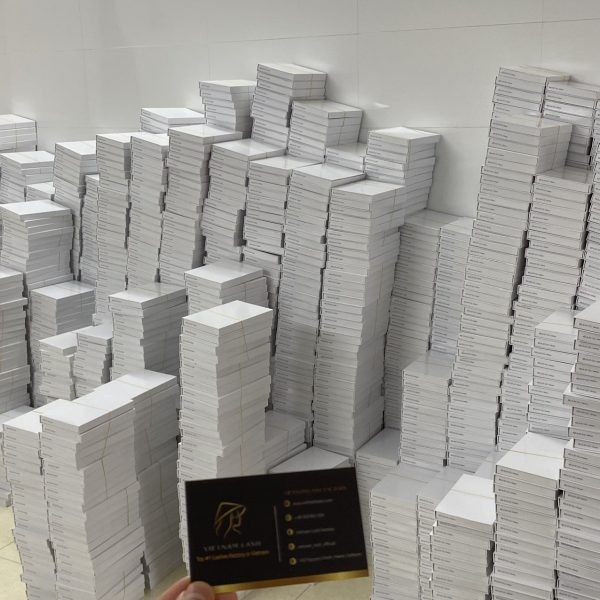 Vietnam Lash is the number 1 eyelash factory in Vietnam and is leading the prestige in the Asian market. We have been in the industry for over 10 years with many product development specialists. Over time, orders from Vietnam Lash are sought after all over the world. Vietnam Lash has become a trusted name for all retailers and customers who have used our products. Besides providing high quality false eyelashes, Vietnam Lash is also a quality wholesale eyelash case. You can easily find our unique cases on the Internet. The motto of Vietnam Lash founder and our staff is to bring the most beauty and satisfaction to customers. Therefore, we do not hesitate to invest in unique and attractive eyelash cases.
Steps to create your eyelash case private label with Vietnam Lash?
Let search for us through Vietnamlash.com to attach more benefits when becoming our coorporative. And here we will guild you ellaborative about how to create an impressive eyelash case.
Step 1: Contact us
In addition to providing false eyelashes, Vietnam Lash has many years of experience in manufacturing eyelash cases. We have provided many eyelash cases with private label to many retailers and they have had some success. If you are having trouble with your eyelash case don't wait any longer. Contact Vietnam Lash now to solve it for you!
Step 2: Design
If you already have an idea and design for your eyelash case, look no further! But if you don't have an idea or have an idea but can't create a professional design, we'll help you. Designing a case you will have to choose the right material and style. You should choose the equivalent case material depending on the price of each type of eyelash inside.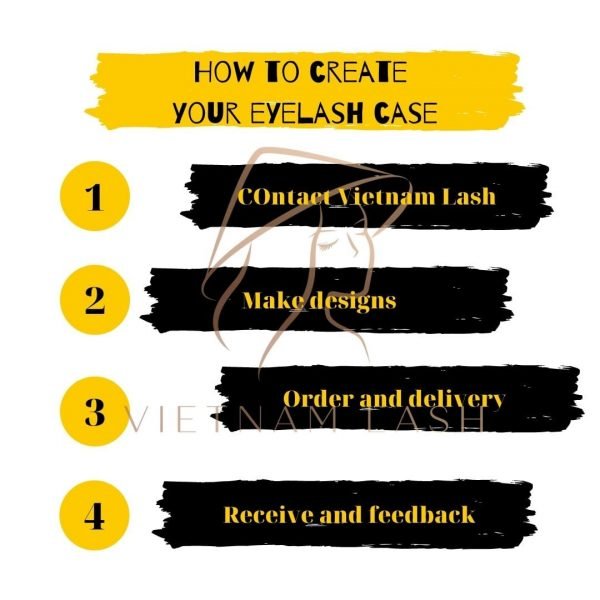 Step 3: Order
Vietnam Lash produces eyelashes with case according to your order. So you will not have to worry about the newness of the product as well as the case. That makes customers even more satisfied with the quality of your eyelashes. When you order the case, we will finalize the design and quantity you need, then make a sample case for you. When you fully agree with the design, the factory will start its work.
Step 4: Receive and feedback
Vietnam Lash's factory operates continuously, so it will shorten the time to make goods. The time you have to wait is much less. One thing that no customer complains about us is that we always deliver on time. In addition, after receiving the eyelash case, please leave feedback on the quality and service of Vietnam Lash to receive incentives on your next purchases.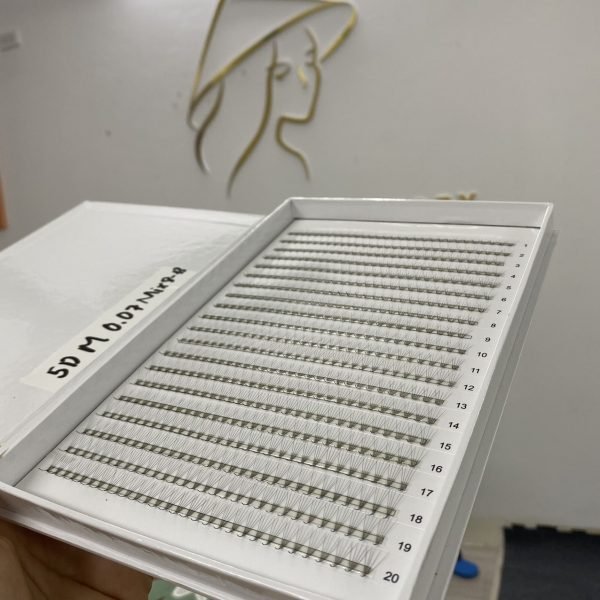 Top 3 eyelash case wholesale
When buying directly from the factory, you will reduce a lot of costs incurred as well as delivery time. That's why large wholesalers like Vietnam Lash are always loved by retailers all over the world.
Vietnam Lash
Vietnam Lash is the most famous vendor in Vietnam and many retailers over the world trust on our reputation. Vietnam Lash is ready to be the comprehensive strategic partnership with vendors and celebrated lash artists all over the world. With the important stance of the trailblazer, Vietnam Lash has already had 3 branches in Vietnam, Japan and Russia, which provide the best service and support to our beloved clients whenever they are in need. Vietnam Lash commits to work and provides the top-of-the-line products to expand the beauty to clients globally. Vietnam Lash is the dream vendor for any retailers who want to improve themself and pursue their dreams.

CONTACT US FOR MORE INFORMATION 
WhatsApp: +84924851724
Instagram: @vietnam_lash_official
Facebook: Vietnam Lash Factory
Mimi Lash
Mimi Lash is a leading eyelash case wholesale with global clients. Their products are famous as colour and delication. Although materials create the eyelash cases are recycle plastic, they are excited.
The Korean case lashes factory
This is a factory specializing in manufacturing eyelash cases in Korea. They coordinate with many different wholesale eyelashes and produce industrial-scale cases in large quantities. Their products are quite diverse but difficult to present for private businesses.
You may want to read:
Visit our webpage for more updated information: https://vietnamlash.com/