Volume lash wholesale offers you volume lashes that brings you some serious glamour outlook. Volume lashes are extra thin lashes and almost look like feathers. With volume lashes, you can apply multiple lashes per natural lash as you want. Collaborate with a reliable volume eyelashes wholesale is benefits your business. Keep reading to find out the top 4 best volume lashes wholesale in 2021.
What is the volume lashes wholesale?
Volume lashes wholesale focus on selling the volume lashes. However, a comprehensive wholesale is a place that can provide you with all the products you want, not only volume lashes but also other trendy eyelashes as well as false eyelash tools.
Volume eyelash extension
Volume lashes are extra thin lashes and look like feathers. With volume lashes, artists can apply multiple lashes per natural lash, giving your client a more dramatic look. The volume lashes are applied to one single natural eyelash individually. When two eyelash extensions are applied to one natural lash it's called 2D, if three eyelash extensions are applied to one natural eyelash then it's 3D, etc.
The application volume lashes can be a little more complicated because you are adding the extensions to your client's natural lashes. It's very important to consider your client's natural lashes' thickness and strength before practicing. You have to consider how many volume lashes you want to apply per natural lash to create the best effects.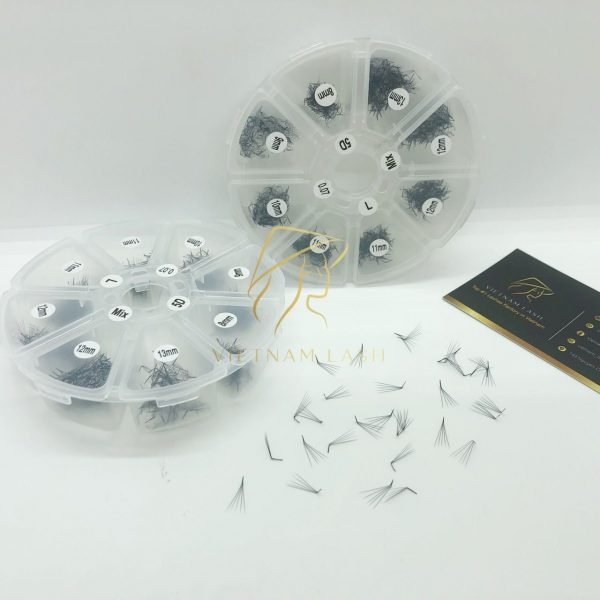 Materials that volume lashes wholesale have
Clients often love using volume lashes in eyelash extension. This method is also known as Russian volume. Volume lashes are lighter, fluffier and give the client a fuller look. Volume lashes are prefect for clients who don't have a lot of lashes, have sparse lashes, bald spots or just want a more dramatic look without having to use a thicker lash.
The main raw material of volume lashes from volume lashes wholesale is still PBT synthetic fiber. A few others are finely crafted real hair. However, high-grade synthetic fibers volume eyelashes produced according to modern technology is still dominate thanks to the natural beauty it brings.How is a good volume lashes?
Distinguish volume lashes wholesale and other types of eyelashes.
Clearly, if you are new to the world of eyelash, it will take you sometime to learn all the related terms and undertand about the eyelash type. There are common 3 types of eyelash extension. Volume lashes is more modern than classical lashes while nowaday, hybrid lashes are becoming tendency.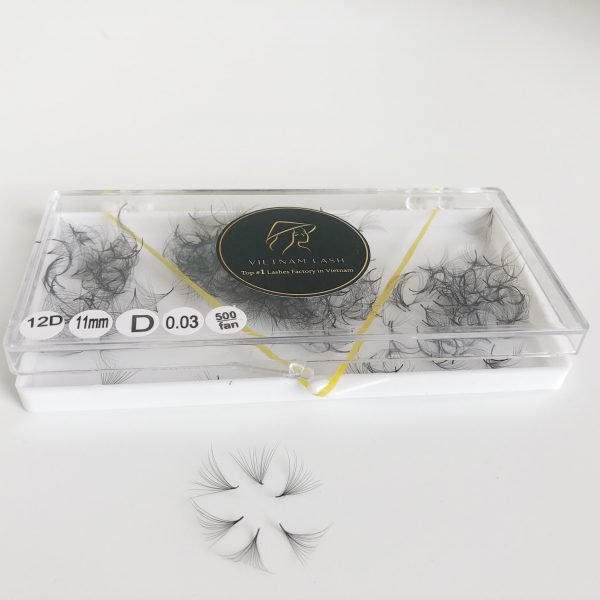 Classic lashes
Classic lashes is a method which artist stick 1 eyelash fiber to 1 natural lash. This method is also known as 1:1 connection. Classic lashes are perfect for clients who already have a lot of lashes, but want to add more length. It make eyelash look thicker and darker, bring the deep for client's eyes. The biggest difference between classic lashes and volume lashes is what you achieve. The classic lashes will focus on enlarge the length of client's lash line. 
Hybrid lashes
Hybrid lashes are the combination of both volume lashes and classic lashes. The hybrid lashes offer client a varied texture and more volume in a moderate pitch. This is also the tendency types of eyelash extension that a lot of Hollywood stars believe in. In fact, the hybrid lashes is not only delicated but also long, soft and extremely natural.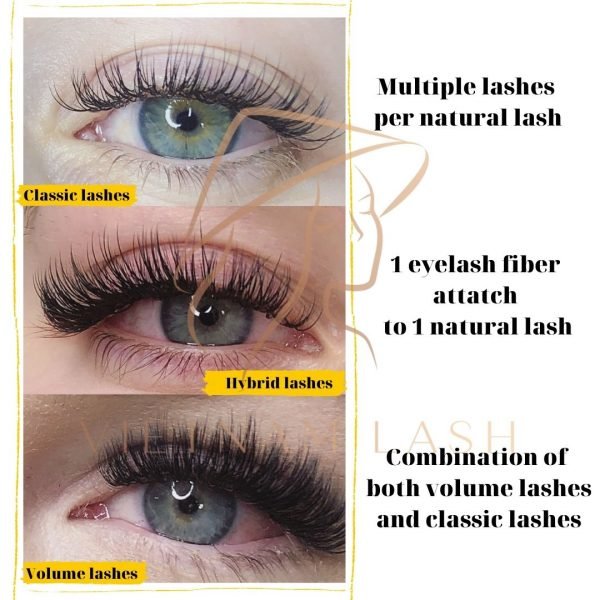 Why should you choose volume lashes?
As a woman, you need to be beautiful at all times, so you can't neglect to beautify your eyes. To avoid wasting time using daily mascara that is harmful to your real lashes, use false eyelashes or eyelash extensions instead. Volume lashes are prefect for clients who don't have a lot of lashes, have sparse lashes, bald spots or just want a more dramatic look without having to use a thicker lash.
Advantages and disadvantages of volume lashes
The wide range of volume lashes brings the artists a lot of advantages. It is vary from the natural look and dramatic or full look with the ratio of false lash fiber per real lash is 1:2 to 1:10 generally. By adding 2D volume lashes, the lash line seem similar to extension by classic lashes, while 5D and higher volume lashes may look like client is wearing false eyelashes all the time. In comparison to classic lashes, the volume lashes can last longer. It is simply because with the classic eyelash there are fewer lashes when they break or fall down. Meanwhile, the volume lashes still maintain the full look.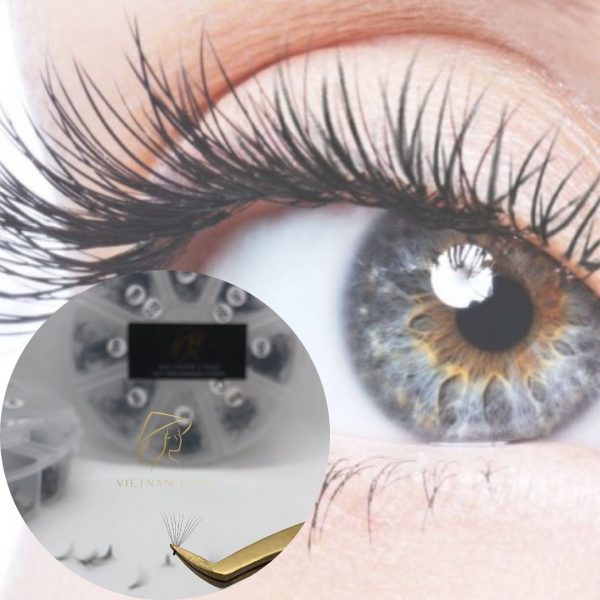 However, the application cost of volume lashes is higher. The volume lashes is much more difficult to apply. It also requires high level of skill that an artist be. While the classic lashes demand little preparation and more suitable for clients who concern to the budget, the volume lashes need larger time investment on the part of technician.
Should retailers sell volume lashes?
Volume lashes are the type that many customers want to use the most. Although it requires skilled artisans and costs a little more than the usual two, the durability and beauty it offers are unsurpassed. Volume lashes wholesale recorded a remarkable increase in volume lashes compared to previous years because of its value is endorsed. Besides the trending lashes, retailers should have their own key products, namely volume lashes because it will never go out of fashion.
How to find a good volume lashes wholesale?
There are many volume lashes wholesale these days. A lot of them are indirect wholesalers. While selling volume lashes can be profitable, finding the wrong wholesaler can cost retailers additional fees and affect the quality of the volume lashes they sell. So, keep reading to know how to find a trusted wholesale.
Search
Internet search is indispensable. There are many platforms for you to search among which stand out like instagram, google or whatsapp. Wholesale volumes will post advertisements about their products on these platforms. Based on this, you can get basic information about wholesale. However, usually the search results are often too much and confuse you. Therefore, the next step you need to take is to evaluate the wholesalers that you are interested in.
Evaluate
Criteria for you to evaluate a good volume lashes wholesale include what they show on their website, their customer service, and other customer reviews of their products. Customer service is very important because if you have a long-term cooperation, it will be the person who directly works with you and their attitude shows the prestige of that wholesale. Besides, feedback from previous customers is a factor in objectively evaluating their products. Don't be afraid to skip a wholesale if you read bad feedback.
Contact and make order
After evaluating and choosing the right volume lashes wholesale, you need to contact them to ask to see a sample if you feel not completely convinced. Good wholesalers will not hesitate to send samples to earn your trust. Ask them about the offers for new partners and the services they offer if you become a long-time partner. Then you just need to decide to place an order and wait for wholesale to deliver the goods to you.
Feedback
As a retailer and shopper, you understand how important feedback is to a business. Therefore, do not forget to leave positive feedback after receiving the goods. That not only helps to beautify the appearance of wholesale, but also builds a closer relationship between you and wholesale, giving you more incentives later.
Top 4 volume lashes wholesale in 2021
The following is a list of the 4 highest rated volume lashes wholesale on platforms in the first half of 2021. Especially among these, Vietnam Lash is the largest wholesale in Asia with a volume of products exported up to hundreds of orders every month.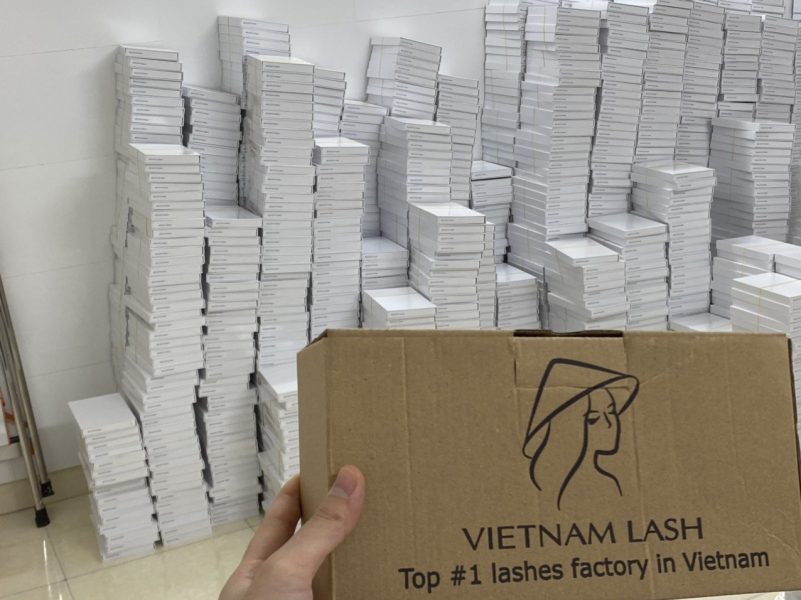 Vietnam Lash
Vietnam Lash is one of the leading wholesalers in the false eyelash industry in Vietnam. With more than 10 years of experience and many ups and downs, Vietnam Lash has become more and more famous and supported by many customers around the world. Vietnam Lash not only provides volume lashes but also produces trendy lashes, ensuring retailers always keep up with the world's beauty trends. Besides false eyelash products, Vietnam Lash also provides eyelash extension glue and eyelash packaging. We design and produce the packaging exclusively, bearing the retailer's own brand name, helping retailers enhance their reputation with quality products.

CONTACT US FOR MORE INFORMATION 
WhatsApp: +84924851724
Instagram: @vietnam_lash_official
Facebook: Vietnam Lash Factory
Mimi Lashes
Mimi Lashes is a famous industrial manufactory. Their products are very diverse, not only volume lashes. However, because it is an industrial factory wholesale, the products they sell are not so great. Retailers with limited budgets are suitable for this factory.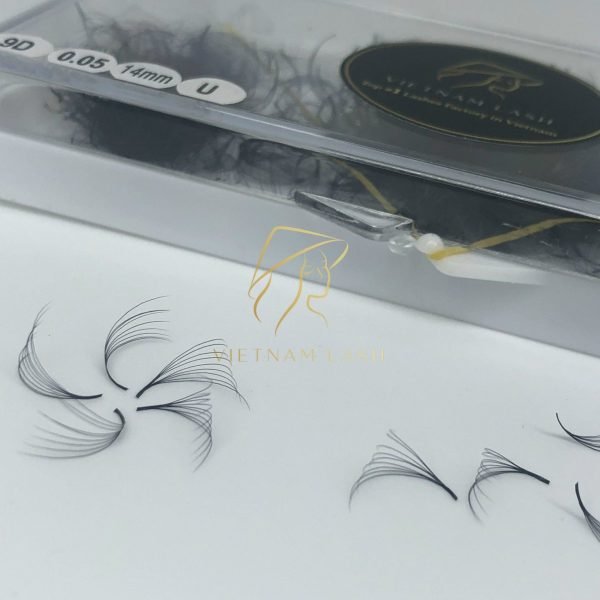 Greatest eyelash
This is a big wholesaler in Russia. Greatest eyelash is a longtime partner of Vietnam Lash. Their products are mainly volume lashes sold to high-end studios and salons.
The LA Lashes
The LA lashes is also a partner of Vietnam Lash in the US. As a wholesaler that directly imports high-quality volume lashes from Vietnam Lash. Their products are also very trusted by customers, many of whom are celebraties.
You may be want to see: 
Top 5 best lashes wholesale vendors
The 4 private eyelash label in LA
Top 5 best mink lashes vendor in Asia
Visit our webpage for more updated information: https://vietnamlash.com/