More and more lash artists apply premade lash fans to their customers. However, have you known professional tips for choosing the appropriate premade lash extensions?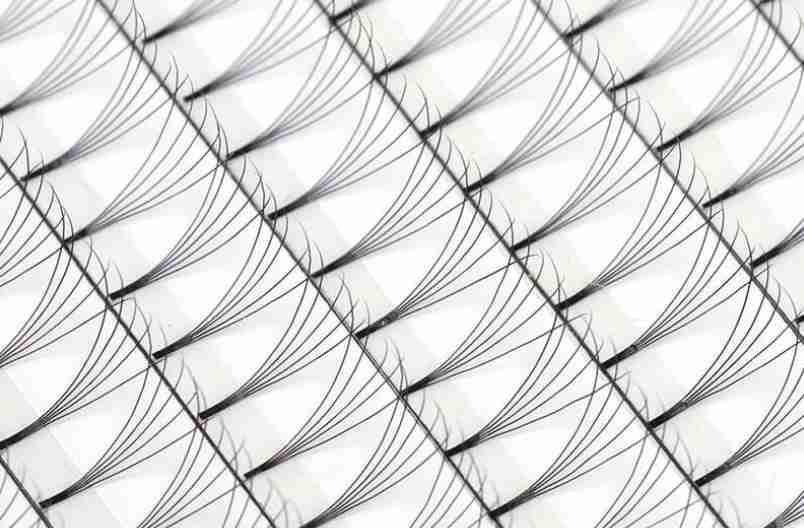 Premade lash fans are loved by clients and lash techs since they will help the eyes brighter and bigger naturally. Moreover, instead of attaching one-by-one extensions, premade lash fans allow lash artists to apply multiple lashes in a delicate balance. 
A lash artist must carefully consider the weight, length, and diameter of premade lash fans to bring a perfect look to clients. Premade lash fans come in a wide range of sizes and measurements. Hence, you need to know how to select excellent premade fans. We will reveal all of the tricks in this article. Keep scrolling down to explore!
An Overview Of Premade Lash Fans 
Some lash artists are confused between premade lash fans and handmade fans. Premade lash fans, aka promade lash fans, are produced by vendors in advance and delivered to lash techs, while the other is created individually by lash artists. They can contain from 2 to 10 individuals or even 20 lashes to create a super dramatic look if clients want. 
Why Should You Use Premade Fans?
There are many reasons to encourage lash techs to use premade fans instead of others. The application process is the same way as semi-permanent or classic volume lashes. The lash techs just need to dip them in glue and attach them to clients' eyes. 
The process is more straightforward than handmade lashes, so premade lashes are an excellent choice for those who want to save time during the lash appointment. After all, time is money, so you can earn more if using these lash extensions. 
While applying premade lashes, they are easy to pick up thanks to the user-friendly base design. The base can also cover bare spots easily if your customers are missing natural lashes and have patchy lashes. 
Premade lash fans offer clients various styles. Moreover, all-level lash artists can apply these fans to your clients. Low maintenance is also a reason you should choose premade fans. They can keep their shape well for an extended time. 
How about their disadvantages? Premade fans are more expensive than handmade ones and less adaptable. In addition, due to their pre-bonded base, you have to make more effort to wrap them around clients' natural lashes. Hence, their retention is shorter than volume fans. 
Specific Guide To Choose The Best Premade Fans For You
When choosing the best-premade lash fans, you need to consider numerous things, such as the look your clients want, the curls that are suitable for them, and the bonding methods they prefer. Let's go through all elements by scrolling down.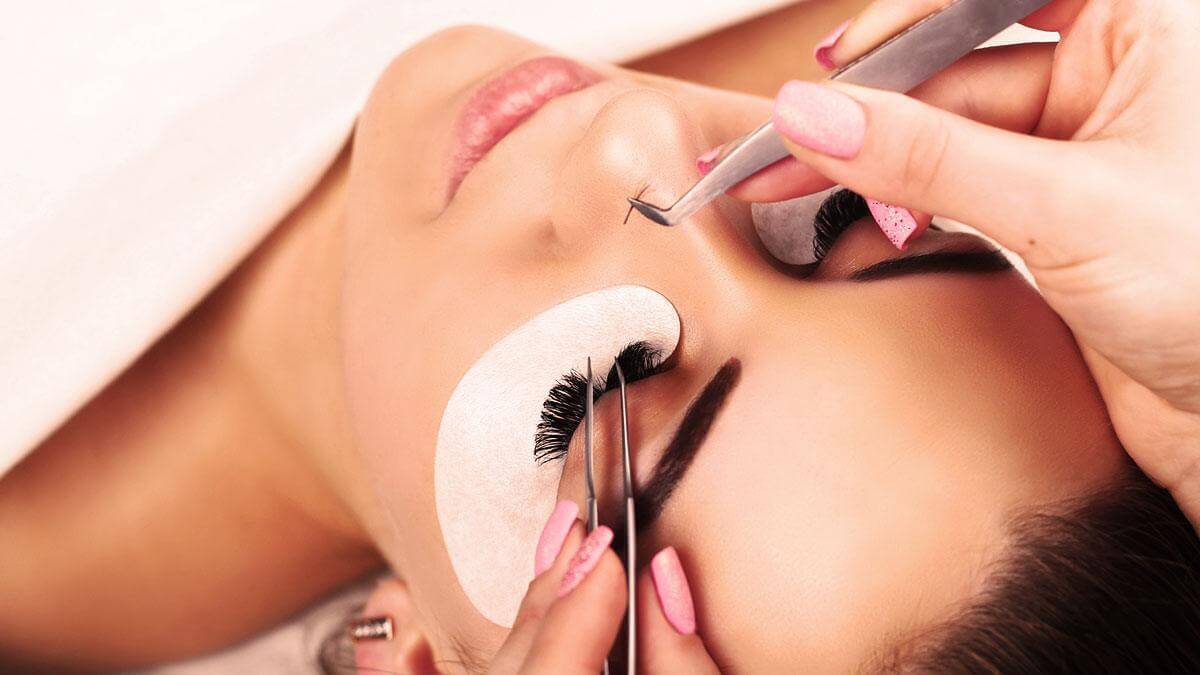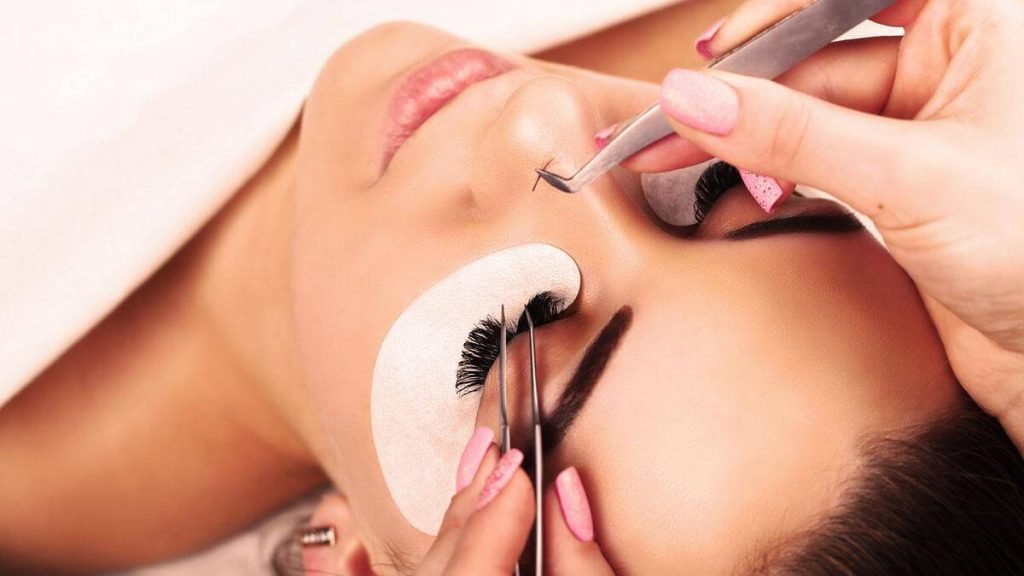 Natural Volume Lashes
If your clients want a natural look, you should use short stem premade fans with fewer extensions to apply to them. Moreover, our suggestions are 2D and 3D. These choices will elevate clients' appearance and maintain a light, no-makeup style.  
Russian Volume Eyelashes
Clients want thicker and more gorgeous lashes, so Russian volume eyelashes are the best choice. In addition, they will offer you a naturally voluminous look in a delicate way. To achieve this effect, you should use long stem 6D extensions. 
Eyeliner Effect
Applying premade lash fans is a wise approach to have a natural eyeliner effect without spending much time. Furthermore, wearing lash extensions will add thickness to clients' original lashes, making their eyes more charming. 
If you are looking for premade lash fans to bring your clients those results, you need to choose long stem fans such as 3D, 4D, or 5D. 
Fluffy Volume Look
Not everyone was born with fluffy volume lashes. Hence if you have them, congratulations! However, since you are a lash professional, you can suggest your clients wear short stem premade lash fans: 4D, 5D, and 6D with wider widths to achieve this look. 
If you are a big fan of Hollywood movies, you are not strange with the trendy LA mega volume style. In case your clients wish to take out this style of Hollywood movies, you can make their dream come true by applying mega volume lashes to them. These lash extensions require 10D to 20D with a super fine thickness is 0.03-0.05. 
In the past, just handmade volumes could offer them this look. Nowadays, you can do it easily with premade lash fans. 
Feathery Effect
For feathery effects, choosing 5D premade lash fans is an ideal option. These 5D lashes are created from 5 different extension lengths; hence they can bring your clients a voluminous look in the most natural way. 
Premade Lash Fan Length
To maintain the health of clients' natural lashes and style their eyes, lash artists must choose the right length. The general rule is to select the premade lash fans' sizes that do not exceed your clients' original lash lengths by over 3mm. You should consult your customers to find the most suitable lash length. 
There are 4 lengths frequently used to apply to eyes: 8-9mm, 10-11mm, 12-13mm, and 14-15mm. The shorter lengths (5-7mm) are perfect for bottom lash extensions. 
8-9mm lash extensions are suitable for the inner and outer corners of people's eyes. The lashes in these areas are weaker and shorter than the others, but the natural lashes have to be strong enough to wear the extensions. If not, they can be damaged. You should attach the extensions at the outer corner for people who want to have eye-cat sets. 
Moreover, for those with short and weak original lashes, you can apply 8-9mm lash extensions to enhance their eyes subtly and help them have a mascara-like effect. Not everyone likes long lashes, so 8-9mm is an excellent choice for dark, short and full effect sets. A note for you is that these extensions have stronger curls than longer ones. 
While 8-9mm is ideal for the inner and outer corners, 10-11mm is good for the middle part of the eyes, which have the longest natural lashes. Therefore, they have multiple uses and fit any styles such as cat eyes, doll, natural and more. You should stock up this length to be always ready to attach to your clients. 
12-13mm is the most extended length in a set. Therefore, they can be applied to various places to have different styles. 
Doll eye: You should attach these lashes to the middle of the eyes to open up your customers' eyes and achieve a "dolly effect." This application method is perfect for small, wide-set, downturned, droopy, and monolid eyes. 
Cat eye: The area to attach them is towards the outer corner of the eyes. This way is best for close set and round eyes. They will elongate width and create a sexy look for your clients. A tip for you is to use at least 4 or 5 different lengths to make the look glamorous. 
14-15mm
This is usually used as accent length instead of the applied complete set. Your clients' natural lashes must be strong enough to wear the weight of 14-15mm extensions as they are pretty heavy. Besides, the original lashes should be thick and long as well. People wearing this length will have a dramatic appearance. 
Heat-Bonded Vs. Glue-Bonded
There are 2 types of bonding frequently used for premade lash fans: heat-bonded and glue-bonded. 
As its name implies, the premade lashes are sealed together at the bottom by heat. Hence, you can be comfortable to use without worrying about glue clumping at the root of natural lashes and irritation problems. In addition, there is no adhesive; no extra weight is added to customers' lashes. 
The heat-bonded lash extensions are manufactured by double-heated methods. The first step is to arrange the lashes in a row before the heat process. Next, they will use heat to press the base of the lashes until the plastic at the bottom is slightly smelt and the lashes adhere together. Finally, workers roll them to create curls. 
Besides the advantages, heat-bonded lash extensions are quick to fall apart and might be irregular curl shapes
The glue-bonded fans are adhered together by glue. Therefore, they are heavier than heat-bonded ones and have less risk of falling apart quickly. However, the glue added to the base of premade lash fans will add more weight when your clients wear this type. 
The weight is counted in the micro-milligrams but can still bring them unpleasant feelings in case their lashes are weak and spare. 
To attach them to natural lashes, you have to dip them into an adhesive that can make your lashes messy and create glue clumps.
Curl (C, CC, D, DD)
The curl suitable for you depends on the angle of people's original lashes. There are many curl types, and we introduce you to the most common. 
C-Curl: This is the most popular curl since it can accentuate lash lines and subtly bring you open-eye effects. If you attach C-curl for clients with slightly downward angled lashes, they will offer a gentle lash lift. For people with close-to-horizontal angle lashes, you can bring them an enchanting doll-eye effect.
CC-Curl: CC-curl lashes are an upgraded version of C-curl lashes. The customers will achieve a more dramatic look compared to the C type. Their bases are similar, but the CC kind has a more extreme curl. Therefore, the eyes will be more glamorous and visible. 
D-Curl: It offers you more lift than C-curl with a 70-degree angle; hence, you will achieve a more dramatic but still maintain a fairly natural look. This type also offers customers a doll eye effect and will draw people's attention to their eyes. 
DD-Curl: These lashes have another name that is U-curl lashes. DD-curl is the curliest lash extension you can find. They are perfect for downward-angled lashes, and clients will have the most glamorous doll-eye appearance. 
They will be in the spotlight at any party with noticeable eyelash extensions. Please help us to note that people with upward-angle lashes or heavily hooded eyelids are not suitable to wear DD-curl since they may damage their eyelids. 
How To Apply Premade Volume Fans
This section will provide you with general information to apply premade lash fans properly. Let's start with choosing the right tweezers to pick up fans. 
Tweezers You Should Use For Premade Fans
We highly recommend I-shape tweezers to pick up premade fans. They are long, thin, and light tweezers so that they will create less fatigue but much tension in your hands. 
If you want to isolate lashes for those with a prominent forehead or deeper set eyes, you should opt for S-shape or L-shape tweezers. L-shape tweezers are an ideal option to hold the premade lash effectively.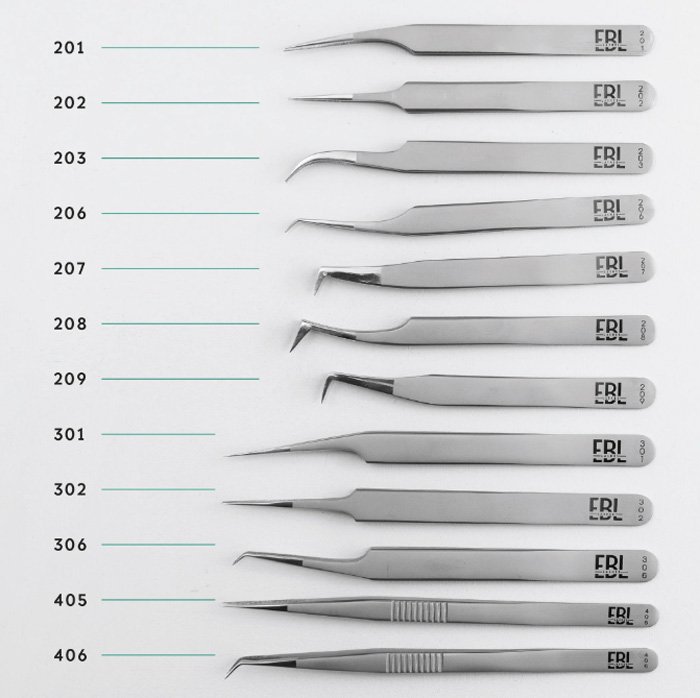 How To Pick Up 
The correct pick-up ways depend on what types of lash fans are. For example, if they are short stem lashes, you have to pick them up from the root of the fans, deliver them into a sticker and remove them by holding the middle of the fan. 
For long-stem lashes, you do in a contract process. You will pick up the fan from the middle, detach it from the sticker and hold it from the root. Remember never to remove the fan from the tray directly to prevent it from falling apart. 
Lash Extension Application Process
The premade lash fan application process is quite simple to understand. First, you need to hold the fan in the tweezer, then dip it into the fresh glue drop. The reasonable length to dip the fan is 1.5-2mm. After that, you attach it to the top of one original isolated lash. 
How To Make Lash Fans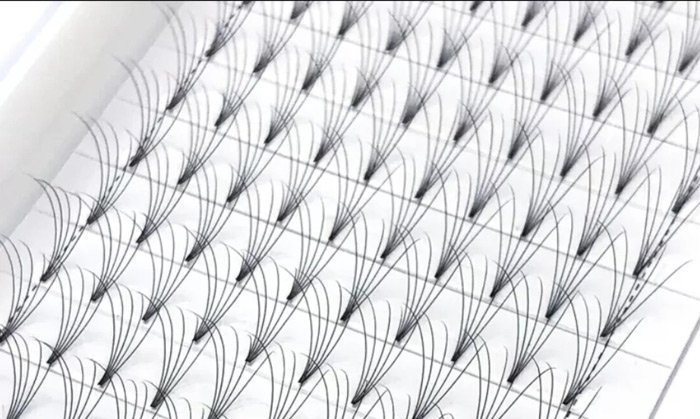 The process of making lash fans is complicated and time-consuming if you do it by yourself. First, you have to use a curved lash tweezer specially designed for volume lashes. Then, you put individual lashes in a fan shape and adhere them together. However, just lash professionals with many years of experience can do that. 
There are various approaches to creating premade lash fans, such as off tape, pinching, and lean and pick. In addition, you can try the sponge or mannequin method for people who want to practice at home. We will have a detailed post later; please follow us. 
 Where Is The Best Place To Buy Premade Lash Fans? 
Premade lash fans can be considered a lifesaver for all lash artists. It is excellent for starter lash teaches and helps people save time for application and serve more customers. Unfortunately, the premade fans are not easy to choose from, varying from situation to situation. This article covers everything you need about premade lashes.
For your information, Vietnamlash.com is top-level in manufacturing premade lash fans. You can find numerous kinds of premade fans on the website: premade fans in line, premade loose fans, premade fan lashes, and more. It is not an exaggeration to say that Vietnamlash is one of the most reliable suppliers for thousands of lash salons in Australia, the USA, Europe, and more. 
With more than many years experience, Vietnamlash is confident to be a company that provides high-quality premade fans at competitive prices. But, if you don't believe us, you can try Vietnamlash's products, and we are waiting for you to thank us later. 
A tip for you to always select excellent premade fans for your customers is that you and clients have to decide on the look they are going for and which style they want: natural or glamorous. We hope you will have perfect premade lash fans.
Read more: The best Vietnam eyelashes manufacturer and supplier
Visit our webpage for more updated information: https://vietnamlash.com/