Having excellent lash business photoshoot ideas will help you to have million-like posts. Finding ideas is not easy and this article will erase your concerns. Ready to take photos!
Are you looking for unique and glamorous lash business photoshoot ideas? We are here to help you. To promote your salon, creating the perfect social media photos is a crucial step. A good lash photo can inspire your clients and encourage them to apply that eyelash extension style. 
However, many lash artists are stuck brainstorming for ideas. Understand that, we will introduce you to 11 ideas to enhance your photoshoot and 101 tips and tricks to have top-notch pictures. Are you excited? Let's get started right now. 
Secrets To Creating Glamorous Pictures
Having brilliant lash business photoshoot ideas will help your salon stand out among thousands of lash salons. Here are 11 recommendations for you.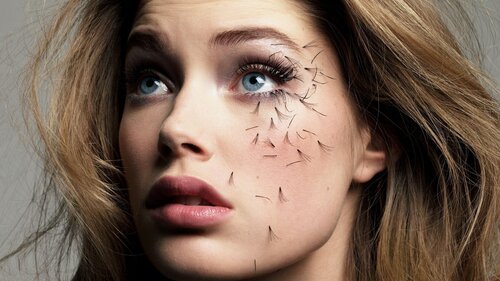 The Excellent Lighting
Lighting has a big impact on a photo. That's why you need to prepare an excellent lighting system. The best choice is natural lighting. We recommend you search lash studios near you on Peerspace, and apply daylight studio to the filter section. It will assist you in finding spaces with definitely perfect natural lighting, floor-to-ceiling windows, and high ceilings. 
Create A Special Space
You can book or create a special space that is designed for lash pictures only. This kind of studio allows you to have an ideal background for photography or videography. The room should include a stand and a dark gray tone wall with a floral wall. 
A Touch Of Fun Props
Choosing proper props will make your lash extensions stand out. They will elevate your pictures, mirrors and flowers are our favorite ideas. You can arrange flowers to surround the model's face. Taking her reflected photo in the mirrors is also a good option. You can select a room with a vintage style that contains gilded vintage furniture, vanity, flowery birdcages, and more impressive decorations. 
The Morning Routine
In the morning, you don't wear mascara and this concept is perfect to show off lash extensions in a natural way. This idea still attracts people's attention thanks to its simplicity and elegance. You can choose a room with a bohemian farmhouse bathroom. 
All Eyes On The Eyes
The eye theme will be expressed more clearly than ever in this idea. The model just needs to stand up, look at the camera, and show off her most charming eyes. This moment will become a truly unique lash picture.  
Blow A Wind Of Salon-Style
Eyelash extensions are mostly applied in salons so salon style is perfect for your all lash photos. We prefer taking photoshoots in a retro salon room. The multicolor in the room makes us impressed without being overwhelmed. The ample space with vintage chairs and huge windows allows you to make use of natural lighting and create beautiful pictures. 
Feminine Background
Lash extensions always have soft curls so a feminine background is an ideal combination. The room is full of pink shades and a flower wall as an accent. You can rent a studio or decorate your room with various pink tones, the result will not disappoint you. 
Add An Accent 
No matter what you want customers to know about your eyelash extensions or what the special features make your brand name stand out among thousands of lash businesses, you have to light your lash extension sets in the pictures. For example, with water-resistant features, you can take some shots of the model in a milk bath surrounded by a tropical small forest.
Unique Look
You can set up a unique background for your lash photos. A rainbow gleaming across the model's face is an excellent idea. No matter if the model is closing or opening her eyes, these pictures will stop people from mid-scroll through Instagram and looking at your extensions for a long time. 
Photography Studio
You can rent or set up a room with all the necessary photography equipment to receive pictures with a special background. Besides, the floor-to-ceiling windows allow the sunlight to brighten the room as much as possible, hence, your photos will have sufficient light. The chairs are arranged properly and the model can freely pose her most beautiful look. 
Versatile Looks
You can decorate your room with numerous kinds of backdrops to create a lot of pictures at the same time without sticking to only one look. You should combine multiple backgrounds, textures, colors, and walls to serve your demands. 
How To Photograph Lashes – 101 Tips And Tricks
A smart marketing strategy will help to promote your lash business, and posting perfect lash business photoshoot ideas on social media is one of the steps in it. Your ultimate goal is to make clients stop when seeing your lash pictures. Therefore, make sure that your photos are high-quality, flattering, and clear. We will share with you tips and tricks to create million-like pictures. 
Quality 
The quality of the model can decide the quality of the picture. You have to pay extra attention to small details even if it is just a lash. Make sure the lash extensions you just did look spotless. You need to show the finished lash look in the photos. Don't forget to remove under-eye patches, stray lashes, and tape. You need to focus on charming eyelash extensions. 
The picture will zoom in on the eyes, you should brush the lashes to make them nice. The eyebrows also need to be groomed nicely to avoid distracting from the eyelash extensions. To have a bright face, you can use concealer for undereye areas, never apply it during the application process. 
If you use customers' photos to advertise your salon, remember to ask if they can accept in advance. Never upload irritated eyes since they can make clients uncomfortable. In this case, you can take a photo with the customer's closed eyes. If your client's eyebrows are faded, you can apply the brown pen to finish her look before taking pictures. 
Lighting
Good lighting will prevent your pictures from appearing pixelated, grainy, or blurry. So, you should set up a sufficient lighting source to have top-grade photos. You should make use of natural light since the sunlight will brighten the skin and create a contrast between the lashes and the skin. 
If you cannot use natural light, you can use a ring light or selfie light. The ring light will provide light for you without pesky shadows from your body or hands. Its light source is also subtle and flattering enough to make the lash extensions stand out. 
Another option is a selfie light which is a small clip-on USB-powered light, it is convenient to attach to your phone. It has several levels of brightness you can choose from and is perfect for a close-up portrait. You can use it as extra light to fill in small shadows and highlight the details. Both of the lights can make the picture brighter and more embellished. 
In case the light is sufficient but there are shadows in your photos, you should check and remove things such as your phone or other factors in the room. The eye areas should not be too bright since it can wash out the extensions in the photos and make the lash look sparse.
Camera Lens
Choosing the right lens that is suitable for your demand will enhance your works of art. We will show you some tips to pick the appropriate camera lens. For detailed lash work, selecting a macro lens is a smart choice. Macro lenses are designed especially for extreme close-up photo shoots, and teeny weeny subjects like insects. 
They are perfect for capturing natural lashes at different growth stages and showing glamorous eyelash extensions. However, you should learn how to use macro lenses to create meticulous pictures. You can also use a wide-angle lens to get attractive photos. 
In case you want to show overall lash extensions, you don't need to use a lens. This way will help clients see the general extensions looks and how they will look if clients wear them. Instead of zooming in on details, you just need to hold your phone as close as possible to your customer's face and take a picture. 
Try to not shake your hands when taking photos to have the perfect ones. The before and after pictures will attract the most views. 
Rules Of Composition
Knowing the rules of composition will stop your customers from scrolling down your pictures. They are the things you can do to improve the picture quality and have stunning lash photos. 
Photo grids and composition: You should know where the focal point people realize when seeing a picture and it is not always in the middle of the frame. In photography, there are some ways to create a photo that subtly draws people's attention. 
The rule of thirds: Many photographers love this rule. You just need to imagine the scene is divided into 9 equal sections and there are 2 vertical and 2 horizontal lines between these parts. The intersections work best for eyelash extensions. You should place the focal points of the picture in the intersections instead of placing them at the center. You will have a masterpiece. 
Cropping: Sometimes you don't have a good background for your lash work, but you can take a photo and crop it in tight around your focal point. This way will help you eliminate distractions and make the picture more charming. 
Filling the frame: If you want to capture the finished photo, you can use filling the frame way. You should leave several spaces around the main point of focus and use the editing to crop and rotate or choose other ways to receive your desired images. 
Add depth: The good way to add depth to your lash picture is to focus on the closest details and slightly blur the father details. You just need to move the phone and tap it to get this effect. It will help the images have 3-dimensional depths and allow clients to see lash extensions from different angles. You can add more details in the fore, middle, and background to add depth. 
Angles: Selecting the right angles to take photos will create depth and make your pictures more eye-catching and memorable. Never take the picture straight out. You need to ask clients to look straight ahead and not look at the camera to keep the pupil always in the middle of the eyes. If you move the camera to find the proper angle, their eyes are still in the perfect position. You have to try multiple angles to find the best one for your customers since their shapes and facial features are unique, especially when you take a full-face photo. Moreover, you can show the close-up of eye areas: eyebrows and eyes (when opened or closed) are always an ideal option. 
Backdrops
Eyelash extensions are the main point that you want people to focus on. Hence, you should avoid a messy background since it can make clients distracted and blur the extensions. Instead of that, you can use a solid backdrop with the same color as your brand and apply 11 ideas above. Some colors such as white, cream, or vibrantly colored backgrounds are excellent.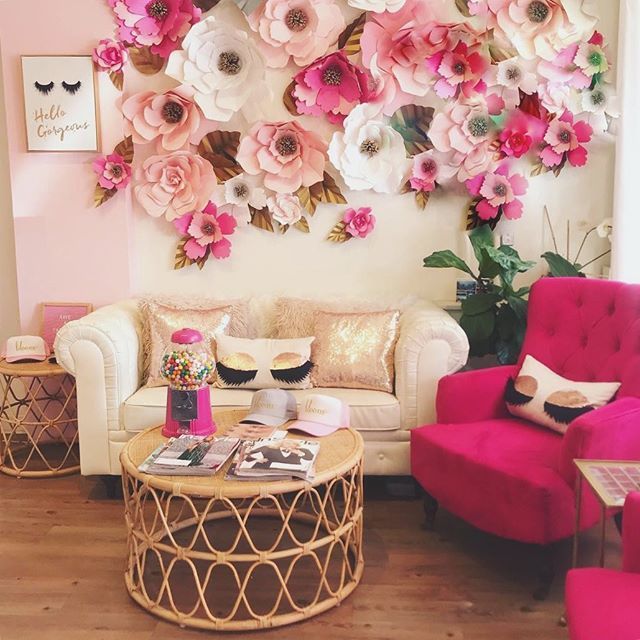 Top-level Editing Skills
Editing photos before posting will perfect your images but don't overdo it. You don't need to choose specialized photoshop apps, there are many available and easy-to-use apps you can use. Don't apply many filters, keep the pictures as natural as possible will help clients imagine more easily. 
You can tweak redness or breakout on the client's face and adjust the contrast, brightness, and shadows to have great pictures. . If you intend to post images on Instagram, you should choose square photos. If you create a portrait or landscape photo, Instagram will automatically crop them into squares on your feed. 
Content
To maintain and increase followers on social media, you have to create various content and post different lash photoshoot ideas. You should post a wide range of eyelash extension looks to prove your ability to clients that you can customize lash extensions for each customer. You can write an attractive caption to explain the lash designs. 
You can share how safe and hygienic the lash application process is to make customers comfortable when coming to your salon. How you decorate your lash salon is also the favorite topic of many lash stylists. Making use of Instagram effects: Boomerang and Instagram Stories to draw people's attention. 
You should use hashtags in social media images to assist clients in recognizing and verifying your account. This feature will also help to get more potential clients. You can add your brand name to the bio of Instagram for quick recognition. At the starting stage, we recommend you use several larger hashtags, some local hashtags, and a few smaller niche hashtags. 
Read more: How To Grow Your Lash Business With Instagram – 13 Tips To Promote Your Brand
Consistency
Lash but not least, you should post content and pictures on social media consistently. You should ensure your clients will always see the latest posts with high quality when accessing your account. If you post once a day or a quote every 2 photos, you should be consistent with that. The most important thing is you should keep the style of lash extension pictures constantly. 
Where To Buy Lash Extensions To Create Perfect Photos
We're sure you have found the best lash business photoshoot ideas for your posts. If you are struggling with how to have excellent lash pictures, you can refer to the 101 tips and tricks we mentioned in the previous section. 
Choosing the best lash extensions also assists you in creating glamorous images and Vietnamlash.com is a trusted brand. With more than 10 years of experience in producing lash extensions, Vietnamlash.com has had a solid reputation in the lash field. 
Vietnamlash's missions are to provide premium-quality lash extensions at reasonable prices and always innovate products to meet customers' satisfaction. With over 1500 loyal lash techs and vendors worldwide, we are confident to promote Vietnamlash.com to you. If you face any issues with the lash photoshoot, don't hesitate to comment, we are always ready to help you.
Visit our webpage for more updated information: https://vietnamlash.com/