The best pillow for lash extensions will support you as a lash artist in addition to making your client feel at ease. Clients who must lie still for extended periods of time will turn their heads. The more time a customer moves about to readjust, the longer your lashing time will be, and the less productive as well as efficient yourself might be.
To make it easy for your clients to enjoy their appointment, you must select the greatest lash pillow. However, don't overlook the significance of it for yourself. Your client's lashes should be simple to work on, and you must have rapid access to all of your tools. This factor is vital if you want to be a productive lash technician and make the most of your time.
You won't be able to keep your eyes off the best pillow for lash extensions that we are about to share with you in this article today. Enjoy the display, beauties!
Types Of Eyelash Extension Pillow
The best pillow for lash extensions is created to keep clients comfortable by supporting their heads in a way that a typical pillow just cannot. Also, it maintains the customers' positions at an ergonomic and constant angle, allowing you to move them with greater efficiency. Bear in mind that lash pillows come in a variety of sizes and shapes, but most of them are u-shaped and constructed of permeable foam.
The best results from eyelash extension procedures demand a high degree of accuracy and attention to detail, therefore having the right instruments is crucial. There are lots of types of eyelash pillows on the market, each with special features and benefits: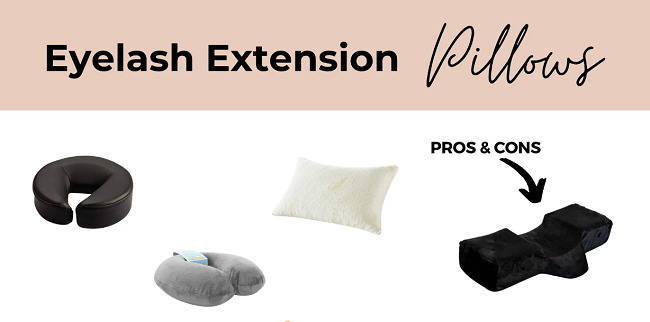 1. Normal Lash Pillow
Only your clients will experience comfort from a normal lash pillow. When lashing, it's ideal to have a lashing platform for your lash tile, tweezers, mascara wands, etc., that is conveniently accessible. Lash artists who choose to use a normal eyelash extension pillow will not get the ergonomic support they ask for. It is plainly not intended for lashing and is not appropriate for lashers to use this lash pillow.
2. Neck Lash Pillow
When traveling, neck pillows are normally what you pack. They are soft and lightweight, and they are useful for both traveling and eyelash extensions. Neck lash pillow gives the client a little amount of support, so, having said that, you'll want to keep a neck pillow on available in case a client requests extra support for the lash pillow you end up using.
3. Headpiece Lash Pillow
You probably already have a headpiece lash pillow, if you use a massage table as your lash bed. It is on the harder side, so if your customer lies down on it for extended periods of time, they may feel uncomfortable in their neck regions.
Headpiece lash pillows do not have the assistance you require if you are a lash artist, so you will be required to complete the application with your arms raised in the air or propped up on the head of the bed. You will also feel particularly uncomfortable with this, and even have the risk of getting carpal tunnel syndrome.
4. U-shaped Lash Pillow
Most lash beds can fit inside of a U-shaped lash pillow, designed with a u-shaped centre that pleasantly cradles your customer's head and neck. Your lashing fits well on its high flat sides and keeps everything at reach, impressively enhancing your work. This lash pillow gives you plenty of area to rest your arms and wrists while lashing, as well.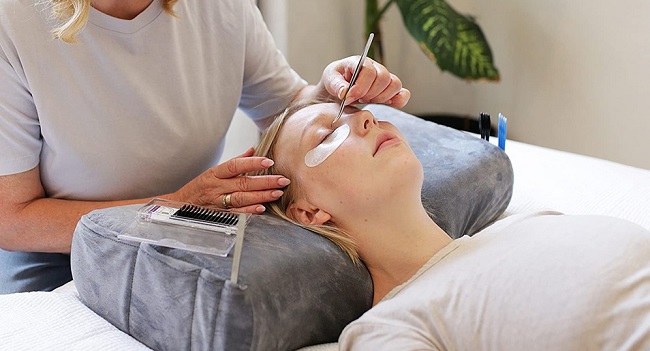 5. Wedge Lash Pillow
This sort of lash pillow has a triangular shape and is used to raise the customer's head when having eyelash extension. It's especially useful for those who have problems with resting flat, or for lash technicians who need to work on the lower lashes of their clients.
6. Travel Lash Pillow
For lash artists who have to work on the go, a travel lash pillow is an ideal choice because it is more compact and portable than other lash pillows. It is inflatable and, therefore, simple to pack in a travel bag. If you worked as a freelance lash tech, having this kind of lash pillow by your side will never be a "burden".
7. Ergonomic Lash Pillow
A comfortable ergonomic lash pillow is one that both you and your client can use. For you to relax comfortably for hours, it provides just the proper amount of neck support and elevation. It offers a platform large enough for your lashing tile to sit on, similar to the U-shaped pillow.
This pillow fulfills all of your requirements. The lashing platform is level and sturdy, offering a comfy ergonomic work space to set your lash tile at the proper height for your neck. To store other lash tools, its four pockets on each side can help. Let's keep in mind that both left- and right-handed painters can use it!
How To Choose The Best Lash Pillow?
Your tastes and requirements as a lash artist will determine the best lash pillow for your use. Consider the shape of the pillow when selecting the ideal one; it should be made to support the client's head and neck, and, for lash artists, should be cozy. The pillow's material should be hypoallergenic and be the right size for both the customers and the treatment bed, which offers excellent support.
The best lash pillow should also offer support for the artist's arms, lowering the possibility of shoulder and arm stiffness or strain and letting them work precisely and comfortably. A lash cushion may be temperature-sensitive, and react to the heat and weight of the client's head. A lash pillow should be made of high-quality materials and sturdy enough to survive frequent use, as well.
Top 5 Best Pillow For Lash Extensions
Your own preferences and needs as a lash artist will determine which lash pillow is greatest for you. Here are some suggestions for you all to consider when choosing the best pillow for lash extensions. Scroll down, the future lash artists!
1. Jumiz Easy-Clean Lash Pillow
The Jumiz Eyelash Support Pillow has a faux leather cover that offers a salon chair-like feel. Unlike the popular velvet covers, which need to be washed, it is water-resistant and can be readily cleaned by being sprayed down. 
To keep your supplies close at hand, the cover contains four small tool slots and a larger tool storage pocket on opposite sides. A u-shaped memory foam core is located within to support the neck of your client, and acrylic shelves work with it, too!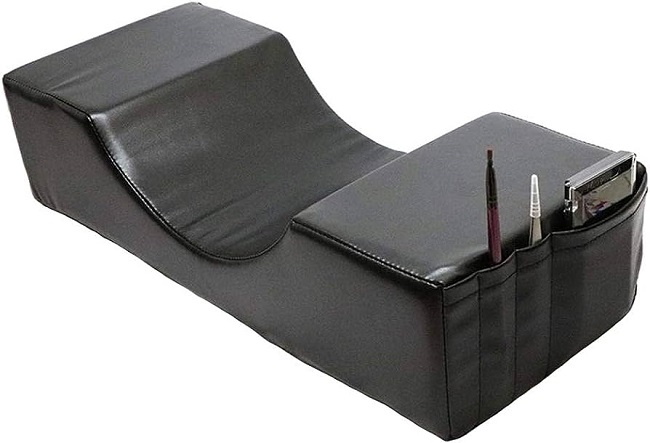 2. Prasne Ergonomic Lash Pillow
A somewhat unusual twist on the traditional u-shape can be found in the Prasne Ergonomic Lash Pillow. It has a middle u-shaped dip to help you place your client on their back and also extends deeper down with a slanted wedge to help support their neck.
This pillow is softer than some others since it is constructed of non-allergenic memory foam. A zippered fastening allows the velvet cover to be removed for washing. Also, there is room for one and they can be bought separately, but it does not come with a lash shelf.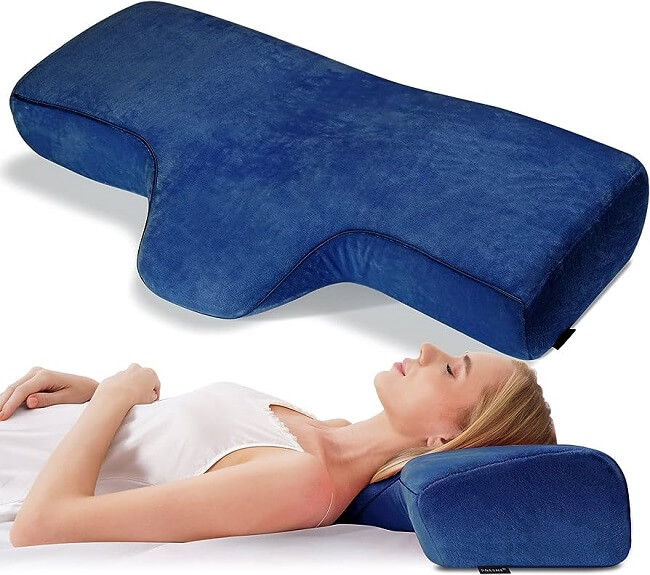 3. Sailfin Beauty Salon Lash Pillow
Compared to others the Sailfin Beauty Salon Lash Pillow has a less noticeable u-shaped dip. The supportive, dense memory foam core is hidden beneath the permeable cover. Its gentle u-dip aids in positioning the head at the ideal angle for applying eyelashes.
This pillow is thick at two pounds and is 25 inches across, which is wider than usual pillows. The velvet cover is removable and machine washable and has a slight neck wedge support on one side. It works with the majority of acrylic lash racks, as well.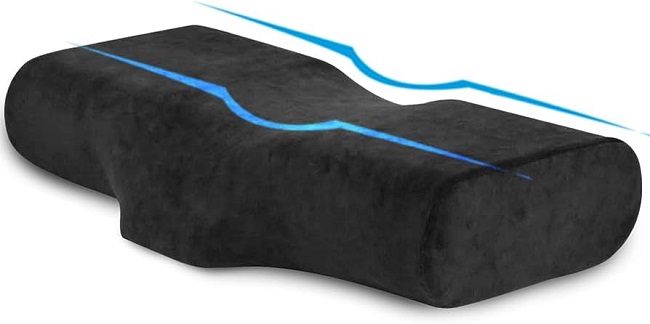 4. LashSo Ergonomic Lash Pillow
Both you and your clients will benefit from using this LashSo Ergonomic Lash Pillow. With a detachable and machine-washable cover, it offers contoured support for the head and neck. Moreover, it comes in black and pink, two favorable color options!
It will be convenient to have a shelf organizer placed on the right side of your ergonomic lash pillow when working so that you can easily access all of your resources. A major productivity booster is not having to reach for your eyelashes.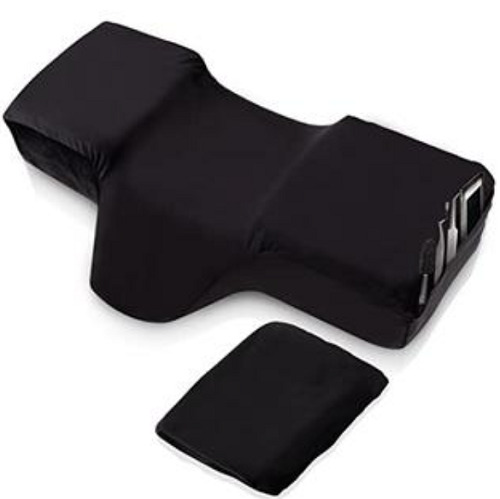 5. Digssa Ergonomic Lash Pillow
The two pounds of solid memory foam in this Digssa ergonomic lash pillow will support your client without causing any irritating pressure points on them. The pillow is soft enough to be comfy when allowing for the placement of objects. Remember this pillow has slanted edges, so you won't have as much usable area as you would with more squared-off patterns. 
You can pick between two sides – one with a wedge neck support and the other without – so you customize this fine lash pillow to their tastes. To hold tools and brushes, it incorporates compartments on each end. There are three on one side, five on the other, and its cover can be removed, washed, and is breathable. And acrylic shelves, which are available separately, doe work with it!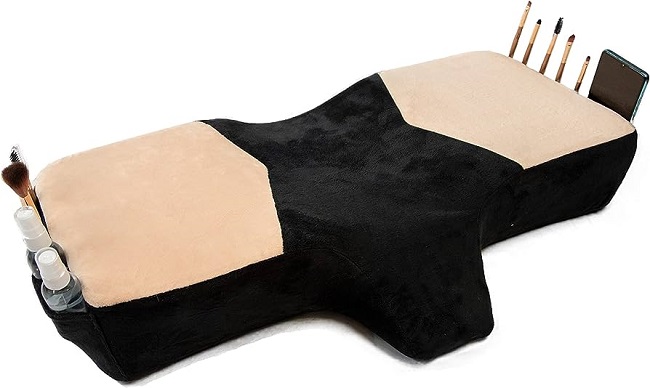 FAQs
Q1: Is The Best Pillow For Lash Extensions Worth It?
Yes. Necks, shoulders, and arms of the client and lash tech might get sore or uncomfortable during eyelash extension procedures. By giving their heads and necks the right support and alignment, using a lash pillow helps to reduce neck strain and can also make your client feel more at ease and relaxed.
Q2: How To Keep My Best Lash Pillow Clean And Fresh?
Use of a disposable layer over the lash pillow is one way of cleaning. It wouldn't be pleasant to write that paper. The other way is to buy multiple pillowcases and alternate them between clients. Although it needs a little more work on your part, this may result in less plastic waste and provide your client with the best level of comfort. You can also invest in U-shaped pillow coverings that come in multipacks. No worries, you can get it for a reasonable price.
Conclusion
Comfort is of utmost importance to you as a lash pro. The best pillow for lash extensions not only makes your customers more at ease, but also helps with posture, and reduces shoulder pain for you. By offering comfort and arm support, the best lash pillow will also help you work more efficiently during the long workdays at your salon.
Music takes more than a pillow to keep a client at ease. Indeed, your customer will feel more at ease if you create a tranquil environment that fits their needs. Try using gentle lighting and peaceful music to set the mood. It is best if your area can have the impression that someone is about to get a comfily healing massage on her body.
Visit our website for more updated information: https://vietnamlash.com/