Hey there, fabulous lash artists! If you're in the business of making peepers pop and lashes luscious, you know the importance of comfort during those long hours of meticulous work. And what's the secret sauce to that comfort? You guessed it—the right chair! In this article, we're going to dive headfirst into the world of lash artistry and find out what makes the best chair for lash artists tick. So, kick back (in your old chair for now) and let's explore the comfiest perches in the lash universe.
Why Does Your Chair Matter So Much?
Before we start our quest for the ultimate lash chair, let's chat about why it's essential in the first place. You might think that any old chair will do, but oh, how wrong you'd be!
As a lash artist, you spend your days working your magic, lash by lash, on those fluttery canvases known as eyelids. It's meticulous work that demands unwavering focus. An uncomfortable chair can be the thorn in your side, or more accurately, the pain in your back.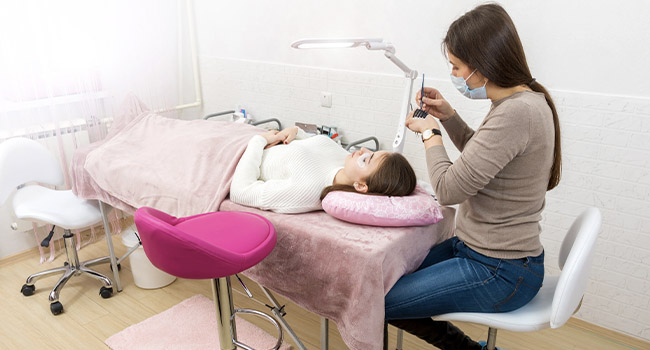 When you're hunched over a client for hours on end, you need a chair that has your back—literally. The right chair can save you from a world of aches and pains by helping you maintain proper posture, keeping your clients comfortable, and ensuring you can focus on creating lash masterpieces.
#The Negative Effects of Poor Posture
Poor posture can have a wide range of negative effects on the body. Here are some of the most common ones:
Muscle Imbalances

Back Pain

Neck and Shoulder Pain

Headaches

Fatigue

Joint Pain

Poor Circulation

Reduced Mobility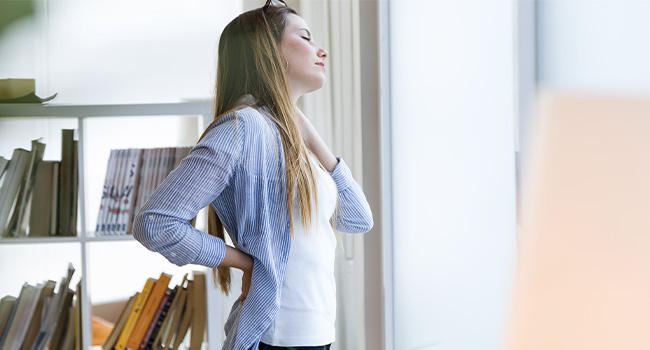 It's important to be mindful of your posture and make efforts to maintain good posture throughout the day. Simple changes like ergonomic workspace setups, regular breaks to stretch, and exercises to strengthen core and postural muscles can help alleviate these negative effects and promote better overall health. If you're experiencing chronic pain or discomfort related to poor posture, consider consulting a healthcare professional or physical therapist for guidance and treatment.
What To Look For in Best Chair for Lash Artists
Now that we've established why your choice of lash tech chair is crucial, let's outline the key criteria for finding the best chair for lash artists. It's not just about sitting pretty; it's about ergonomic design, durability, and features that enhance your lash artistry experience.
Ergonomic Excellence:

The top priority is comfort and support. Look for a chair that offers proper lumbar support, an adjustable height, and a comfortable cushion. The ergonomic design ensures that you're not straining your back, neck, or shoulders during those extended lash sessions.
Sturdy and Stable:

Your chair should be as steady as a rock. Opt for a chair with a robust base and quality construction. You don't want any wobbling or tilting when you're in the middle of creating lash magic.
Mobility Matters:

Lash artists need to move around their clients comfortably. A chair with swivel capabilities and smooth-rolling wheels can make your life a lot easier. You'll be gliding from one angle to another without missing a lash.
Easy to Clean:

Lash artistry can get messy, from glue spills to makeup smudges. Choose a chair with easy-to-clean materials or removable, washable covers. It'll keep your workspace looking pristine and professional.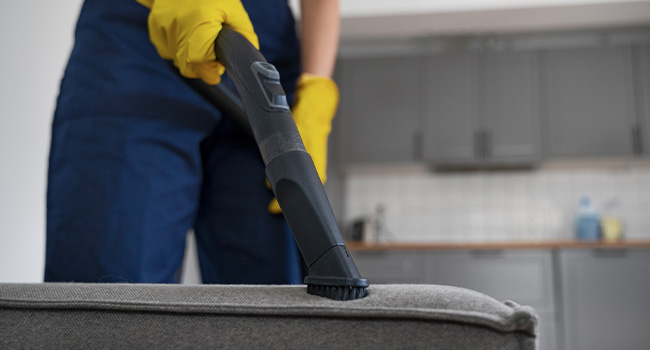 Storage Solutions:

Having your tools and supplies within arm's reach can save you time and hassle. Some chairs come equipped with storage pockets or trays for your lash essentials. No more fumbling around for that pair of tweezers!
Adjustability is Key:

Your chair should be as versatile as your lash artistry skills. Look for one with adjustable features like recline options and armrests. These adjustments allow you to cater to different client preferences and lash techniques.
Aesthetic Appeal:

While comfort and functionality are paramount, it doesn't hurt if your chair looks good too. The chairs you choose should really gel with the studio's overall look. Don't go for colors or styles that clash with the rest of the room. The most popular shades that seamlessly blend in with an eyelash studio's decor are white, black, and neutral colors.
4 Best Chairs for Lash Artists
Now that we know what to look for, let's dive into the best chairs for lash artists that meet these criteria.
1. KKTONER PU Leather Height Adjustable Swivel Round Rolling Stool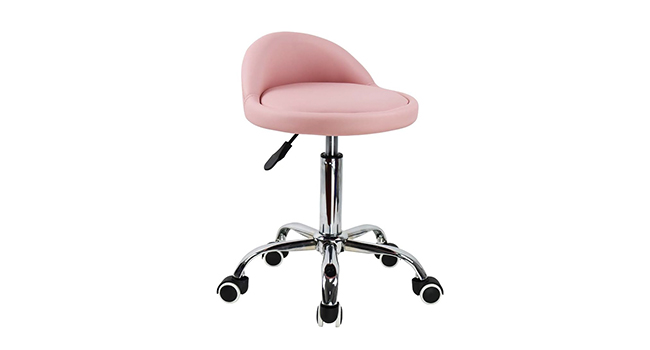 About this item:
Color: Pink, White, Yellow

Brand: KKTONER

Item Dimensions:

17.32 D x 17.32″W x 18.11″H

Seat Material Type: Faux Leather

Frame Material:

Plastic

Weight Capacity: 300 lbs
This chair scores big on stability. The wide, sturdy base keeps you firmly planted while you work your lash magic. And if you ever need to pivot around your client for those tricky angles, the 360-degree swivel is a game-changer.
Cleaning up messes is a breeze too, thanks to the chair's synthetic leather upholstery. It's easy to wipe clean, so you can bid farewell to pesky stains.
2. DR.LOMILOMI Pneumatic Swivel Rolling Stool 510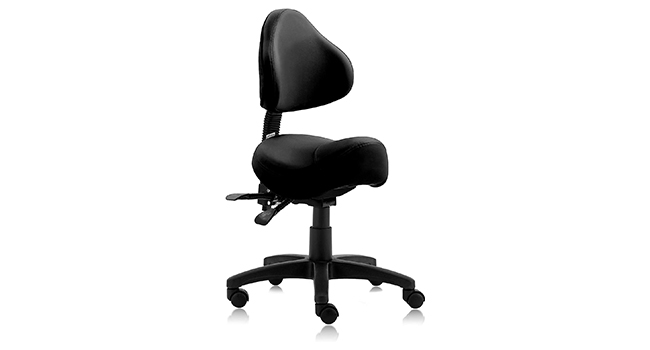 About this item:
Color: Black, Vanilla

Brand:

DR.LOMILOMI   

Item Dimensions:

22.5″D x 22.5″W x 37″H

Seat Material Type:

Foam

Frame Material:

Metal

Weight Capacity: 500 lbs
Introducing the DR.LOMILOMI Pneumatic Swivel Rolling Stool with Backrest, available in sleek Black or creamy Vanilla. It's like a dream come true for those of us who crave some extra love for our backs and spines.
Picture this: a comfy saddle seat that's been flattened out just right to cradle your back during those marathon workdays. And guess what? It's got memory foam goodness, thanks to a CFC-free molded seat cushion.
The seat wears a 100% PU vinyl upholstery jacket, which not only looks slick but also plays it safe with flame-retardant powers. And here's the kicker – it's got a solid 5-year guarantee to back it up. Plus, it's waterproof, oilproof, and won't give in to abrasion.
Need to adjust your chair's height? No problem. This chair is your new BFF if you're on a mission to sit better, feel better, and wave goodbye to those pesky backaches.
3. HomeMiYN Rolling Swivel Stool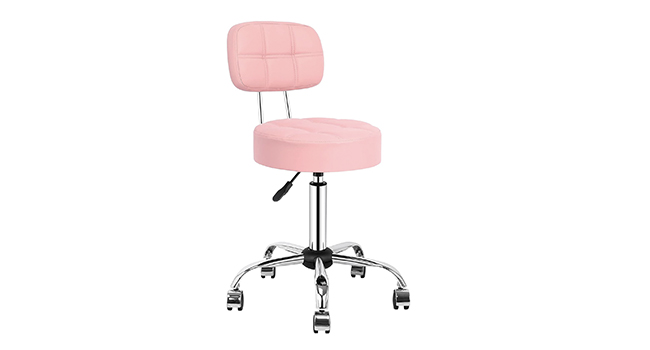 About this item:
Color:

Pink, Beige

Brand:

HomeMiYN

   

Item Dimensions:

13.4″D x 13.4″W x 37.8″H

Seat Material Type:

Faux Leather

Frame Material:

Metal

Weight Capacity: 300 lbs
This HomeMiYN Rolling Swivel Stool has your back—literally. Its gracefully curved backrest ensures your back stays comfy. Plus, the cushioned seat is perfect for long hours, and with a rock-solid base and smoothly gliding wheels, you're set.
But wait, there's more! This chair can go from 32.3 to 37.8 inches in height, which is super handy for those moments when you need to stretch and reach for something up high.
And the cherry on top? It comes in fabulous pink as well as elegant beige!
4. Antlu Saddle Stool Rolling Chair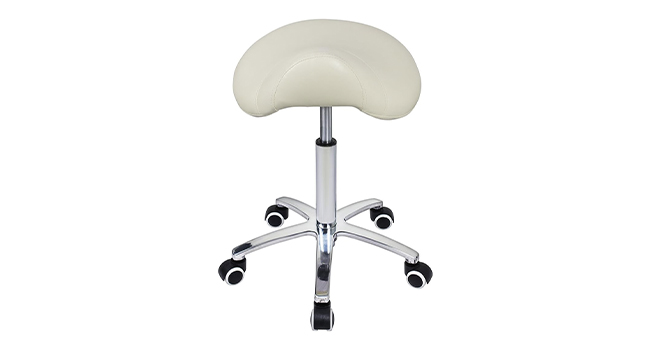 About this item:
Color:

Beige, Black, Grey, White

Brand:

Antlu

  

Item Dimensions:

20.4″D x 20.4″W x 18.11″H

Seat Material Type:

Faux Leather

Frame Material:

Metal

Weight Capacity: 400 lbs
Alright, check this out – the ANTLU Saddle Stool Rolling Chair is my final pick for lash artists and technicians, and it's got a bit of extra height compared to other stools. What's cool is that you can easily change the seat height from 21 to 28 inches to suit your vibe.
When it comes to comfort, this stool is the real deal. It's designed and built to give your lower back all the love and support it needs. Say goodbye to bad posture and those annoying aches and pains.
Final Thought
In conclusion, finding the perfect chair for lash artists is like finding your secret weapon in the lash game. It's not just about comfort; it's about enhancing your skills, ensuring your clients' satisfaction, and ultimately boosting your business.
We've covered a lot in this guide, from the importance of ergonomics to the different types of chairs available. Remember, the best chair for you might not be the same as the best chair for your lash artist friend. It depends on your unique needs, style, and budget.
So, take your time to research, try out different options, and don't be afraid to invest in your comfort and career.
More updated information: https://vietnamlash.com/