Knowing your eye shape is not so tough and each of them is spesh on its own. If you already read our post on downturned eyes, you may know that we're talking about an eye shape that could be viewed as its, the downturned eye shape, adversary.
Have you got your answer yet? Is it something upturned? If yes, congrats on those having in mind vivid pictures of upturned eyes with an edgy, seductive look!
The name "upturned eyes" might be unattractive to some extent, but in fact, most of us often try to have them without even realizing it. Many celebrities want to have these beautiful eyes, as well. Thus, no need to be shy if you ask for tips to get yourself pretty upturned eyes. Are you falling for them? Do you wonder what makes them among the most iconic shapes of eyes ever in women? Stay tuned and be by our side!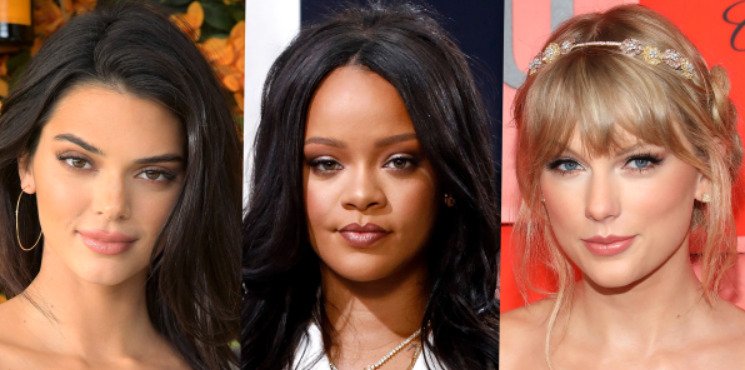 What Is Upturned Eye Shape?
Eyes with their outer corners naturally tilted up are referred to as upturned (or smiling) eyes. This eye shape essentially possesses downturned eyes' opposite features. Its attraction will therefore differ from that of other eye forms. Remember that the position of the corner of the eye is lower than the eye socket because of the tendency of downturned eyelids to descend. 
What about upturned eyes, then?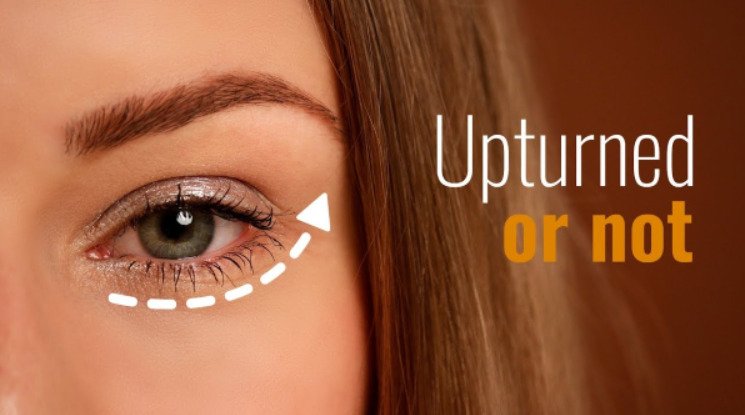 Upturned eyes are a typical eye shape and closely resemble almond-shaped eyes. Although they are oval in shape, they seem to be higher due to a raised outer edge. The bottom cover is more noticeable and appears to be longer than the top cover. This shape of eyes is known for a youthful look since the outer corner of the eye is higher than the inner corner. They can also exude mystery, intrigue, and produce a seductive impression.
1. Ways To Determine Upturned Eyes
This resembles things we should do with the shape of downturned eyes, so don't be worried. Looking in the mirror and visualizing a line passing through the center of your eye will help to tell whether or not you have this shape of eyes. You most likely have them if the outer corner of vision falls on this hypothetical line. It's easy, isn't it?
2. Upturned Vs. Downturned Eyes
There is enough distinction between these two eye forms just from their names which mostly concentrates on the direction of the eye's corner and socket with the fictitious line, whether it be upward or downward.
The almond look can be characterized by upturned eyes. There is a small lift at the corner of the eye's outer corner that moves it in close proximity to the brows. The shape of the eyes which have tiny droops at the corners, downturned eyes, makes the eyes' tails seem lower than the eyebrows, giving their owners a slightly sad look.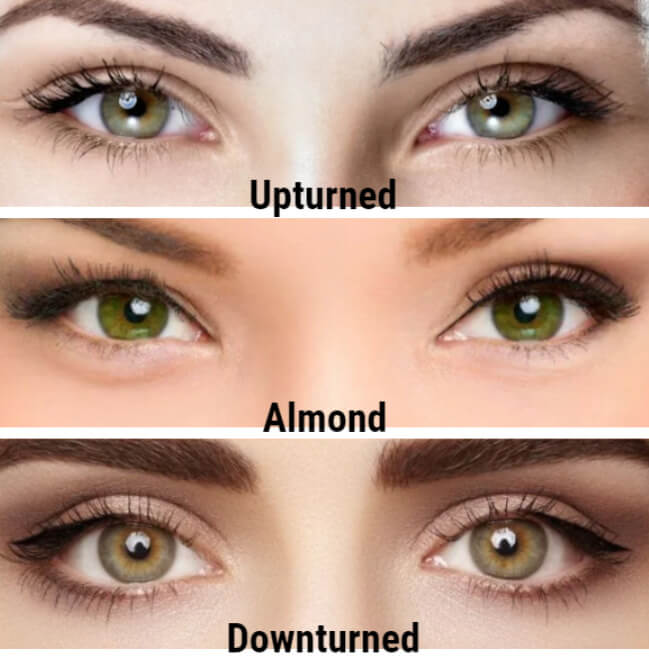 3. Upturned Vs. Almond Eyes
Due to their shared tendency to have upward eye corners, these two shapes are sometimes confused with one another. The iris, which is also the focal point of these two eye shapes, is the greatest difference between the two, if you look closely enough. The iris of almond eyes extends past the upper and lower eyelids and has noticeable creases. You may own them if the corners of your eyes fall in the invisible straight line rather than above or below.
The inner corners of the two eye shapes also differ, but it is not always the case. There are cases in which the almond eyes' corners tend to pull down slightly and have more rounded tips; those of the corners of upturned eyes typically have a slightly pointed shape at the top.
Why Do I Have Upturned Eyes?
Upturned eyes are mostly inherited, much like downturned ones. Children have such an eye shape if their parents do. Some people choose to have eye surgery to turn their natural eyes into an upturned shape, using botox injections to smoothen the area around their eyes. Others are influenced by external impacts which make their eyes dragged up from the initial positions to some extent. However, such a case is normally once in a blue moon.
The approach to upturned eyes can also be done by giving the eyes comfy massages. Most of us expect our eyes to be safe from creases, tips to keep the tension of our eyes are, thus, varied both in number and how they are done. Makeup tricks are involved in the formation of upturned eyes. Isn't it fascinating?
The shape of your eyes can be a personality predictor, since you may not know. Of course, it isn't always true in all cases, yet may surprise those who have the following features. People with upturned eyes are ambitious and enthusiastic. Most of us will think they are extroverts since they succumb to their desires for much of the time.
Meanwhile, downturned eye people are inclined to be more timid and reliant. Despite the fact that they can get along well with others, their gloominess can become grating if unchecked.
The saying that "the eyes are the windows to the soul" is true. Eye shape-related personality factors often seem to be real. One thing to always be true is that your eyes make a beautiful feature of your face that adds to your attractiveness, even under unusual circumstances. Do you agree, queens of upturned eyes?

Best Lashes For Upturned Eyes
It is the cat eye look of upturned eyes to be their most outstanding feature, which also helps whoever owns them to choose the best lashes for their eyes to be even more upturned, but to a proper extent. Follow through for some ideal options of eyelash extensions to enhance your soul absorbers, the beauty seekers!
1. Cat Eye Lash Style
This eyelash extension style is made by sewing actual eyelashes together from the inner corner to the outside corner. As the lash extension specialist gets closer to the outer corner of the eye, the attached eyelashes will gradually get longer, giving the look of a cat. We will advise you to have this eyelash style thanks to its cat-eye effect on the upturned eye shape.
2. C Curl Lash Extension
C-curved eyelashes are ideal for customers with upturned eyes because they are not curled enough to poke the customer's eyes yet provide a stunning and full look. You may expect to get your eyes some greater curvatures, such as CC and D lash fans, to give your eyelashes a fuller impression without pulling your eyelids down.
With regard to types of lash extensions, you may love to choose those fan lashes from 2D or 3D, or wispy fans that help your lashes to be naturally lifted. It's your choice, beauties!
FAQs
1. How Attractive Are Upturned Eyes?
What a clever confirmation for their appealingness! If you've heard about the effects of "fox eyes", or "fox eyes", you may know how much upturned eyes have been favored in today's time. Their charm is so positively overrated that many beauties have no hesitation to make some changes to their eyes, following the upturned shape. However, too much isn't always good, so just be sure that you won't put too much of your expectation to alter your one and only version of yourself.
2. Do Celebrities Favor Upturned Eyes?
Well, it can even be said that there has been a trend for many people, especially celebs, to enhance their looks with upturned eyes. Names that can be on the list are Sophia Loren, one of the legends, and beauty icons in the old days; supermodel and a social media influencer, Kendall Jenner; or Taylor Swift, the muse of folk music; Rihanna, the queen of terrific music stages; and many other renowned faces from all over the world.
3. What Makeup Style Suits Upturned Eyes?
It is up to you, but we recommend drawing a cat eye over your top lids so you can give much attention to this shape of eyes. Hold a makeup brush from your nose's tip to the outer corner of the eye to produce a cat-eye effect. To create an even cat eye over your top lash lines, go dab a tiny line of liquid eyeliner along the edge of the brush. Your eyes will then win all of the attention from whoever walks by on the street.
Conclusion
It is said that upturned eyes may give a person a tough look because they, as an eye shape, serve as the most attractive part in the human body. Indeed, imagine having your eyes done with exquisite lashes and a glam makeup look but not other parts of your face still helps you become a hottie, don't you think?
For those having upturned eyes and those who can't help but fall for this charming shape of eyes, it is all your rights to level up the beauty of your visional treasures to a better extent; it is all your choice to give your windows to the soul the best looks ever. Thus, try not to take others' uneasy judgments on how your eyes differ from theirs or whatever.
Each and every one of us is built differently with our unique physical traits. Never stop loving yourselves and spend more time caring for what you believe to be worth attention the most.
It is never too late for the right start of your beauty enhancement, queens of upturned eyes!
Visit our website for more updated information: https://vietnamlash.com/