Many ladies have opted for eyelash extensions to have deep or lovely eyes without applying too much makeup. Eyelash extensions come in a wide range of styles and are among many cosmetic procedures that have gained popularity. Selecting the ideal eyelash extensions will improve many other flaws in the eyes, making them more appealing and crisp.
Mermaid eyelash extensions have a reputation for being elegant and seductive. Such a level of artistic creation will help you to achieve stunning mermaid-like lashes that are astounding.
Let's explore fascinating facts about this mermaid eyelash extension, queens of lashes!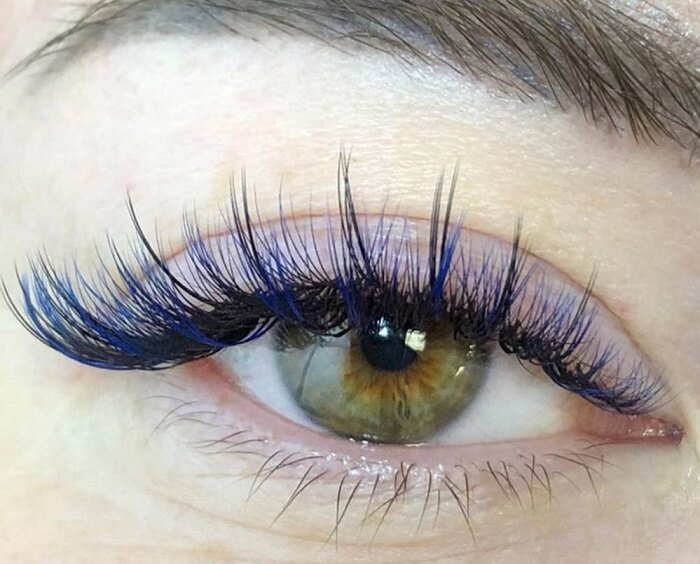 What Are Mermaid Eyelash Extensions?
Mermaid lashes are a type of eyelash extension that are made to resemble a mermaid's tail. These eyelashes are distinguished by their vivid and colorful features, which include shades of blue, green, purple, or other hues inspired by the ocean.
Mermaid lash extensions are normally done by mixing colored individual lashes, or premade lash fans, with our natural lashes. It isn't a must to add the hues but you can go with the pure black look of mermaid eyelashes. The act of using different colors for this lash extension will eventually give off gorgeous lash sets. You can also have them using a combination of glitter lash extensions for extra sparkle.
When using variations of the volume eyelash extension procedure, the stylist will nimbly mix the eyelashes to make a lengthy tail, as per standard. The eyelashes are 0.07 mm thick and gradually get longer from 10 to 13 mm as they get closer to the tail. The length of the lashes will be adjusted for the best eye looks from different shapes of eyes.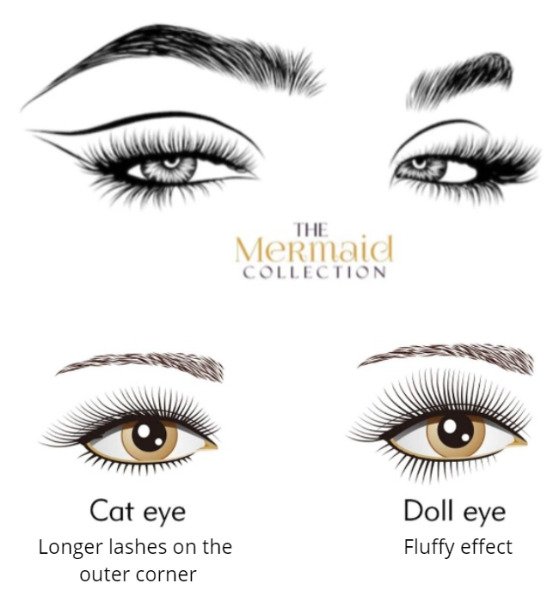 There can be confusion between these two eyelashes. Cat eyelash extensions stretch each lash gradually toward the tail in order to lengthen the curve of the eyes for a bigger, sharper, and more alluring look. After doing so, applying eyeliner won't require as much effort; all you need to do is draw a line along the length of your eyelids.
Mermaid eyelash extensions slightly extend the eyelashes' length toward the outer corner of your eyes. Since there are strips with many colors applied on each lash, mermaid eyelashes are more artistic than cat eye lash extensions.
Doll lash extensions provide the look of wide doll-eyed or a rounded look by placing longer lashes in the center of the lash line. When performing, the specialist will attach short lashes to the base of the lashes in a specific order, giving their customers a twinkle and innocent overall appearance.
Mermaid eyelashes, on the other hand, tend to be more dramatic and fanciful, often having different lengths and volumes to produce a fluttery, multidimensional effect. When you want to stand out or for important occasions, choosing them is a smart choice.
Reasons To Choose Mermaid Eyelashes
Mermaid lash extensions are sometimes mistaken for conventional volume eyelashes. When applying mermaid lashes, not many people pay attention to their eye health and compatibility for this type of eyelash.
For people with long or tiny faces, mermaid lashes are a good option. The lashes at the end also need to be sturdy and long enough to support the weight of the longest lashes. In order to execute mermaid eyelash extensions, only the lashes and your natural eyelashes should be attached. It is because mermaid lashes have a thick and dense quantity of eyelashes.
Despite being favorable later than most eyelash extensions, mermaid eyelashes continue to take the lead and draw in a lot of beauty seekers who are captivated by this style of eyelash extension. With various benefits, mermaid eyelashes are ideal for both daily use and opulent parties, performances, or group meetings.
Mermaid lash extensions offer the following advantages over ordinary black lash extensions in addition to length and volume: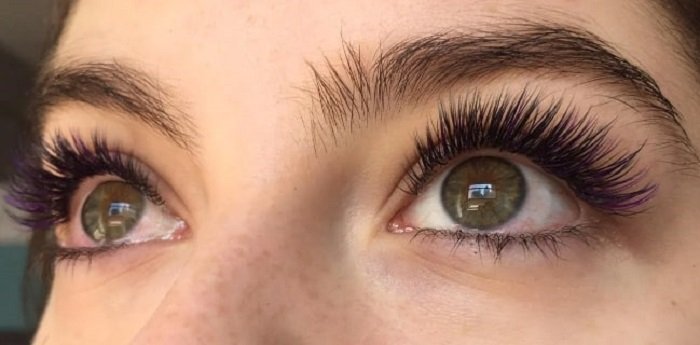 1. Usable On All Eye Shapes
The mermaid eyelash extension type is comfortable since it flatters all eye shapes and can cover up short, tiny, or narrow eyes as well as hooded eyelids and protruding eyes. It even contributes to a more balanced and harmonic look between the length of your face and the eyes. This extension makes accents for the looks of customers with different faces.
2. Time-saving With Durability
There is no need to waste time using an eyelash curler or squinting to get your eyeliner and makeup blended. People who live busy lives or are always on the go find this to be helpful.
Also, mermaid lash extensions, using a lot of overlapping eyelashes, are more durable than other extensions. Due to the natural thickness, lashes won't look too much different even if they fall off or are gone.
3. Ideal For Cosplay And Festivals
Mermaid eyelash extensions will never disappoint you when functioning as highlights which brighten your general looks in cosplay, festivals, and even pool parties. You heard it right! If you are huge fans of Coachella music festival and fire stages, you will all know that whoever goes there looks fabulous with colors creatively displayed on their faces, especially the eyes.
4. Perfect For Fire Makeup Looks
It cannot be denied that mermaid eyelashes do facilitate thick and fabulous makeup styles. You won't need to spend hours choosing those lash extensions which suit your fire makeup as the power of mermaid eyelashes is much greater than any of your expectations on other extensions. Creative mixtures of lashes in different colors can even overshadow looks done for hours as you might ask. How impressive!
Applying Mermaid Eyelash Extensions
The technician must skillfully align mermaid lash extensions on your natural lashes to widen, lengthen, and accentuate your eyes. Mermaid eyelashes are a choice to consider if you love thick lashes but do not expect to look overly brash or hard from the outside.
Basics steps to apply mermaid eyelashes are similarly performed on other lash extensions. They are incredibly customisable so you can go completely colored or mix black lashes with a little bit of color. The eye is drawn upward and the eye color stands out when the brightest colors are placed strategically wherever the longest length of your extension is.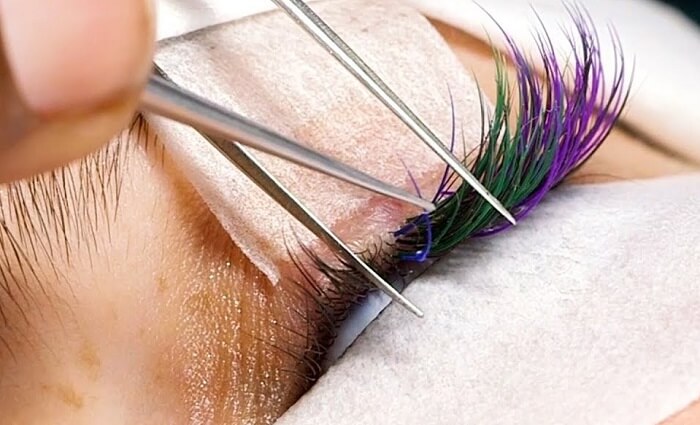 A basic rule of thumb for best results is a mixture of 60-80% color lashes and 20-40% black lashes. In which blue eyelashes make blue eyes appear brighter, brown eyelashes darken, purple eyelashes adorn green eyes, and blue eyelashes darken brown eyes. To achieve an extravagant look, you can also mix all these three colors together.
Colored mermaid eyelash extensions also come in a range of lengths and curves to fit many shapes of eyes. However, they will take a little longer than basic black lashes to apply due to the artistry required in mixing colors. That means the entire procedure will take less than two hours or a little longer than other eyelash extensions.
Keep in mind to abide by the detailed instructions offered by the lash artist and the lash glue you are employing. Besides, it is suggested to practice applying eyelash extensions prior to getting more accustomed to the procedure.
Read more: Anime Eyelash Extensions – The Hottest Lash Trend 2023
Conclusion
Mermaid eyelash extensions have been fashionable and permeated every corner of the beauty industry. The daring use of color conjuring up images of the sea, mysticism, and beauty of mermaids is what we can expect from it. They resemble conventional eyelash extensions with the exception that mystical colors such as royal purple or marine blue, are delicately mixed to draw attention to your eyes.
Mermaid eyelashes are cleverly stunning since there are levels of expression in their looks. Remember to carefully brush mermaid lashes as a smart way for better maintenance. Give your lashes a gentle and consistent brushing every day since it is to help your eyelashes to stay curled and to maintain eyelash extensions in the long run.
Visit our website for more updated information:
https://vietnamlash.com/
FAQs
Are Mermaid Eyelashes Attractive?
Everyone has their own unique definition of beauty, and mermaid eyelashes are colorful and lively, which may appeal to some people. These eye-catching lashes can give one's general appearance a distinctive and striking touch. After all, it is still about aesthetic preference and individual taste. It's always best to select a lash style that boosts your confidence and brings out your inherent attractiveness.
How Long Do Mermaid Eyelashes Last?
Eyelash extension can last for 6 to 8 weeks and mermaid eyelashes can make it to 4 weeks or longer. Several elements, which are the caliber of your lashes, the type of lash glue used, and how well they are cared for, might affect how long mermaid eyelashes last. Your lashes may fall out more quickly if you rub your eyes too often, use too much oil based products, or are excessively exposed to moisture.
How Much Do Mermaid Eyelashes Cost?
The typical price range for a whole set of mermaid eyelashes is between $100 and $300. In addition to the consultation, lash personalization, and aftercare, this cost includes the initial application of the lashes. The frequency of touch-up or fill appointments is usually every two to three weeks. The price can range from $50 to $100 depending on the location and scope of the work done on your lashes.
Do Mermaid Eyelashes Affect My Vision?
Mermaid eyelashes that are placed correctly should not severely block or affect your vision. The extensions are often applied on your natural lashes rather than your eyelids, or in your line of vision. The lashes may, however, be uncomfortable or slightly block peripheral vision if they are long or heavy to a great extent.