Over the past few years,  anime eyelash extensions have become increasingly popular, and different styles have emerged.Are you a fan of anime and want to elevate your everyday look? With their whimsical elegance and distinctive style, these lashes can transform your eyes into captivating works of art. 
Anime lash extensions (or manga lash extensions) are the perfect solution for achieving a doll-eyed, animated look that can elevate your daily makeup routine while eliminating the need for mascara and lash curlers. Read this article to find out what are anime lash extensions, how they're done, and whether they'd be a good option for you!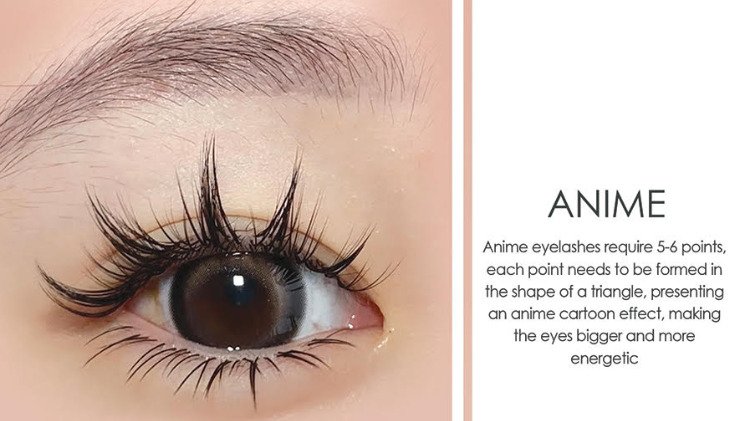 Introduction to Anime Eyelash Extensions
Anime lashes or manga lash extensions are distinguished by spikey, classic lash strands that protrude over shorter, feathery lashes. False eyelashes will be attached to genuine eyelashes using a specific glue in this process. Your lashes will appear thicker, longer, and more natural with these fake lashes.
How to choose the right anime eyelash extensions style for you
When selecting anime eyelash extensions, consider your personal style, eye shape, and the occasion for which you'll be wearing them. Here are some popular anime lash styles to consider:
1. Natural Anime Lashes:
Natural anime lashes are false eyelashes that mimic the look of anime eyes, while still looking natural. They are typically longer and fuller than regular natural lashes, but not as dramatic as traditional anime-style lashes. These lashes are a great way to add some extra length and volume to your lashes, while still maintaining a natural and subtle appearance. These lashes offer a subtle nod to the anime aesthetic, with a focus on length and a slight curl. They enhance your eyes without appearing overly dramatic, making them suitable for both everyday wear and special occasions.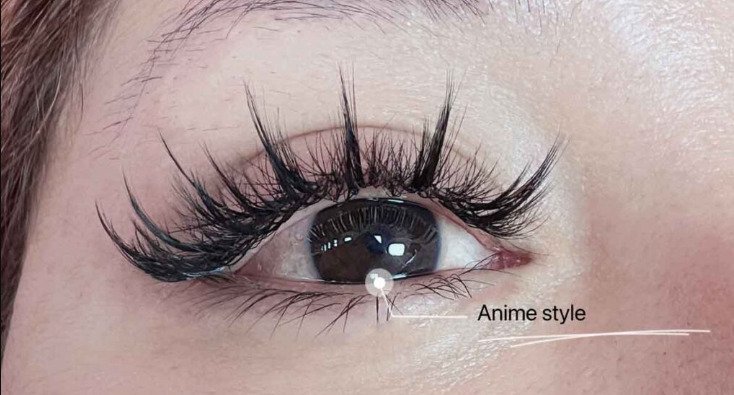 2. Bold Anime Lashes:
Bold anime lashes are a popular trend that draws inspiration from exaggerated lashes seen in Japanese animation. This look features thick, black, and dramatic lashes that accentuate the eyes and add a touch of playfulness to any makeup look. Whether you're going for a cute and flirty look or a bold and edgy one, bold anime lashes are the perfect way to express your creativity and make a statement. With the right tools and techniques, anyone can achieve this eye-catching look!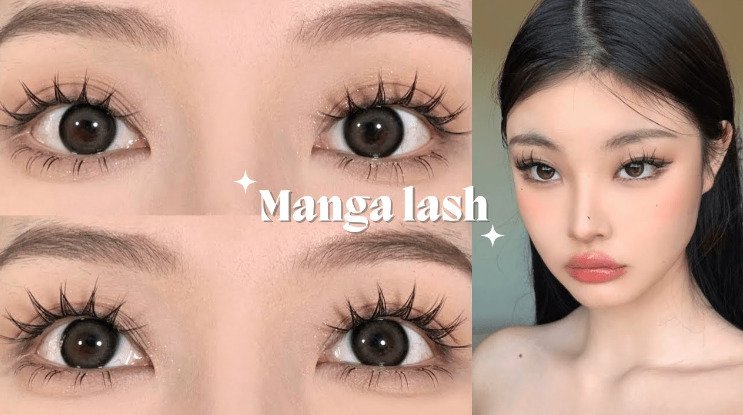 3. Colored Anime Lashes:
Colored anime lashes are a type of false eyelashes that come in a wide range of colors, patterns, and styles. They are popular among fans of anime and cosplay, as they can help achieve a more dramatic and eye-catching look. Some popular colors for colored anime lashes include pink, blue, purple, and green, and they can be designed with different shapes, lengths, and thicknesses. Colored anime lashes can be worn alone or paired with other makeup and accessories. If you're feeling adventurous, try colored anime lashes to add a pop of vibrancy to your eyes. From electric blues to enchanting purples, colored anime lashes allow you to express your creativity and showcase your unique style.
Who are anime lash extensions for?
Anime lash extensions are generally for people who desire a dramatic and bold look. These extensions are longer, thicker, and curlier than regular lash extensions, giving the eyes a more intense and noticeable appearance. Typically, those who are interested in cosplay, attending events, or seeking a more prominent style statement would opt for anime lash extensions. However, it is essential to consult with a professional lash technician to determine whether this type of extension is suitable for your natural lash health and eye shape.
Who shouldn't get anime lash extensions?
While anime lash extensions can look stunning, they may not be suitable for someone. Anyone with very short or sparse lashes may not be able to support the weight of anime lashes, or they may have a higher risk of damage to their natural lashes. Those who have sensitive eyes or allergies to lash adhesive should also avoid anime lash extensions. Additionally, if you have had recent eye surgery or are undergoing chemotherapy, you should avoid anime lash extensions until you have fully healed. It is always best to consult with a licensed lash artist before getting any type of lash extensions to ensure that they are right for you.
Anime lash extensions maintenance tips and aftercare
As with other types of lash extensions, anime lash extensions can last for up to 14 days for lower lash extensions and 4 to 6 weeks for the top lash line. Because lash extensions are affixed to your natural lashes, they start to fall out as soon as your natural lash cycle is through. Lower lash extensions, on the other hand, are shorter and more likely to fall out when washing your face, therefore this is not the case for them.
However, you can extend their impact by scheduling routine infills with your lash technician or artist, usually 2-3 weeks after the first procedure. For the best results from your anime lash extensions, it's also strongly advised to adhere to the proper aftercare regimen.
Here are some tips for maintaining and caring for your anime lash extensions:
Do not get them wet for the first 24-48 hours after application. This allows the adhesive to fully bond with your natural lashes.

Avoid rubbing your eyes or pulling on your lashes, as this can cause them to fall out prematurely.

Use oil-free makeup remover to avoid weakening the adhesive bond.

Do not use waterproof mascara on your lash extensions, as it can be difficult to remove and may cause damage to both your natural lashes and the extensions.

Avoid using eyelash curlers on your extensions, as this can cause them to break or become damaged.

Brush your lashes regularly with a clean spoolie brush to keep them looking neat and tidy.

Avoid sleeping on your stomach or with your face pressed into a pillow, as this can cause your extensions to become tangled or fall out.

Schedule regular touch-up appointments with your lash technician to keep your lashes looking full and beautiful.
Frequently asked questions about anime eyelash extensions
 How are anime eyelash extensions different from other types of eyelash extensions?
Anime eyelash extensions are typically longer, thicker, and more dramatic than other types of eyelash extensions. They are also often designed with a curl that lifts the lashes and opens up the eyes.
 Are anime eyelash extensions safe? 
Yes, anime eyelash extensions are safe when applied by a trained and experienced professional. It is important to choose a reputable salon and discuss any concerns or allergies with your technician before the application process.
Can I wear makeup with anime eyelash extensions?
Yes, you can wear makeup with anime eyelash extensions, but it is important to avoid oil-based products and to remove all makeup gently to avoid damaging the lashes.
Conclusions
Anime eyelash extensions are currently "storming" the beauty industry. Your eyes will be huge, round, dazzling, appealing, and more striking with anime-style eyelash extensions. To receive the lashes you desire, decide for yourself which reputable eyelash extension salon to visit!