Eyelashes make an important impacts on our beauty. Hence a lot of cosmetics and serums are made to lengthen, plump, and volumize our lashes. Though they are not as convenient as what false lashes can offer, especially mink lashes! As easy as wearing lashes or removing them might seem, they do require the careful skills. Here is our construction on the way to put on and how to remove mink lashes with dexilery from A-Z!
1. Must know before learn how to remove mink lashes?
The cosmetics and serums make our eyes look bigger, more deligate and definitely attracteda lot of other's eyes. Though they fall short in comparison to the dramatic effect that wearing a pair of mink lashes can offer! Are you worried that your false eyelashes will suddenly fall off while attending a party? Rest assured, with the following tips that won't happen.
1.1 What are benefit of mink lashes?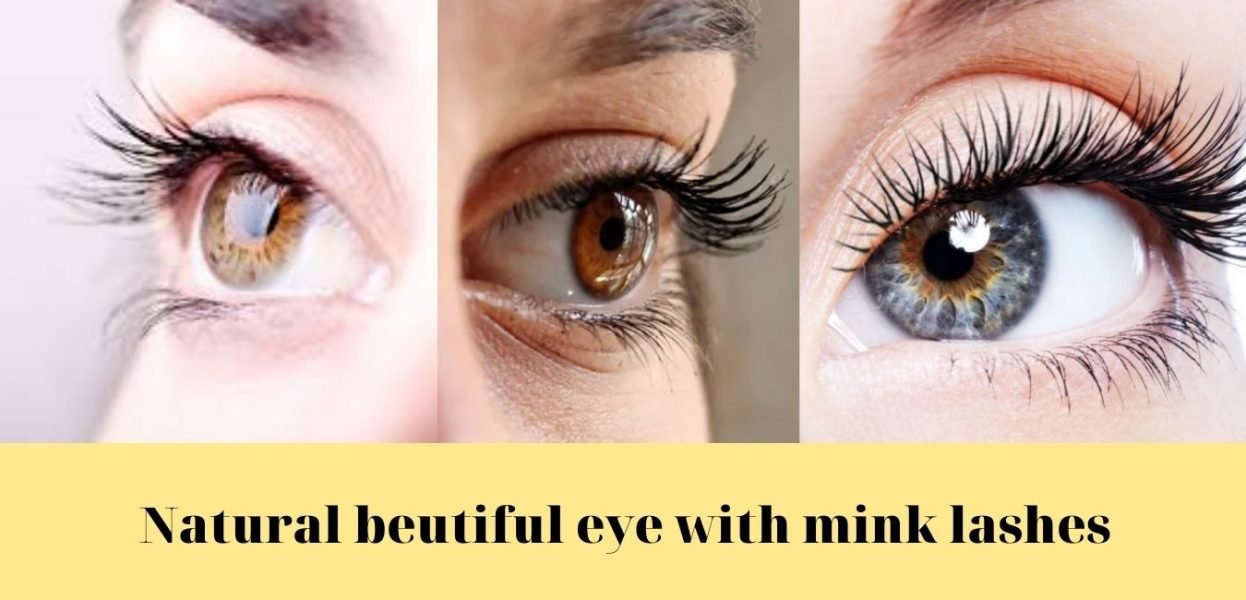 Mink eyelashes are a high-end choice for premium suppliers as well as luxury girls. They are soft and gentle. Lash are having length and thickness changes based on your eyelid shape. This type of eyelashes helps to create a natural feeling for your eyes and make your eyes more attractive. Clients can attach this eyelashes every day when going out, going to school, or going to work. 
See more: Vietnam Lash is one of the most trustworthy eyelashes supllier in the world
The best Vietnam Eyelash Factory
1.2 Tips to apply mink lashes professionally.
Step 1: Curl your natural lashes
To make the mink lashes applied in your eyes look more nature, you should curl your natural lashes and apply mascara which will help support their weight. 
Step 2: Cut the mink lashes to fit
Cut your mink lashes to perfectly fit your eyelid. You can also divide them up into smaller pieces or thin them out to create a more natural, less chunky look. Another tip is to bend them into a C shape for a few moments to help curve them into a natural eyelid shape.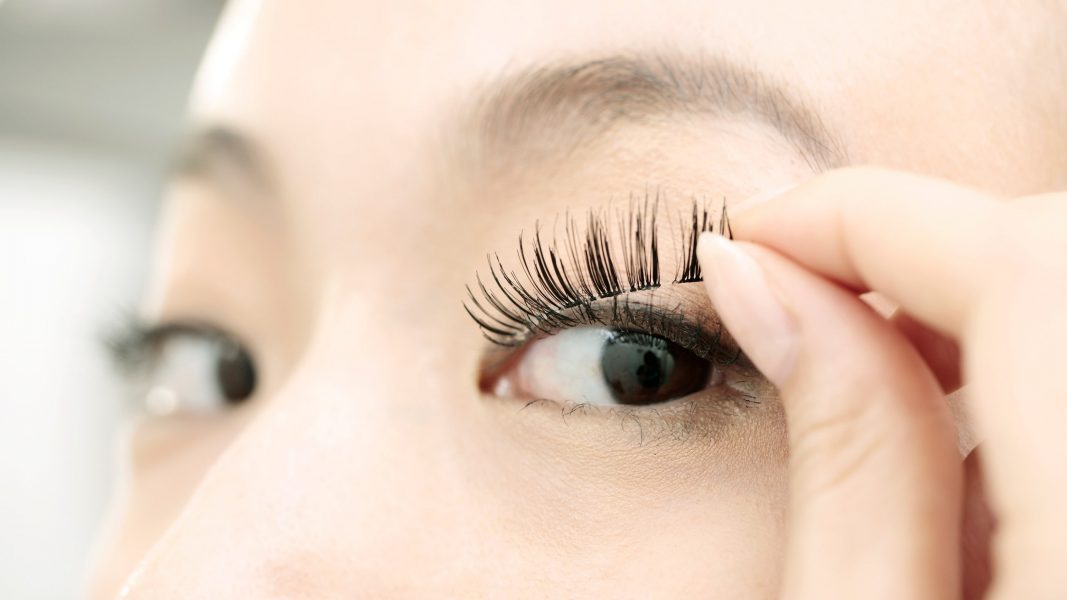 Step 3: Add your adhesive
Choosing a good quality adhesive is very important.  It is not only affect your eye but also reduce the lifespan of the mink lashes. Then, tracing a very fine line on each of the lash bands with the adhesive, not apply it to your eyelids. Wait a few moments for the adhesive to dry and become a bit tacky before applying. Even if your mink lashes come with some adhesive already on them, it's a good idea to apply your own for a better quality stick.
Step 4: Stick them on!
For better placement and safety, use your fingers to apply your extensions, unless you are more comfortable with tweezers. You'll want to start by placing the lash from the outer corner first, keeping it as close as possible to the lash line. You can try creating a cat-eye effect by placing the outer extension slightly above your natural lash line.
Step 5: Touch it up
Taking a soft eyeliner brush and press a thin line of black matte eyeshadow onto where your lashes meet your eyes to help blend everything together. Do a couple winks and eyelash flutters and you're all set!
2. How to remove mink lashes?
Since the pandemic has hit, many salons had to shut down, leaving many more lash extension wearers in quite a rut.
That means it's more difficult for you to go to the salon to remove your lashes. You can already apply eyelashes on your own so why do not you learn how to remove mink lashes yourself at home with our tutorials. To safely remove them, both for your eyes and eyelashes, here we offer some steps that you can try.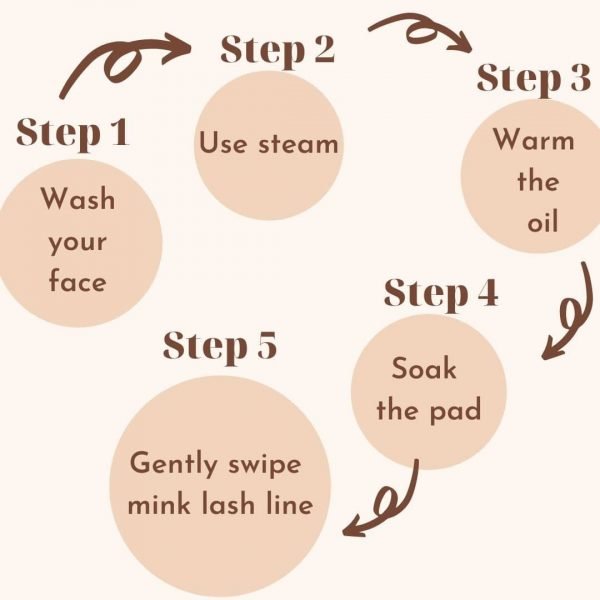 2.1 Step 1: Wash your face
First you must wash your face like you would normally do. Assure that you should not scrub your eyes area as it may pull on your lashes and cause damage. This step is aim to remove any mascara or eye makeup that may have settled on the eyelash extensions.
2.2 Step 2: Use steam
Fill a large bowl of water with steaming-hot water. Place your face over it and cover your head with a towel to keep the steam in. Let it sit for a few minutes to loosen up the bond of the eyelash extensions glue.
2.3 Step 3: Warm the oil
You should use a small bowl and fill it with oil. Any natural oil you can use like coconut oil, olive oil, mineral oil will give the best results on removing mink lashes. The next step is to warm up the oil slightly. Make sure that the oil isn't too hot because you're going to deal with the highly sensitive eye area. Check the warmth by dipping your clean pinky finger. A mild warmth is all you need to accelerate the process. Although natural oils do break down the lash adhesive, most of them aren't strong enough to remove lashes in one time. Be patient repeat it a couple of sessions to completely remove your eyelashes.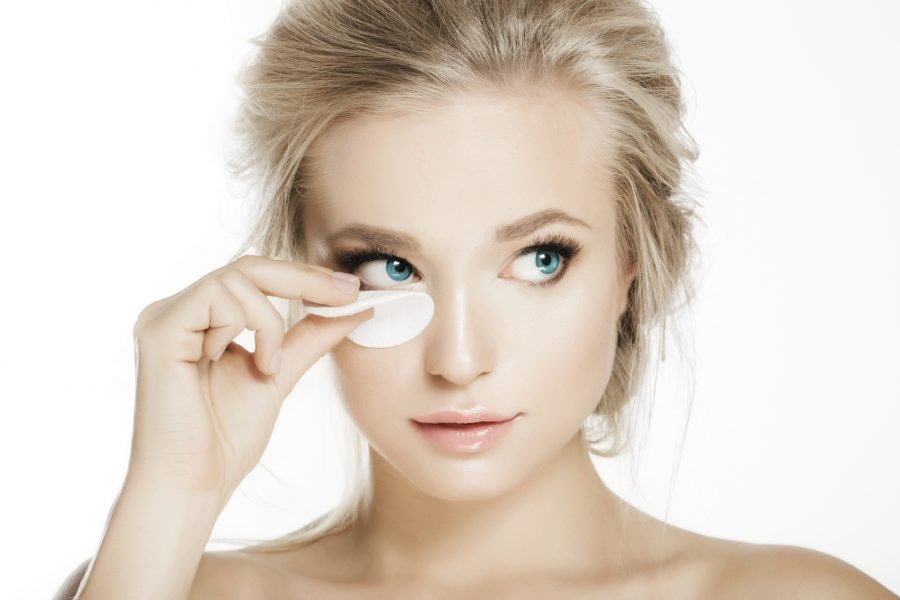 2.4 Step 4: Soak the pad
The next thing you have to do is soak some cotton pads in the warm oil. Then you place the oiled cotton pad on one of your eyes, over the lashes. Keep here for over five minutes, or as long as it takes the cotton pad to lose the heat. Gently swipe your upper lash line with the oily pad and let the oil sit on your extensions for a few minutes.
2.5 Step 5: How to remove mink lahes
Using the same cotton pad, gently swipe your lash line again. You should start to see a few lash extensions falling off and remain in the cotton pad. I have to stress again that this process should be done extremely carefully if you do not want to cause harm to your natural eyelashes. If the mink lashes do not fall off, do not try to pull on them, just repeat step 3 and 4 until it softer. 
3.  Tips to remove mink lashes easier that not everyone known
Here is simply some tips to help you remove the mink lashes easier. Some client use the eyelash glue removers but they are usually chemical, which is not beneficial for the delicate skin around our eyes. If the process of removing mink lashes is not careful enough, this glue remover will stick to your eyes and affect the health of your eyes. Moreover, mink eyelashes are very sensitive, if using a lot of chemical glue removers will reduce the lifespan of the products. Therefore, use the following tips to avoid using a lot of chemicals.
3.1 How to r
emove mink lashes using castor oil?
-To moisturize, olive oil and coconut oil also strengthening the skin around the eyes, making your real eyelashes softer and better protecting the mink eyelashes. Beside castor oil is also a good choice if you want to have long-lasting effect on your eyes. Unlike other types of oils, castor oil doesn't break the bond made by the lash adhesive quickly. You need to dab it on your extensions and leave it for a while. Alternatively, you can reapply it over a few days to remove extensions naturally. However, castor oil works faster than olive oil or coconut oil so you might take less than an hour to remove mink lashes on your own.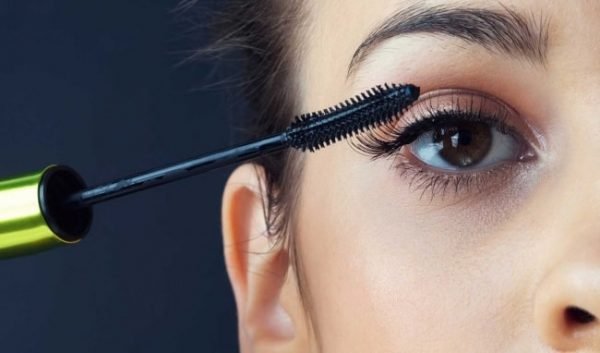 3.2 Removing eyelashes safer with a mascara
Keep in mind to use a snag-free mascara wand or a lint-free cotton pad to help out with the remove mink lashes process. Once you're done with the lengthy process of removing it on your own, always make sure to rinse your eyes with clean water and a safe cleanser to remove any residual oil or trapped lashes. 
In addition, after remove the mink lashes, to keep it in good quality for the next time use, do not forget to reserve it in the right condition.
Are you wondering whether HOW TO FIND A RELIABLE WHOLESALE SUPPLER? CHECK THIS OUT NOW!
Visit our webpage for more updated information: https://vietnamlash.com/