Welcome back to the blog today! Let me guess, this time is probably your evening rest time, when you come home from work after a long day, right? Are you wearing makeup when you go to work today? My beautiful girl, it must be right! So have you removed your makeup yet? Makeup removal for eyes with eyelash extensions is very important. Join me to learn about the best makeup remover for eyelash extensions in today's blog to choose the most suitable makeup remover for your beautiful eyes!
Why do you need makeup remover for eyelash extensions?
First, before going into the best makeup remover for eyelash extensions, I will explain a little to you why you must remove makeup every day and especially remove eye makeup!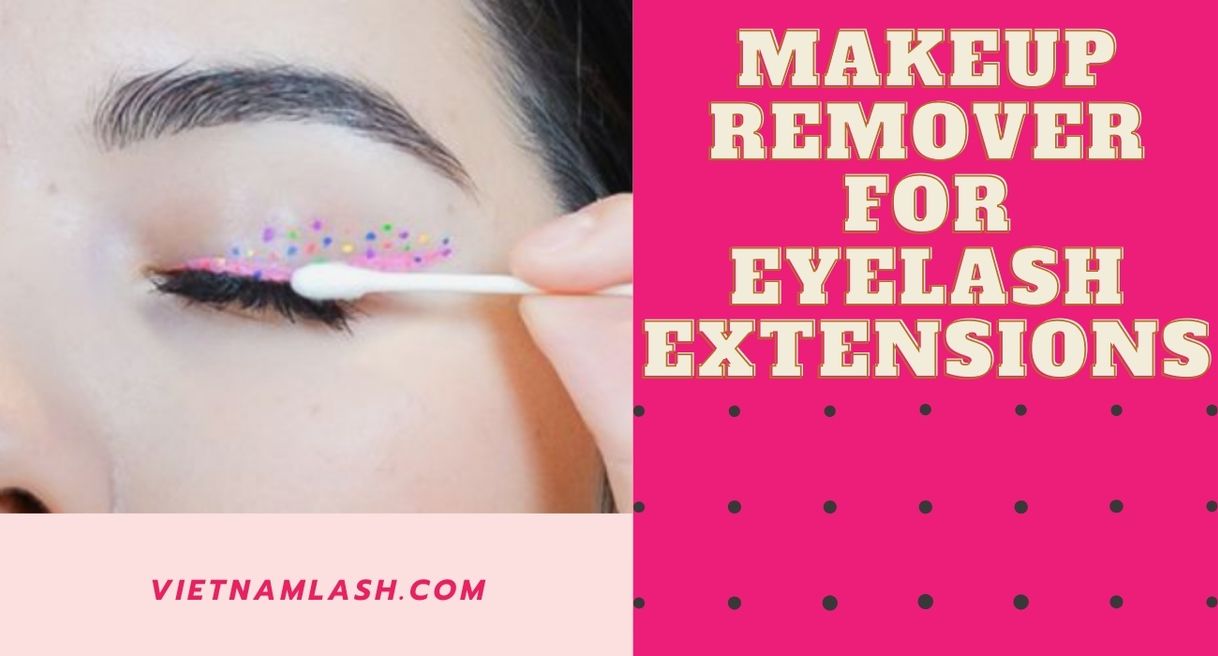 In general, cosmetic experts and dermatologists advise us to remove makeup every day. Surely every girl knows this. But what is the reason behind this advice? Speaking more broadly about removing makeup from the whole face, makeup remover helps you remove all the dirt and makeup you use during the day. It returns ventilation to the skin, helping the skin "breathe" better, thereby maintaining a bright, healthy appearance. 
Even when we don't go out (not exposed to dirt) and don't wear makeup, the sebum secreted by the skin and dead skin cells can clog pores. Removing makeup is the first step to remove these factors. So what about the eyes? Eyes in general and eyes with eyelash extensions in particular absolutely need makeup removal.
If you are a makeup artist, you probably know that the eyes are the area that needs the most makeup work. Eyeliner, mascara, eyeshadow… all of these products leave makeup residue on the eyes. If not cleaned after each makeup application, for normal eyelashes, this residue will stick to the eyelash roots, easily causing bacteria to accumulate and cause infection. But for eyelash extensions, this is even more dangerous.
With normal eyelashes, this makeup residue can be washed away somewhat while washing your face, but with eyelash extensions, you cannot rub vigorously and rinse water directly on the eyelashes as usual. This way makeup residue and dirt cannot be removed. In addition to increasing the risk of infection, not removing these dirt residues can cause eyelash extensions to fall out faster.
That's why we have to remove makeup every day, especially the eye area with eye makeup remover for lash extensions.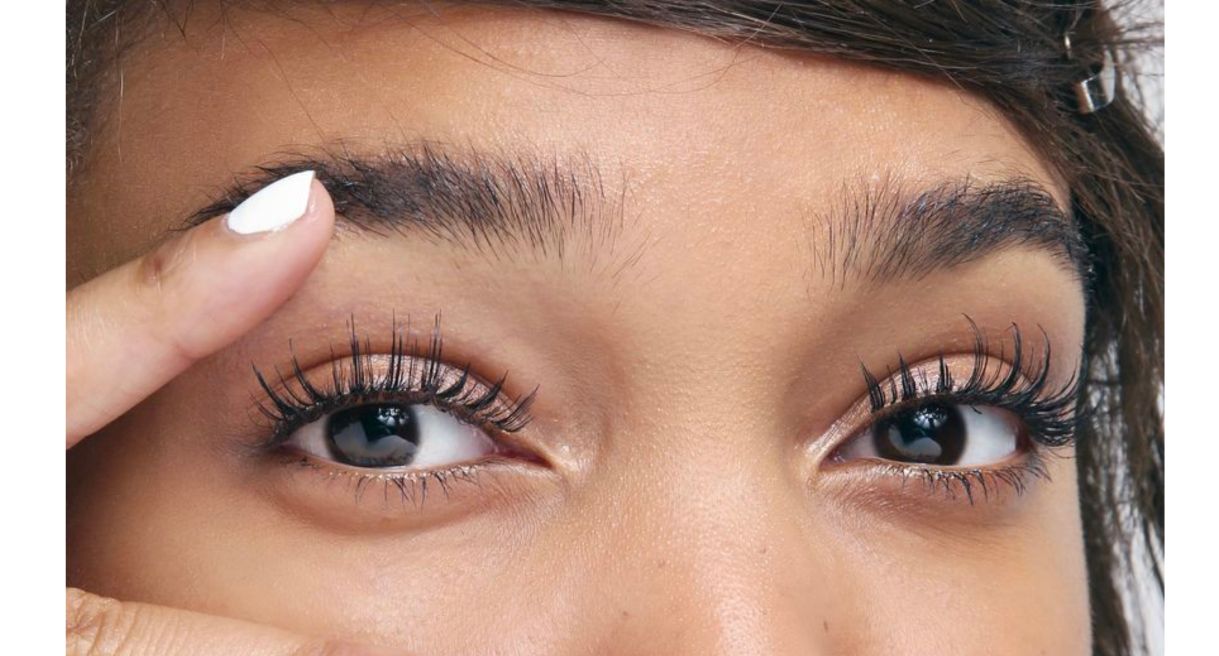 Are there any unwanted effects when using makeup remover for eyelash extensions?
Sadly, yes. Because there will be many unwanted effects if you choose the wrong makeup remover for lash extensions, I wrote a blog post today to guide you. What are the possible risks?
First of all, know that regular makeup removers will contain a lot of oil. The oil base in makeup remover will help remove dirt and makeup from the skin. However, it is the number 1 enemy of eyelash extension glue. Therefore, if we do not choose oil free makeup remover for eyelash extensions, it is likely that your eyelashes will fall out after just a few times of removing them.
3 best makeup remover for eyelash extensions you should try
So, what you need to pay attention to is choosing an oil-free makeup remover to use specifically for your eyelash extensions. Below is a list of the best makeup remover for eyelash  that I've seen many people recommend for both their quality and price. Let's take a look at what they are!
01: Clinique Rinse-Off Eye Makeup Solvent best eye makeup remover for lash extensions
Clinique is a major player in the beauty industry. It is renowned for skincare products such as moisturizers and serums. And its makeup remover for eyelash extensions is also highly beloved. Clinique's product is entirely oil-free. It's also designed to be fragrance-free to cater to the most sensitive customers. This makeup remover is quite gentle, making it suitable even for those with sensitive skin. However, the only minus point of this type of makeup remover is its high price. If you are a person who regularly uses cosmetics, you will know that Clinique products are not affordable products suitable for everyone's budget, so it may not be a perfect choice.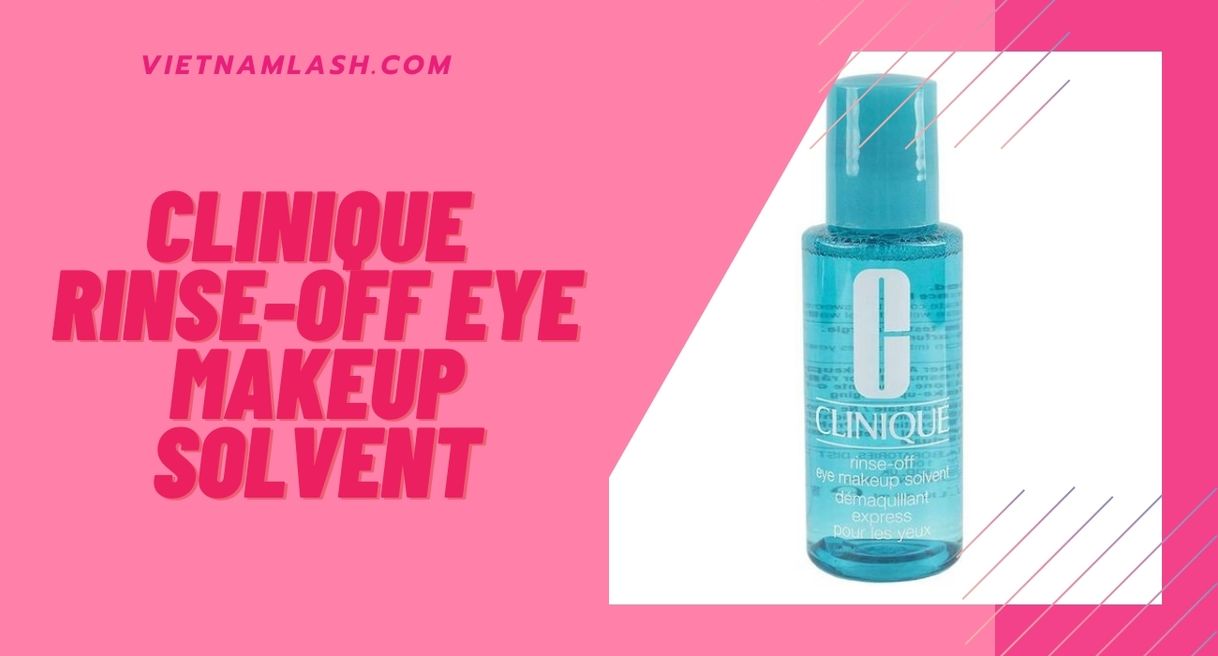 02: Simple- kind to eyes: friendly eyes makeup remover
If clinique's oil free makeup remover for eyelash extensions is an option that needs a lot of money consideration, Simple's makeup remover line for eyelash extensions is a close friend for every budget. Simple is a popular British brand, but the product quality has never disappointed us. This makeup remover from Simple is not only safe for eyelash extensions because it does not contain essential oils or mineral oils, but is also extremely gentle. 
The product has a gentle fragrance and brings a cool feeling when used. The price of each bottle of this makeup remover is only about 2-3 dollars, so you can absolutely add it to your shopping cart every shopping occasion!
03: Avene Gentle Eye makeup remover: The best makeup remover for eyelash extensions of sensitive eyes. 
If you have sensitive eyes that are prone to irritation and redness when using unfamiliar products, then you have another choice: makeup remover from the French company Avene. In the cosmetics industry, Avene is a big player in safe product lines for sensitive skin. Its products from facial cleanser, sunscreen, mineral spray or skin cream are all top products recommended by pharmacists. And eye makeup remover is no exception. The price of this product is not too expensive. The effect is extremely good, both safe for the skin and safe for eyelash extensions. So many people who have been using this makeup remover recommend that you try it once.
I have also used this product and it is truly one of the best oil-free makeup remover for eyelash extensions that I have tried.
How to use eye makeup remover for lash extensions?
Above are the 3 types of makeup remover for lash extensions that I like the most. In addition, there are still many types of oil free makeup remover for eyelash extensions from famous brands such as Nars, SVR or L'oreal. The important thing to choose the best makeup remover for you is that it must fit your budget, suit the nature of your skin and especially not contain oil. Now that you have chosen a makeup remover for yourself, I will talk about how to use it in the safest way with eyelash extensions!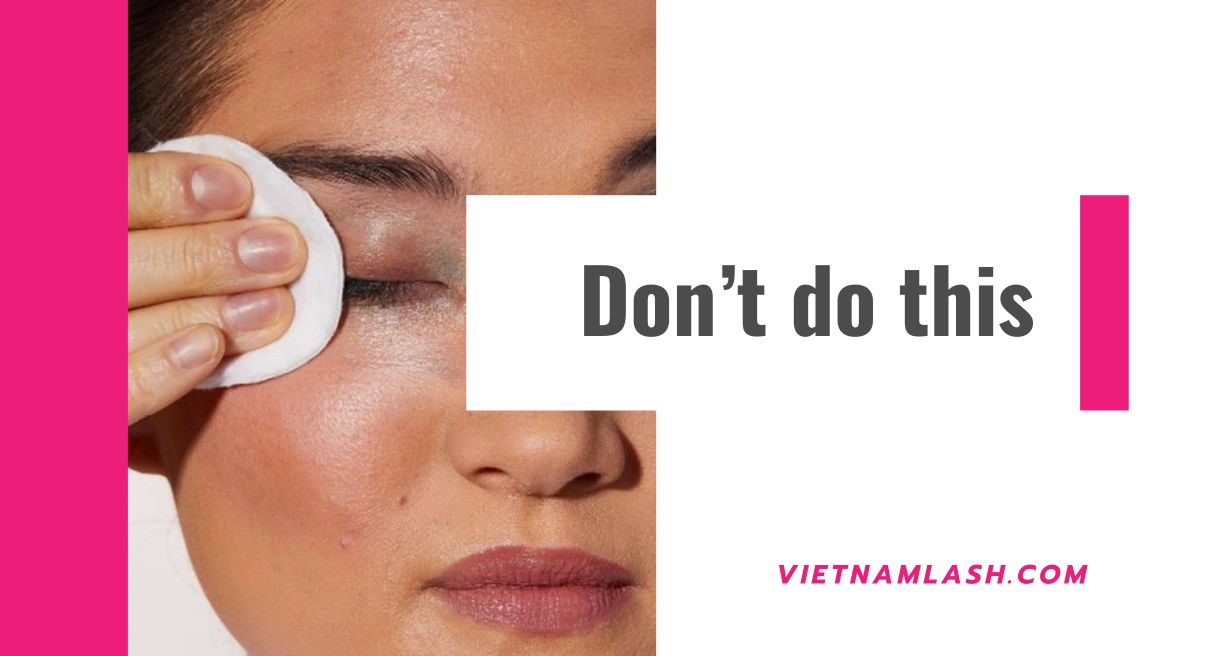 Don't use the makeup remover pad
The first thing I want you to note while removing makeup from the eye area is not to use makeup remover cotton. You know, makeup remover cotton pads often fray easily and leave cotton fibers on your eyelids. Cotton fibers are very thin and small so you probably won't see them but will make you feel uncomfortable. This leads to you raising your hand to rub your eyes and… Oh well, you've violated something you shouldn't do after getting eyelash extensions: touching your eyelash extensions frequently. In addition, the cotton fibers in the pad can also pull on your eyelash extensions, causing them to fall out. 
3 simple steps for remove eye makeup
No matter how good you choose makeup remover for eyelash extensions, if you do not follow these standard steps, the durability and beauty of your eyelash extensions cannot be optimized.
Actually, about these steps, I had a very specific article before that everyone can read in detail. Here, to save time, I just want to summarize three steps as follows.
First, remove eye shadow with a soft cloth or non-crumble paper. Wet the cloth with makeup remover and gently wipe around the eyes to remove eye shadow.
Then, take a cotton swab or specialized eraser brush, wet it with your oil free makeup remover for eyelash extensions and apply light pressure and move all the way across the eyelid, do not rub or pull hard. 
The third step is to put a sufficient amount of remover on your hand, rub gently to create foam and then gently massage for a while like that, then rinse gently with clean water and dry gently. 
For a more detailed dive into the cleansing process, check out:
Also, be on the lookout for the perfect lash extension cleanser to create the perfect lash maintenance combo!
Some Q & A about eyes make up and eyelash extension
Can I apply eye makeup right after eyelash extensions?
24 hours after eyelash extensions is the most sensitive time for the eyes and eyelash extensions. Did you know, experts recommend that we should not exert strong influence or even touch our eyelashes within a day after eyelash extensions. Therefore, wearing makeup immediately after eyelash extensions is taboo. If you have an important matter, please arrange a time to get eyelash extensions at least 1 day in advance.
Can I wear mascara with eyelash extensions?
I advise you not to. The simple reason is because eyelash extensions are already an alternative to mascara. It gives you even more natural beauty. Not to mention using mascara can damage eyelash extensions and leave residue that is difficult to remove after use.
Conclusion
Already. My article for today is here. Hopefully after this article you will know how to choose a suitable makeup remover for eyelash extensions. Once you have the best oil-free makeup remover for eyelash extensions, apply the exact steps as I instruct you to remove makeup every day. Just try being persistent with removing makeup regularly and you will see how beautiful this makes your eyelash extensions. Also, dear readers, do you have any makeup remover for eyelash extensions that you would like to recommend and recommend to everyone? Please leave information in the comments section. Goodbye to everyone here!
Do not miss out on exciting knowledge from Vietnam Lash! Remember to follow our latest updates at https://vietnamlash.com/