Premade fans are one of the most used lashes today according to order lash quantity from our factory. As a lash artist, you have several options for creating your volume fans: you can make them by hand or you can use it that can put it on your client's eyelash. 
Today there is a lot of controversy among lash experts about whether to use premade fans or pro made fans. Depending on the experience and method of eyelash extension of each lash expert, they will choose for themselves a lash fan as the best fan for eyelash extension.
In this article, I will only mention pre fanned lashes and how to choose the best premade fans eyelash extensions.
What are premade fans?
There are a lot of discussions about using premade lash and premade lash from eyelash groups on social platforms. Each country has a very different definition of premade fan lashes. From our lash production experience, we will give an overview of it based on our synthesis.
1.1. Definition of premade fans
Premade fans eyelash extensions are lash fans that are ready for you to use. They were placed on a lash tray and ready for you to pick up and attach to the natural lashes of your clients. Pre-fanned volume lashes are easier to use than handmade volume fans. If you're a newbie in the lash field or if you want to save time during volume appointments, you may discover premade volume fans to make volume lashing easier and faster. 
At Vietnam Lash Factory, it is handmade lash fans by the delicate technique of our workers. They created the handmade fan lashes from 3D-16D. Premade Lash is also called heat-bonded pre-fanned volume lashes.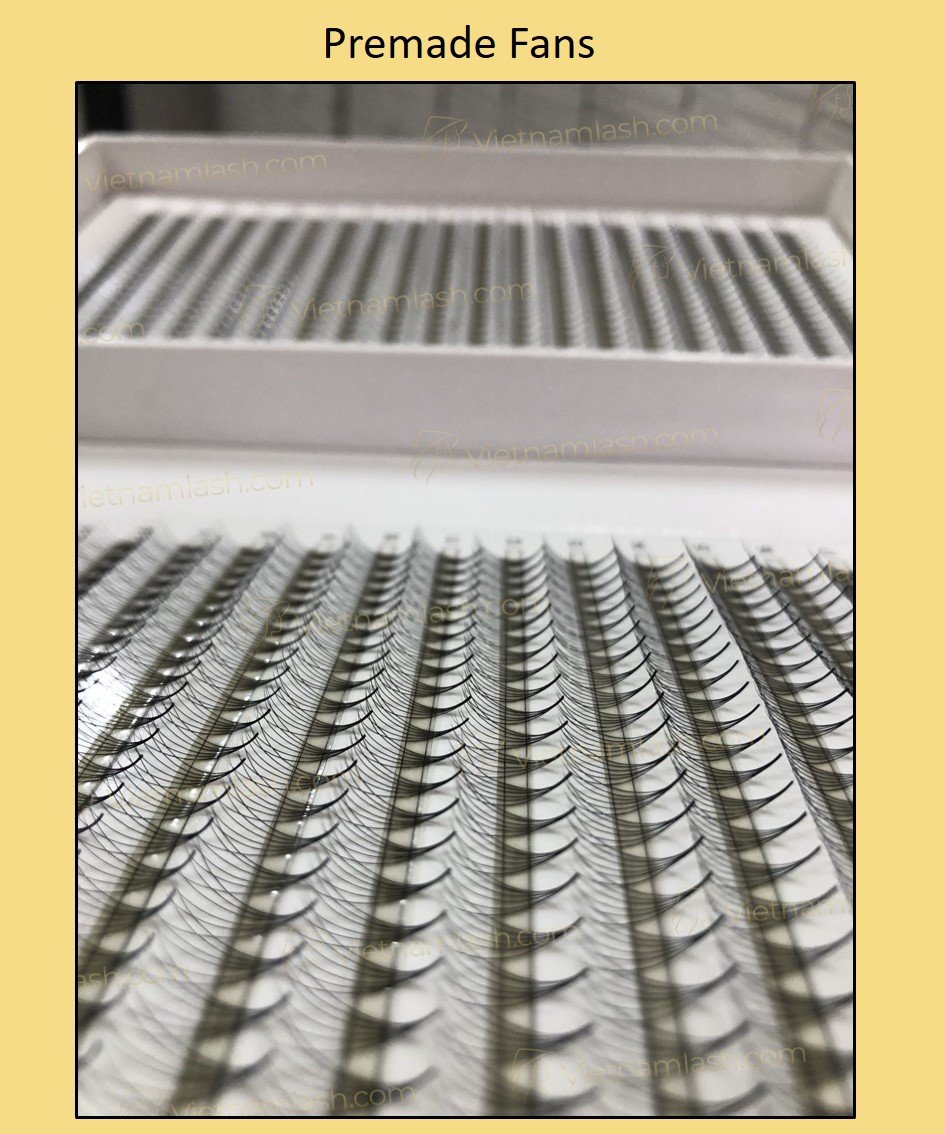 Currently, premade fan lashes have the following types in the eyelash field: Loose Fan, Fan in line, Ultra speed lash/Rapid Lash.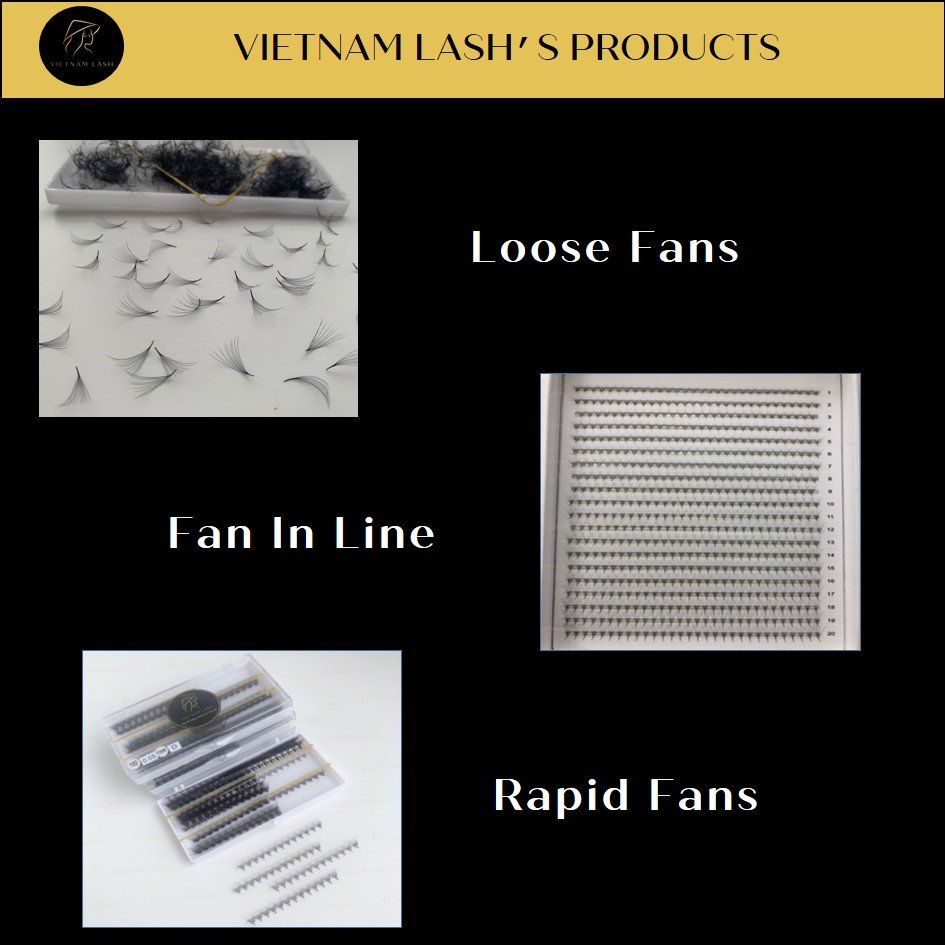 How to use premade fan lashes?
Premade lash is easy to use for all lash artists. If you know how to use it, you can create lash sets in an hour or less.
2.1. Kind of premade fan shapes
To create a beautiful lash look set, it depends on fan width, fan base,… Premade fan lashes divide into narrow fans, wide fans, close fans, long stem base, short stem base, thin base, and flat base.
Each type has its advantages. Depending on the eye shape of the clients, the lash artists will adjust to use the right premade fan lashes to create a natural lash look or a full lash look,…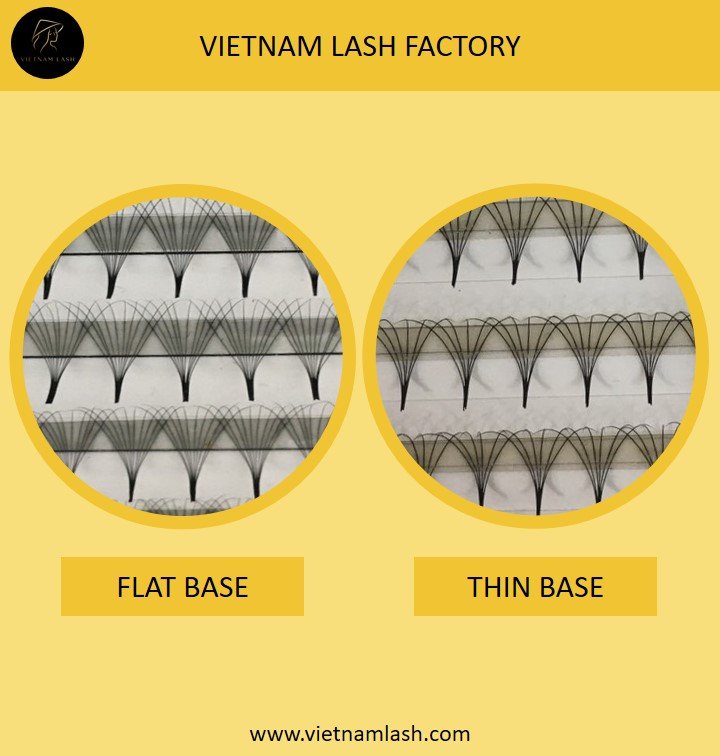 2.2. How to use premade fans? 
Lash artist make classic lash by hand. They will create pro-made lash fans by themself to do eyelash extensions.
For premade lashes, rather than carefully creating fans by yourself, you'll simply select the fan you want to apply and adhere it to your client's natural lash the same way you would a single lash extension. This can be seen as the difference between fan lashes vs individual lashes.
Depending on the type of lashes, you can make fans in different ways. You can do volume lash fans, mega volume premade lash fans.
How do choose the best premade fans?
Choosing the best premade fans depends on your experience in the eyelash field and most importantly, you choose a reputable eyelash manufacturer.
3.1. What are beautiful premade fans?
The standards of beautiful premade lashes: 
– Fluffy, featherlight lash with a semi glossed, matte black finish and sticky
– Symmetrical perfectly The length and spacing of the lashes are the same
– Soft, black and flexible | Not stiff, plastic-looking lashes
– Have minimum adhesive with long-lasting curl and sticky
3.2. How to choose the best premade fans?
First, you need to define the premade fan standards in order to use for your client's eyelashes.
Next, you will find eyelash manufacturers. You should look for direct manufacturers, not suppliers. You will have to carefully select these eyelash manufacturers based on the materials they use, their production time, and their service.
The best eyelash production material today is Korea PBT synthetic fiber. Reputable manufacturers will use this material for their lash. 
As a result, when you find the right manufacturer, you will find the best premade fan lashes for you.
What manufacturer makes the best premade fans?
Here are reputable eyelash manufacturers that you can refer to.
4.1. Vietnam Lash Factory
Vietnam Lash Factory, with more than a decade of experience in the lash business, is affirming its position as the leading lash manufacturer in Vietnam and quickly establishing a foothold in the global lash market. Hitherto, Vietnam Lash Factory has been exported everywhere in the world from Australia to Europe, USA,…with more than 1500 vendors & loyal lash artists. We currently have representative offices in Vietnam, Japan, and Moscow.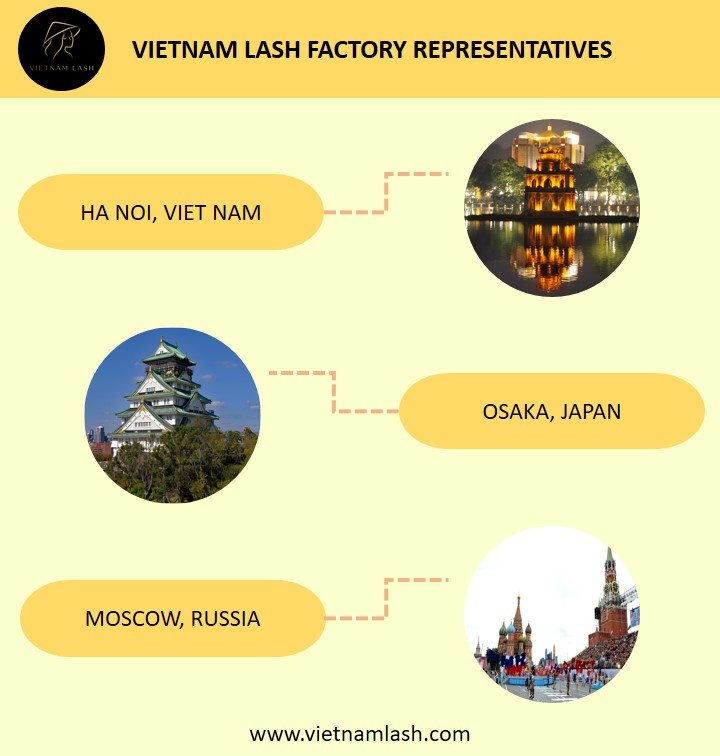 4.2. Korea Lash
Korean lash is one of the leading eyelash manufacturers in Korea. Their products are made from high-quality materials
so that it is light and has a soft and natural look. 
4.3. Mimi Lashes
Mimi Lashes is a lash factory with a long history in the industry. They offer a variety of lashes from pro-made fans to premade fans
Nowadays, many salons and lash artists are gradually switching from using individual lash to premade lash. You can save a lot of time for this. Time is money. If you can save time, you can create a lot of money after.
To get the best premade lashes, please contact Vietnam Lash Factory:
📲 Whatsapp: +84 563144913
✉️ Email: vietnamlash@gmail.com 
By the way, you may want to read:
Vietnam Lash review: Top 5 best premade lashes wholesale in 2021
You are finding a good eyelash vendor. Don't miss this
Start up by being a mink lashes vendor