It should be said that after getting eyelashes done, we'll all be hooked for life and keep going back. Most of us all know what good preparation is for a lash appointment but many newbies coming for their first full set of extensions are not familiar with all the dos and don'ts like most lash frequenters.
Before your lash appointment, you can be asked the same questions over and over. So, let's try putting your mind at ease! No need to be worried since you're neither the first nor the last lash aficionado to have such queries!
When you arrive at your first eyelash extensions appointment looking prepared and eager for a memorable experience, your lash artist will be grateful, and impressed. Stay tuned for what to know before getting eyelash extensions, beauties!

Why Well-Prepared Eyelash Extensions Appointment?
What comes up if a successful and self-assured lady doesn't make the effort to schedule her lash appointment well? She'll juggle, but never keeps her lash extensions out of sight, telling you how important it is to have a well-prepared, even an early, lash appointment.
1. Lash Appointment Makes Life Easier
You won't have to deal with the anxiety of rushing to try to get a lash appointment at the last minute, and will be able to reserve lash time with your dependable stylist, who you (and your eyelashes) hold dear.
Also, you can choose the days and hours which work best for you and, please keep in mind, scheduling a good eyelash extensions appointment ensures that you will have time for some much-needed "me time" in the future.
2. Last-Minute Lash Appointment Isn't Guaranteed
No guarantees are made for last-minute lash appointment so tell your customers about this, as well. The maximum number of hours you can work in a day is 8 hours. Also,over working can make you weary and slow you down, impairing your accuracy, efficiency, and speed. 
You'll need to look after your health in order to offer the greatest services and guarantee that your clients receive the most value for their money. Every tiny and fragile lash is applied with care using your hands, wrists, and arms. You run the risk of making errors if you're distracted due to fatigue. Mark our words!
How To Prepare For Your Lash Appointment?
Want to be the client your lash artist loves to meet most? If so, read on for advice on how to get ready for your lash appointment so you both have a fantastic time. The fact that you will enjoy a more pleasant procedure, and receive lash extensions you will greatly enjoy is even worth the greater care!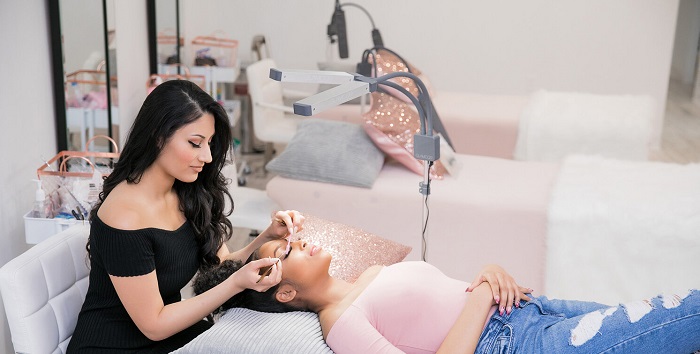 1. Prepare your questions in advance
There will be some queries you have after reading and doing your study. Ask your lash stylist questions; they enjoy having inquisitive, knowledgeable clientele, and there are less chances for misunderstanding when you do. Think about writing down your inquiries in advance of the session so you can be prepared to bring them up.
2. Keep your face all clean and fresh
The key to a flawless lash extension is hygiene. Beyond that, don't have any makeup getting in your eyes the minute before your lash appointment. Eye makeup residue can prevent your lash extensions from sticking properly. Avoid wearing waterproof mascaras for a few days as it can be very persistent.
On the day of your lash appointment just say no to all heavy eye lotions and oily sunscreens. Mark our words that before starting, lash specialists will clean the area around your eyes but still, you'd better completely remove any possibility of oily residue remaining. You'll also need to stop using oily skincare and makeup once your eyelash extensions are in place.
3. Morning shower and comfy outfits
You must wait at least 4 hours after your eyelash extensions appointment with the lash artist specialist before you get your lashes wet. Therefore, shower early in the morning, before the lash appointment, for your own benefit. As you won't need to time an evening shower, you'll feel more at ease knowing that you are clean.
You are free to nap, practice meditation, or just unwind, during your appointment for eyelash extensions. However, you must be as at ease as possible for it to occur. Make that easier by dressing in something loose and comfortable.
4. Skip the coffee and any stimulants
The technician will have a difficult time appropriately applying the extensions as caffeine and other stimulants can make your lashes flutter. You're too preoccupied with keeping awake to relax and enjoy the lash appointment, which can prevent yourself from doing so.
Therefore, the next time you've scheduled an appointment for eyelash extensions, be sure to forego the coffee and enjoy a soothing cup of tea instead. This will benefit your eyelashes.
5. What lash style will you ask for?
It is a good idea to arrive with an idea of the styles you want because lash extensions can be customized innumerably. A skilled lash artist will give you his/ her full attention while listening to you, and also make advice based on the shape of your eyes and what will be best for your natural eyelashes.
You can start the chat by learning about the distinctions between classic, volume, and hybrid lashes. Go look at some guide to the greatest eyelash extension for each type of eye shape!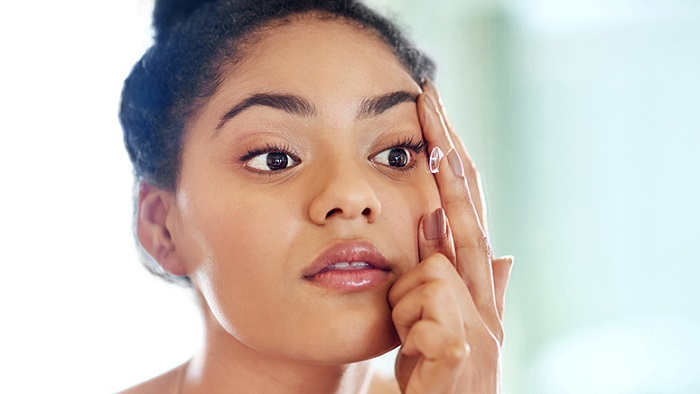 6. Arrive early or at the very least, on time!
At a busy salon, keeping to your schedule is vital! The majority of the time, lash technicians are cautious to schedule an eyelash extensions appointment with some buffer time on each side, but a terribly tardy customer can still ruin your entire day.
Hence, if you have a lash appointment, please be sure to be on time. Better yet, arrive early so you have plenty of time to use the restroom and settle in before the application begins.
7. Remove your eye contacts
A further good reason to arrive a bit early is that you must remove your contacts before your lash appointment for lash extensions. With contact lenses on, it is hardly a nice idea to close your eyes for so long, and if you do, you run the risk of getting an eye infection. Since you're able to put your contacts back in after the appointment, bring your contact lens bag with you!
8. Headphones with melodious music
These days, who travels without a set of headphones with their favorite music collection? So we advise you to prepare your playlist, pick some soothing music, a good audiobook, or just interesting podcasts, etc., to keep you engaged throughout your lash appointment.
9. Always be ready for the coming aftercare
What you do before your initial visit is not nearly as vital as the aftercare for lash extensions. In addition to avoiding oil-based cosmetics and skincare products, it entails maintaining your natural lashes clean and well-groomed as well as protecting your eyelash extensions.
Prior to your lash appointment, it is good if you are fully aware of the aftercare requirements, particularly if you need to buy any new lash products.
10. Set aside enough time for yourself!
Depending on the type of lashes you want done, your eyelash extensions appointment may take anywhere from an hour and a half to three hours. Remember that those lash artists are adding the lash extensions to each of your natural lashes one by one, so although it'll seem like a long time, it won't actually be afterwards.
Give yourself enough time for the full session and be sure you schedule accordingly. Having anxiety when reclining back on the treatment bed is the absolute last thing you need. Go ask the lash artist how long your lash appointment will take while making the reservation, and be sure to schedule nothing important following.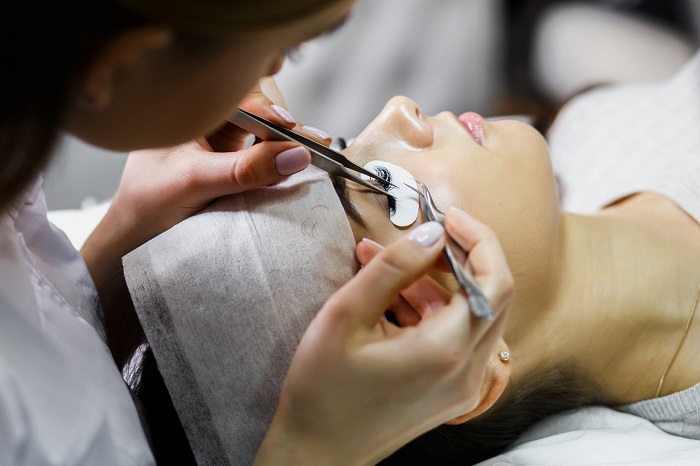 FAQs
Q1: How Will My First Lash Appointment Be Like?
Following a consultation when you and your lash technician choose the lash style jointly, the procedure will begin. As they finish up and begin, they will instruct you to lay back and close your eyes. You'll have the chance to unwind for the next 2 hours as your stylist meticulously attaches your stunning new set of extensions.
Q2: How Long Does A Lash Appointment Last?
Depending on the complexity of the look you like and the pace of the lash artist, a full set of classic or volume lashes often takes 1.5 to 2 hours, and 2 to 4 hours, respectively. Fills take one to two hours, as well.
Q3: What To Do During My First Lash Appointment?
Relax! All you need to do is lie back, close your eyes, and remain still. In terms of your lash stylist, everything you need to do to be calm will likely be OK. Bring your phone as well, but make sure you turn off all text and call alerts. Just what to keep you and the lash artist busy.
Conclusion
For them to make the most of their first full set, there are many things you need to make sure they know. Our post just helped you to apply the extensions more quickly while also ensuring that your clients have the best experience possible when getting their lashes done.
Jot down our golden standards for a client's first lash appointment so that it will be simple for you both. We can hardly wait for you to get lash extensions for the first time. No matter what you have scheduled for your first appointment, or even if you're still hunting for the ideal lash artist for you, we always get you covered from the bottom to the top, queens of lashes!
Visit our website for more updated information: https://vietnamlash.com/