Are you watching your favorite drama on Netflix? And even having snacks with your pet lying next to you? What a chill right? But we'd recommend you to put them on hold for a while and think about something to practice at home. That's right, just all by yourself. Hmm, what about eyelash extensions practice?
That sounds amazing, doesn't it? Go take this chance to practice eyelash extensions as long as you prefer to be more active and productive in the long run!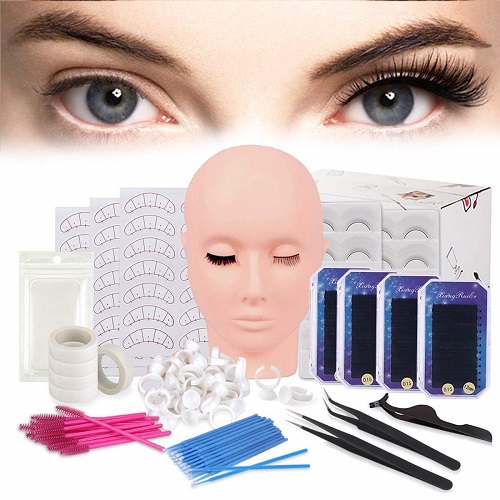 Reasons For Eyelash Extensions Practice
Having eyelash extensions practice does benefit you a lot, especially those who intend to be working as promising lash artists and technicians. There are, without a doubt, reasons for us to practice lashes for lash extensions, which potentially determine if we're born for this job!
1. It Is A Money-Making Skill!
Four sets of eyelashes per week at a cost of $90 each equals $1440 over the course of four weeks. Would you merely do four sets of lashes per week? is the intriguing question.
According to an estimate from a freelance lash artist, a competent lash artist's market fee is actually around $120 (at least), and a full-time lash artist can do roughly 4 sets of lashes per day. If you only plan to use lashings for 20 days every month, that can be worth $10000!
2. It Is High In-Demand Service
In many countries, especially in Singapore, there are over 4K new searches for the keyword "eyelash extensions" each month, as reported by Ubersuggest. During the holiday season, this number can even be up to nearly 7000. What does this imply?
The demand for eyelash extensions is already very high and is expected to rise in a country with a limited population. Imagine the number is a lot greater in populous countries, such as the U.S., Australia, and many more!
3. It Helps With Your Flexibility
Eyelash extensions practice is never supposed to be easy. Even the professionals can make mistakes during the extension process. Practice, practice, and more practice are actually the only requirements if you have good vision and steady hands.
When compared to eyebrow embroidery, where flawless accuracy is necessary to offer those desired effects, studying eyelash extensions is easier as you'll learn how to employ lashes of different curls, thickness, and length to create stunning eyelash designs for your clients.
4. It Brings Job Satisfaction
You may be wondering why so many women are attracted to eyelash extensions practice? In addition to longer lashes, they'll have brighter, bigger eyes with fabulous lash extensions on. Many people are so dependent on eyelash extensions due to the rapid gratification provided by straightforward cosmetic surgeries.
We experience a great level of job satisfaction when developing the ability to create eyelash patterns that can be used to improve your clients' appearance and fix their eye shape. Most eyelash technicians often find this practice to be even more satisfying than totaling their daily earnings. That's a good thing, isn't it?
5. It Goes With Low Cost Set Up
If you work in the beauty sector and deal with skincare, you're aware that financial resources are vital to purchase treatment equipment, which can easily run from the hundreds to tens of thousands of dollars. Also, there are the many skincare product categories that you'll require for varied types of eye skins, right?
What else is needed for eyelash extensions practice besides the professional tools? Well, it's the disposable materials such as eye masks, tapes, lashes of different lengths, thicknesses, long-lasting glues, and tweezers. You will also be equipped to leave your mark on the field if you master an impressive set of skills.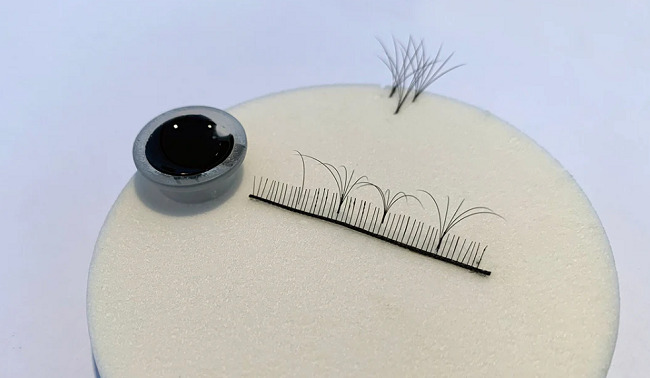 How To Practice Lash Extensions?
Getting some eyelash extensions practice under your belt is never a bad idea, regardless of how experienced you are as a lash artist. In the end, perfect (eyelashes) come with practice. Below is how to practice eyelash extensions in the convenience of your home, stay tuned!
1: Practice On A Mannequin Head
One of the most ideal things if you don't have any family members or roommates at home is to practice eyelash extensions on a mannequin head. It's akin to practicing on a real person to do it on a mannequin.
You can work on your posture, position, and find a manner to lash that is comfortable for you by using any mannequin heads. Make sure to stretch between moves, place your legs under the lash bed, and rest your arms in a relaxed position.
Correct posture must be practiced, just as you may when applying eyelashes on your clients. Your health and professional success majorly depend on shaping the proper lashing posture!
2: Practice On A Piece Of Sponge
Practice on a sponge is a smart approach to become better at eyelash extensions practice to the root of a natural lash if you have trouble doing so. We suggest using those sponges with rounded edges if you expect to emulate the curve of the eye. 
Start by placing traditional 0.10 mm lashes on the sponge since they mimic your real lashes. After that, lash those 0.10 mm ones with eyelashes of different diameters. In this manner, it's impressively identical to hitting a real person.
Practicing with a sponge does give you quick access to master fan symmetry as well as lash direction placement. Start things slowly to perfect your eyelash extensions practice then pick up the pace as you gain confidence.
3: Practice On Hair (Of Your Head)
Your real hair is a fantastic instrument for eyelash extensions practice, since it has a texture comparable to that of real eyelashes. Use the standard maven artistic technique for this sort of practice, as it works well for all beginners.
Let's start by removing a hair strand or clip one if you don't want to experience a slight pinch. Next, take a cup (one with a single color). Your hair should contrast with the color of the cup.
You must ensure that the illumination is bright and precise. After that, tape your hair over the cup or mug's opening. And finally, ladies, start fanning with your magic hands!
Use of glue can be practiced very effectively with this approach. The amount of glue you use to connect with the hair will be easier for you to manage. The length of time you should keep the extension to the natural lash before releasing it will also be more controllable.
4: Practice On Friends And Family
Try to practice as often as you can on real people, even if you do own a mannequin. You can learn how to handle many natural lash patterns as well as the wants and preferences of your customers with the help of such eyelash extensions practice.
Asking your friends and family can be the best targets to start. Choose companions who will be sympathetic to your inexperience, supportive, and eager to assist you in developing your skills. You'll feel more comfortable around them, which is an advantage of training with those you love and know well. But still, set up your workspace and conduct business as usual!
5: Practice On An Online Model
Finding models online is a great alternative. Instagram groups for hair and beauty models or local beauty enthusiasts can be quite useful tools for making connections. There are models out there who love eyelash extensions and wouldn't mind visiting a less qualified technician.
Make sure to provide your geographical location, the type of modeling you'd want to do, the date, and the hour when you arrange calls for models. Tell them if you need their permission to shoot images and if you'd love them to (in which case) pay for all eyelash materials.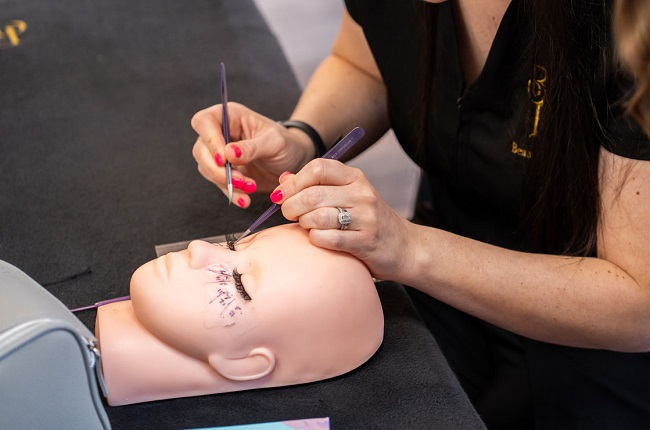 FAQs
Q1: Which Are The Kits For Eyelash Extensions Practice?
There are a number of reasonable kits for eyelash extensions practice. Kits like Yegi Beauty Kit Version 1, Veyes Classic Lash Kit, the LANKIZ, BEYELIAN, or RIISCA Eyelash Extension Kits, etc., can all be considered.
Each of these kits is equipped with mannequin heads, trays of lashes in various lengths and curls, tweezers, accessories, pairs of under-eye pads, and everything a fresh stylist needs to  skillfully offer clients glam lash extensions.
Q2: How Long Does It Take To Practice Lashes For Extensions?
Applying full sets do take hours, so it's advisable to practice lashes for extensions frequently. Even if it's just for a few minutes every now and again, practicing the finer points of lashing is good. Many beginners need a few months of experience before they're comfortable charging the entire extension process.
Q3: Can I Practice Eyelash Extensions On Lashes Of Mine?
Ideally not. You would need to close one eye, and isolate your lashes from below in order to practice eyelash extensions of your own. This amount of control and dexterity is beyond the capabilities of even the most skilled lash artists. Even if this procedure was feasible, it would not exactly reflect how you might deal with clients.
Conclusion
With the right practice, you can start a home-based lash business and improve your lashing abilities by applying the advice in this post so that the next time you meet with clients, they'll think you're a pro. Exactly, experience is the best teacher!
Always keep track of your practice sessions. It's ideal for content production during sluggish periods to show them photographs of you working diligently to sharpen your skills. It will also increase your client trust to a great extent.
Remember, there must not be any reason for your lash business to be stopped just because you don't have clients, yet. Eyelash extensions practice can still be done as always!
Visit our website for more updated information: https://vietnamlash.com/