Hey there, beauty lovers! 'Tis the season to be jolly, and what better way to get into the holiday spirit than with a dash of festive glamour? We're talking about Christmas lashes, folks! If you haven't heard of them yet, don't worry; we're here to give you the lowdown on this popular holiday trend. So, grab some cocoa, cozy up by the fire, and let's dive into the world of Christmas lashes to discover how they can make your eyes the stars of the yuletide show.
In this article, we'll delve into the world of Christmas lashes, exploring their origins, types, application techniques, and how they can elevate your holiday look. 
What Are Christmas Lashes?
Christmas lashes, also known as holiday-themed or decorative lashes, have their roots in the beauty and fashion industries constant innovation. Initially, lash extensions were introduced to provide length and volume to natural lashes, enhancing one's overall appearance. However, as the holiday spirit started taking over, the idea of festive lashes took shape.
They come in all sorts of flavors, from glittery ones that sparkle like freshly fallen snow to lash extensions with festive colors that'll match your ugly Christmas sweater (in the coolest way, of course). Whether it's a Christmas party, a festive gathering, or just wanting to add a touch of holiday cheer to everyday life, Christmas lashes provide a unique way to express your holiday spirit.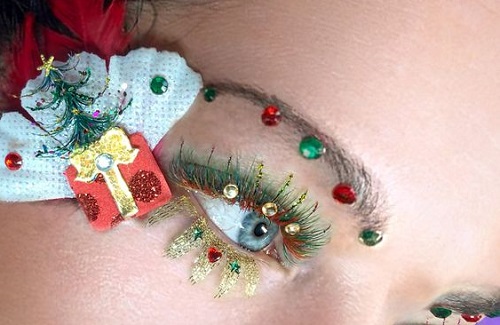 How To Achieve Christmas Lashes 
Getting the perfect Christmas lashes involves careful application. There are two primary ways to achieve this: DIY lash strips or professional eyelash extensions.
DIY Lash Strips: DIY lash strips are readily available in stores, especially during the holiday season. They are designed for easy application at home. To apply them:
– Start with clean eyelashes and eyelids.
– Apply lash glue to the strip and let it become tacky.
– Carefully place the strip along your natural lash line.
– Press it down gently to ensure it sticks.
– Finish with mascara or eyeliner to blend the false lashes with your natural ones.
These are just the basic steps. To customize your lash strips and achieve your desired Christmas lashes, you're going to need a few more sparkly decorations. We will dive into some Christmas lashes ideas in the next section! 
However, if you'd rather leave the heavy lifting to someone else (totally fair, by the way), head to a pro lash technician. They'll work their magic, attaching individual lash extensions to your natural lashes. It's a bit pricier, but the results are stunning and can last you all through the holiday season.
If you've had lash extensions before and you've got a lash pro you trust, reach out and ask if they're doing this for the holidays. If you're new to lash extensions, you can look for well-known lash salons nearby and reach out to see if they're doing Christmas-themed lash extensions.
Some Christmas Lashes Suggestions For The Holiday!
One of the exciting aspects of Christmas lashes is the ability to customize your look. You can choose from a wide range of glitter colors and try out festive colors like resplendent reds, elegant greens, opulent golds. You can even go all out with Christmas-themed adornment. This allows you to match your lashes to your outfit and experiment with different looks. Plus, you can also adjust how long, curly, or thick your lash extensions are to get the exact style you want. It's like a fun makeover for your eyes during the festive season!
01: Festive Color Palette
Red and green are without a doubt the main characters of Christmas. They play a significant role in shaping the visual and symbolic aspects of this festive holiday.
From Santa Claus to Christmas trees and all those shiny decorations, this beautiful color combination is what get makeup enthusiasts all pumped up to step up their beauty game during this festive time of year.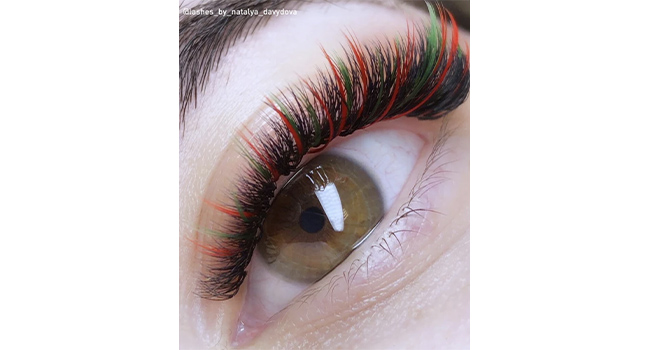 Wow, check out the super festive Christmas lash style by @lashes_by_natalya_davydova! To get this look, we'd do it kind of like hybrid lash extensions. Put some nice volume lashes on about 90% of your own lashes. Leave a bunch of lashes without extensions on the inside, outside, and in the middle.
Then, add the longer red and green lash fans to the lashes that don't have extensions. Mix it up with red and green to make it all look super balanced!
And how gorgeous are these?!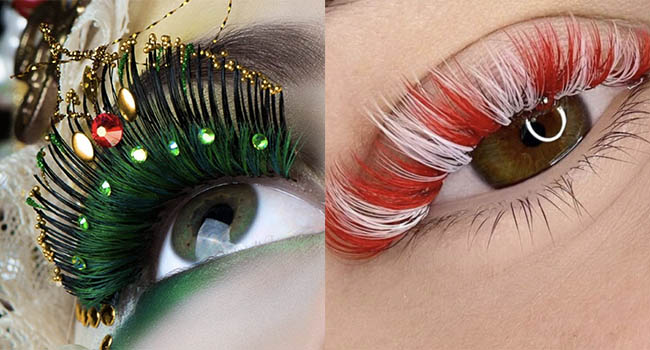 02: Glitter and Sparkles
Christmas is also all about sparkly decorations, golden Christmas lights, and flickering fireplace warmth. Everything is shimmering, and everyone is intertwined with joy for the season. And to wow your dinner guests, there's no better way than to fashion your lashes with a touch of snowflake, a few glittery stars, or some golden shimmer.
Glitter lash extensions are also a perfect choice for this time of year. You can learn how to achieve that glittery perfection right here: 
The first look is inspired by a sparkly and snowy white Christmas. Glitters, stars, and tiny beads are added to the half-end of the lash extensions, creating a waltz of melodic and dreamy snow.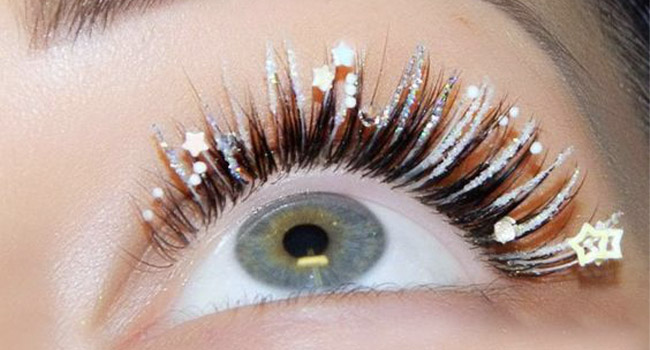 Take a look at these Christmas light-inspired flutters!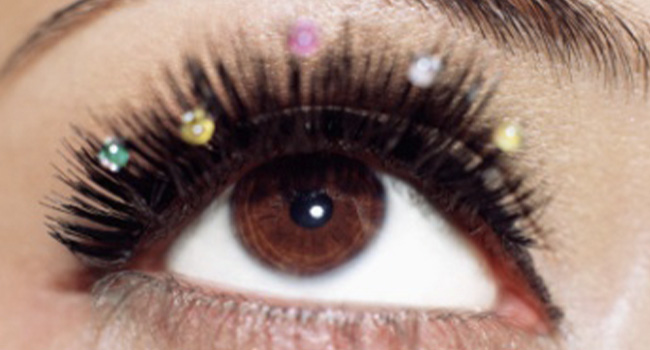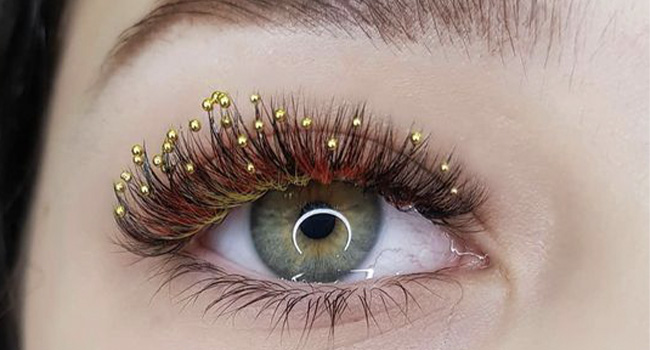 And if you're feeling extra cute, throw in some adorable snowflakes, stars, or sparkly hearts to really nail that holiday vibe. Lash decals could be an amazing option.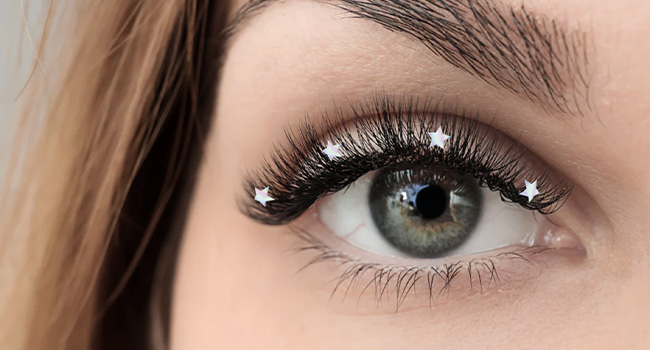 Lash Decals are like tiny, adorable stickers for your eyelash extensions. They're made from vinyl or holographic vinyl stuff and can be designed as letters to spell out little words, shapes like butterflies, hearts, stars, and moons, or simple ones like circles. You can get 'em in all sorts of colors too. They're super lightweight, a breeze to put on, and won't break the bank.
03: Holiday-Themed Designs
For those looking to go all out, holiday-themed lash designs are a fantastic choice. You can find lashes adorned with tiny ornaments, delicate snowflakes, reindeer motifs, or even a tiny Santa Claus. These creative designs can turn your eyes into a canvas for holiday artistry.
Visit our store to view our meticulously crafted high-quality color lashes: 
How To Maintain and Care for Christmas Lashes 
To keep those Christmas lashes dazzling like a star on top of the tree, follow these quick tips:
– Handle with Care: Be gentle with your lash extensions. Don't tug or rub, and treat them like the precious holiday gems they are.
– Say No to Oil-Based Products: Oil-based makeup removers or cleansers can break down the lash glue, and we don't want that. Stick to oil-free options to keep your lashes looking fabulous.
– Steer Clear of Too Much Water: Water can weaken the lash adhesive. Be mindful while washing your face with these lashes on.
Conclusion
So there you have it, folks—all you need to know about Christmas lashes. They're a fun and fabulous way to add some sparkle to your holiday look. With glitter, festive colors, and adorable designs, you're bound to find the perfect Christmas lashes to match your holiday spirit. So, get ready to slay the holiday season with your dazzling eyes, and let's make this Christmas the most glam one yet!