Ever wondered how lash artists achieve those flawless eyelash extensions without a hint of mess? The secret lies in something small but incredibly handy: the glue ring. This unassuming tool has revolutionized the world of eyelash extensions, making life easier for both seasoned professionals and newcomers to the craft. So, if you're ready to say goodbye to adhesive mishaps and hello to a mess-free lash extension journey, read on to discover the wonders of Vietnam Lash's eyelash glue rings.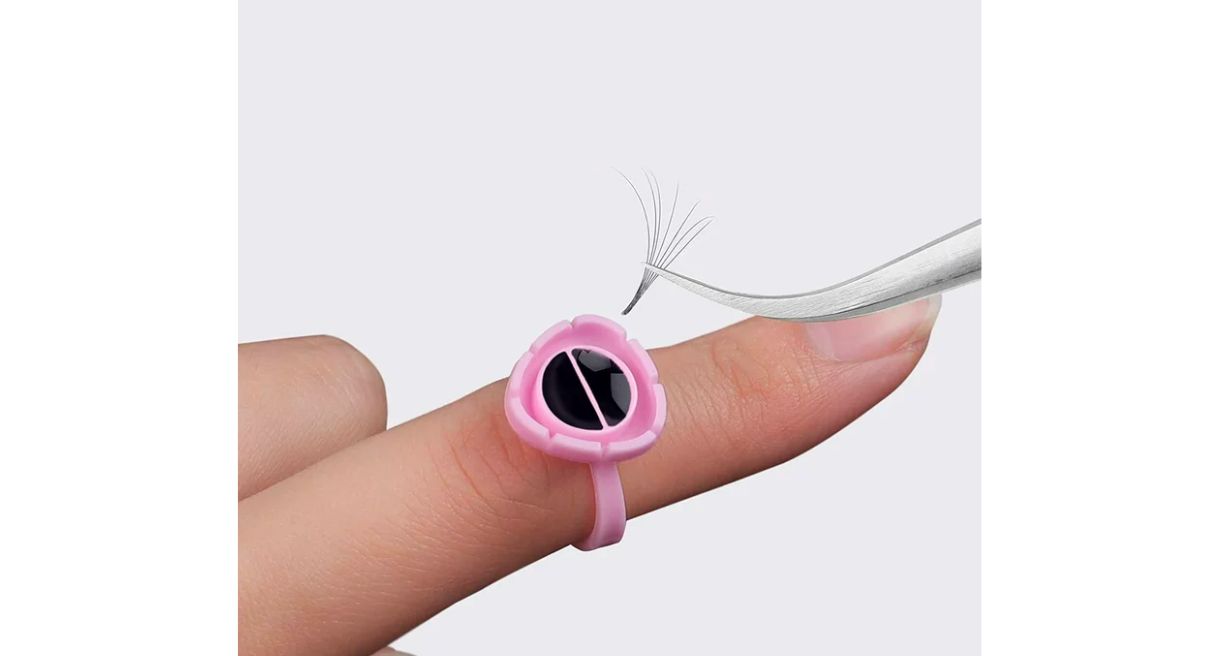 A glue ring is an indispensable tool for eyelash extension professionals. This small, lightweight ring serves as a convenient adhesive holder during the application process, allowing technicians to easily access their lash adhesives while working on their clients. These glue rings can also hold lash remover and lash primer. Typically made from lightweight materials, these rings are designed to be disposable, ensuring a hygienic and efficient workspace.
Benefits of Using Glue Rings When Performing Eyelash Extensions
Glue rings have emerged as a true game-changer in the world of eyelash extensions, and they bring a multitude of benefits to both seasoned lash artists and newcomers to the craft. One of the most notable advantages is the no-mess factor. Lash artists can now bid farewell to the painstaking cleanup that often follows a lash extension session. The ingenious design of these rings ensures that glues and adhesives are safely contained within the ring, preventing any unfortunate spills or splatters that could mar the workspace. This not only saves valuable time but also helps in maintaining a pristine and hygienic environment for both the client and the artist.
Ease of use is another defining characteristic of glue rings. Lash artists, whether experienced or just starting out, can appreciate the simplicity and convenience they offer. The ring can be comfortably worn on the finger, and its diameter is typically adjustable to suit various hand sizes. This adaptability ensures that artists can work with confidence and precision, allowing for a seamless lash extension process. The ring becomes an extension of the artist's hand, enhancing dexterity and control, which are essential for creating stunning and flawless lash designs.
What Problems Do Glue Rings Solve for Lash Artists?
Eyelash extension glue rings are your trusty sidekick, always there to provide adhesive without the drama of spills or mess. These little rings create a zen-like workspace for lash artists, letting them focus on their craft and create stunning lash extensions mess-free.
The uncomplicated and disposable nature of glue rings makes them the perfect solution. They're easy to set up, effortless to use, and can be disposed of after each session, eliminating the need for time-consuming cleanup. This not only saves time for lash artists but also reduces the risk of mishaps or disorders during the lash extension process.
Presenting Vietnam Lash's Glue Rings
Introducing our captivating collection of Vietnam Lash glue rings, where you'll find two distinctive options to enhance your eyelash extension process: Flower Glue Rings and Heart Glue Rings.

Flower Glue Rings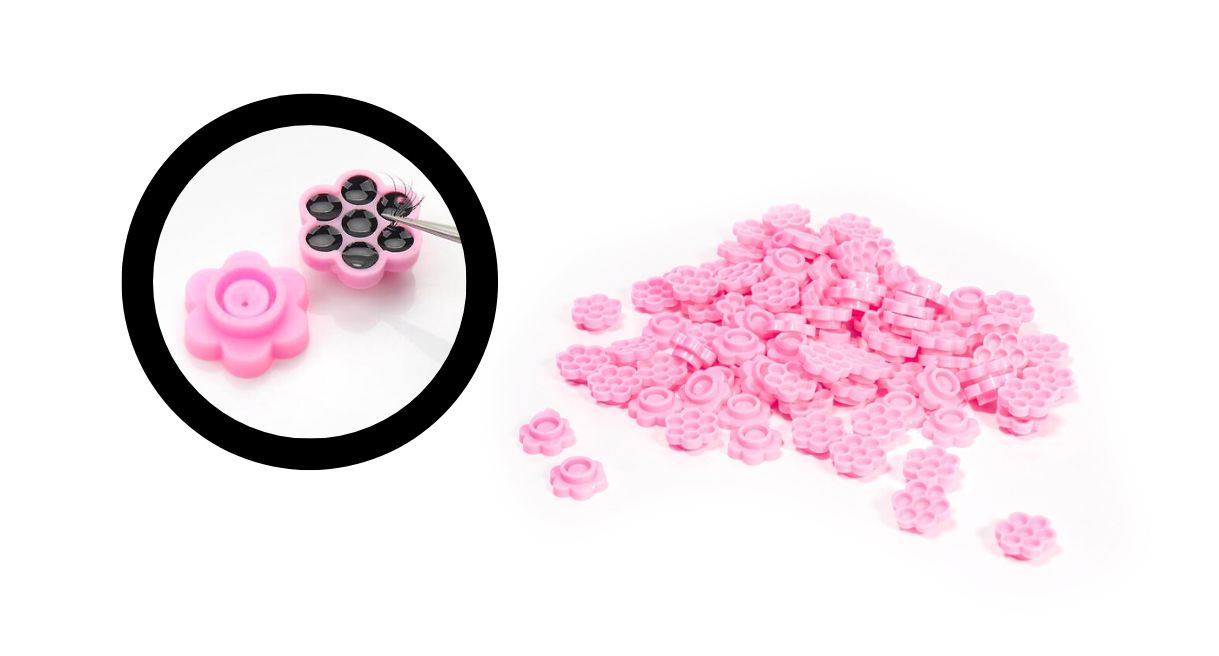 Our Flower Glue Rings for lash extensions are not just pretty in pink; they're brilliantly crafted to elevate your lash extension adventure. These dainty adhesive holders, shaped like flowers, bring both charm and practicality to the table. Each flower glue ring has seven handy compartments, allowing you to dispense glue effortlessly during your lash application. This serves a dual purpose – maintaining the adhesive's freshness throughout your session and speeding up the lash-grafting process. With these rings, you can bid farewell to adhesive mishaps, ensuring the highest standards of client safety and hygiene. Their lightweight and compact design makes them perfect travel companions, ensuring you're always well-prepared, no matter where your lash journey takes you.
Heart Glue Rings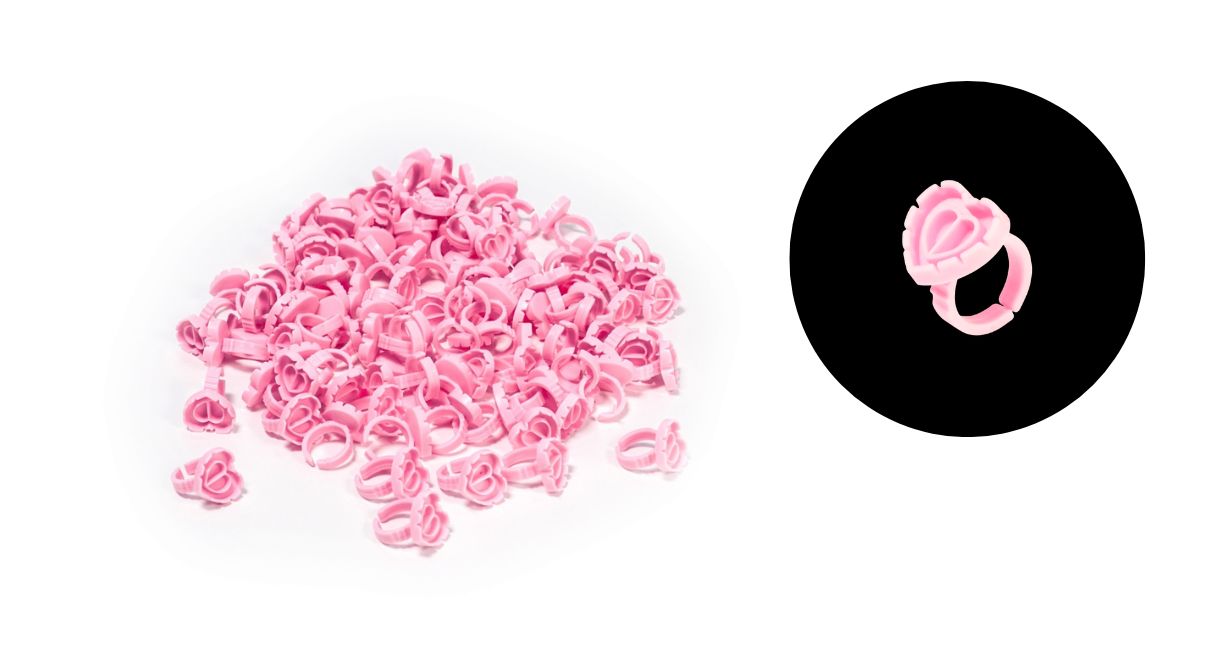 Shaped like hearts, these glue rings are your secret weapon for crafting perfect volume fans with ease and precision. All you need to do is dip the lash base into the adhesive reservoir at the center and then slide it through one of the V-shaped grooves. The various grooves and edges on the ring enhance the convenience of removing surplus glue, allowing you to craft full, voluminous fans flawlessly. Say goodbye to messy lash applications, as these rings, when placed on your non-dominant hand, offer easy access to a drop of adhesive, making your lash extension process smoother than ever. Heart Glue Rings Quality of Our Glue Rings
Vietnam Lash takes great pride in bringing you top-tier quality with our glue rings for eyelash extensions. Our adhesive rings are meticulously crafted from high-quality polypropylene material, a soft and flexible substance that offers a host of benefits. Not only is this material exceptionally durable, but it's also completely safe, being entirely non-toxic and odor-free. No unpleasant scents to disrupt your lash application here!
One of the standout features of our glue rings is their lightweight and compact design. This adds a remarkable level of convenience to your lash application process. The lightweight nature ensures that lash artists can wear the glue ring comfortably throughout their work sessions without any discomfort. Additionally, the compact design makes these glue rings easy to carry, store, and use, making them a versatile and practical accessory for both professional lash artists and those applying lashes at home.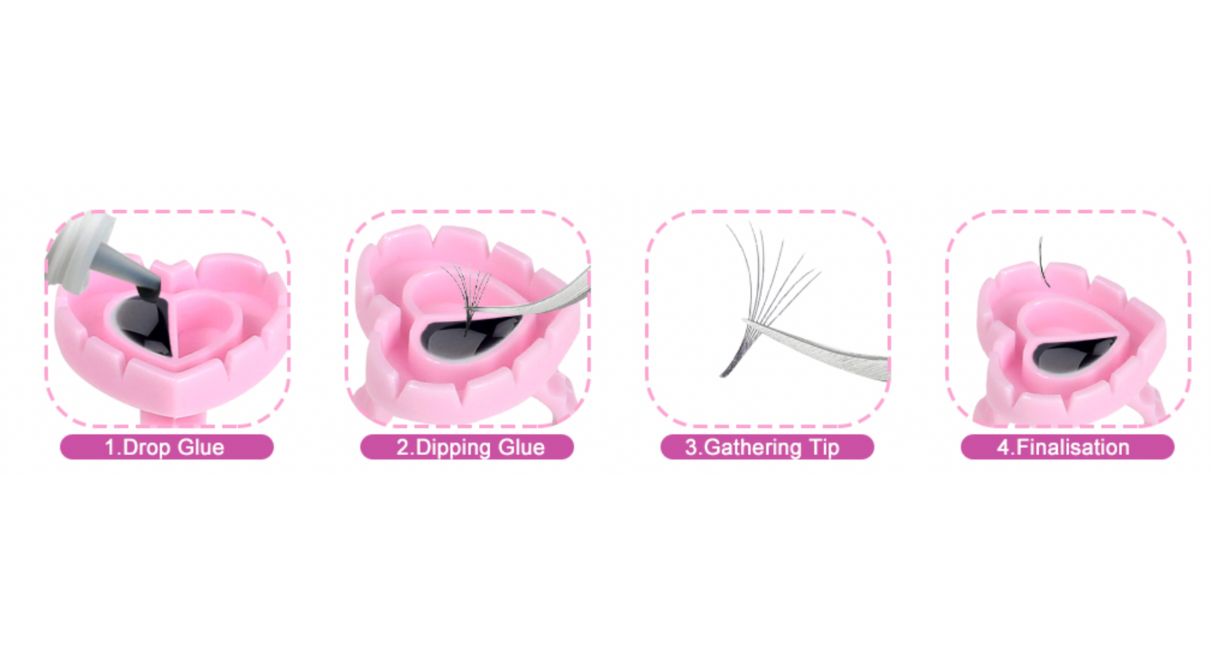 At Vietnam Lash, we understand that our customers expect nothing but the best when it comes to their lash products. With our eyelash glue holder, we aim to not just meet but exceed these expectations.
Wanna Get Your Hands on These?
Getting your hands on Vietnam Lash's glue rings is a breeze. Simply scroll up and add to your cart. Whether you opt for the charming Flower Glue Rings or the secret weapon Heart Glue Rings, you're in for a treat.
With Vietnam Lash's top-tier quality glue rings, you're not just investing in a tool; you're investing in a smoother, mess-free, and more enjoyable lash extension experience. These lightweight and compact wonders will become your trusty sidekicks, ensuring your workspace is a zen-like environment for your artistry. Don't wait—step up your lash artistry with Vietnam Lash's glue rings today!