Don't stress about your clients being unhappy with the longevity of their lash extensions, and get flat lash extension trays from Vietnam Lash!
Our flat lash trays are simple to apply and maintain a strong bond as time goes on, leaving your clients amazed and eager to return for future touch-ups.
We are the ultimate destination for all your eyelash extension supplies, and our flat eyelash extensions are no different.
General introduction of flat lash tray 
Flat lash trays are a new hit in the eyelash extension industry. It brings a unique and convenient breath for both the eyelash extensionist and the customer to use. Read on to know the features and characteristics of flat lashes extensions!
Definition of flat lash tray
Flat lash extensions, also referred to as ellipse or cashmere lash extensions, are a variety of synthetic eyelash extensions employed in the beauty field to elevate the look of natural lashes. They are crafted with a flattened form, resembling an ellipse or oval, deviating from the conventional round shape of regular lash extensions. 
The lashes are placed in a strip, when performing eyelash extensions, the lash artists will take each flat lash to create the shape that the customer wants.
Major characteristic of flat lash tray
The primary distinction between flat lash extensions and traditional extensions resides in their shape and structure. While traditional lash extensions are usually cylindrical with consistent thickness throughout, flat lash extensions are flattened, resembling a flat ellipse when seen from the side. 
It is soft, flexible and the adhesion is also better. Due to the super light weight of the design, the tip of each fiber is doubled up to create a fuller, dark look for the eyelash extensions.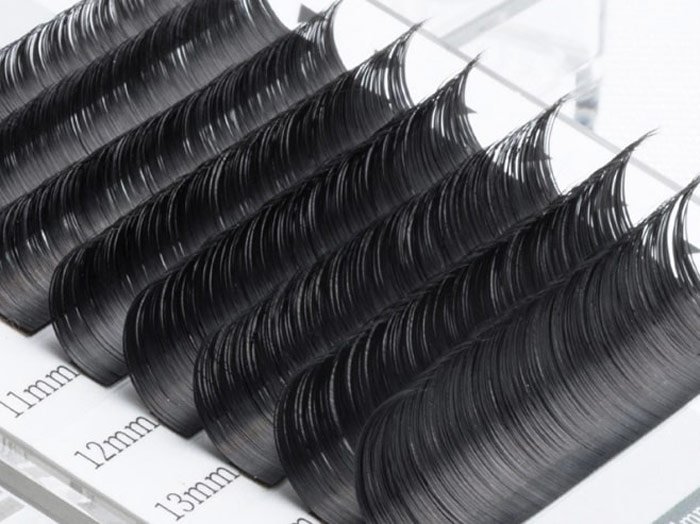 Benefit of flat lash tray
The primary advantage of using flat eyelash extension trays is the improved retention they provide. This enhanced retention is achieved due to the specific shape of the base which gives these extensions their distinctive name. This implies that they adhere more effectively to the client's natural lashes, resulting in a longer-lasting effect compared to other styles.
Another noteworthy advantage is that the flat lash tray provides gentle on the client's natural lashes, even though they add significant volume. They do not cause long-term damage, making them a safe choice for enhancing lash thickness.
What problems does flat lash tray solve for customers?
For users, the flat lash tray provides added texture, fluffiness, and definition. Many of them seek the darker eyelash style but do not need to burden the lash's weight. In this case, the lash artist can achieve this using flat lashes extensions.
For lash technicians, the flat lash tray is really a solution for client's that cannot obtain the thick eyelash they are hoping for. These are the best approach to adding volume without adding any weight! This flat lash tray is really easy to give the fuller, darker look when applied to a client's natural lashes.
Flat lash tray is produced in Vietnam Lash 
At Vietnam Lash, one of our key products is a flat lash tray. We take pride in our flat lashes extensions collections, which are made of different materials and sizes such as hair or flat fiber. What distinguishes Vietnam Lash is our dedication to offering customers a diverse and top-notch collection of high-quality options.
Types of flat lash trays we have  
We produce a collection of flat lash trays that vary in material, style and color. Not same as the classic lashes, flat lash extensions are not made from materials such as silk or mink. Usually it is made from flat yarn, which is a thin and very light yarn.The thickness of lashes in a flat lash tray is varied, they can be from 0.15mm, 0.2mm or even 0.25mm. Because of the characteristic flat base, even the large size of the fiber does not change the weight of the eyelashes.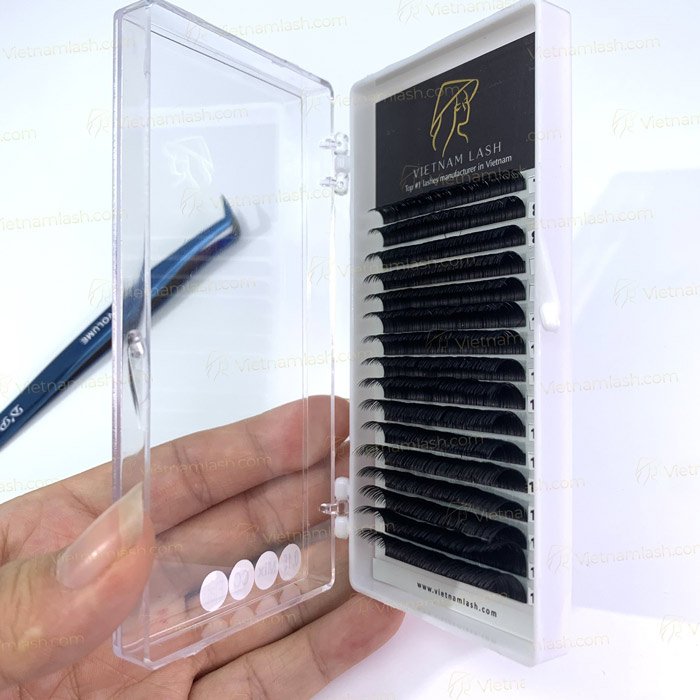 Quality of Vietnam Lash's flat lash tray
When customers consider a flat lash tray, they not only value the high-quality materials but also prioritize the duration and safety of the glue used on the eyes of the flat extensions.
In terms of glue duration, our flat lash tray is manually crafted from PBT synthetic flat fibers. Unlike lower-quality flat lashes that are mass-produced, our flat lash extensions tray maintains the integrity during use.
In addition, when it comes to the safety of a flat lash tray, it heavily relies on the quality of glue. We place great emphasis on utilizing certified glue that is safe for application near the eyes. Our glue is non-toxic and does not cause any harm or irritation to the eyes or the surrounding skin.
Customer experience when using flat lash tray
We have sold a lot of flat lash tray orders recently. Because flat lash extension is being sought after by many customers, many retailers want to own it, and many poor quality products appear on the market. Therefore, to meet the most demanding customers, the quality of a flat lash tray must be good, along with the customer care process must also pay attention.
A retailer in Canada contacted us because of the positive feedback on international eyelash extension groups. They asked to send samples to try and then were attracted by the excellent quality of the flat lash tray of Vietnam Lash.
After that first time, this guest was on the list of regular customers of Vietnam Lash in Canada.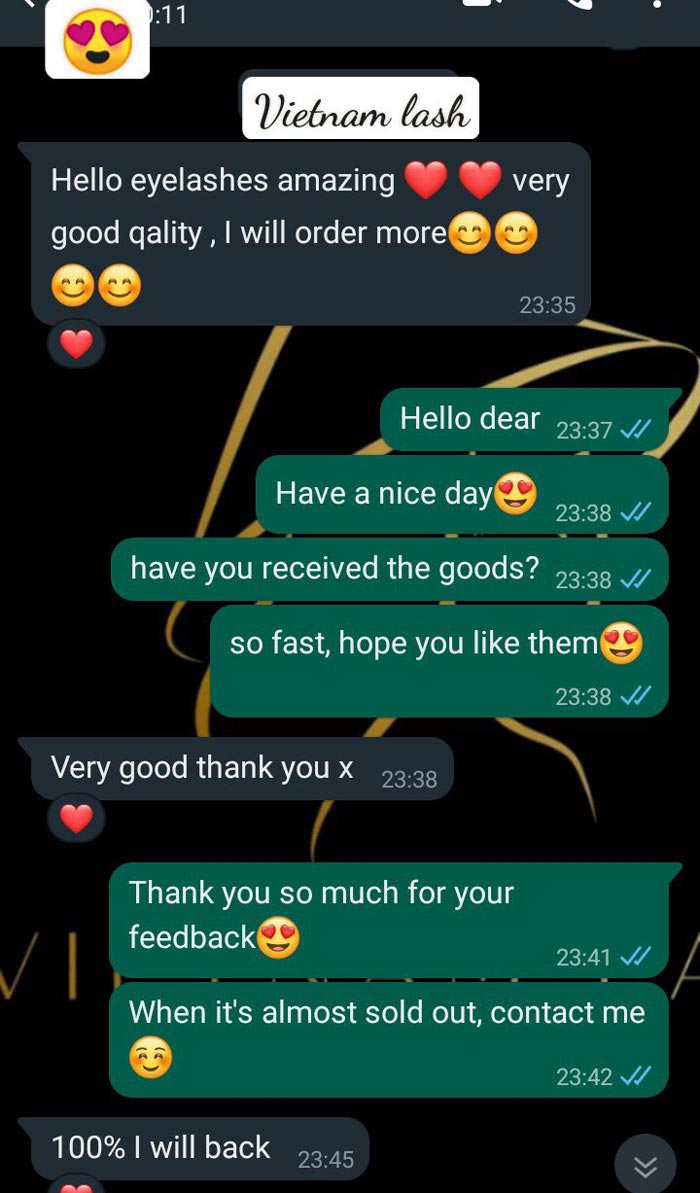 Purchase flat lash tray information 
Within this extensive manual, we will provide you with all the essential details required to make an educated choice when making a purchase. It encompasses an assortment of lash trays available from Vietnam Lash, along with direct contact information for reaching out to us.
Products list of Vietnam Lash
Apart from providing a diverse range of flat lash trays, we take immense pride in offering an extensive array of alternatives. These include individual lashes, promade loose fans in various styles, colors, and materials. Whether you prefer classic looks or embrace the latest trends, our online store encompasses all these products to suit your preferences.
Vietnam Lash is dedicated to delivering products of outstanding quality. If you are a professional eyelash extensionist, we have full confidence that our products will not only meet but exceed the expectations of both you and your clients.
Visit our webpage for more updated information: https://vietnamlash.com/
Flat lash extensions provide a flexible and captivating method for elevating your inherent beauty, offering a combination of lightweight comfort, naturally appealing outcomes, and enduring strength. 
At Vietnam Lash, we take great pride in crafting a top-notch collection of flat lash extensions that not only offer a wide range of options but also prioritize user safety. Our lashes undergo meticulous inspection and rigorous quality control, ensuring that you receive products of the utmost excellence.
Whether you desire a cool breeze on a hot day or an exquisite decorative element, the flat lash tray is guaranteed to captivate you with its mesmerizing beauty and enchanting allure.